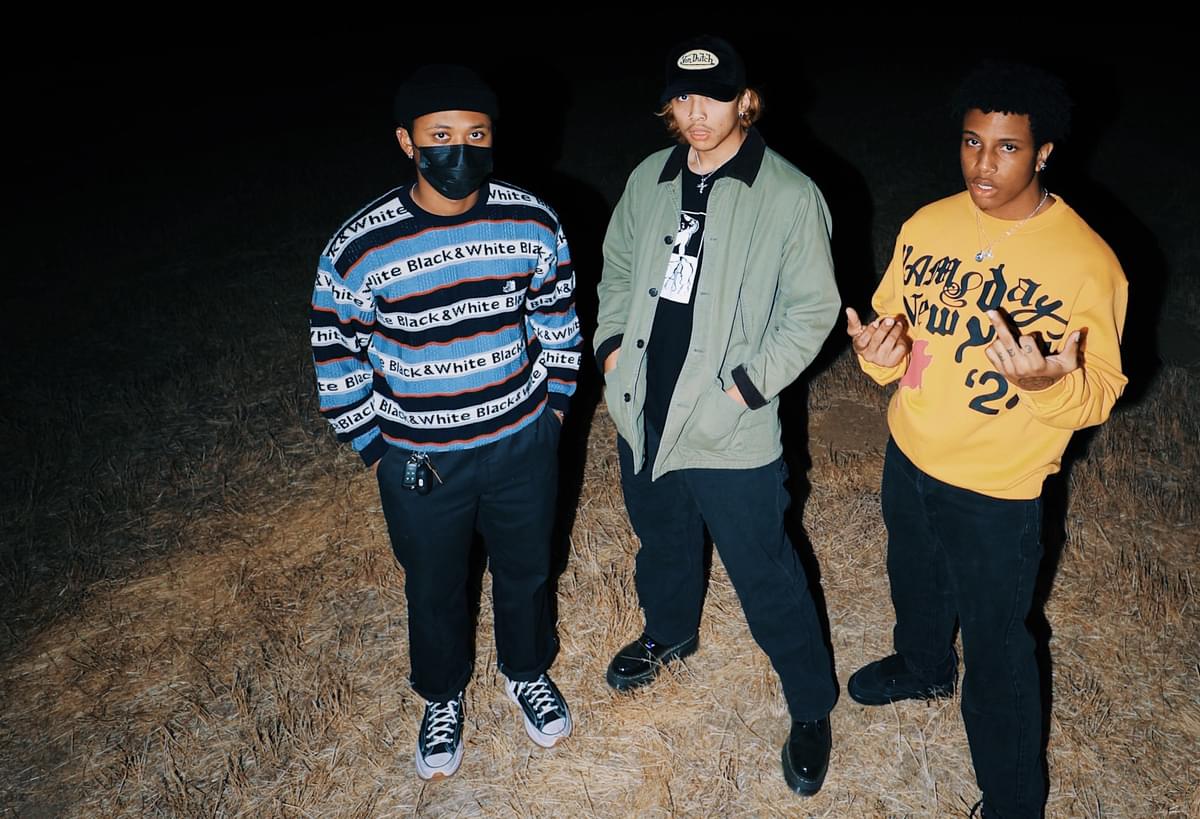 On the Rise

AG Club
27 November 2020, 16:45
"Fuck your expectations" – underline it, twice, three times: that's the M.O of the AG Club, the multi-media rap collective carving a new direction with their shapeshifting, "genreless" ambitions.
AG Club have had an a meteoric rise over the past two years alone, growing from grassroots scene erupters in the East Bay Area of San Francisco, to collaborating with A$AP Ferg, being taken under the wing of Tyler, The Creator's right-hand man, and already being on the cusp of dropping their second record. All this, and they're barely touching their twenties.
There are fourteen members – that is, fourteen beds crammed into their small house in LA. It's a hive of near-constant creativity; the kind of livewire environment where most would lose their minds, but for AG Club, it's necessary: "You've gotta be a little crazy, for us," says Jody Fontaine. He, alongside Mick Anthony and BabyBoy, make "the band", which, he assures me, is only the beginning. Take that, throw in their production company CAJH, videographers and the streetwear label Impressions, and then you're getting close to the scale on which AG Club operate. Their statement of intent is clear: "Making every single person in our crib a household name is number one. Everyone is going to be their own celebrity, their own entity: that's the goal."
It was February when everything changed. When the music video for their infectious hip-hop anthem "Memphis" dropped, taken from their debut record Halfway Off the Porch, Spotify stumbled upon AG Club uncut gem and polished it through the right side of the algorithm. Suddenly, it wasn't just the eyes of their hometown that were upon them, but millions of others worldwide. They had to decide who they were - before the world beat them to it. AG stands for 'avant-garde', and they were keen to live up to it and outrun the labels that would reduce their sprawling, all-you-can-eat dynamic.
"There's so much pressure that comes with being called a rap collective, so much comes with that. But I want to make it clear that we're not afraid of that," Fontaine insists. "We don't fear the pressure that comes with being a rap collective, so if people want to call us that, that's okay, but we just don't prefer it. There are so many guidelines with how you have to act, and how your image has to be. You know, being a couple of soft boys from a small town who like soft music and cry a lot – we don't want to have to fit this hard, tough image, because if we wake up and we want to paint our nails, we don't want to have to second-guess it."
AG Club are graduates of the school of Odd Future, raised from the feral breeding ground of the internet where individuality and an anarchistic appetite for fun are all you need to begin a movement from your bedroom. AG Club are a royal flush: all different cards, but all belonging to the same suit – and of course, when you play that hand, it's of the highest possible value. Fontaine is a powerhouse, flooring you with his verses, and yet he's also the architect of their most vulnerable, resonant lyrics. Self-expression comes as a second nature to him, so being the club's spokesperson feels like a no-brainer. Mick Anthony can be depended on for husky rap verses; and Babyboy delivers as a vocalist, spinning silky, RnB-inflected melodies. They're strong alone, but better together.
For AG Club, the music is one facet of their vision. "The music is just the first base for us," Fontaine explains. "This isn't all we can do – this is just a foot in the door." As a multi-media collective, A$AP MOB are as much an influence as the comedy sketch series Loiter Squad. "We want to do so much more outside of music, like film and TV. We want to make everything cinematic. We want to create beautiful stories, beautiful imagery and beautiful concepts for people. The music is just there to help. We want our albums not to be more than a soundtrack - we want them to feel like a score."
Everyone in the orbit of AG Club can act, and almost all of them know their way around a camera to such a level that their teacher at school refused to believe they'd shot their own music videos. The visual for their song "Hngover" is vignette of their troubled beginnings; it's of a quality that's only a few steps shy of Hollywood precision. "We were going to do a film for our last album, Halfway Off the Porch," Fontaine says. "But it got too difficult, because, you know, everything that we're doing now is independent, so we didn't have a lot of time or a lot of money. But that's the thing I feel that we're chasing: the more opportunities we get through music, and the more resources we have, the more we'll use those to help fund our other ideas to do stuff that's way outside of it. We really want to have our films going crazy."
Even their albums follow a cinematic narrative. It all began with In My Mind: The Prequel, an introspective EP which outlined their statement of intent for the collective. Then came Halfway Off the Porch: "Our first record was a timepiece; it's a snapshot of our lives at that time, just trying to make that transition from the way we were living before to dedicating everything to our dream," Fontaine explains. But where does that leave their second record, Fuck Your Expectations?
It's the next step in their saga. While they're on the cusp of being signed, with their latest single "Columbia" being inspired by the gold rush just over the horizon, AG Club understand that with those new opportunities comes an end to fun for the hell of it. Now, people are watching, and Fuck Your Expectations is an explicit response to those pressures. "We don't want to feel like we have to make a million "Memphises" to impress people," says Fontaine. "It's a message to our hometown: stop expecting this to happen like you've seen it before. We're not gonna get a little attention and forget where we came from. We're still the same people, but you've got to be accepting. If you really fuck with the club, you've got to accept whatever comes out of that. We made no promises. Do not have expectations – do not, because we're just going to do whatever the fuck we want to do and go with whatever feels right." He repeats: "Do not expect. That's the best way to enjoy AG Club."
Things are finally looking up, but it was a long time coming. "Before AG Club, things were down bad," Fontaine sighs. It was summer '17, he was kicked out of his home, and unless something changed, he was going to blindly go to college and say goodbye to everything. "AG Club was divine timing," he says. While they all had their own musical projects at the time, something was missing. "I feel like music was fading, and then we had our session together and brought the spark back. It was fate."
Taking the major risk of not following the expected path of going to college, they were on the relentless nine-to-five grind just to make it through. In the suburbs of San Francisco, becoming musicians from the ground-up was almost laughable. "If you don't got a rich dad, it's like, you're 'bout to be here working at the pizza place we all used to go to in junior year until you're, like, fifty," Fontaine explains. "It's kind of the situation that so many people don't leave. We had to watch so many of our homies who we did this with give up, because life got real and they had to do the realistic shit. We had to work so many shitty jobs, but we'd always say, 'Damn, bro, this is not for me. We gotta be on some different shit.' You could see it in our eyes."
From working a catering job that saw them serving the obscenely rich, Fontaine remembers realising, in that moment, that he could live his life on this side – or go for broke for a chance to live on that side. "We knew that if we put the same energy into music that we put into these nine-to-five jobs, we could change shit. Because at the end of the day, you give your all at this job, you busy your ass, and at the end of your time, what the fuck you gonna have to show for it? You're never gonna be a CEO, you're never going to own McDonald's, dawg."
It was from love, and sink-or-swim necessity, that AG Club carved their own scene. Looking for an opportunity to perform, Babyboy and club member Jahan simply created their own backyard festival. With a makeshift stage, little speakers and questionable microphones, they brought the talent from their city to one place. "It was a moment," Fontaine reflects. "After that, it just erupted. All of a sudden, there was this emergence of different shows. It was just a bunch of kids starting to take initiative, setting up art shows and concerts for people. It evolved into people renting out actual venues for us. The last show that we did before moving to LA was at the Spirithaus in Oakland, and it was a real full circle moment for us, because everyone in that crowd were people who'd been going to every single show since 2017."
It's all a far cry from where they are now. Raised on a diet of A$AP MOB, who Fontaine followed religiously growing up, the club lost their minds when their manager Brad Scoffern, Tyler, The Creator's former road manager who now runs operations for Golf Wang, called to say that A$AP Ferg wanted to do a guest verse on "Memphis". "Brad always makes you play this guessing game, like, 'Oh, some guy wants to work with you. He did a song called "Shabba", I don't know if you've heard?' We just lost it. We were like, "WHAT? NO!" and started running around the living room like, "This is crazy!" Even at 10am in LA, the memory is more than enough to bring them to life.
It's easy to dismiss AG Club as another offshoot of BROCKHAMPTON and Odd Future; with their independent, DIY spirit and cartoonish hip-hop anthems, people are quick to compare. "It's not fun, you know?" Fontaine tells me. "It's really not. It's not fun." While they respect BROCKHAMPTON, they insist that the group is not among their inspirations. OutKast, maybe; Odd Future, more likely, but Fontaine has a point to make about that. "We're inspired by the generation before us, but when you compare us to people who are still young and in the game, it gets a little irritating. Just like, nah… We're on the same level, in my mind, because the same people who inspired them, inspired us."
He understands, however, that comparison is necessary. "The reason why it's so hard to spread music is that in order for somebody to listen to something, they gotta trust it. So when it comes to comparisons, I try to think about it like this: people only listen to what feels comfortable and familiar; people are always going to find something deep in their memory to compare to some new shit that they find. If people are comparing us to BROCKHAMPTON just so they'll get it and start to understand it - without taking away from our own creative ideas - then whatever, that's fine."
For AG Club, everything is about to change. They're teetering on the edge of everything they'd ever wanted – if they'd gone to college, they wouldn't have even got their degree yet. While their parents have no idea of the significance of an A$AP Ferg co-sign for a collective still in their creative infancy, they're arriving at a point where they don't care. "As long as we've got our bros, our family, and we can live our lives the way we always dreamed of when we were kids, then in our eyes, we're already successful." The world has finally started to open up for AG Club – the question is, are you ready?
Get the Best Fit take on the week in music direct to your inbox every Friday