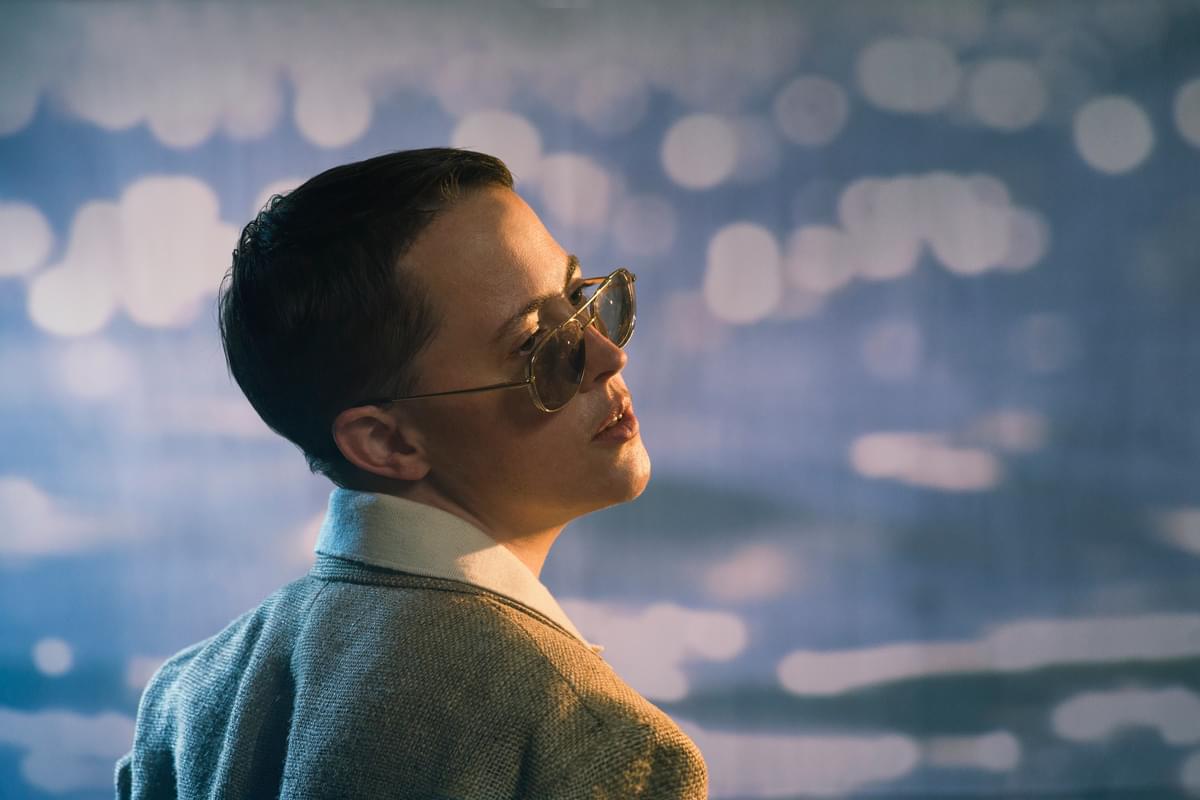 A radical act
03 September 2019, 08:12
While it's been met with opposition from authoritarians, Baltimore-based songwriter Jana Hunter's return will not be censored
Aside from briefly re-emerging with single 'Real Thing' in 2016, Jana Hunter's Lower Dens project has been absent from the musical landscape for the last four years. New album The Competition was written both before and after Trump's election, effortlessly journeying from the political to the domestic.
A time of immense external and internal change for Hunter, the Baltimore-based songwriter is now a Trans man – he identified as non-binary during Lower Dens' last album cycle – with a new President against the inclusion of Trans people in the military.
"If I was writing the whole album now, it would've been entirely political. I was writing some of these songs before it seemed necessary. With every record I'm trying to get under that armour I put between myself and the world, I want to make songs that reach deep inside people, so they need to come from deep inside me", says Hunter.
The lead single 'Young Republicans' is one of these political songs, portraying republicans as flesh-consuming cannibals. Its release was not met favorably, radio programmers branding it 'too controversial' for airplay, inflicting a major dent to their hopes for an album long in the making. "It did bother me. It didn't get play because of that name - we needed radio stations to play our first song. It's really important, particularly as we've been out of the public eye for four years, to get your name back out there and to get your streams going so that the next song you release gets even more streams, so you can then book venues big enough to make a profit on tour. I feel really lost in that industry soup we live in today. It's devastating to hear from people I work with that we've already failed the record in some way because our first single didn't get the streams it needed to get."
With much of the album focused on the misery competition subjects us too, it doesn't feel likely that the rest of the record will get support from broadcasters either – at the end of their day, they're owned by well-off people with a vested interest to keep the wheels of capitalism turning. That topic – the ills of competition – arises from Hunter's increasing awareness of the unhappiness it engendered within his parents when they were raising him. "An emphasis was placed on achievement rather than happiness or self-expression. We came from a place where the self was repressed and achievements become more an indicator of success than happiness or curiosity or connection and any of those things which makes for successful, ambitious people but not necessarily happy people. I didn't realise when I was young, how much of their decisions and path in life was motivated more by fear than their own desires."
That white working-class upbringing in the aftermath of a Trump election has led to Hunter bearing a hefty weight. The fact his community – his family, his childhood friends – are to blame largely for the election of a president so diametrically averse to the person Hunter is, resulting in conflicting and troubling questions; for example, 'How can you love me when you voted for a president that penalises the queer/trans minority I belong to and other minorities?'
Hunter takes on that topic on album tracks 'In My House', 'Empire Sundown' and, of course, the aforementioned lead single 'Young Republicans.' "I come from that population and I know there are people who voted Trump in my family. They are still unwilling to disavow him because he does things that make sure that judges who get elected that are pro-life. For them, that's more important than the things he's doing to other populations.
"I guess in the one sense I can see that those people are already fearful and coming from a place of fear. Somebody like Trump and the conservative think tanks are making the most of it. Not to say that those people aren't at fault, I come from a racist population and a racist part of the country, a very segregated area and Trump and his ilk are taking advantage of that. In a way, I got real lucky being queer because from a very early age. I was not part of the groupthink communities around me, which made it easier for me to see how other people experienced differences. In a way I'm grateful for that, I don't know what to say about the people and place I come from." Hunter despairs.
"With every record, I'm trying to get under that armour I put between myself and the world, I want to make songs that reach deep inside people".
The question of his dearest ones voting for a President against the inclusion of Trans people in the military is met by a mournful, solemn silence. Eventually, though he's able to express his feelings in the unflinchingly honest, 'take-no-prisoners' terms employed on his new record. "It is really weird, those conversations are really hard. There are people in my life who love me who don't take that as a valid criticism. It's that kind of love that overlooks a huge part of who I am. So that isn't the kinda love they think they have for me. These are people I'm really close to, who I love very much and these are the arguments I have in my head all the time. How do I square these people who have shown me so much love, who've let me give them love, with their views on Trans people, Muslims, Immigrants and so on?
"Those people within my family are capable of compassion but they have a difficult time with empathy - that requires a lot more vulnerability. The combined forces of Evangelical Christianity and capitalism and a macho culture make it feel like a huge risk for people to be truly vulnerable, to be capable of real empathy. There's a huge deficit of empathy amongst people who would vote for Donald Trump. They might be compassionate, they might have loving relationships in their life, but when they're thinking about the populations they're contributing serious harm to, they are not realising that they're not treating those people as human beings.
"I'm scared to give those people too much credit, it's kind of a lot of credit to say, 'They don't realise they're doing that.' Sometimes I feel that's me wanting to give them the benefit of the doubt because if I can do that, if they truly deserve that, there's a way to bring them back to sanity but that might be overly optimistic. It was much easier to have those mechanisms to deal with problematic family members before they had a president who was willing to do whatever he needs to do to keep them fired up."
Hunter is still permanently in a state of disbelief, the election initially seeming so ludicrous – an 'if you don't laugh, you'll cry' kind of reality – that he didn't foresee how tragic its consequences would be. "I had maybe one or two friends who were like this is what this means, like the rise of fascism, putting people in camps and it was so hard for any of us to take that seriously as a possibility. It was impossible to imagine and now here it is."
"These are people I'm really close to and these are the arguments I have in my head all the time. How do I square these people who have shown me so much love with their views on Trans people, Muslims, Immigrants and so on?"
"In Your House' is about him. Creeping into our lives, kind of like what happened right around the election where most of us were in disbelief about his election and still wanting to make jokes about him but beginning to realise at the same time, the fact that his election meant much worse things ahead of us we had perceived or would have felt were possible. So that song, 'In Your House' is about how before you know it, the predator is already inside your house."
The soundscapes anchoring these messages are more electronic than anything Lower Dens have done previously, krautrock, house and techno influences abound. "There's a lot less guitar, the songs are much more layered, there's so much going on I have to listen to them a lot to remember what's happening in them. I felt the whole time I made this record, I have less of a handle on what it is than I did with prior records. It came from a less conscious place. I feel that the songs have more of an intensity to them as they weren't as filtered through my intellect which can be a barrier sometimes. It's a better record for me not spending so much time not thinking about what makes right decisions with songs."
This tapestry and the production are telling of Hunter's increasing interest and knowledge of the recording process. "It took us such a long time. Writing songs for me is an excruciating process, I don't like it [laughs] but I really like production. Compared to writing songs it's like candy. There was a very long time in between finishing recording and sending it off to get mixed because production took so long because we were experimenting", Hunter remembers.
While the songs may have been excruciating to write, the subject matter and communities they represent render them more important than ever in this era of populist white-supremacy. Hunter devolves so much power from his community; its existence and his own are 'a radical act' in his mind. "Especially as a queer person. I grew up in a time where it was not good to be openly gay, especially visibly trans. It feels like a radical act, I feel very vulnerable still being openly myself, allowing myself to love and be loved in public as a trans person. And I do feel that's true for a lot of populations."
It might get censored but authoritarians will not be able to block the power these songs transmit, good music always gets through and 'The Competition' will be no different. The power Hunter feels in his Trans/Queer community sent out into the world. An invaluable gift that can only be a source for good.
The Competition is out this Friday via Ribbon Music.
Get the Best Fit take on the week in music direct to your inbox every Friday