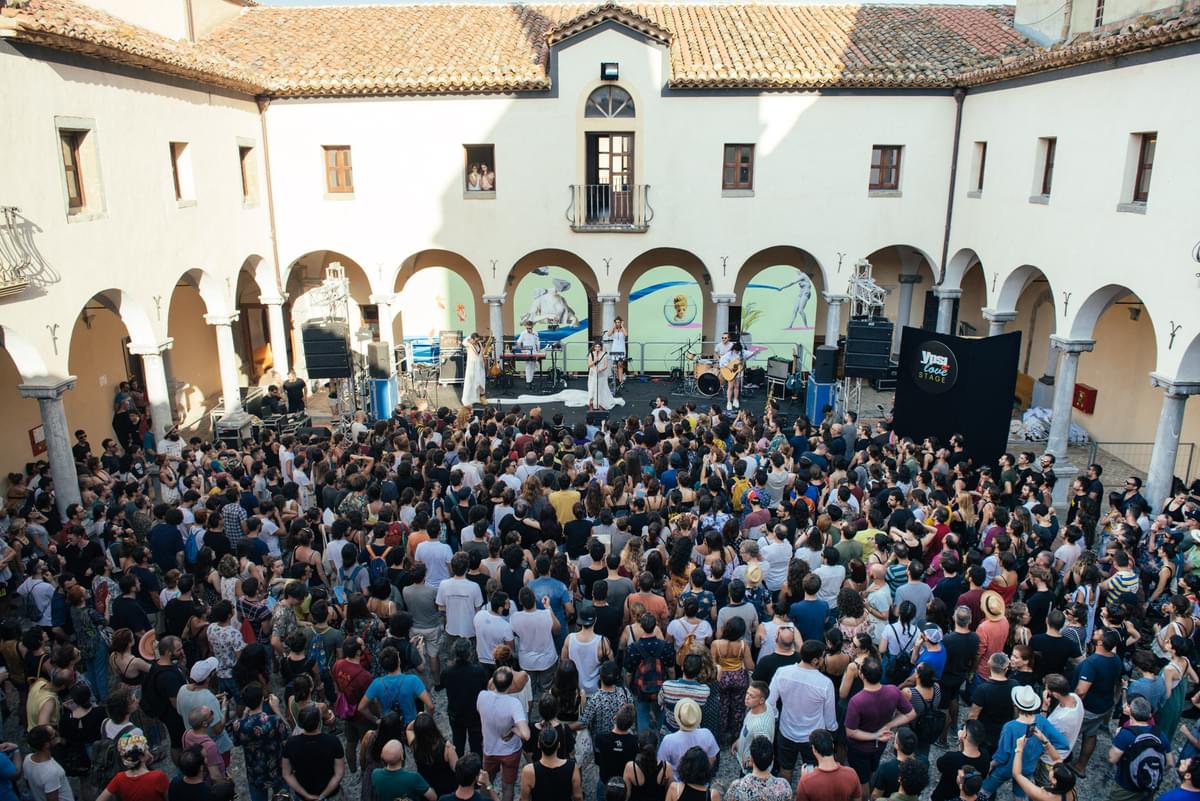 Ypsigrock stakes its claim as one of Europe's most picturesque festivals
31 August 2019, 15:22
Across an expanse of courtyards, mountains, blue skies and verandas, the eyes become inured to beauty in Castelbuono in the way they adapt to the darkness at night.
Another perfect sunset, another stunning piece of architecture carved out by nature or design (the town's name literally translates to 'good castle'), another flock of outrageously healthy and happy looking people enjoying, another coruscating set from one of the world's best bands. Ypsigrock is relentless on this front, and my English spirit craves mediocrity. When will this nightmare end?
The fact that Ypsigrock could probably book nothing more than three-quarters of Hard Fi and a lounge jazz saxophonist (and if Jools Holland is reading this and books 'Soft Fi' for the Hootenanny, I now want royalties) makes it all the more impressive that they bring such high-profile bands and artists to the event every year. I'll never forget being in an unexpected mosh pit for last year's Sunday headliners, The Jesus & Mary Chain, and loving every second of it; with the likes of The National and Spiritualized on the bill for 2019, the festival organisers have outdone themselves once again.
Another refreshing aspect of the event is that the live music often doesn't start until early evening, allowing both time to explore the local town and countryside during the day as well as a focus on selected quality acts at night – there's no scattershot of artists missed during the day, and as such attendees are more likely to soak up each performance when they do arrive. After impressing at this year's The Great Escape, Italian electro-pop musician Giungla is the first such artist, performing at the Mr. Y stage on the first night. Recent single 'Better Than Ever' sounds, well, better than ever in the intimate venue, and proves the perfect appetiser for the Piazza Castello's main attractions tonight.
The main stage, set on the piazza and against the backdrop of the famous castle, is already crowded, and with good reason: Let's Eat Grandma are taking to the stage. Having released one of the best albums of 2018 with I'm All Ears – the very best, for my money – the Norwich duo waste no time in launching into said record, and it soon becomes apparent that they're essentially playing the whole thing front to back. 'Hot Pink' goes down like a double shot of Molinari, the local aniseed liqueur: somehow both devastatingly sweet and corrosive at the same time. But it's the closer 'Donnie Darko' that elevates the set to god-tier status, a rollicking eleven minutes of prog-rock and emotional lyrics about the Yellow Pages, which is something I never thought I'd have to write.
Following them is a small indie band from Cincinnati called – let me just check my notes – ah yes, The National. In a set that leaned surprisingly heavily on their own latest record, I Am Easy To Find, Matt Berninger and co. proved that they can still deliver a breathtaking set from any corner of their back catalogue. When the older classics do come in, the crowd lose their minds, although the moshpit for 'Mr November' consisted primarily of one sweaty journalist. (Reader, please enjoy the aforementioned Molinari responsibly.) After ending up carried in the arms of cheerleaders – his fans, in this case – Berninger closes the set with a singalong to 'Vanderlyle Crybaby Geeks', and it's magnificent.
With such a spectacular first night cleared, Saturday offers surprisingly little in terms of bigger attractions. Nonetheless, Baloji are a spectacularly entertaining and high-energy start to the main stage proceedings, the party proceedings flowing uninterrupted alongside the MC's on-stage monologues about Western attitudes to immigration and Africa. By contrast, indie rock band Giant Rooks are something of an anti-climax, blending George Ezra with Bastille and still ending up with something considerably less palatable than both.
The lack of main stage action does provide an opportunity to explore the other venues, and it's always a rewarding experience. The alternative 'stages' are often extremely intimate rooms in centuries-old buildings, and each of them is predictably wonderful for hosting live music, including the dark-ambient soundscapes of Mokado at the Ypsi & Love Stage, essentially an ornate enclosed courtyard a little further up the hill. Back at the Piazza Castello, one wonders whether Let's Eat Grandma might have occupied the headline slot tonight, though perhaps touring commitments prevented it. Instead we have David August, whose moody electronic set is high on atmosphere but perhaps short on arms-aloft headliner moments.
The last day offers further opportunities for adventure, including a stunning trip to a local vineyard and the chance to sample some of Castelbuono's finest cuisine. Having dined out all over the town by now, you'll struggle to find a less than exceptional restaurant, though for vegetarians in particular the things Nangalarruni can do with a mushroom are exceptional. By the time we're back at the main stage, the lineup is looking pretty tasty too.
Whispering Sons offer a dark, Joy Division-tinged contrast to the sunshine cascading all around us, and it's actually a welcome dose of something a little heavier for the day. Fontaines DC are possibly the most hyped act of the weekend (and across the year), and despite recently cancelling a string of festival appearances due to ill health, the band put on one hell of a show, tearing through tracks from this year's debut Dogrel like their lives depended on it and justifying the buzz.
All that's left after that is Spiritualized, who are unsurprisingly excellent, their wall-of-noise sound carrying across the piazza and well beyond the castle grounds. The title track from Ladies and Gentleman We Are Floating In Space was always going to be special, but it sounds divine here, and Jason Pierce dips into various pockets of an illustrious career to create a perfect Sunday closer. It's gorgeous, but then again, isn't everything here? As you glance around the main stage, the castle illuminated by various animated projections, the sky above containing occasionally visible stars, it's all a bit much again. No doubt I'll be back again next year, ready to soak up some European adventure once more. I've got a feeling I'm going to need it more than ever.
Find out more about Ypsigrock at ypsigrock.it
Get the Best Fit take on the week in music direct to your inbox every Friday