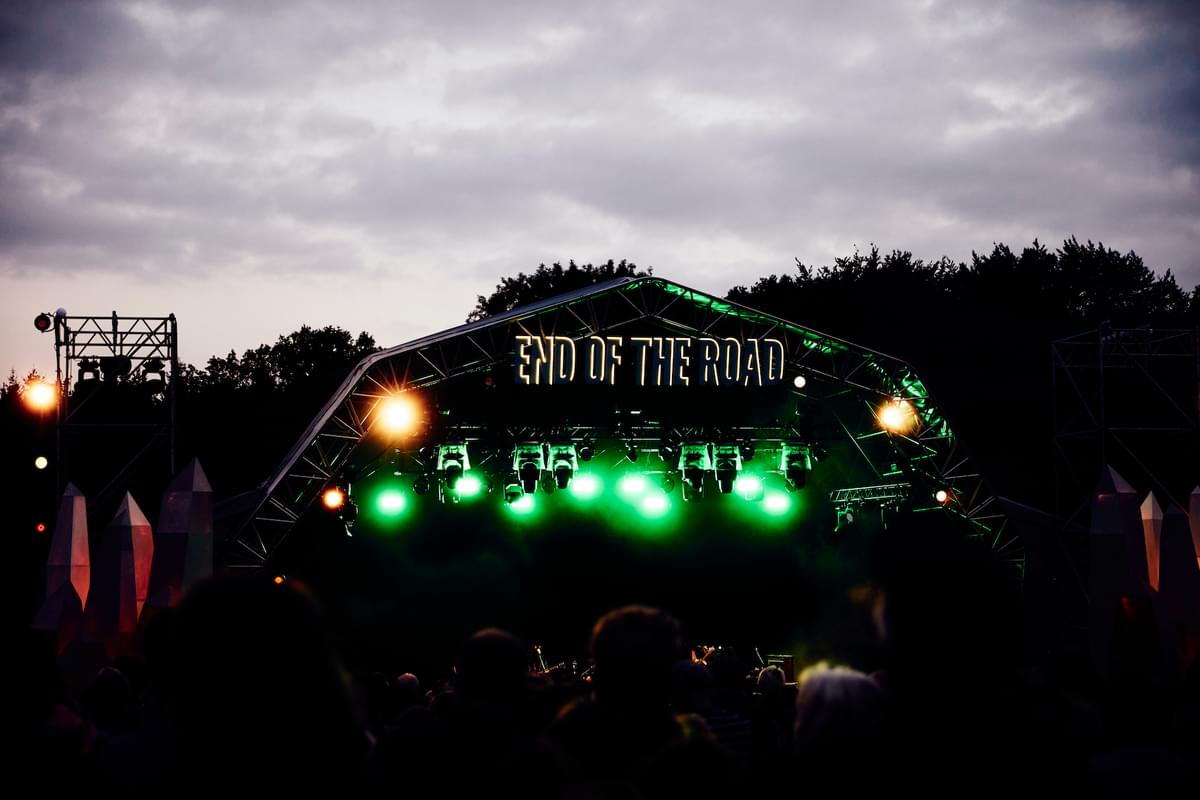 Workshops, doughnuts, and discos descend on the third day of End Of The Road 2021
05 September 2021, 12:10
As the sun rises on Saturday morning, those fresh-faced following Friday night's silent disco and Katy J Pearson's secret set are welcomed by a host of wellbeing activities and workshops.
Asides from the music stage curation, further audio-visual experiences await in the cinema tent. Humbly set back from the bustle of the largest stage, End Of The Road natives Ben Wheatley and Andy Starke of Rook Films return to the site to host an array of children's classics, music documentaries and Q&A sessions.
The lesser-known area of the site is a hub for cinephiles and music history geeks alike. Sisters with Transistors initiates the documentary portion of the screenings to shine a light on the contemporary history of visionary women in the industry, closely followed by Delia Derbyshire: The Myths and the Legendary Tapes. The film explores the life and work of the electronic sound pioneer, most known for her work with BBC, including the arrangement of the theme to Doctor Who, and since influencing the likes of The Chemical Brothers and Aphex Twin. Followed by a Q&A session with actress, Caroline Catz, Times journalist Will Hodgkinson invites the audience to discuss her work to date.
Taking a right turn into the Wonderlands Lawn, Saturday morning begins on a tuneful high. Between brightly coloured gazebos and pergolas, a Wake Up Singing session commences promptly at 10am and sees punters of all ages humming, laughing, and dancing together in a unity that resembles the familiarity of old friends. Elsewhere, mindfulness is the motif for Wake Up Yoga as attendees are encouraged to embrace the surroundings barefoot to quite literally connect with the idyllic surroundings.
A host to a range of independent businesses, End Of The Road also welcomes East London's Stranger Than Paradise Records. Based out of Hackney, it's the first time that they've stepped outside of their familiar grounds, poignantly aligned with the celebration of Love Record Stores on 4 September. Launched in March 2020 as a global initiative to support record stores during the coronavirus pandemic, the campaign culminates re-issues and new, exclusive vinyl releases. In the grounds of Lamar Tree Gardens, record fans can pick up the limited releases, including those from this weekend's performers: Arlo Parks, and Black Country, New Road, whilst later in the afternoon, Squid, Field Music, Anna Meredith, and Drug Store Romeos arrive for signings.
Moving over to the Tipi stage at midday, Welsh-six-piece Melin Melyn arrives as the first act of the day to no less of a crowd than the night before. Armed with an on-stage painter, technicolour outfits, and a shed load of banter, the Celtic group employ their tongue-in-cheek lyricism to perform their '70s infused jangle melodies at the midday crowd. A spectacle to the eye, they laugh with the crowd over their food-orientated titles ("Jelly Vs Blomonj") in a commentary that transcends their small-town beginnings.
As Saturday continues, Best Fit's secret Piano Stage continues to host an array of mainstage talent, nestled in the comfort of its loungelike setting. Anna B Savage opens with a special solo set, being joined by William Doyle and Laurie of Squid to cover Radiohead's "Nude" and Anna Meredith sits down with Jen Long for an intimate Q&A. She speaks of her uncategorisable sound, dream collaborations, and the return to live music - "I find comfort in working with the same people," she shares about her performance, "we get a lot of support and pick each other up". A few hours later she takes her melange of electronica to the garden stage, energising the crowd with an unremitting sense of urgency and closing her set with a cover of Metallica's "Enter Sandman".
As evening draws on day three, secret sets aren't only limited to the music variety. The newly named Campfire Bar, adjacent to the Garden Stage and partnered with Two Tribes Brewing, serve up a limited run of their much-discussed Pork Doughnuts. Their sweet and smoky blend of pork, chilli jam and sugared dough sees queues forming from 5pm, with punters buzzing around the site in anticipation of the 'when it's gone, it's gone' hype.
Moving back over to music, recent Dirty Hit signee SIPHO is an undeniable Friday highlight. Gracing both the Piano and Big Top stage with his earthy blend of R&B leaning gospel-pop, he exudes the confidence and allure of a headline act whilst maintaining a humble aura. Smooth and soulful, his cover of Frank Ocean's "Seigfried" quickly wins over the audience as he deftly blends his pitch-perfect vocals into the existentialist track. "I'm going to slow it down for a couple of tracks" he later says to the crowd, joking that "I'm getting old, I'm 21-years-old, my back hurts", before sinking into his keyboard for mellow track "Circles".
Closing out the Friday, heavy-hitting headliners Sleaford Mods bring their political angst to the Woods Stage before festivalgoers move over to the Tipi stage for the late-night secret sets by Giant Swan and Chubby Gang and the Gang.
While much of the crowd take to the silent disco to dance into the early hours against an in-ear background of 00s pop, 80s classics, and old school soul, Friday draws a close with much anticipation for tomorrow's performances by King Krule, Little Simz, and Richard Dawson as well as a screening of Midsommar and comedy from longest-running Edinburgh Fringe 'Best Show' winner Jordan Brookes.
Get the Best Fit take on the week in music direct to your inbox every Friday