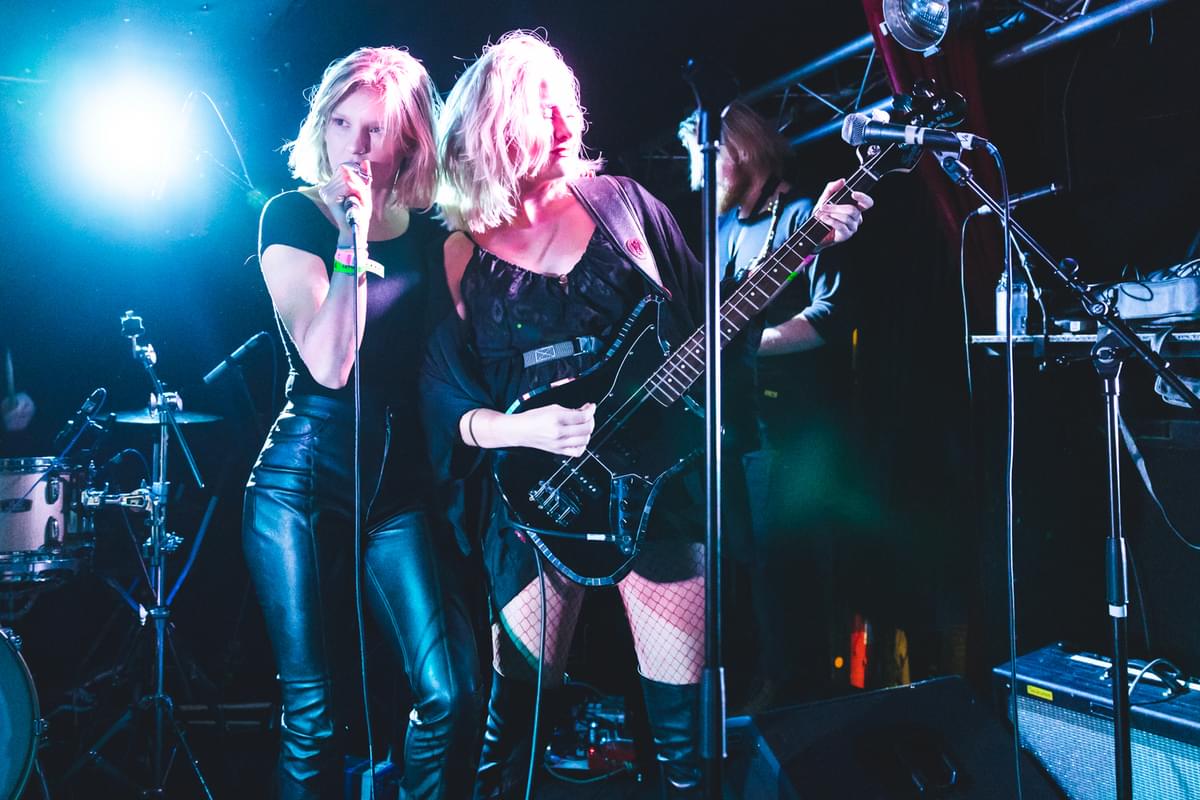 Vulnerability and honesty take centre stage on the second day of Iceland Airwaves 2018
09 November 2018, 12:50
The 20th Iceland Airwaves is at its half-way point and is getting into full swing. Gabríel Benjamin reports on the ground
While hip-hop has been making the rounds as Iceland's biggest musical attraction, there is something to be said about honest electro-pop and a dynamic voice, and that's what future powerhouse BRÍET (pictured below) brings to her show at the art museum. Armed with a repertoire of ear worms, she was at all times in control of her voice and showed she was at all times confident in her skin.
Bagdad Brothers (pictured below) completely fill Húrra before the clock strikes 8 with a show reminiscent of an Icelandic sveitaball country party where the attitude is merry and the drinks flow freely. The brothers are sugar sweet, with the high-pitched singer blissfully singing songs about being a "self-sufficient lover boy", pepperoni, and other such cute subjects. They also draw the kindest crowd that goes out of its way to tell people in the back that there are still pockets of space by the front.
Ragga Hólm shows that she is full of surprises with a set that stands in stark contrast to her performance the previous night with Reykjavíkurdætur. When performing with the daughters she always looks to be armoured up and hiding behind a wall of attitude, but at this show Ragga allows herself to be vulnerable and sincere, singing softly but confidently love songs about her ex. She also had a wonderfully honest song about being raised in a poor town and making her way out to the big city, reinventing herself along the way. She then shares a love song with Fever Dream, who jumps at the opportunity to proclaim it's about a ménage à trois they shared, only for Ragga to blush and insist it's not. The set starts out slow, but as it gains momentum and takes a turn towards harder rap, Ragga gains a noticeable swagger in her step, showcasing a more laid-back and natural confidence than I'm used to seeing from her.
Milkywhale reminds everyone why they are the royalty of dance music, putting on a spectacle. Singer Melkorka shows she's got energy for miles, dancing energetically through the entire show without running out of breath, and inspiring the crowd to try to keep up with her vigorous dance moves. The duo's infectious energy at their live shows is undoubtedly their greatest strength.
Over at Gaukurinn, youngsters GRÓA throw everything and the kitchen sink at the crowd with their relentless energy and fast-paced songs. Energetic and fun loving, the trio shows confidently how to play irreverent punk music.
Hórmónar (pictured above) continue to push the envelope, debuting new song "PMS", which is a maelstrom of screaming and energetic bursts of action, with the singer asking repeatedly "why?!" and "how could I have forgotten?!" They shred through their feminist catalogue, starting with the female-empowering orgasmic song "Kynsvelt" (sex starved), then virtue-signalling banger "Glussi", love-hate song "Ekki sleppa" (don't let go) before ending on "Frumeynd", a complex song about PTSD brought on by sexual assault that steadily builds up energy before releasing it in a heart-rending finale. The band earns repeated applause from the crowd and teases a new song they want to play, but end up running out of time before getting to do so. The crowd chants "one more song!" but will unfortunately have to wait until a later show to hear it.
Norwegian-Pakistani Nadine Shah (pictured above) finishes the night with a series of energetic and thoughtful post-punk where she and her band contemplate and tackle subjects like immigration, racism and the toxic rise of populism; topics that Iceland and the West all need to tackle in a much more substantive manner than they do at present.
Get the Best Fit take on the week in music direct to your inbox every Friday