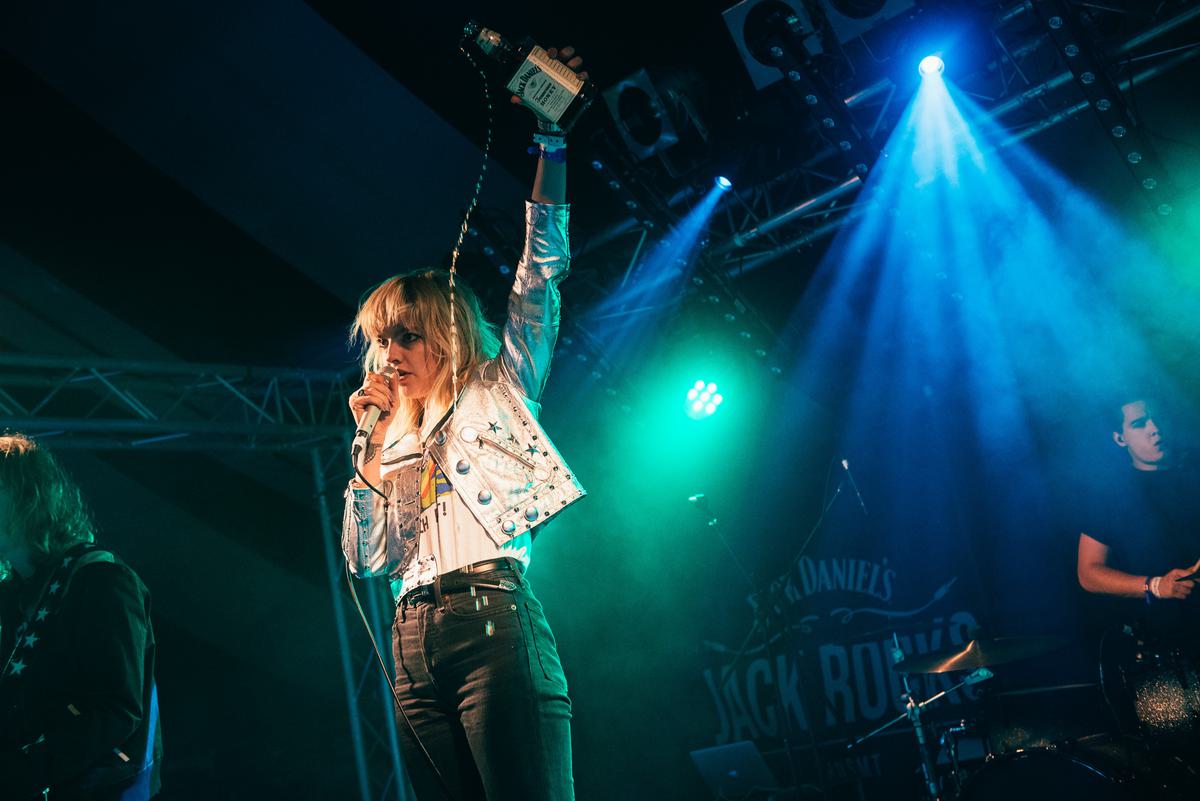 TRNSMT: A credible alternative to T in the Park?
15 July 2017, 08:15
A slender line-up bolstered by a handful of special performances makes for a low-key inaugural TRNSMT, Scotland newest festival held at Glasgow Green.
City-centre festival TRNSMT can be seen as a replacement of sorts for T in the Park; Scotland's biggest music festival and teenage rite of passage, which was placed on indefinite hiatus this year as promoters struggled to prevent its annual descent into carnage.
On paper, TRNSMT posed an appealingly chill alternative: Three days of big acts and fresh new discoveries in a centrally-located park that has played host to big outdoor gigs before, and (crucially) the chance to pop home for a shower and a sleep in a proper bed every night.
The headliners were impressive too: Whatever you think of Biffy Clyro and Kasabian, they're undeniably coveted rock festival headliners, but the big draw was always going to be Radiohead – what other festival in its first year manages to share a headliner with Glastonbury?
But as music festivals continue to be pulled up for the lack of women on their stages, it's a huge disappointment – although sadly, unsurprising – to see a brand new festival launch with a line-up so severely lacking in female performers, with only two women appearing on the main stage all weekend: Hannah Reid of London Grammar, and Sarah Martin of Belle & Sebastian, both on the Friday night. This improved slightly when a handful more acts featuring women – including Fickle Friends, Superfood and Clean Cut Kid – were added to the smaller King Tut's and Jacks Rocks stages in the second line-up announcement, but it seemed like too little too late, especially considering how uninspiring some of the so-called big name choices were – who knew The View or The Kooks could still land main stage slots?
The only place where women were the majority was the Smirnoff Tent, where DJs such as Jaguar and Syreeta (the only women of colour on the bill) played long sets ideal for dipping into between bands. Although very much a side attraction – as is usually the case for the dance music tent at a majority-rock festival – the crowds were consistent throughout the three days, especially when the sun came out on Saturday afternoon.
TRNSMT's location in the city centre combined with the specific draws of the headline acts meant that most of the attendees were only along for the day, treating it as a series of big-name gigs with better-than-usual support acts rather than an all-in weekend event. Wandering around the festival site, it was clear that the audience was markedly different on each day – the huge contingent of Pretty Green-clad 30-something men attending for Kasabian on Saturday night were in stark contrast to the young women in glitter makeup out for The 1975 on Sunday.
Promoters announced this week that TRNSMT will be back in 2018 for a second run, building on the potential of the festival as a low-key alternative to the monolith of T in the Park. Let's hope for less bland indie lads and more women next time, though.
Who we saw at TRNSMT
Belle & Sebastian
Local heroes the Belles are a group whose charm increases about three-fold in the context of a sunny day in the park, so the burst of good weather for their Friday evening set is perfectly timed. Stripped of most of the precious tendencies of their records, the hits are given space to shine, with old favourites like "The Stars of Track and Field" and "Judy and the Dream of Horses" made over with fresh vigour. Even their old trick of bringing audience members on stage to dance to "The Boy With The Arab Strap" as fitting on this occasion, and reflected in the sporadic projected short films of dancers at the side of the stage: While not the most lively band themselves, they understand they can easily boost their energy by channelling the joy of their audience.
Fickle Friends
Brighton-based five-piece Fickle Friends bring high energy fun to the King Tut's Stage on Saturday afternoon, with playsuit-clad singer Natassja Shiner oozing the kind of charismatic peppiness that Friday night's Belle and Sebastian set could only pay tribute to, rather than emulate. Live, their on-trend 80s synthpop fizzes with excitement, enlivening a sound that seems to have been tried on by everyone in the past year. Recent single "Glue" sparkles with a chorus to rival Paramore's recent output, while Shiner bounds around the stage for the full half-hour set, climbing down to party with the crowd at the end.
The Van Ts
The Van T's take the stage on Saturday afternoon looking glammy and glittery, with singer/guitarist twin sisters Hannah and Chloe Van Thompson and bassist Joanne Forbes dressed in a uniform of wide legged trousers, crop tops and a sweep of glitter under each eye. Their fuzz rock is sexy and harmony-laden, recalling a harder-edged My Bloody Valentine or the more straightforward rock moments of Wolf Alice, another band who understand the importance of glitter and femininity in rock music. Surf-rock single "Laguna Babe" is a highlight, as is a fun glam-rock makeover of Ian Carey's late-2000s house hit "Get Shaky". Their rock 'n' roll posturing might not be revolutionary, but on a day when the main stage groaned with a run of identikit lad bands – Kasabian, The Kooks, Catfish and the Bottllemen – it was refreshing to be reminded that bands of three cool women and a dude in a gold lamé top can still pull a crowd – catch them opening for Jesus and Mary Chain later this year.
Radiohead
Fresh from their headline set at Glastonbury, Radiohead's show on Friday nigh (pictured above, photograph by Cameron Brisbane) t manages to be both challenging and emotional, thanks to a well-chosen setlist combining tricksy tracks from Kid A onwards ("Myxomatosis", "Pyramid Song") with singalong favourites ("Karma Police" and a somewhat unexpected thrash through "The Bends"). TRNSMT is the band's first show in Scotland since they played the same park in 2008 in support of In Rainbows, an album whose songs form some of the most memorable parts of the show: Their launch into "15 Step" after a reflective start with "Let Down" and "Lucky" feels like a triumphant release. The biggest response however comes during "No Surprises", when a roar ripples through the huge crowd after the ever prescient line, "bring down the government/they don't speak for us".
Vukovi
While Fickle Friends channelled the more recent 80s pop incarnation of Paramore, their emo origins are invoked on Sunday during Vukovi's early afternoon set on the King Tut's stage. As the band plays hard and fast, singer Janine Shilstone snaps between screaming earnestly and hamming it up, alternately leading the audience in a synchronised dance routine, and shooting confetti ("get your beer tokens!") out of a plastic pink toy gun. It's not surprising to hear programmed beats fall in behind the guitars towards the end of the set – so much Scottish electronic pop originates from emo, most notably CHVRCHES – but any attempt at a poppier sound falls flat. Vukovi are fun, but their sounds and posturing are too corny to resonate further than the immediate moment.
Anteros
Continuing a theme on the smaller stages TRNSMT, London-based four-piece Anteros play the kind of agreeable indie disco music that would be unremarkable if not for their charismatic female lead singer Laura Hayden, who stalks the stage of the tiny Jack Rocks tent in a silver leather jacket like a millenial Cherie Currie. 2016 single "Breakfast" is a highlight, full of salty quips ("Why don't you tell me over breakfast?/'cause I don't need to know now") given conviction by the intensity of Hayden's performance. The band's '00s-throwback sound works less on closing song "Anteros", when the mood switches to self consciously anthemic and Hayden's wittiness is replaced with platitudes, but overall their Sunday afternoon set is fun and energeti
The 1975
Perhaps an odd choice to play before local rock behemoths Biffy Clyro, The 1975 (pictured above, photograph by Cameron Brisbane) bring some much-needed glamour and groove to Sunday's main stage line-up, performing with their full tour lightshow that baths the rain-sodden crowd in soothing pinks and blues. Singer Matty Healy totters across the stage on platform Gucci trainers like the liveliest drunk at the party, quoting his own lyrics in his between-song chatter and kissing the BBC cameras with smudgy make-up scrawled across his eyes and torso. Although only taken from two albums and a handful of EPs, the setlist already feels like a Greatest Hits, with the sublime "Somebody Else" at its heart – the crowd's enthusiastic shouts of its refrain "FUCK THAT GET MONEY" feel like a communal catharsis.
TRNSMT returns to Glasgow Green in Summer 2018, license permitting. 2017 day tickets from £59.50, weekend tickets from £155.