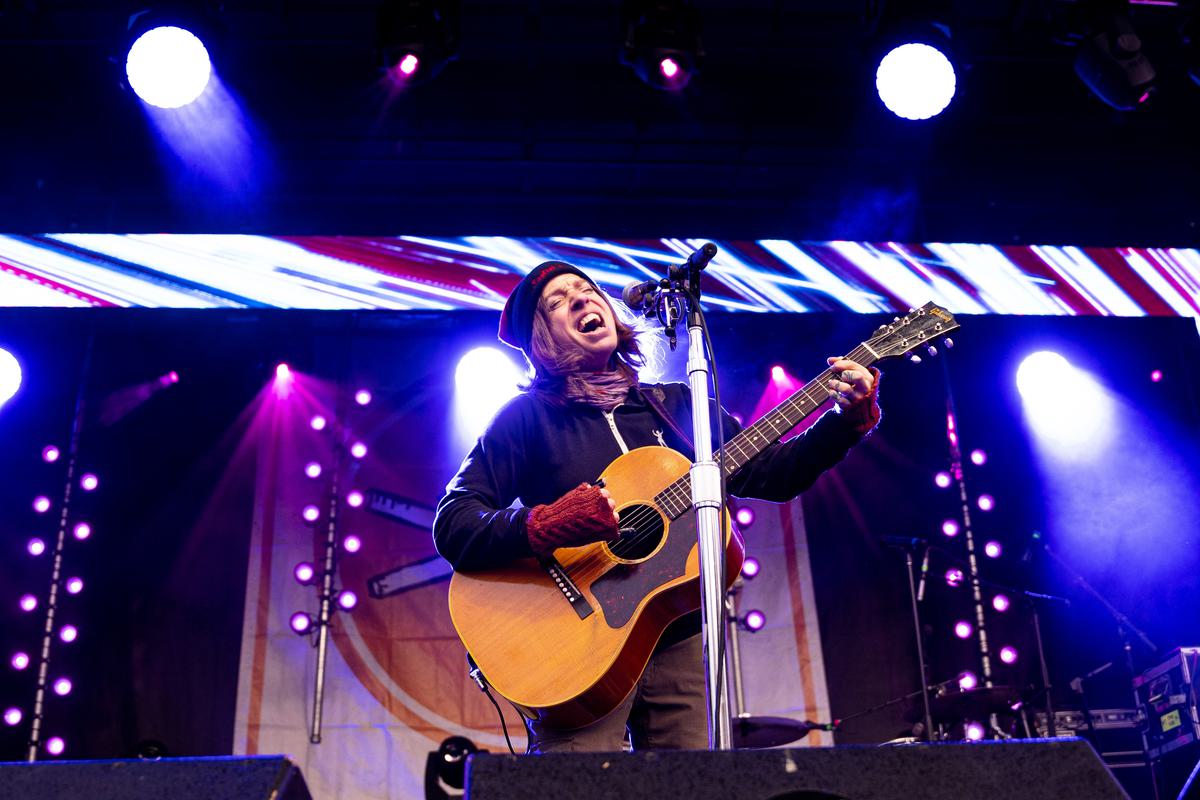 Treefort Music Fest evolves to meet the challenges of its second decade
15 April 2023, 12:00
Lead photography by Brandon Loureiro
Best Fit reports from Treefort Music Festival as it celebrates its eleventh edition.
For its eleventh edition, Boise, Idaho's multi-venue celebration of independent music has taken a great leap forward in its evolution and done what few festivals have achieved – opening its very own venue.

The Treefort Music Hall sits in a former Office Depot building just a stone's throw from the festival's main stages. A year-round, all-ages, artist-first endeavour, it was actually something that figured into the early part of Treefort's origin story. With the paint barely dry – and no actual signage yet – the venue's inaugural show takes place a few days ahead of the festival, with Canadian punks PUP headlining a packed Saturday night in Boise.
The new venue is just one part of the sprawling Treefort experience – which includes over 50 different spaces for music, food, talks, drag and more to play out in – but it's not the only big change for this year's event. The main stage has moved too, leaving the streets of downtown Boise and relocating to the nearby Julia Davis Park. It's a decision that came with both challenges and benefits, Eric Gilbert – one of the festival co-founders – tells me: "We have new neighbours and we have to be careful about the zoo," explains Gilbert. "It's a much bigger perimeter to maintain, with more security, but we built the team out to be able to tackle it."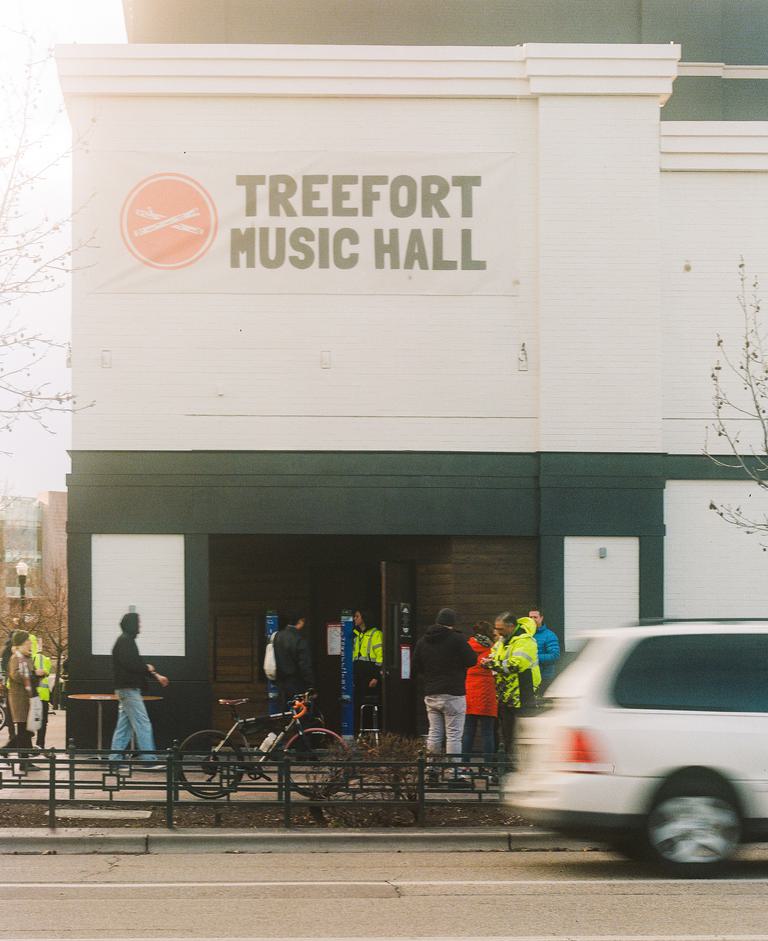 Photo by Ben Huynh
The festival worked with city planners to look at options for the new site. "At one point we were leaning towards another park, Cecil D. Andrus Park, up by the State House," Gilbert explains, "but Julia Davis Park made more sense because especially as the city grows, it's on this side of the river, it's still in downtown. I actually met with the great grand-daughter of Julie Davis – who is in her 80s now – and to her the park was part of the cultural birth of Boise, so she was excited to have a cultural institution like us in that space."

Among some of the other novel spaces being used as stages this year is a disused Greyhound Bus Station, and the El Korah Shrine, the local HQ of a masonic-adjacent fraternity whose fez-adorned members help out with the bar and flow of festival-goers during sets from the likes of Protomartyr and French Cassettes. The Shrine will continue to host shows beyond the festival, Gilbert tells me, as a second venue in the Treefort family: "The Shriners were looking to sell the building and you know, with these old buildings, the dirt underneath is worth more than the building itself - but luckily, our relationship with the Shriners helped convince them to go with us."
A trip to Treefort is brilliant and exhausting; it rivals Brighton's Great Escape for racking up the walking miles but thankfully there aren't the sharp inclines of an English coast to deal with. Treefort's line-up this year mixes a legendary clutch of artists- Dinosaur Jr and Ani Di Franco among them - alongside the emerging and buzzy: Blondshell, NNAMDÏ, Frost Children, Debby Friday and Mauvey are obvious highlights, and that's just five names from more than 500 showcasing the future of music across the festival's five days.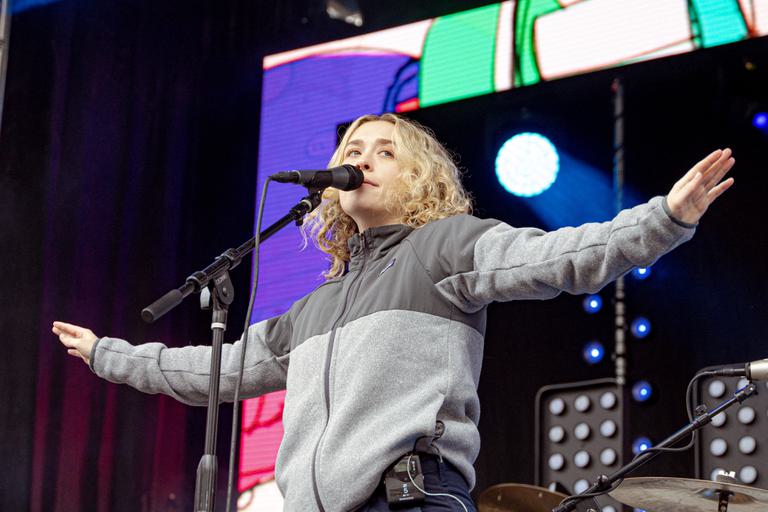 Photo by Brandon Loureiro
Gilbert's approach to curation is second to none - I'd dare say among the best of any festival I've been to. It's not that surprising considering his background as a touring musician and booking agent, and his other job running a weekly news music on non-profit station Radio Boise. The festival's approach to curation begins with the local – and an open call for bands to play. Around 2500 applied this year, with about half of the festival's line up coming from that pool.
"We get really small artists from all over the world that apply through the submission platform," explains Gilbert. "It's accessible to bands that don't have representation yet and it's really important to me that if they took the time to apply, I want to make sure they get at least one set of ears on them."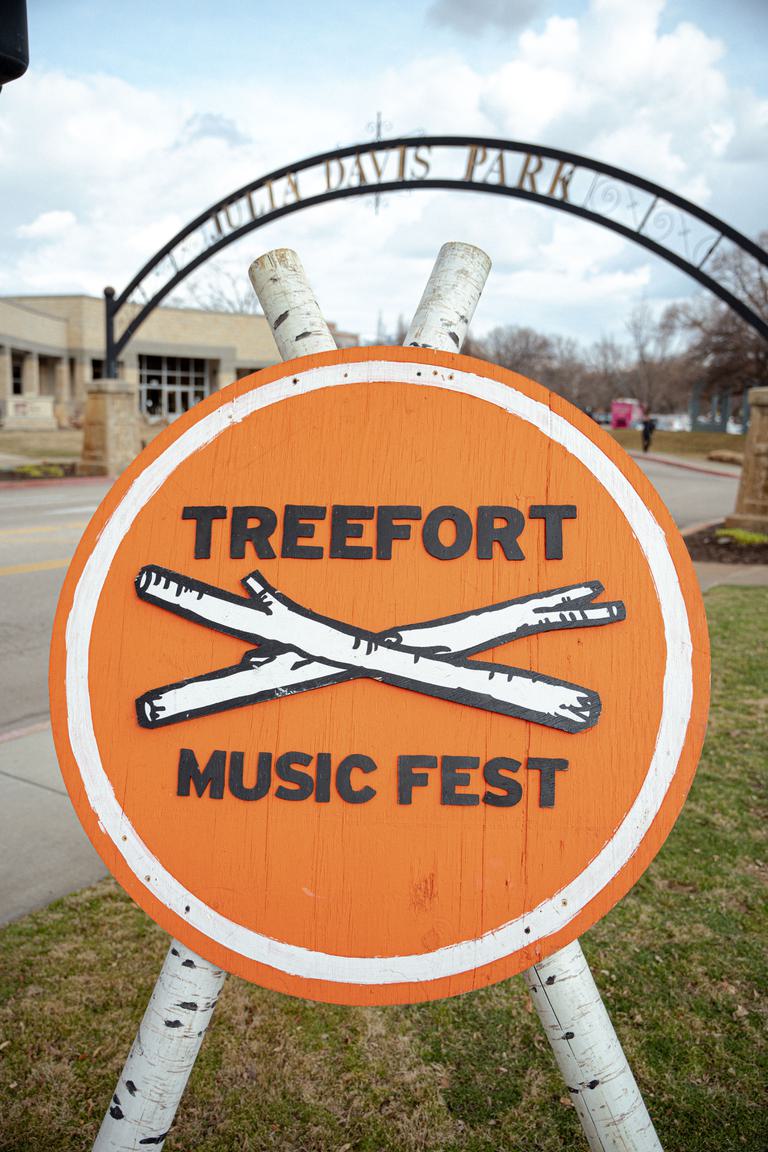 Photo by Brandon Loureiro
Finding Treefort's headliners, Gilbert says, is about names that reflect the other artists on the line-up. "Ones that the other artists are exciting about first," he adds. "Most festivals might think in terms of who sells the most tickets – and that's part of how we think of things, but not so much. That's how we built the festival. There's an element of 'trust us'!
"Because of the the nature of our festival – because we're not chasing those big headliners really, and since most of our stuff is developing stuff – I've always tried to take a patient approach, to just kind of wait till those those those ideas surface."
Fundamentally, the festival is about breaking new music and Gilbert's built good relationships with smaller agencies – ones who share his taste and ear for artists on the cusp of bigger things. Treefort will often be the first time some will play a festival headline show.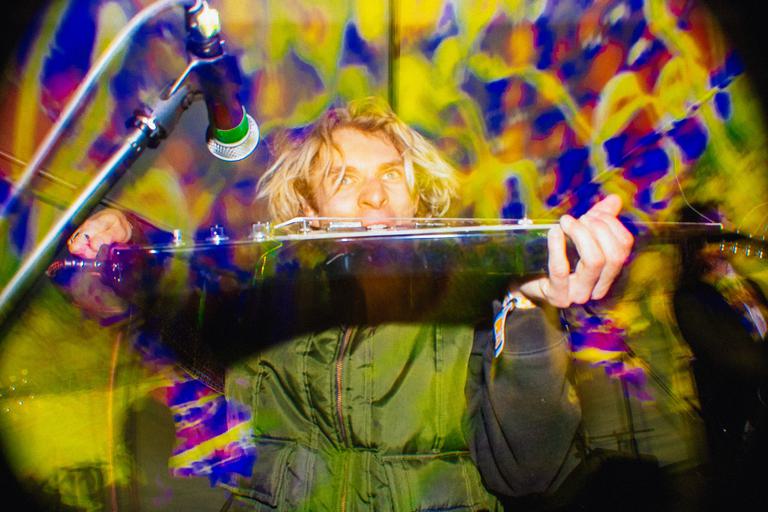 Moon Owl's Mages | Photo by Preston Valles
Who is he most excited about this year? Moon Owl's Mages – a local five-piece psych/ garage rock band - are high on his list. "They're really smart kids and they have a studio and they've been helping other bands too. They're like King Gizzard, Thee Oh Sees-adjacent and I just really appreciate their energy and they're really good players."
There's also Boise-natives Lobo Lara, who are making waves in the wider Cumbia scene. "It's live electronic music with percussion, but it's Cumbia, hip-hop stuff." In a similar vein are Afrosonics, another local band making waves away from the indie-rock and psych sound. Gilbert tells me: "I work with Dayo, from Global Lounge and he moved to the states 15 years ago from Nigeria and works to make Boise welcoming to all these new Americans and build stuff through a cultural lens. He and I talk a lot how to bridge those gaps and he helped me this year."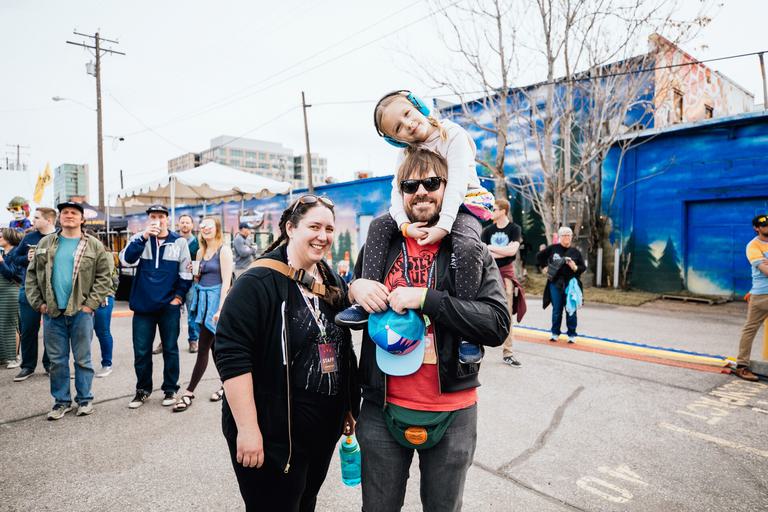 Eric Gilbert and Lisa Simpson | Photo by Matthew Wordell
It's also a family affair for Gilbert, with his wife – and former bandmate – Lisa (pictured above with Gilbert) playing the festival as part of three-piece Blood Lemon. "They are one of the best Boise bands around," he enthuses. "And Mel Radford from the band also plays with Built to Spill, and she's one of my favourite local musicians in general."

Mexico City's Son Rompe Pera are another highlight of this year's festival. Formed in 2017 by brothers Jesús Ángel "Kacho" Gama and Alan "Mongo" Gama, they're bringing a garage/punk take on marimba music informed by years in rockabilly and ska bands. "I saw them in Guadalajara in 2019 and was so enamoured with what they were doing," Gilbert tells me. "I'd been trying to get them to come up to Treefort for a while but at that point they hadn't really broken to the states yet."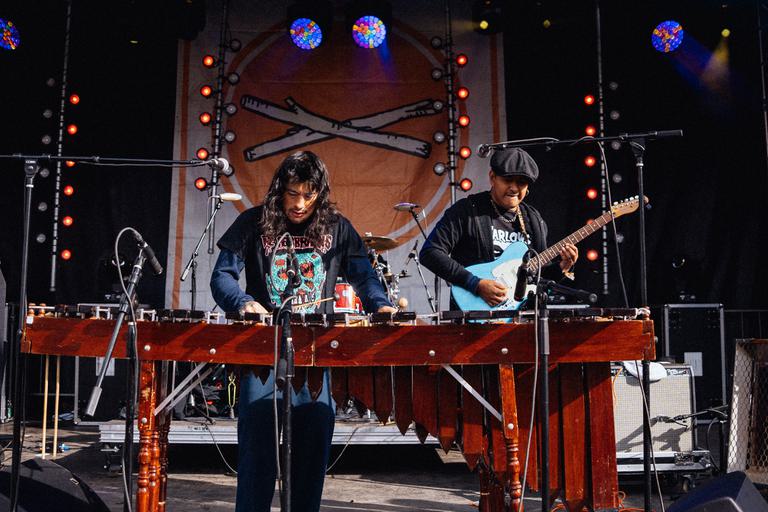 Son Rompe Pera | Photo by Jessica Ferguson
Away from the music, Treefort's ethos deserves some mention. Across five amazing days of music and culture, it's there in every strand of the festival's execution: friendly, safe, assuring and inclusive. Community-built and driven, the festival's mission came first: "We use the for-profit vehicle as a business structure, but it wasn't built for the sake of profit," Gilbert tells me. In the festival's third year, an investor introduced the team to B Corp Certification - which indicates a business running with transparency on factors from employee benefits and charitable giving to supply chain practices and input materials.
"It was a way for us to be transparent about our intentions," explains Gilbert, "but it was also a statement to our community that we are who we say we are. There's a degree of it that's aspirational too and there's things we have to keep doing to be re-certified."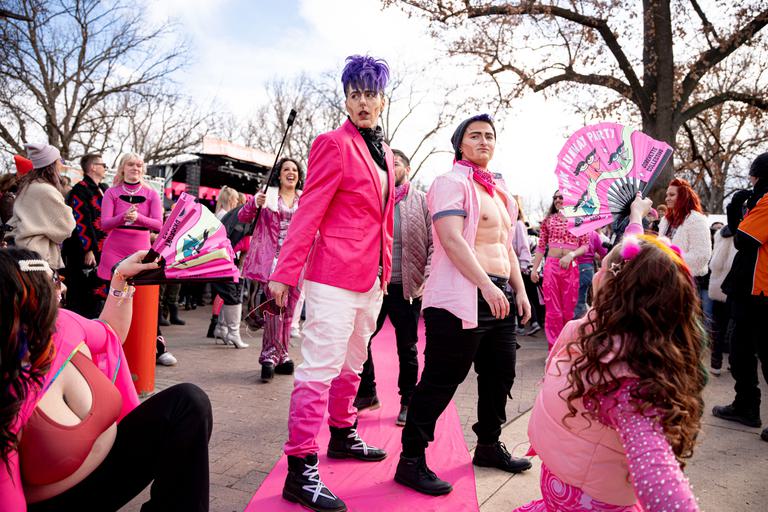 Photo by Brandon Loureiro
Treefort has definitely earned its place as a growing part of the US live music eco-system - the mechanism that helps bands move along to the next stage in their careers. "I do think a lot of bands get 'discovered' here, even if that's just from the regional bands that they're now friends with," Gilbert tells me. "But they've built a network to build upon and that starts with the local scene."
Local bands also benefit from being in such close proximity to so many other bands from across the world - and the effect can help them raise their own game. "I always say this but the least important part about you playing Treefort is your set," Gilbert tells me. "The most important part is you have a wristband in your hand, and you can immerse yourself for all five days. It's a chance for some bands to contextualise themselves."
Does he think the local scene has levelled up because of Treefort? "Yes, in a large part because they're given this opportunity once a year to see how other bands do it and they're recognising that these things are possible for them too!"