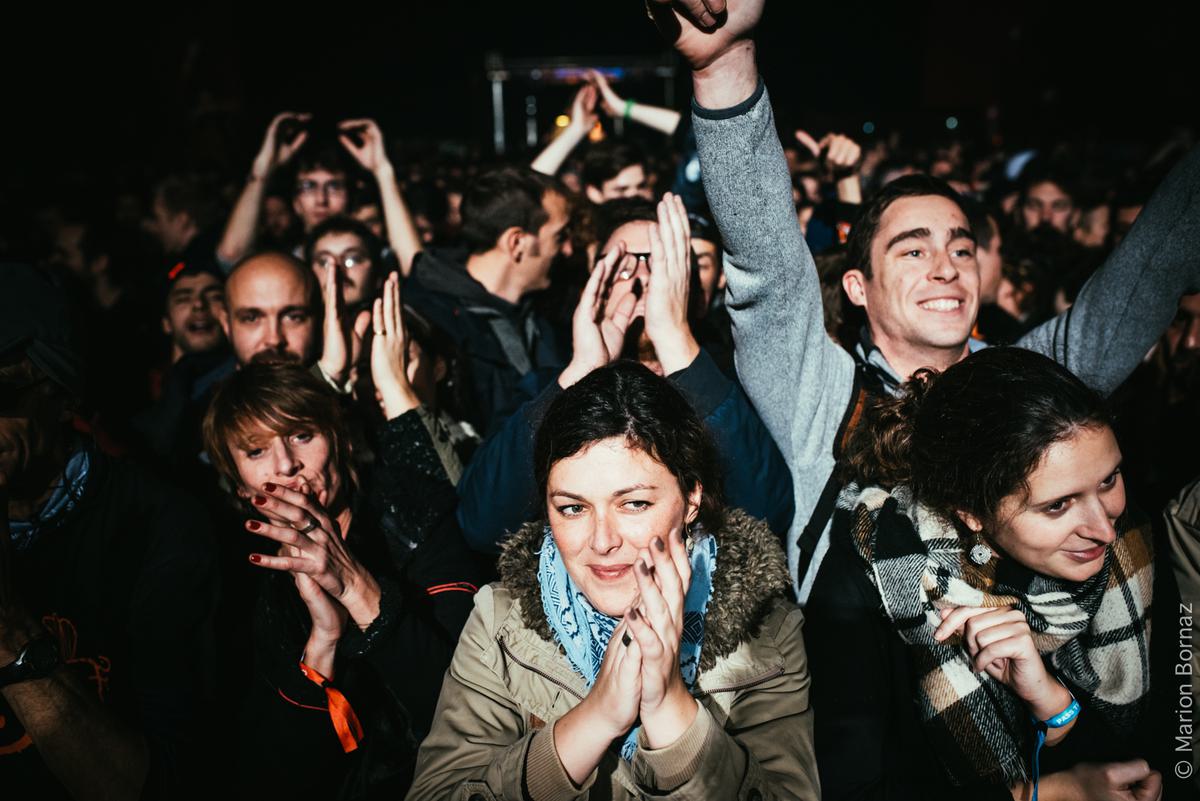 Trans Musicales remains one of Europe's most important showcases of new music
02 February 2018, 10:00
The North West city of Rennes, France, might be a surprising location, but in its 39th year, 'Les Trans' is a renowned stage for breaking new artists from around the world, regardless of genre or trends.
Trans Musicales prides itself in spotting emerging talent, and its track record is pretty impressive, boasting some of the first European bookings for Björk, Nirvana, Daft Punk and Bon Iver. Over the past four decades the festival's original founders, Jean-Louis Brossard and Béatrice Macé, have overseen the evolution of what started in 1979 as a modest local gathering of art students, into one of Europe's most respected expos of new and exceptionally diverse music.
Artists of 34 nationalities were represented this year (21 of which were non-European) across the hundred or so concerts, Washed Out and Superorganism being amongst the most well-recognised names. Ethiopian funk from Gili Yalo, garage rock from South Africans Make-Overs, punk from Rennes four-piece Abuse, and other-wordly psychedelic pop from Flamingods made a strong case for liberating festivals of genre constraints.
How does Trans Musicales work?
Trans Musicales' philosophy is firmly rooted in finding and promoting artistic originality as well as giving acts an opportunity to play a large-scale professional set, all the while eliminating the concept of headliners. The notoriously open-minded crowd of 62,000 who flock to Rennes for the weekend have absolute trust in the curation of the festival's lineup. Some don't know any of the bands and rely purely on serendipity to discover their new favourite artists. Many have been attending the festival for decades, building up their catalogue of stories that they tell with immense pride about who's had their big break since playing "Les Trans".
Get ready for a nocturnal weekend at Trans Musicales, where stage times in the main expo area start at 8pm or later and last until as late as 6:30am. The main festival area is a 20-minute shuttle ride outside of the city centre at the Parc Expo: a complex of large halls which are almost aircraft hangar-esque. The concerts are held across four of the halls, with food areas and plenty of bars and seated areas for downtime.
Getting around at Trans Musicales
Rennes has a simple metro system which is handily just one line from the north to the south of the city, so it's really easy to hop on and off with a one hour ticket costing €1.50. However, the metro doesn't stretch as far as the Parc Expo so the festival's infamous shuttle bus service takes punters to and from the site. You'll feel closer to the French in more ways than one after a few journeys on it! For the more eco-conscious, there's a bike-sharing system called LE vélo STAR. The whole city is pretty full over Trans Musicales weekend, so don't rely on taxis.
Things to do in Rennes
A big perk of the late-starting set times at the main festival area is the free time you'll have during the day (after a lengthy lie-in, of course) to wander around and explore the medieval roots of Rennes. The historic centre's cobbled streets are lined with charming brightly-coloured half-timbered houses which look like they're plucked out of the village in Beauty and the Beast. If you can prise yourself out of bed in time on the Saturday, the Lices Market is the second-largest market in France. It's abundant with stalls selling world-class cheese, bread, seafood and charcuterie: all the good French things. Rennes is a university town with 60,000 students, so there are plenty of great bars, restaurants and of course crêperies in the city. There's also an annual Christmas market during Trans Musicales, so head there for a warming mug of mulled wine.
The food at Trans Musicales
The French take their food seriously, and this doesn't stop at festival fare. When heading to Trans Musicales (or any event in France, in fairness), forget any negative stereotypes you ever had about festival food. There are no suspect burgers or greasy chips to be found at the food court at the main Parc Expo area. Instead the beautifully decorated hall has wine bars, craft beer, oysters and patisseries as well as a restaurant with a three-course daily changing seasonal menu created by a guest chef. The whole festival uses cashless wristbands for purchases.
How do I get to Trans Musicales?
Rennes has its own airport with incredibly cheap direct flights to and from London every day. Direct flights from other European hubs such as Amsterdam and Paris are also quick and easy. The metro line in Rennes hasn't extended out to the airport yet, so when you land, take the number 57 bus which regularly goes straight to the city centre. Rennes is reachable by high-speed train directly from Paris, which takes about an hour and a half. Book in advance though, as it can get pricey the closer you leave it.
Who we saw

The Midnight Revolution
Trans Musicales is a festival that prides itself on going out of its way to find new talent that doesn't yet have a following, but sometimes it doesn't need to stray too far from home. The Midnight Revolution are a five-piece from St-Malo, just 40 miles north of Rennes, and despite practising together over the last year, their set at Trans Musicales was only their fifth or sixth show ever. They were invited to play Trans Musicales purely off the strength of their online demos. Their melancholy and brooding atmosphere is lifted by the powerful range of vocalist Lys, who has trained in jazz and blues vocals in Paris. We'll keep our eyes peeled for the album they're planning on recording later this year
Le Groupe Obscur
Rennes five-piece Le Groupe Obscur have a few really catchy ditties in their setlist of dreamy 80s pop which brim with influences of Kate Bush. Their DIY masks, facepaint and mystical becaped aesthetic have a tinge of Mighty Boosh, so their stage presence certainly lives up to their name. The band has invented their own language called L'Obscurien which they sometimes switch to in songs, meaning if you're not fluent in French it's tricky to tell which of the two they're singing in.

Nakhane
One of the most stunning performances of the festival was Nakhane, whose soulful pop is underpinned with poignant and impassioned lyrical themes. He exudes a kind of fearless integrity which has presumably evolved after growing up in Port Elizabeth, South Africa, and proudly identifying both as a gay man and with the Xhosa ethnic group. Its sacred traditions and hyper-masculine initiation rituals can be brutal: the portrayal of which Nakhane gained critical acclaim for as an actor in the recently Oscar-shortlisted film "Inxeba" (The Wound). As a musician his candid wit and captivating style emanates Prince and Bowie.

Altın Gün
Swathes of people in Hall 3 bopped along to the hypnotic groove of Altın Gün's 1970s Turkish psychedelia covers. While most of the crowd might not have necessarily been acquainted with the band's reawakenings of underground Anatolian idols of the movement like Erkin Koray, Selda Bagčan and Barış Manço, their vivacious set was full of spirited psyche folk which it's impossible not to revel in. Their use of the sez, a traditional Anatolian lute, was just one of plenty of weird and wonderful time-honoured instruments spotted at Trans Musicales.

Kiddy Smile
An incredible troupe of dancers in hot pants zealously vogued in and around a giant set of red lips while a tinsel-clad Kiddy Smile sashayed around the stage in a rainbow unitard. It could only be the hero of Paris' house and ballroom movement and champion of the ever-growing voguing scene. His set was full of classic house covers of 80s and 90s pop tunes along with his own self-written and produced releases.
Laura Perrudin
The Rennes born and raised harpist loops chanting vocals, percussive bars of beatboxing and layers of her custom-made chromatic harp to create enchanting experimental jazz and hip-hop. Perrudin's versatility is showcased on her second album, which is influenced by William Blake poems, and was recorded in Reykjavik with producer Valgeir Sigurðsson who has previously worked with Björk, Brian Eno and Sigur Rós.

Tshegue
Paris-based duo Tshegue champion the marriage of afrobeat and garage rock, which seems a perfectly natural course for Congolese singer Faty Sy Savent. She sung with a punk band for three years before deciding she wanted to inject some of the rhumba rhythms she had grown up with into her music. While percussionist Nicolas "Dakou" Dacunha's Latin influences from living in Cuba come through in his trance-like beats.
Our tips on surviving at Trans Musicales next year?
Along with the main sets at Parc Expo, in the city centre you can find a pretty packed programme of round-tables, debates, exhibitions and concerts. There's a dedicated space for French record label stands and live sessions pop up around the city as well as in the main central hub of Le Liberté. Over the weekend there's another event running in tandem with Trans Musicales, think of it as a fringe festival, called Bars en Trans. This year was a schedule of 112 acts playing intimate sets across 14 bars in the city, so there will absolutely always be something going on in Rennes to pique your interest.
Lastly, hand-picked artists fill prestigious residency spots at l'Aire Libre (Nakhane, Laura Perrudin and Tchewsky & Wood played this year's edition), a theatre that is a little out of the way, but worth pre-organising a trip to.
Trans Musicales 2018 will take place from 5-9 December 2018 and tickets will be on sale later this year from
lestrans.com
.