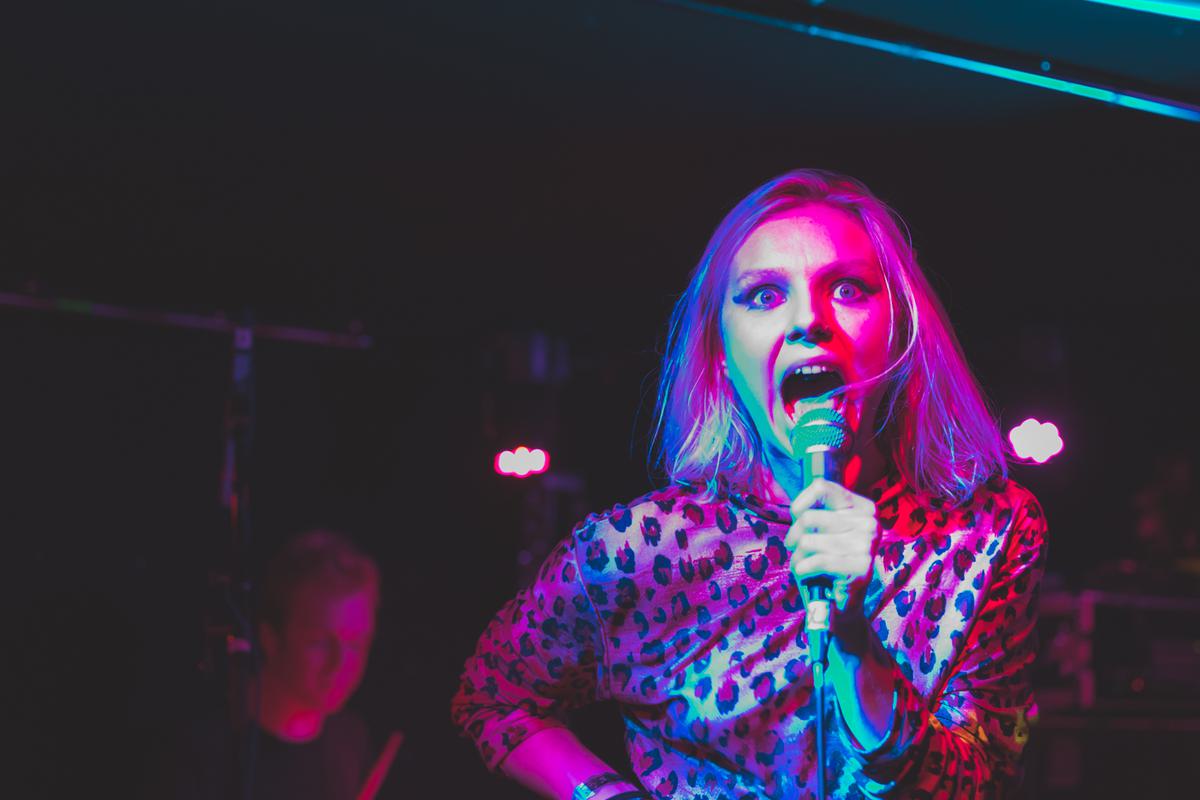 The third day of Iceland Airwaves was a day of stark contrasts
04 November 2017, 13:39
With the festival at its midway point, the crowd was starting to really let itself go, and the change in atmosphere was palpable. Longer queues started forming, the venues became more packed, and increasingly more copious amounts of alcohol was imbibed. At one point a seemingly impromptu march was assembled down Laugavegur, with a thoroughly inebriated crowd of about 50 chanting "Christmas Tuborg" for no apparent reason
At the art museum, the smooth and refined sounds of Mura Masa found a real home with the crowd; beautiful people were dancing in a fluidly choreographed manner, with gentle lights touching their handsome faces. It was a meeting of minds, Alex Crossan and all the refined and cool kids Reykjavík could muster together. Meanwhile, in another venue across the street another meeting of minds was taking place, with the gritty and dirty Pink Street Boys rocking out at Gaukurinn to a sea of beardos (whether or not they had physical beards was irrelevant, they were all beardos). In place of graceful dancing, there was headbanging; where there were photographic smiles in the art museum, Gaukurinn had grimaces and the musk of sweat.
The innocent-looking and youthful Pinegrove (pictured above) seem to have a firm idea of their identity as a band. There's nothing fancy or unlikable in their soothing indie tunes, but there's also nothing that immediately jumps out at you. Their uniform is the Vans, jeans, and simple t-shirt outfit, and their sound is very relatable. But it's not terribly exciting. And then, over at Gaukurinn, Vagabon (pictured below) unveiled a voice that's soothing, enchanting, powerful, and very controlled. While the songs were more jumbled than Pinegrove's, her voice carried the whole band. When the band then retired for the final two songs, and Laetitia Tamko was left alone on the stage, she carried that too.
Later on at Hard Rock, Nilüfer Yanya's simple setup and clean and clear sound made a fan out of me. It wasn't until the second song that her band actually joined in, and even then they only plucked the occasional string and hit the drums softly. The whole show was soulful, jazzy, modern, and touching.
FM Belfast put on a colourful show, going straight in for their big hits and launching confetti at the crowd. People laughed, screamed, danced and jumped in joy, with people up front almost squashed up against the railing. Over at Iðnó, I caught what can best be described as a reunion show from Tonik Ensemble. Last year I wrote about seeing him live and being blown away, and this year was no different. The show was equally hypnotic, but going from a sitting venue last year to a standing one made it much less introspective. The artist has said his 2015 album Snapshots is about synesthesia, and influenced by the Powers of Ten, and when he plays it at Iðnó, the sound is both grand and microscopic in scale. The show feels easy going and casual, becoming even more human when an element of human error was introduced, and the artist laughed as he started a song again.
Then, at the end of the night, Hórmónar (pictured above) do what they do best: amaze and exceed expectations. Singer Brynhildur confesses before the show begins that her voice is all but gone from the previous night's performance, yet she pushes on, her deep voice becoming even grittier and raspier, and audibly tearing as she went for the higher notes, only for her to redouble her effort and carry on with even more intensity than I've ever seen from her. The crowd responds in kind, cheering her and the band on through most of their EP, as well as a new song or two. Part of what makes this feminist outfit so great is earnest portrayal of emotions, and it was on full display at this show, with the frontwoman going from talking about sexual urges in "Kynsvelt" ("Sexually Deprived") to admitting she almost shat herself from excitement last night; from being angry about the status quo, to sad and remorseful in "Ekki Sleppa" ("Don't Let Go"). And then angry again, because there's a lot for young women to be angry about in today's society.
After the inspiring show, the festival came to an end and a lot of "I know, rights" were heard from the stunned audience mulling outside, wondering what to do with all of that pent-up energy.