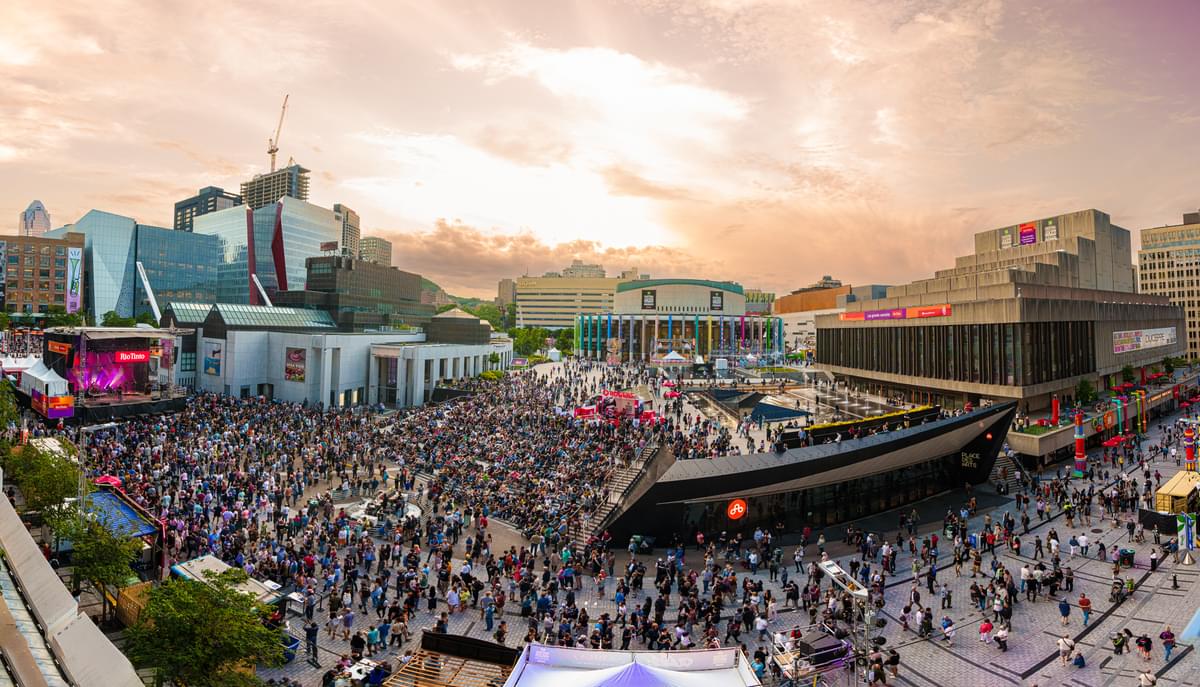 Kamasi Washington and Masego shine at the sparkling return of Montreal Jazz Festival
19 July 2022, 09:00
After scaling back last year, Montreal's flagship festival takes over downtown once more, and provides a shining example of what city festivals can be.
It's good to be back at the Montreal Jazz Festival.
Not just because of the people, although they help a lot. Canada's trademark friendly faces make the city – with its Gothic revival archiecture and soaring skyscrapers – a welcome retreat from the Big Smoke.
But more importantly, Montreal's annual 10-day blow-out is a reminder of what happens when states whole-heartedly invest in live music. Quebec's grants programmes support a number of artists on the bill, with the festival itself receiving ample government funding. And it's hosted in Place Des Arts, a beautifully-maintained and purpose-built complex of performance spaces, itself a statement of intent.
Photo: Benoit Rousseau
The result is an exceedingly polished event. For this year's 42nd edition, downtown is transformed again by five outdoor stages, with tidy facilities, bustling bars and crisp PA systems. Other gigs take place in a hodge-podge of venues, from the crumbly grandeur of Monument-National to the low-lit intimacy of jazz bar Diese Onze. The festival's trend towards more boundary-pushing, contemporary line-ups (this year, Joey Bada$$, Masego and Sudan Archives nestle next to Ludvico Einaudi and Corinne Bailey Rae) has resulted in more diverse crowd this year, with McGill students bopping along next to canoodling grandparents.
With 10 shows a night, and many of them free, it's easy to overload your schedule. But for those attending as tourists, the festival provides an opportunity to get lost in the city alongside the festivities - my chosen approach.
Friday
Kick-off is on Thursday (with the likes of GoGo Penguin and the show-stopping multi-instrumentalist Tash Sultana), but I arrive on Friday. Although I was lucky to have a hotel downtown, Montreal's metro and buses are very reliable and affordable, so it's entirely possible to stay in another (cheaper) neighbourhood and commute in.
My first official evening gets off to a false start, when, swallowed up by jet lag, I push into the night with the intention of seeing the ever-thrilling Louis Cole Big Band. An hour before doors open, I receive word that the free show is hugely overcapacity, being hosted at the relatively modest Le Studio TD. Despite my relief, this was a problem that also plagued the otherwise-excellent Molson Export pub stage: bigger artists slated for smaller spaces meant some punters were super far from the action. In Louis' case, they mostly didn't manage to see any.
Saturday
My second day is much more fruitful. In previous years, there's been a little more music scheduled in the daytime, but this year it's mostly quiet until 5pm. The benefit for tourists is that you get to roll around Montreal's ample attractions before descending on the festival and making the most of the balmy evenings. Whilst I opted to simply eat my way through the Village (no euphemism intended), those looking for something a little more structured might visit one of Montreal's many museums and galleries. The fantastic Canadian Centre for Architecture showcases philosophical explorations of space and identity, and Arsenal Art Contemporain Montréal - a well-stocked private collection of contemporary art - also hosts some key touring exhibitions, this week the Van Gough projections.
Saturday evening sees a veritable pile up of talent, with the festival's more contemporary bookings centre-stage. In one corner, Alfa Mist - the creme de la creme of UK jazz producers - packs out the Molson Export pub stage right to the back bar. Fans stand on walls and chairs to get a glimpse of the enigmatic Londoner, whose slide from playing boss-level piano to rapping conversationally over gentle hip-hop moves the crowd. Although Mist's material evokes a contemplative night bus journey, its smokiness pairs unexpectedly well with a setting Canadian sun.
Photo: Frédérique Ménard-Aubin
Round the corner, Joey Bada$$ climbs aboard the stage at sweatbox Mtelus, whose crowd is riotous and whose sound system is almost too loud (even with earplugs). And I hot-foot over to the main stage to catch Kamasi Washington, who delivers a show-cum-religious experience so mesmerising you can see people backing up into adjacent streets to listen in. Washington's band as always are stars of their own; Patrice Quinn, hands raised, has a voice that makes everything sound like some galactic hymn.
Photo: Frédérique Ménard-Aubin
Juxtaposed, Miles Mosley looks like a jazz GI, though pauses mid-gig to daub the phrase "Liberate womxn" on his blackboard-painted bass. There are literal shrieks when he gets his bow out - a distinctly jazz-festival reaction.
Sunday
After such an intense Saturday night, I spend my Sunday trying to practise my French-Canadian laissez faire. In summer of 2020, a number of streets in Montreal were pedestrianised to allow for restaurants to expand their outdoor seating, and in April 2022, Mayor Valérie Plante committed to funding this pedestrianisation for another three years. It's a welcome change: exploring Montreal by foot is now even easier and you're never far away from a terrace should you need to refuel. In the early sun, I take a stroll down avenue du Mont Royal, and get inadvertently soaked by a water mister on my way to grab lunch.
With so many shows, it's possible to twirl your hand over the schedule and simply select your evening at random; chances are the venues will be within walking distance. I find myself drawn to relative-unknown Veeby and her sumptuous slow jams. She's a lush primer for a performance by Dominique Fils-Aime at Theatre Maisonneuve; to rapturous attention, the Juno-award winner sings with a character that's both rich and light, her arrangements frequently twisting from radio-friendly pop to shimmering, stadium-worthy breakdowns. It's my first seated show of the festival and feels suitably theatrical.
Photo: Victor Diaz Lamich
Monday
On Monday, I'm on a mission to find an excellent bagel - and accidentally get lost in the Time Out sponsored food hall off Saint-Catherine. Despite being packed to the rafters with street food, it feels relatively tranquil; no city boys lobbing dim sum at each other (London has scarred me).
After grabbing some curious Indian savoury donuts, I hopped over to the PHI centre to their new virtual reality exhibition. PHI has a fantastic track record of exciting new media displays, and Horizon VR is no different; three immersive documentaries that place you in a Quebecois couple's kitchen, a remote Nepalese village, a Chinese reeducation camp and the mind of someone with schizophrenia. It's part of the charm of Montreal that you can be immersed in a virtual rural landscape and then wander out into the city's Old Port for a crepe and a view of the river.
Tonight, I'm supposed to see Masego, but am distracted on my way to Mtelus by the sound of a rogue accordion. I stay for longer at Vincent Peirani's show than I mean to, to hear him use an instrument I associate mostly with long boats to lead a gorgeous, moody set of prog-jazz. It's a treat to see drummer Ziv Ravitz, who I last caught playing for Yaron Herman in London, back at the festival: a tender player with oceanic expression and the broadest smile in jazz.
The heat of hundreds of bodies hits me as I walk into Mtelus. Maesgo's gig is sold out, a sure thing: the artist's brand of virtuosic pop-soul aligns well with Montreal's own homegrown sound, likely influenced by graduates of the city's ample music schools.
Photo: Frédérique Ménard-Aubin
Masego himself is frighteningly charismatic, as he croons his way through roof-raiser "Tadow" and cougar appreciation anthem "Old Age". After a few days of lazing on astroturf and sitting pensively in auditorium seats, winding hips amongst a sweaty, up-for-it crowd is thrilling.
The verdict
Still one of the best city festivals in the world, Montreal Jazz Festival has only become stronger post-pandemic, buoyed by a local population of inquisitive music lovers, and sustained investment in both artists and their surrounding environment. If you're coming from abroad, you can holiday alongside the festival easily, as a beneficiary of its sprawling terraces or a culture vulture exploring its unique collection of museums, galleries and historical sites. With a trend towards more contemporary, jazz-adjacent headliners, one can hope that 2023 will provide just as many opportunities to rave, alongside the line-up of legends and virtuosos we've come to expect.
Montreal Jazz Festival ran from 30 June to 9 July 2022.
Get the Best Fit take on the week in music direct to your inbox every Friday