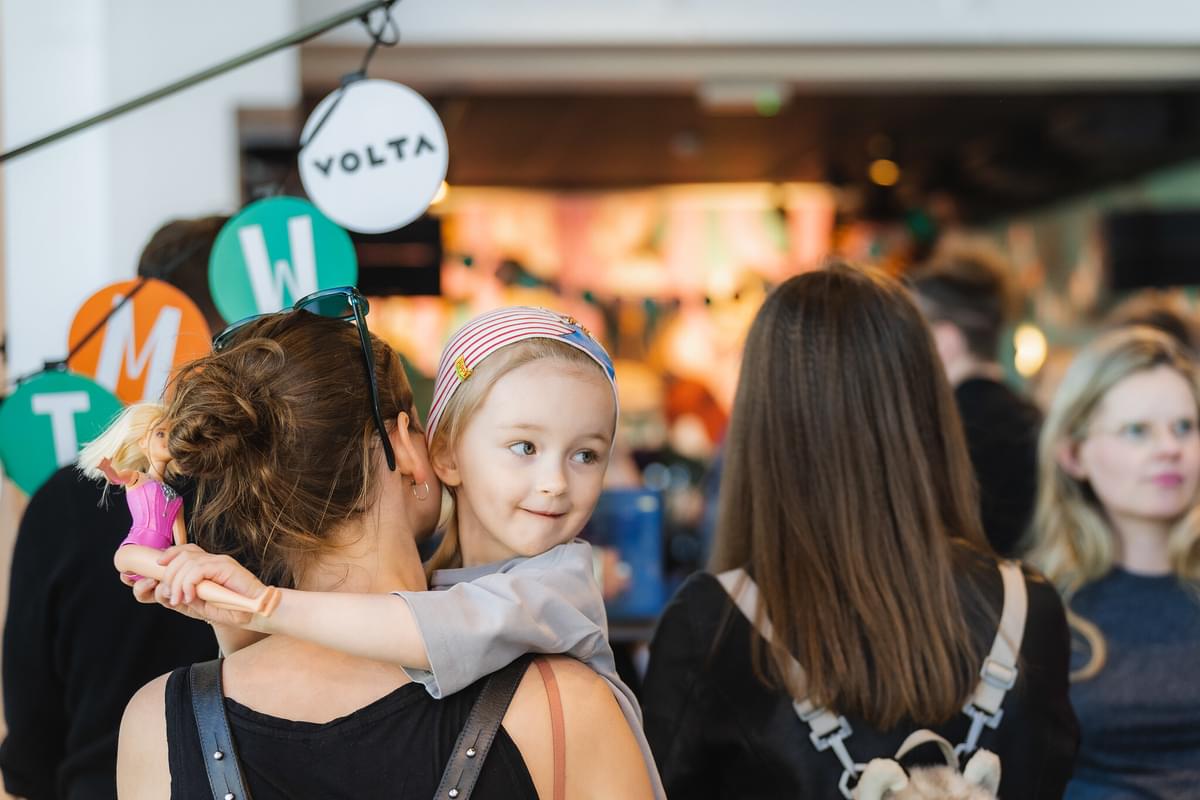 Nothing is lost in translation at Tallinn Music Week
24 May 2023, 15:30
Sophie Walker reports from the 15th edition of Tallinn Music Week and finds a festival flourishing, with joy as the secret weapon.
Within the Contemporary Art Museum of Estonia (EKKM), there is an installation by the sculptor Elo Liiv titled Dream. It consists of shards of crystal suspended in mid-air; the question of how these fragments will fall remains unanswered.
Crystalware is considered to be a 'ghost' of the Soviet era, to which Estonia was beheld until its emancipation in 1991 – once, these were objects of status and purity, but now, they represent a perverse inversion of these qualities. They are fragile and empty. Beneath the crystals, the wobbling dolls waver; the beat of a military march plays out, but they do not fall to it. In Russia, these dolls are called vanka-vstanka, which translates to Vanya, stand up!

Ever since the Singing Revolution, a series of spontaneous mass singing demonstrations at the Tallinn Song Festival Grounds which catalysed their independence, Estonia's identity has been intertwined with music. Better than anyone, they have harnessed its transformational potential and carved their capital city into a vibrant hive of creativity; its artists are sculpting its future in real time, while the rest of Europe feels as if it is intent upon replicating its own past. That sense of evolution, of the tantalising promise that the best is yet to come, has never felt stronger than it does at Tallinn Music Week. Its gaze is always fixed on tomorrow.

Photo by Silver Jaanson
The international new music festival has celebrated its fifteenth edition in defiance of its aggressive eastern neighbour. Rather than covering their eyes to the war that rages next door, their solidarity with Ukraine underlines everything; the flag flies across the city, and the music of its 188 artists hailing from 41 countries spanning every continent on the globe is a statement of unity and hope.
Though the festival elevates Estonian talent, bringing underground artists to light, it seeks not to single out the country from the rest of the world but contextualise its place within it. Every year, Tallinn Music Week seeks to push its own parameters: 2023 saw that 51% of the acts had women or queer representation, a figure which many other festivals still struggle to meet. Our love of music, the festival seems to recognise, is our greatest equaliser.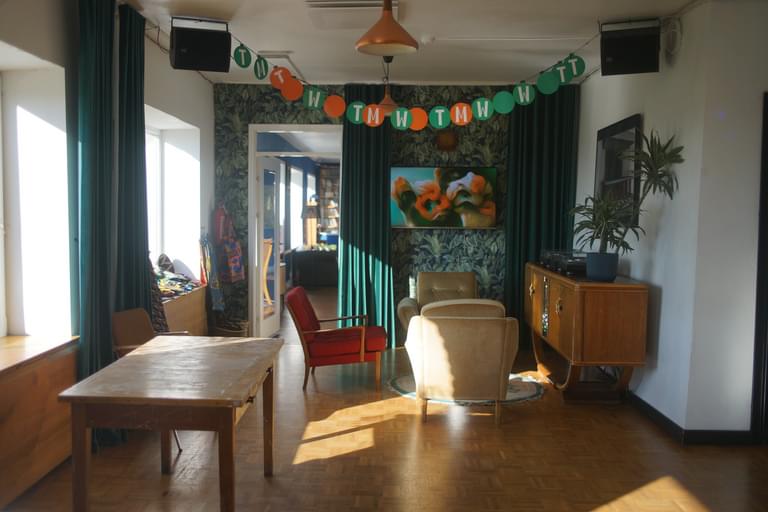 Erinevate Tubade Klubi
The festival invites you to speed-date the city: each one of its venues reveals another dimension to its character. While Philly Joe's Jazz Club, a cosy, low-lit space decorated hand-drawn sketches of jazz legends is nestled within the city walls, much of the festival is centred around the Telliskivi Creative City across the tracks. The former industrial complex is home to the likes of Fotografiska, the polished photography museum which conceals a vast stage space in its back room and Erinevate Tubate Klubi (Club of Different Rooms), which invites you to swap your shoes for slippers at the door, with an enormous tome of Tom of Finland drawings awaiting you in the bathroom.
The policy of leaving your shoes at the door bewilders the unfamiliar on the festival's opening night, but trust me, it works: the slippers cultivate an air of relaxation and intimacy, whether you're sat on its plush sofas or crossed legged on its polished wooden floors. Selling traditional Estonian bakes just outside the doors, Erinevate Tubate Klubi asks you to feel at home.
It's here that I discover Duo Ruut. Their spell is cast with a single Estonian zither which sits between them; their arrangement at first seems simple, but the hypnotic sounds they mine from its strings are transfixing. Pushing its capabilities to being a drumkit as well as a plucked-string instrument, they breathe new life into tradition. "You wouldn't think an old box with fourteen strings would make a sound, but it really does," smiles Ann-Lisett Rebane. They reinvent an Estonian spell to keep the strong northern winds away, their voices united in timeworn mantras, before unveiling another which is used to stop someone from bleeding: "It's in the Estonian tradition that you think it's happy, but it actually talks about death, or something", Katariina Kivi laughs.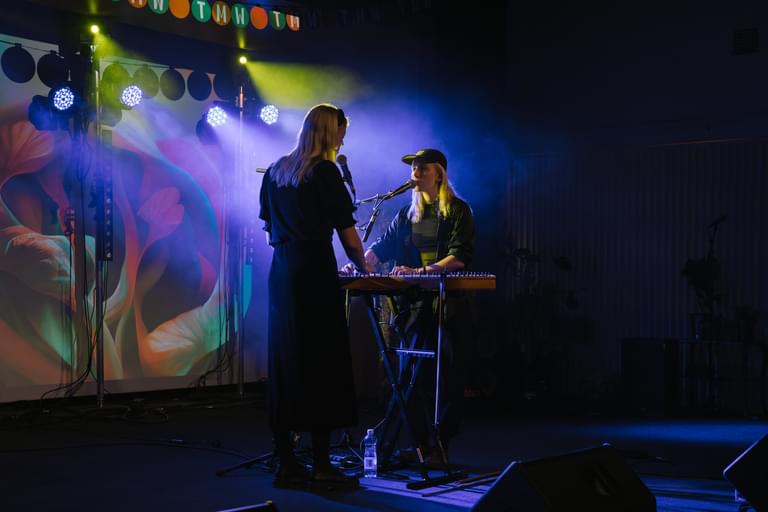 Duo Ruut by Jessica Mirely
Removed from standard, thinly-worn Western influences, the curated stages showcase some of the most brilliant, baffling and progressive music you could hope to find. The usually sleek restaurant Kivi Paber Käärid takes on the spirit of a sweaty, sharp-elbowed dive bar bathed in sticky green light. It's the Cindy & Kate stage, which aims to elevate Baltic artists. I stumble in there making my way between stages, drawn in by the bizarre cacophony that seemed to enrapture the tightly-packed venue.
The band responsible is Lapkričio Dvidešimtosios Orkestras. Crammed onto the tiny stage, the sprawling acoustic-punk band looks like a collection randomly generated Sims who happened to respawn in this Estonian gluten-free restaurant. At the helm of this rouge's gallery is their frontman who looks like the nemesis in a Western movie, with his rugged features, bandana and eyebrow piercings. And yet, his charisma is unrivalled. He moves with an off-kilter vaudevillian instinct which, backed by the relentless instrumentals, whips the crowd into a frenzy – even children aren't immune to it. Between songs, he utters strange Lynchian epithets, like: "Everything is murder… for people who are dead."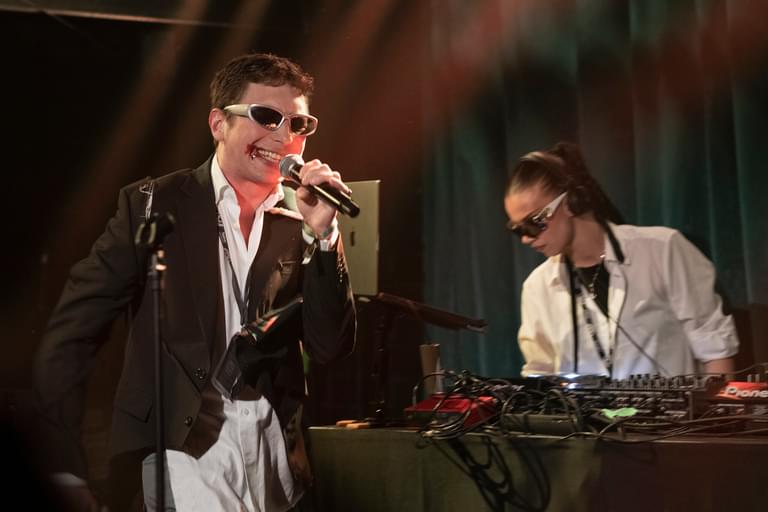 San Hani by Patrik Tamm
The festival feels like the kind of buffet that makes you regretful that you only have one stomach – and that's just for the music alone, not even considering the wealth of talks, conferences and art exhibitions on offer to fill your days with. It can feel as though by being at one stage, you're doing a disservice to another, catching a few minutes of a set before catching the tail end of something else. But there was one stage in particular which holds my attention for the entire night: Friday night's Soda Pop stage.
It's there that I discover Estonia's answer to Bladee, the mercurial alt-pop rapper San Hani. His music is a sugar rush of tripped-out pop stretched to its sparkling extremes, dipping into melodic trap and heart-in-throat bass drops. He arrives on stage looking as if he'd been jumped, wearing tailored – and deliberately ravaged - clothes with a smear of blood on his face and the kind of futurist reflective sunglasses you'd spot in a Hannah Diamond shoot. He is without his right-hand producer Metabora, instead backed by a DJ who looks as if she's fresh out of The Matrix – but they make filling the floor look like light work. It magnetises a terminally online, Gen Z-heavy crowd, and is met with the kind of rapture that marks San Hani as an underground star in ascent. By the end of his set, the crowd are begging him not to leave.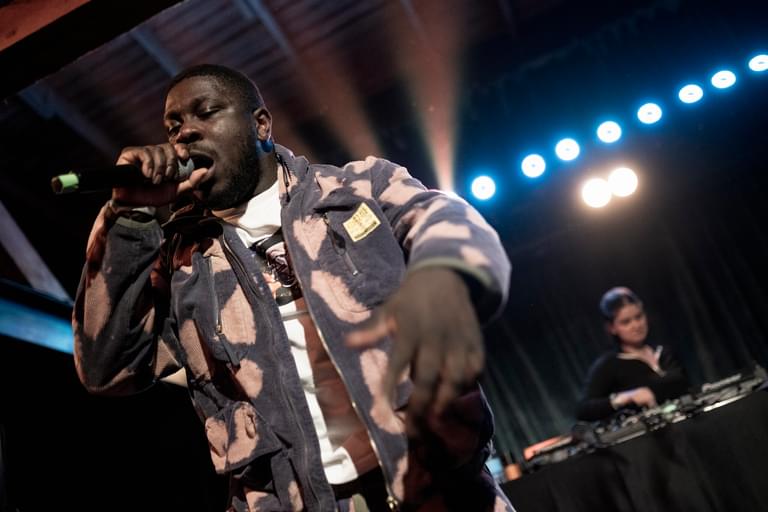 Bemz by Patrik Tamm
His set is succeeded by rapper Bemz, the Glasgow-based trailblazer setting the Scottish rap scene alight. Beginning his set with confessed nerves, he is met with a hunger for hip-hop that took him by surprise. His call-and-response tricks are a crowd-pleasing delight, and his grab-you-by-the-collar bars are met with equal intensity.
The most striking thing about Tallinn Music Week is that nothing is lost in translation. While few of its artists perform in the English language – or use language as a means of expression at all – nothing is lost. The spirit of the festival is infectious, something that we all feel on an intrinsic level; joy in defiance is what makes so wonderful. As a festival pushing each year for its utopian vision of togetherness, for a weekend in May, it allows you to feel that its all just at your fingertips.

Get the Best Fit take on the week in music direct to your inbox every Friday