The quote is from Lennart Meri, Estonia's former president, and the leader of the movement to restore Estonia's independence in the late 1990's. Come 2016, it's 25-years since Estonia gained independence, and that very quote; about the fertiliser being laid for the future seems to make more sense than ever. Let's jump back to the beginning.
Our entrance to Tallinn, Estonia's capital is a foresight of grey weather – a cold soviet air that overhangs as we pass decrepit houses, 90's shopping centres and placid concrete office buildings on the bus from the airport. For anyone arriving, it isn't the most positive of patriotic of views, a city that on the front feels almost garishly industrial, but a more settled view, from the ground reveals a very beautiful picture. As we'll come to see over the next few days, Tallinn, and Estonia as a whole, is a country in the throws of lifting itself out of its past and former colonisation, as depression makes way for transience, difference, and independence. All encompassing in the new creative cultures here are – new allies, new ideas, often with more edge, and more ambition than the rest of Europe.
I'm here for Tallinn Music Week, a yearly meet-up come festival now in its eighth year, but even its own name feels understated. Alongside music, the festival encompasses a conference, specially curated art and design exhibitions, special one-off menus in restaurants across the city, free city fringe events, talks, tastes and tours out to some of Tallinn's most interesting spots. And like any good conference music festival, the musical line-up leaves much to discover, with a variety that's almost bewildering on first sight. Fringing everything from classical orchestral showcases, to kraut-rock, techno and traditional Baltic folk. In fact the thing you're probably least likely to see here is a 4-piece indie band, which on the whole is incredibly refreshing.
Our entrance is pegged by the opening party in the beautiful Kultuurikatel, a converted warehouse with much of its former features still intact. The event begins with a series of talks, from Estonia's Minister For Culture, Helen Sildna (Tallinn Music week founder and Estonian person of the year), and composer Gabriel Prokofiev (the grandson of the late Sergei Prokofiev).
Tallinn, and Estonia as a whole, is a country in the throws of lifting itself out of its past and former colonisation, as depression makes way for transience, difference, and independence.
For a bandy crew of complacent English journalists, it's a real jump in expectations, as motivational speeches, offering genuine testaments to the creative strength of TMW, make way three incredible pieces of music. Over the next few hours we're in for a journey – that will span Nordic punk, a classical music rave up, and lo-fi.
Over the next three pieces of music, we're introduced to Klaaspärlimäng Sinfonietta, one of Estonia's leading orchestras, who take us through a number of varying arrangements. The first is by native Estonian Peeter Vähi, an arrangement for violin, cello and orchestra. The second piece shifts the focus onto the Sinfonietta and DJ Switch, as they play through a number of pieces for orchestra and turntable, written by Gabriel Prokofiev.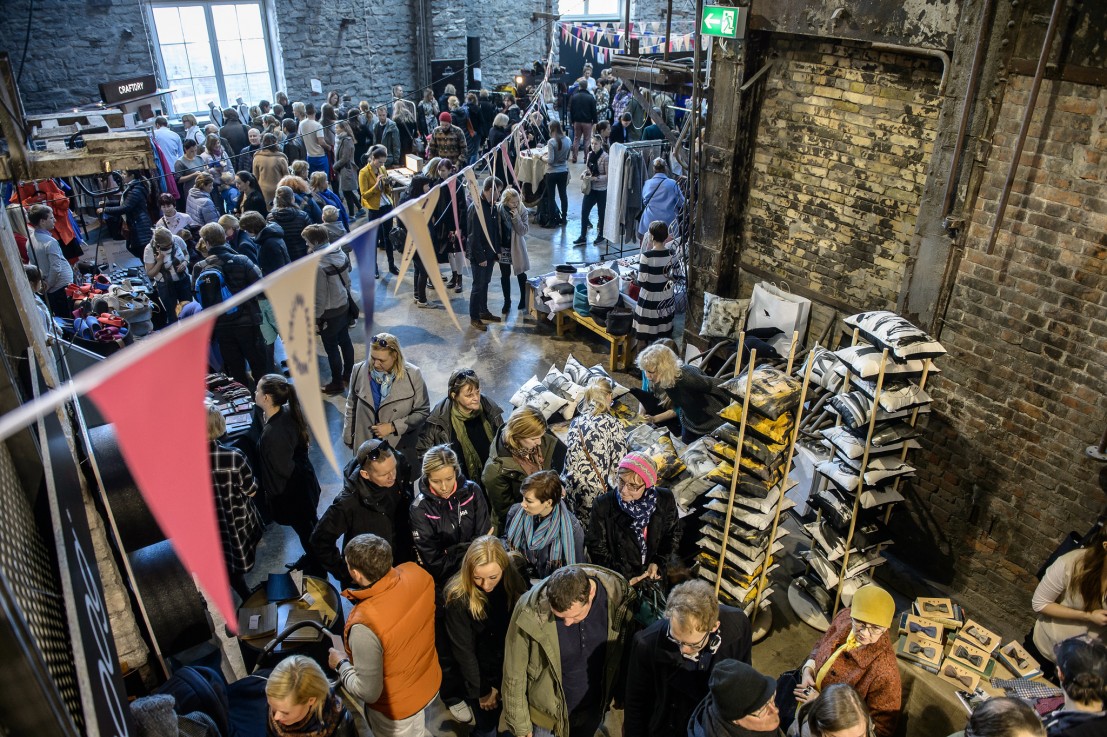 What's so striking about this as an introduction is the sheer daringness of Talinn Music Week to cross boundaries – to try something a little different, and to set their about the kind of festival this wants to be. Afterthoughts come in the way of conversation about the changing guard of classical music, as traditional is moving on to encompass the tastes and variety of its players, who's inspirations are more Velvet Underground than Wagner.
Classical music seems to be a trend across the opening concert, as Canadian-beat maker and composer Kara Lis Coverdale, and the all-girl Chamber Choir Sireen, both site its influences. Alongside them, Helsinki-based kraut-rock group K-X-P attract the eyes of Estonian president, Toomas Hendrik Ilves, who's in the audience tonight, while Norway's Sturle Dagsland could be paired with close comparisons to a male Björk.
The next morning in Tallinn is once again grey and drab, but it little undermines the city – instead creating a sort of Baltic authenticity to the whole thing. An early start see's the launching of the Creativity For Change Forum, where the Estonian president, Toomas Hendrik Ilves makes the opening speech, followed by panel discussions on migration, politics, equal opportunities, community and future cities.
The forum ends with a DJ set from the president [below], a preview of his Teenage Wasteland record, a compilation of tracks that soundtrack his student days in New York. It's a measure of both obscure and wonderful at the same time – but imagining David Cameron or George Osborne compiling a 'budget mix' version of anything similar can't help but make me wince.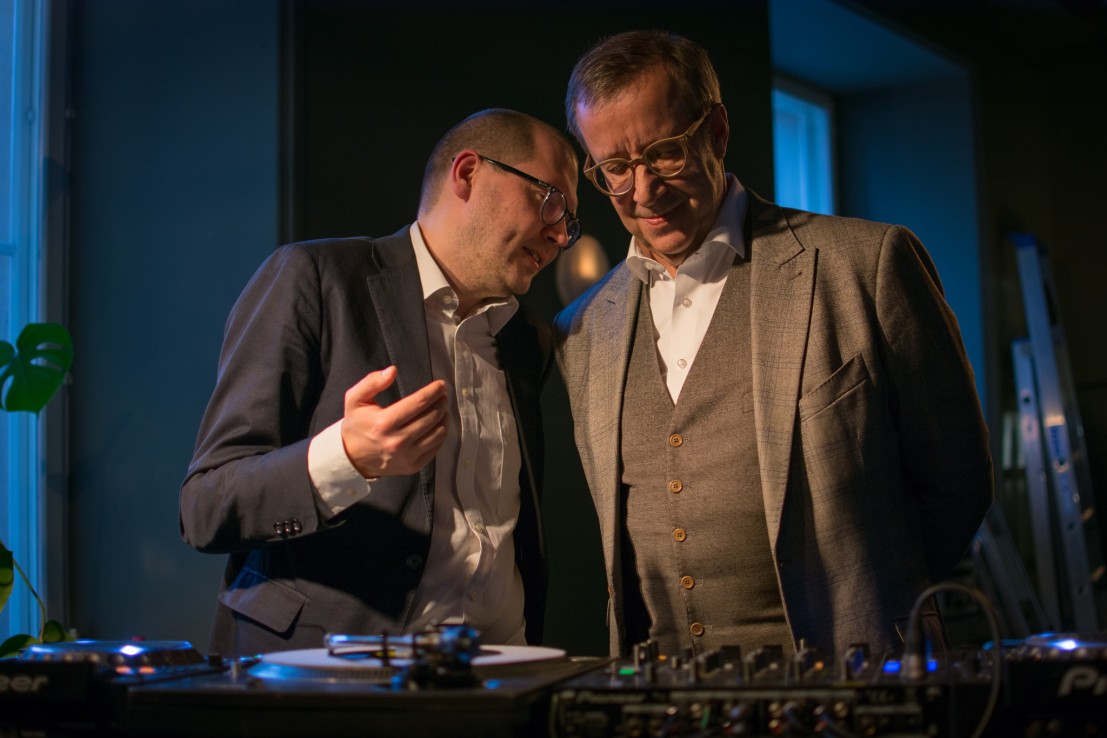 The evening kicks off with a surprise, as we make our way over to a venue candidly translated as, the 'House Of The Brotherhood of Black Heads'. Historically the Black Heads were a crew of ship owners and merchants – later fleeing to Germany at the occupation of the Baltic by the USSR began. Nowadays – the house is home to shows and events more than anything – spread across four different halls, tonight's residency is by Brighton-based FatCat Records.
The first act on, the aptly named Revolutionary Army of the Infant Jesus, or the Rev Army as I later find out it's fondly shortened too, have many a hidden story. This, one of a rare number of sets from the band in recent years, brings together a new generation of musicians aside the old. Having previously been a hugely cult band in Liverpool, with records selling for almost £200 online, their set is very gentle despite the rough name, and offers a perfectly melancholic soundtrack to the Andrei Tarkovsky films they project behind them.
It seems as if it pays to stay here, as the relay effect between bands on different stages mean it's easy to be entertained without finding another venue. The Rev Army pass the baton to Emilie Levienaise-Farrouch, a UK composer who plays alongside a three-piece string section. Gently pushing onwards to Fat Card Records signee Dmitry Evgrafov, another classically minded player who flutters away at the piano, ending his set by building soundscapes from the cadences and clicks of his instrument as his on-stage partner pitch-bends, and plays with the reverb.
There's a fascinating thing going on in the House of Black Hoods tonight, a perfectly quiet and symbolic showcase that we little often get a glimpse of in the UK.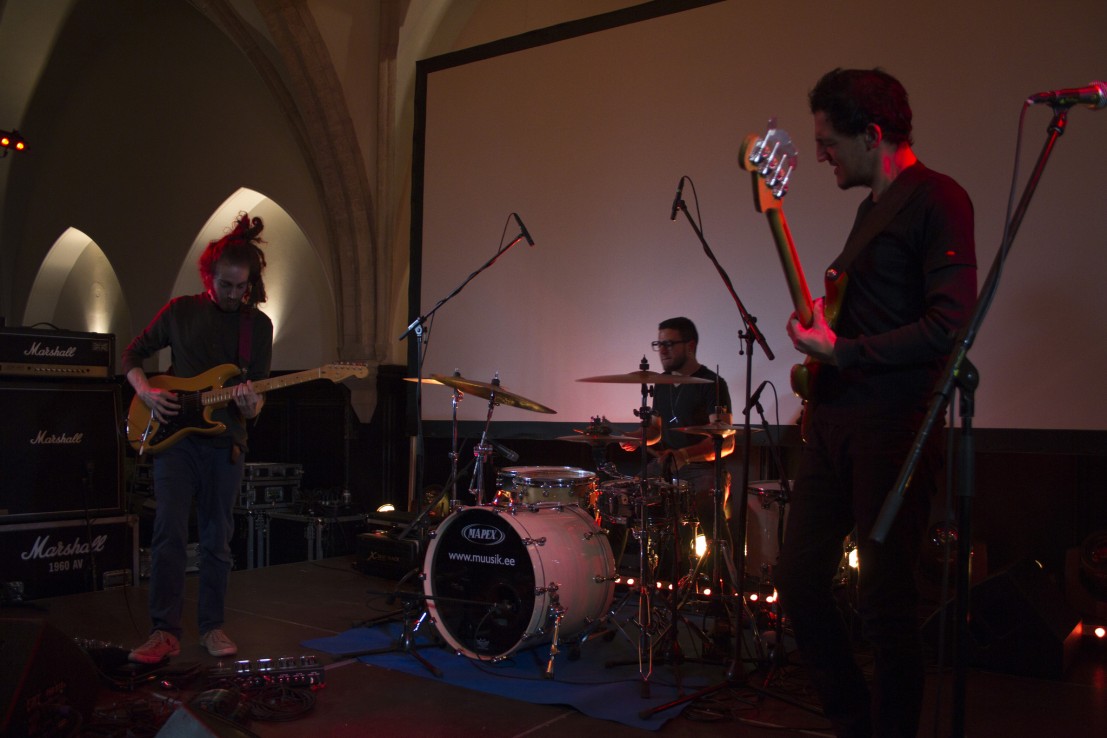 One of the greatest praises that can be thrown at Tallinn Music Week is just the sheer variety of artists on offer. Over the course of the three days spent in town, our eyes were pitched to everything from Isreali punk music, to Nordic math-rock – each nights programme as inspiring and different as the last, which is quite something for a festival where just about all of the UK music press I talked to, know little more than one band on the line-up.
Our night ends in a pub across the road, where there are just over 60 different beers on offer, but not before Tatran, an Israeli power trio, who don't strike you as immediately likeable. There's a power in this instrumental trio, but it's rough and grainy, beautiful at points, but totally thrilling and punk when it really gets going.
Day three takes us to the more foreign shores of Tallinn. A bright sun beams over the city, and if by magic everything seems awoken. A brisk walk around the local area by our hotel reveals an incredibly beautiful neighbourhood that feels almost like New Jersey in its styling. The architecture is part way between decrepit old housing, left or abandoned, and beautifully restored buildings that gleam in the sunlight. Between the blossom-blushed streets lie open yards, filled with basketball courts or baseball fields, opening up to a huge park still frosty with a layer of dew clinging to the grass.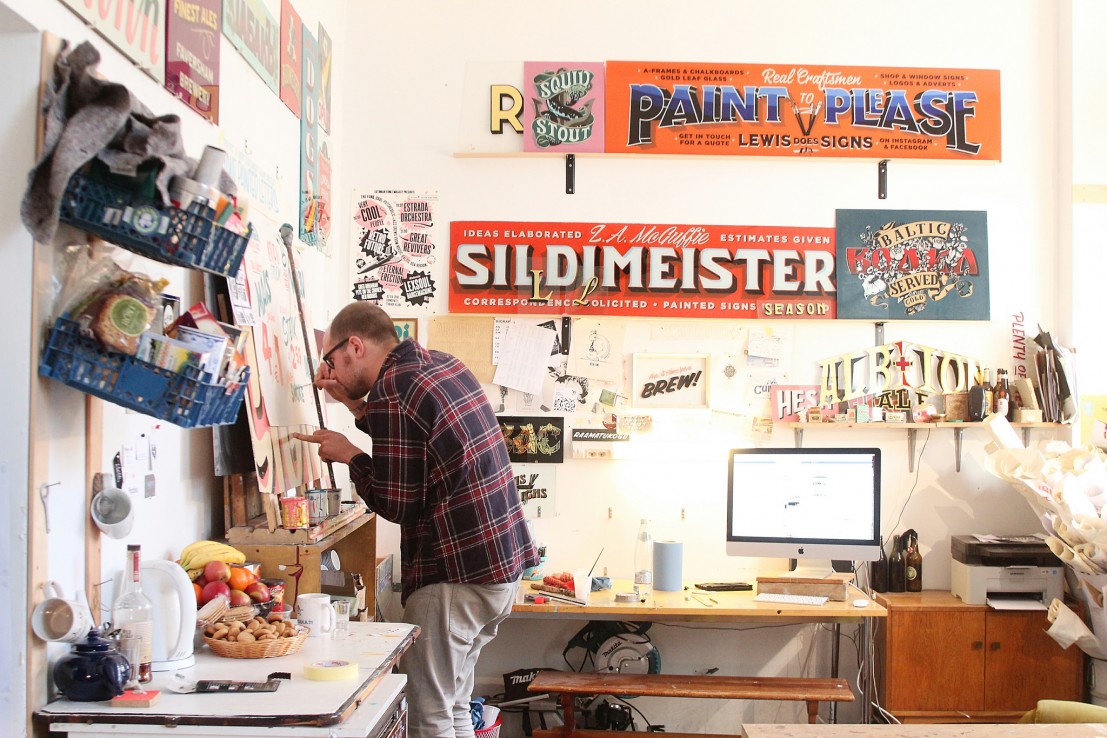 Come afternoon and we're transported to the hedonistically inviting Kopli, previously a neighbourhood of criminality and violence; slowly turning its reputation around to be an opportunity to live away from the city for many. Though only the brave decided to make the move here in the early 90's, today the neighbourhood is slowly building a strong sense of community, with art studios, a community house, an incredibly interesting church, and a local fruitful economy of employment in the recently acquired university building.
Tallinn Music Week brings together the creative arts, hoping to grow Estonian's exports from a tech-only operation, towards a nation universally recognised for its creative enterprising.
In the UK, a place like Kopli would be dangerously in line with much of the gentrification projects happening, but in Tallinn it feels like a positive move – as a new generation shift of the shuttered Soviet past, and slip in a new Estonian identity, as powerful creative and evocative as it is hip.
To borrow a quote from the opening concert, "music is the glue for the breadth to the light and the meaning in all our lives," and in many ways, that certainly seems true here, as Tallinn Music Week brings together the creative arts, hoping to grow Estonian's exports from a tech-only operation, towards a nation universally recognised for its creative enterprising.
Our last evening starts with a concert centred on social-justice, where the first acts on the line-up is the Syria-born, now Austria-based Orwa Saleh. The performance brings together, three-prized Syrian players on keyboard, oud and fiddle. Orwa, the oud player, cries of the perfect bandleader, as he pushes the band through a collection of traditional Middle Eastern songs.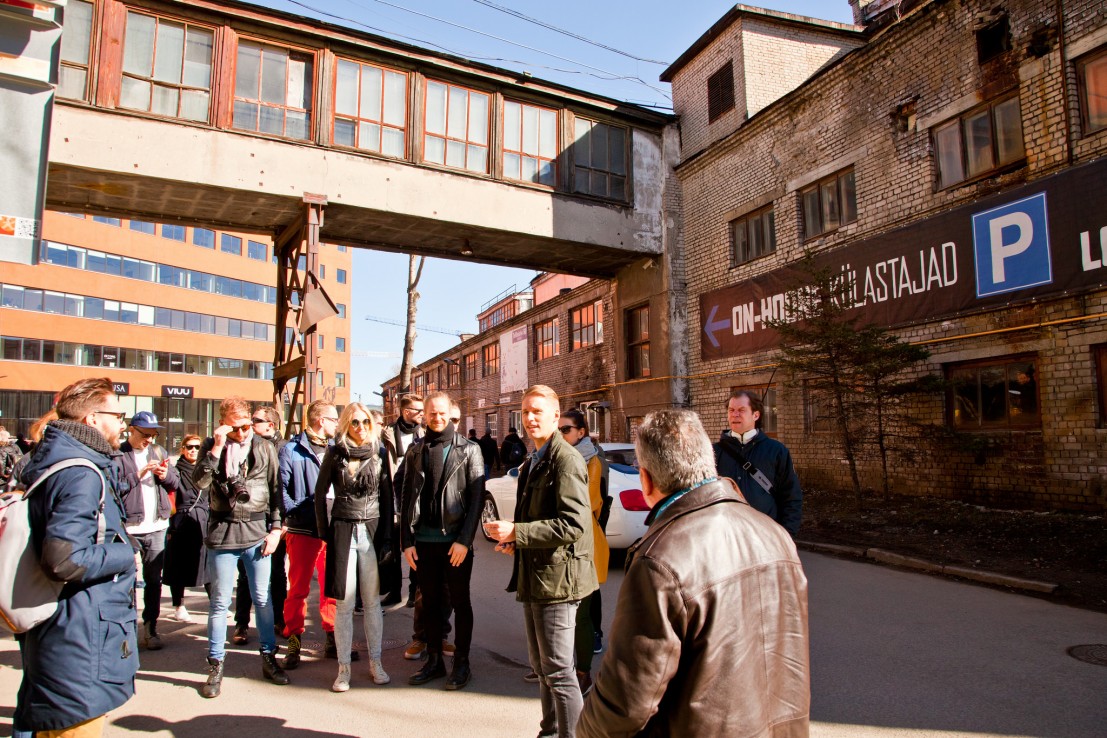 We drift outwards, towards the edges of the city, to the expansive space of Telliskivi. Aptly called Tallinn's creative city, it's an amalgamation of the fleet of the kind of socially aware design businesses you'll find along Hackney Wick. Set out in the old Baltic railway factories – privatised after Estonian independence – it's become a hub for the creative economies. They market it with a food festival, jazz club, drum and bass showcase, and Estonian funk embassy – the later being the most interesting, certainly. We're here to watch the hotly tipped Estrada Orchestra, who open the evening.
On entering the venue, we're told to slip out of our shoes and into traditional Estonian slippers – something that seems like a lovely way of levelling the audience as equals. Inside, people are splayed out on huge sofas, others sit on the floor at the front, and heads bobbing as the gloriously brassy foot-fresh a play a feast of Latin groove, ska and Baltic. Music like this, especially in the Baltic's, always feels close to being tarred by its appropriated reputation as small-tent festival music – but here, in its authentic setting, it stirs the audience gloriously.
Tap-dancing our way through the fringes of the city – we come to find ourselves in a completely unexpected place, at Tallinn's Seaplane Harbour, a huge-museum housing Soviet submarines, boats of all shapes and sizes, exhibitions, a river-bed mapping the whole floor, and sails that reach way up into the ceiling. You wouldn't be wrong in thinking it looked like something not unlike a villain's lair from a James Bond film. We're told by the organisers that this is the first time anyone has had permission to run anything like this – and it's any wonder, considering a 1500 strong audience are here in the throws of a massive techno party – with Pixelord and Moa Pillar on the decks. The whole thing is extraordinarily eye opening and feels a little like going for a party in the Science Museum.
If I've done anything in this piece – it's to make far too many comparisons to things I've seen in the UK – but Tallinn should be seen as completely standing alone, at the forefront of something very exciting. Whilst there's no denying it's facing the problems of gentrification, and has all prangs of any kind of creative outburst, it's a city worth a visit. Beneath its medieval front, lies a city in re-development, shaking off its past, and in the twilight of an exciting future.