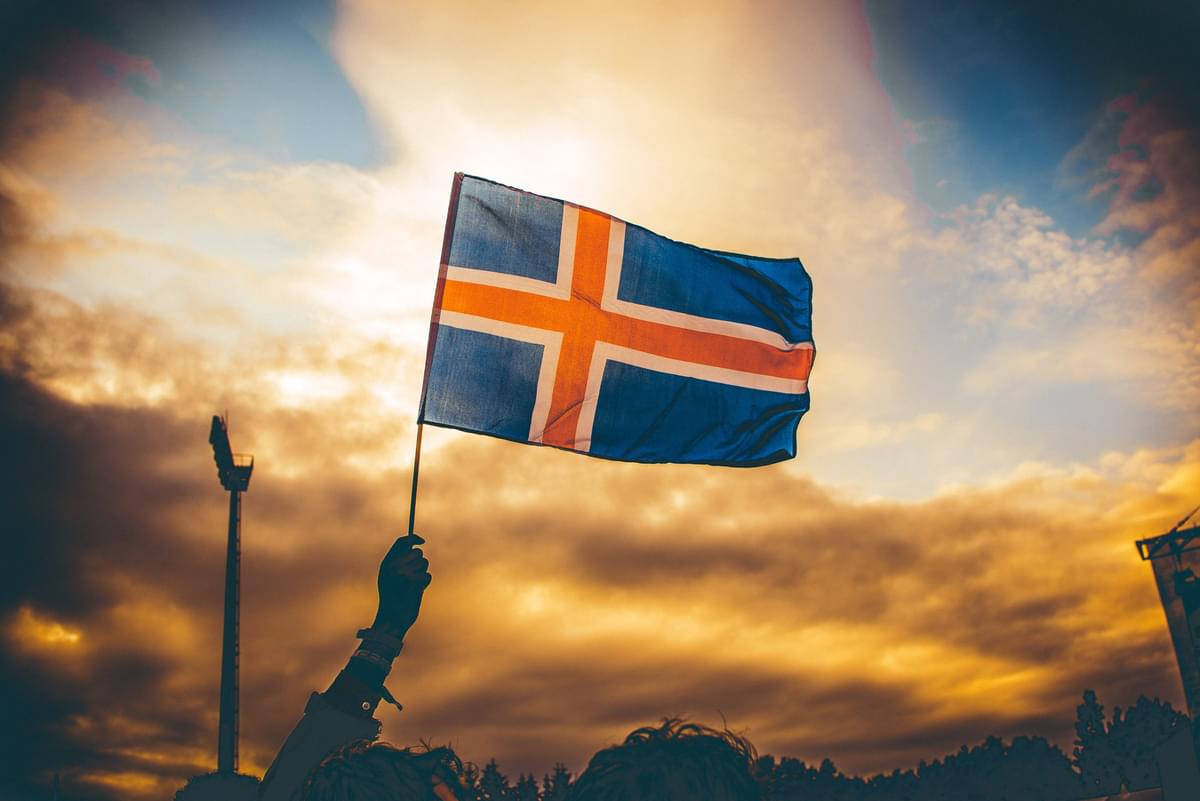 Secret Solstice wants to be the best festival in Iceland
26 June 2017, 15:43
As the sun lazily peeks out from the clouds that have been its home for the weekend, warming everyone and everything with its gentle rays, it is clear who is a local and who a foreigner, as the latter group look perplexed at seeing the sun so bright at nine in the evening. This is Secret Solstice, Iceland's annual music festival held in the capital's greenest area over the longest days of the year when the sun doesn't set.
To my left sits a man fast asleep, clearly confused over the lack of day and night cycle. He looks so serene, with an Argentinian flag draped over his back, that nobody dares disturb him. To my right, festival goers scream as they plummet from a drop tower amusement ride. I hear Icelandic, English, German and more languages spoken around me as I finish my beer. Richard Aschroft is on the main stage singing about how the drugs still don't work for him, but I'm far more fascinated people watching at this mainstream festival.
You've got muscle-bound vest-wearing guys strolling through the greens, starstruck Icelandophiles still ranting over having shaken hands with this or that artist, bikers, rockers, hip-hoppers, indie kids, shoegazers and goths. 16.000 people gather for the four-day festival decked out with bindis, Native American headdresses, denim jackets, Icelandic wool sweaters, and shades of every imaginable tint.
This is Secret Solstice's fourth incarnation, and it's clear that they've learned a lot from the mistakes that plagued last year's outing. As we reported, there were unreasonably long queues to see Radiohead and Die Antwoord that stretched on for hours, with far too many leaving the festival frustrated. This year sees all of the headliner perform on the main outdoor stage, with generally minimal delays and disruptions.
"Secret Solstice wants to be Iceland's Glastonbury or Coachella...and this year's iteration is certainly the closest the festival has gotten to that."
A local journalist proclaims to a film crew that Secret Solstice is the biggest and best festival in Iceland, that the local acts that don't get invited are simply not worth mentioning, and that anybody who is anybody is here. While I don't agree with the sentiment, I believe my colleague articulated exactly what the festival wants to be. It wants to be Iceland's Glastonbury or Coachella, with spectacular shows, beautiful guests, and an intoxicating (but safe) vibe, and this year's iteration is certainly the closest the festival has gotten to that; but it's not quite there.
There's plenty of starpower present, and on some nights the lineup is arranged in such a way that one act's energy fuels the next, which fuels the one after that; other nights it feels like the arrangements are a little too safe, with too many of the up and coming future superstars of Iceland relocated to spots before 18:00, instead of giving them a chance to shine later on when the crowd has actually showed up.
Take for example Hórmónar and Skrattar, who played on Friday at 15:00 and 15:30 respectively. Hórmónar, a young but promising experimental punk band that we have written extensively about, came up on stage and delivered a set consisting almost entirely of new songs that they had never played before live. They ranged from being poppy to funk-punk, focusing on topics such as cute crushes with a dark tone, victim blaming, and female sexuality. For such a young band to take big risks, unveiling a new direction instead of sticking to their true and tested formula at such a big festival is remarkable. Meanwhile Skrattar, a more established dark electronic outfit, is generally only seen playing in pitch-black basements but instead has to contend with an afternoon slot. Don't get us wrong, the show was cool as a cucumber, and the (limited) crowd ate it up, but their show would have served the festival much better after a main act as desert rather than as an appetiser.
Another strange early show is that of Cyber, a feminist hip-hop outfit born from the Reykjavíkurdætur collective. I see a concerned father run away with his young daughter when the performers, clad in full PVC outfits, pump their fists out and retract them chanting: "in / out / in in / out." The song in question is called "Stingdonuminn", which means "stick it in" and is very obviously about a father's paedophilia. Children got free admission to the festival with their parents, so shoehorning this explicit band into such an early slot may have been a bad idea.
In the festival's defence, the organisers probably bet on all the children going to see Hildur (pictured above), a pop phenom that is a massive hit with the younger crowd. She performed to a swarm of kids, who danced merrily away, only to be disappointed when her cheerful and colourful set came to a close.
While Cyber may have been a little too much, plenty of other hip-hop outfits were popular with and appropriate for the younger audience. Sturla Atlas attracts a sea of prepubescents that happily jump about with wild abandon, with GKR earning plenty of sing-alongs to his humble and down to earth tunes, but it is Úlfur Úlfur that wins the prize of having the coolest fan, with one kid breakdancing furiously through the set.
The lineup is filled with hip-hop artists and DJs, with many of Iceland's best talents from said genres performing. Lord Pusswhip got people blowing vape clouds everywhere during his dank set where he showed that he had grown from his bombastic early days to an underground artist worth watching. Alvia Islandia was unafraid to go big and get the crowd involved in her playful show, tossing water pistols into the fray to make sure everyone was engaged. 17-year-old Aron Can (pictured below) kept the party going into the night with his fresh beats while historic hip-hoppers XXX Rottweiler hundar played hits that most of the audience grew up on.
There was also another historic hit performing, Tappi Tíkarass, which is internationally known for having at one point had Björk (yes, that Björk) attached as a singer. The post-punk band was active from 1981-83, and played an instrumental role in sowing the musical seeds of future generations of Icelandic bands.
Foo Fighters (pictured above) cemented their place as Íslandsvinir ("Friends of Iceland") by playing their third show in Iceland, charming everyone gathered out of their socks. Pock-marked teenagers sloppily make out to "Times like these", younger fans sing along to "The Pretender", while older ones sing to "My Hero". The band goes through their catalogue of songs, playing tunes from all of their periods, including a few new ones that mark a far more exciting future than their 2014 album Sonic Highways suggested.
When I bump into my 17-year-old cousin at the show I experience the strangest generational déjà vu, realising that I was his age when I first saw Foo Fighters in 2003 where I had run into his mother who was my current age. What's unfair about all of this is that while the three of us have grown and aged, singer Dave Grohl looks untouched by the passing of time, kicking out the jams and singing at the top of his voice like a 30-year-old.
He and the band then enchant the crowd into submission by bringing Harper Grohl, Dave's daughter, onto the stage to play the drums to Queen's "We Will Rock You". Dave Grohl then proclaim his undying love for the country by showing a Thor's Hammer necklace he claims he's worn every day since his first visit, and promises to move to Iceland if he ever retires.
While Foo Fighters deliver a loveable show, Saturday's headliners The Prodigy instead unleash hell with a set that's filled with deep drop after deep drop. For a solid 90 minutes, mosh pits form all through the crowd, with unfiltered male aggression finally finding a home at the festival. Smaller pits expand and join together, which then grow relently larger until half-naked muscle men scare away the more casual moshers. The Prodigy power through their top hits, intermittently asking "where are my warriors" and "where are my voodoo people", only to reinvigorate the crowd by calling it "all my Prodigy people".
The final day of the festival was far more relaxed than the other three, with some artists reading the crowd and playing calmer sets, and others like rapper Gísli Pálmi doing the opposite. He puts on what is arguably one of his best and most energetic show, but gets a muted response from all but his most reverent fans.
Auður and Amabadama play more mellow tunes, with Auður slowly building up momentum with his smooth R&B set, while Amabadama's family-friendly reggae finds a home with the chilled audience. Auður then thanks everyone for showing up to the festival and for: "supporting Icelandic culture instead of just tourist shops."
Anderson .Paak & The Free Nationals (pictured above), Big Sean, and Rick Ross close the festival which this humble journalist believes is on the right track. It has not managed to dethrone any other festival as the best in Iceland, as if such a title can really be awarded, but it's putting in the work.
Secret Solstice was held June 15-18 in Reykjavík, Iceland.
Get the Best Fit take on the week in music direct to your inbox every Friday