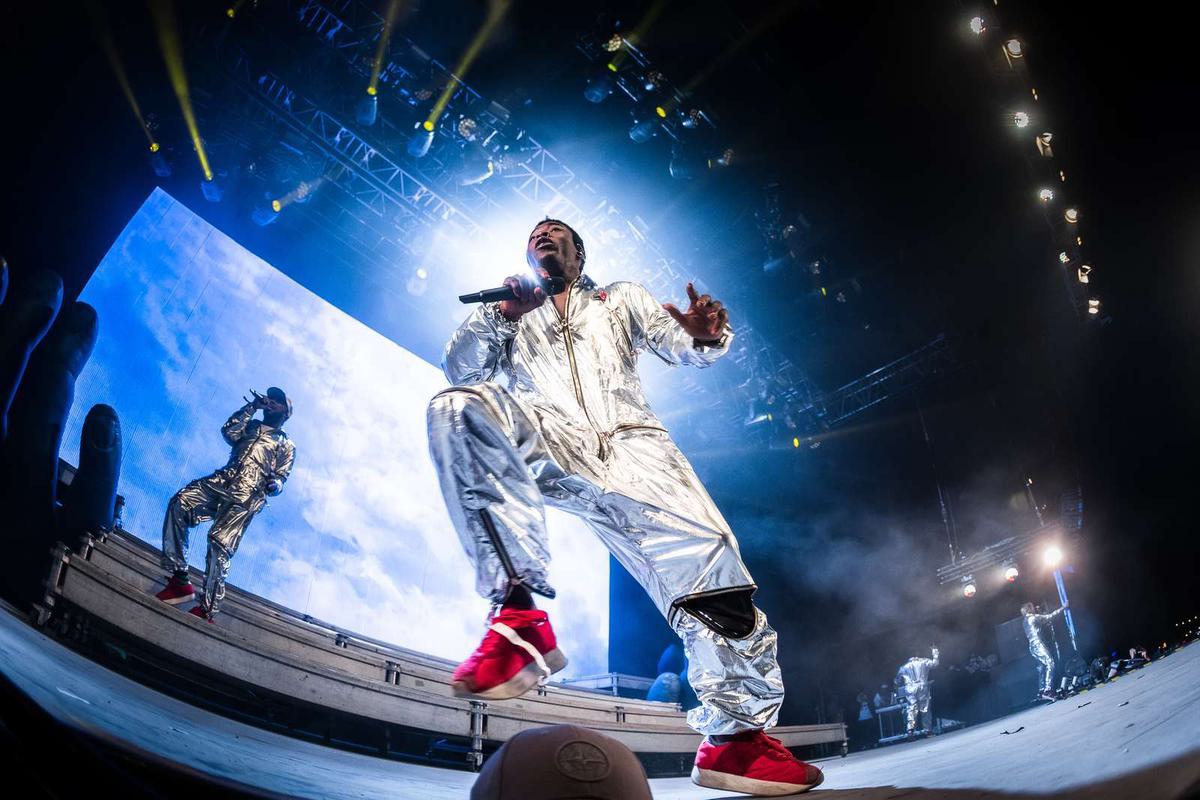 Roskilde is more than just a music festival
16 July 2019, 07:30
"It's that orange feeling," is the phrase that has become the calling card of Denmark's beloved Roskilde Festival. The Danish language deals often in abstract concepts; they have words for sensations which transgress the confinements of English. The "orange feeling" is one of those phrases: it would take a thousand words to describe, but only a day to experience.
Roskilde Festival is far more than just another music event. It would be better described as a national holiday; a Danish pilgrimage to a promised land of partying into the early hours, cups over-brimming with Tuborg, naked runs, exquisite food – and above all, making friends. People are at the core of this festival; music is merely the agent through which the magic happens. What makes Roskilde so great - what has cemented its place in the Danish identity - is that it draws on the universal truth that music is what brings people together. It is built upon togetherness.
For 49 years, the alchemy of Roskilde Festival has attracted what has now amassed to 32,000 volunteers, catering to a 130,000-strong audience with a line-up of no less than 180 acts. With participants in its formative years being almost exclusively Scandinavian, recent years have tapped into an international audience, attracting hordes of Brits, Australians and Germans. For a festival founded upon community, as an international tourist you'd be forgiven for questioning whether or not you, too, would be welcomed into Roskilde's aura of orange. The answer is – of course. Absolutely. With enviable fluency, the Danes slip seamlessly between their mother-tongue and English; "Where are you from?" is a question asked with interest and genuine enthusiasm, be it at the bar or at the barrier waiting to see a band you've bonded over.
The line-up was poised to be a knock-out. On every front, it delivered. Often, festivals can be criticised for their line-up not quite capturing the zeitgeist, with a little too much of one thing and not of another. While the old guard, with the likes of Bob Dylan and The Cure, offered far more than a performance but something of a cultural experience, Roskilde Festival were far more on the pulse of 2019 than that. Everyone knows that hip-hop – and particularly its off-spring, grime – is the new punk. Roskilde gets that. With 'the hardest-working boy band in show business' and hip-hop collective BROCKHAMPTON racking up staggeringly large crowds, rivalled only by Skepta who you could hardly see for the plumes of dust kicked up in livewire mosh pits, acts of this cut were the real jewels of the festival's crown. Cupcakke brought her sexually-charged, endlessly fun verses which command due respect as much as they do laughter (referring to her vagina as "Garfield" is only the beginning of her wit). This was followed up by London rapper Flohio, who enlivened with her call to arms in confidence, hammering home "I wanna be iconic!" on her chant-worthy "10 More Rounds". This representation of strong, female hip-hop artists reached its apex with Lizzo: the woman of the moment. Everyone flocked, as if on a holy expedition, to pay their respects to the goddess of 'juice' by letting go, singing and going wild at her altar. As ever, it's never the headliners, but the acts tucked in the small-print who define a festival experience.
For as much as UK and American acts drew crowds, Denmark's finest were out in full force. The deeply adored R&B trio, Scarlet Pleasure, had flocks of fans forming immense queues, two hours in advance of their show for a chance to get into the front pit. Met with similar zeal were Barselona (yes, Barselona with an 's'), whose silky synth-pop entranced the crowd – and themselves, it would seem, because they were oblivious right up until the moment the plug was abruptly pulled. The otherworldly pop of the whimsical Aurora had people waving whole branches scavenged from trees in a set that felt more like an elfin ritual than a performance, and the Finnish sensation ALMA's skronking neon-pop was a party that could be heard no matter where you were. 36 countries, in all, were represented. For as much as there were well-loved and established acts, 75% of acts had never played Roskilde before. The diversity in representation this year was a big step up from any year that came before it.
The crowds were electrified, without fail: be it in the morning with a mind as frothy as the pitchers of beer you glugged the night before, or at 4am, barely able to stay on your feet by the beginnings of sunrise, the energy of Roskilde was phenomenal. When UK festivals are nicely tucked up in bed by eleven, for the Danes, the night is still young. While it is globally acknowledged that the Brits drink as if they want to die, the same can be said about the Danes – the difference is that they stay on their feet (and remarkably get friendlier still, if that were possible).
With hundreds of thousands of people to manage, you might wonder just how safe a festival as large as Roskilde can manage to be. Some may remember the disaster of 2000, when, during Pearl Jam's set at the Orange Stage, a crush occurred killing 9 people. Attributed to the land turning to mud after a torrential downpour, with people unable to stand up in the packed pits of the main stage, Roskilde have upped the anti over the years with their attention to safety, even more so than it was already in 2000. Areas with a great amount of footfall are paved; for fans who want to get to the very front of the stage, wristbands to reach the exclusive pit can be obtained earlier in the day to prevent stampedes; further to the back, crowds fill smaller sectioned areas, with easy routes to get out, surrounded by walkways which have crowd safety volunteers watching, ready to hand out water or pull someone out at a moment's notice.
The guarded, stiff upper-lip that is so inherently British has no place at Roskilde Festival. For many, making friends is merely a bonus; at Roskilde, it may as well be on the itinerary. When you're between stages, looking for somewhere to tuck into your cuisine of choice for the day – be that Japanese, Vietnamese, Italian, or indeed something from their burger joints (which are the closest thing to heaven we are likely to reach) – there are communal picnic areas set out specifically for people who want to mingle. There is also a Morning Assembly for early-birds, where over breakfast people come together for a sing-along to kick off the day in high spirits.
Art and politics are increasingly becoming intrinsic to the Roskilde experience. Every year, Roskilde Festival choose a theme, which lays the foundation upon which the entire festival is built. 2019's saw the turn of 'solidarity', which could not be more apt in a world of division and climate catastrophes. (Enter Stage): The House of Chroma. The venue played host to talks, performances, workshops and debates, tackling political and societal issues facing young people today. The transparent dome offered not only relief from the rain (to which Denmark is more prone than the UK, if you can imagine that), but also relief from the divisions and climate catastrophes that lay outside. Above all, it was a safe haven: a forum of healthy discussions, of education and respect. Roskilde Festival invited activists and artists near, but also far and wide, to speak. The Danish Green Student Movement were there to talk climate change; Moeisha Ali Aden, a black, Muslim, trans woman and refugee discussed the challenges of facing adversity and learning to be unafraid to speak out; and the UK's own Saffiyah Khan, the young woman 'who smiled in the face of hatred' in a viral image, talked getting involved in activism as a young person and her experience as a figurehead for the left-wing cause.
Sustainability is a world-wide concern, and Roskilde Festival reflected that. This year was the first time they have put into place reusable plastic cups, which move away from single-use plastics by being able to be washed and reused for free throughout the festival. 2019 also saw the continuation of the Clean Out Loud initiative, whereby campers are invited to join in keeping the camp site green and clean throughout their stay, and participating in the Trash Parade. With camp rivalry being instrumental to the Roskilde experience (as any Dane will enthusiastically explain to you after 11PM and enough beer), this only increases the determination for Clean Out Loud to have full effect. In 2018, unlike other the regular camping site, 100% of all sleeping bags, camping chairs and tents were brought home. 2019 looked to take that success further across the entirety of Roskilde Festival.
The most remarkable thing about Roskilde is that it has the distinction of being 100% non-profit. When festival-goers would typically be advised to don body armour and goggles, lest they get hit by the shrapnel from the bombardments of advertisements that follow, there is a noticeable - and dare I say blissful - lack of these assaults. Their partnerships aren't dictated by the logic of profit and power, but rather synergy between core values. Every year, charities are voted for by the people who receive the benefit of what amounted to €51 million in 2018, and is set to generate even more by the time donations are counted this year. The charities involved are too numerous to list; the crux of their cause is uniting art and culture with helping those who are vulnerable. Just one of the beneficiaries, Panteras, bring DJs who create music together with young refugees and immigrants to create cultural cohesion and a sense of community.
This sense of community is something Roskilde create again and again every year – not only among festival-goers, but among their army of volunteers. The hours can be long, the work can be draining, and as with any festival, there is no such thing as a 'quiet' afternoon. So, what keeps them coming back? What keeps 32,000 volunteers dedicated to Roskilde Festival? They treat their volunteers exceptionally well, you see. With backstage areas filled with hang-out spots, all with trained masseuses to hand to help you recover from a hard day's work or the exclusive volunteer's parties from the night before, the volunteers are a community in a league of their own. Volunteering at Roskilde every year is not so much work, but simply another dimension to the festival experience. Your time is rewarded not only in perks, but having a fantastic time with your friends volunteering alongside you.
All in all, this is why it would be selling Roskilde Festival short by describing it as a mere 'music festival'. The 'orange feeling' encompasses far more than that. When Charles Dickens wrote, "It was the best of times, it was the worst of times", I like to think he had the festival experience in mind. For although you can endure campsite squalor and exhaustion on a level that ought to be impossible, there are pockets of euphoria: a multitude of moments when Roskilde Festival was a utopia; an 8-day experience that was, in the words of Robert Smith, "just like heaven."