With a musical line-up to blow others out the water, including LCD Soundsystem, New Order, Damon Albarn with the National Syrian Orchestra, and the Red Hot Chilli Peppers, I found love as well as music, at the 46th edition of this great European festival.
This isn't because things aren't busy, and it's got very little to do with the fact the festivals audience - though it's percentage is growing - is not widely made up of international music fans. The truth is, the festival started some days ago, and I'm arriving late to the parade.
Whilst many of us were at Glastonbury, things were kicking off in the small town of Roskilde as the gates opened to the festival on Saturday night. So whilst many of us were in our homes singing along to Adele (or others of us in fields just trying to avoid her) - the mad rush of settling into the perfect camping spot was going on a good 800 miles away.
To us it might seem strange to open a festival the weekend before the music actually begins. It's something that confused us – a band of UK journalists - for the first few days too, until things began to be explained to us, and the sensibility that inspires people to come early began to fit.
This isn't so much a music festival – as a festival where the camping and socialising aspects take a priority. It's customary at Roskilde to be part of a camp. Be it Camp Wildfire or Camp Tiger, when you come to the festival, it's your camp that really puts you in the mix of the festival.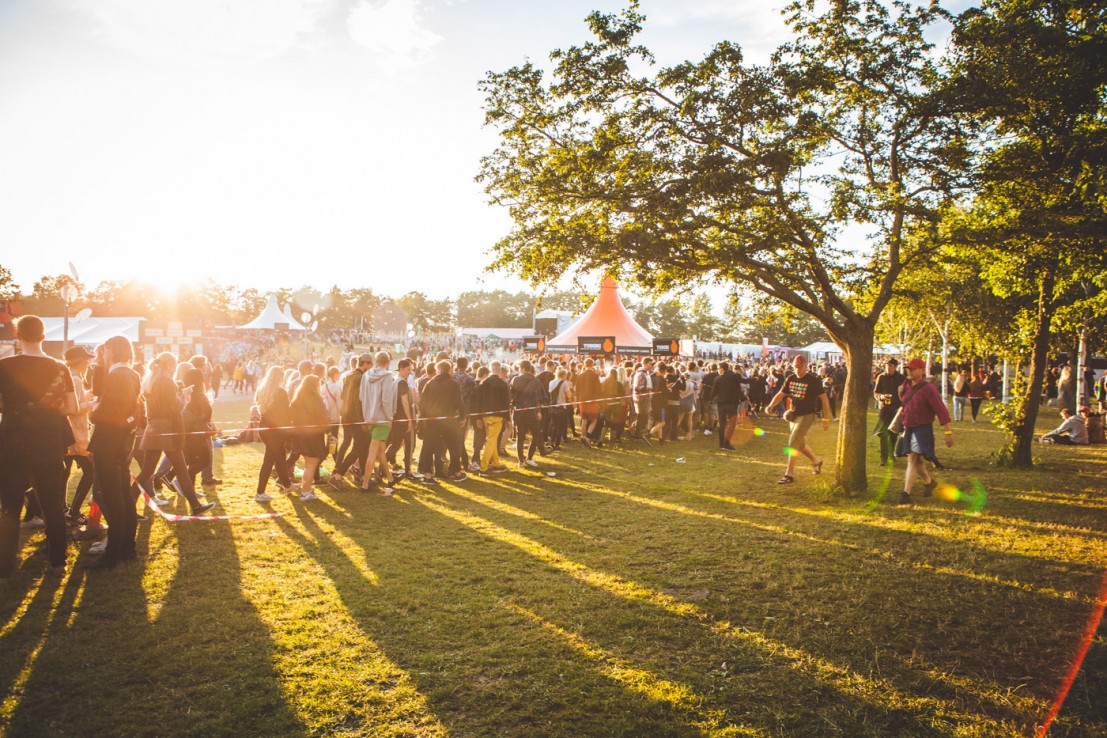 Music isn't officially programmed until Wednesday so people get to know each other in the camping areas, spreading love (and beer), easing into the festival through a series of unofficial camping games. One of the favourites is beer bowling, a famous Danish game that involves participants sitting themselves in camping chairs and bowling at their fellow teams beer bottles.
There are also events going on all day too – organised by the camps. On walks of the campsite, we see posters advertising Daft Punk tribute nights; open jams for musicians, David Bowie sing-alongs, and football matches. Much of this leads to a mentality that is quite different from the British festival. Whilst the likes of Glastonbury do aim to promote communality and exchanges between camps, a few years ago introducing communal gardens to all camping areas, Roskilde uses it's volunteer ethos to allow festivalgoers to create their own ulterior paradise.
This leads to vast and daft experiments. Many bring huge sound systems that boom late into the night, whilst others build little huts or temporary communal areas where everyone can enjoy a sing and a dance together. Some are more official than others.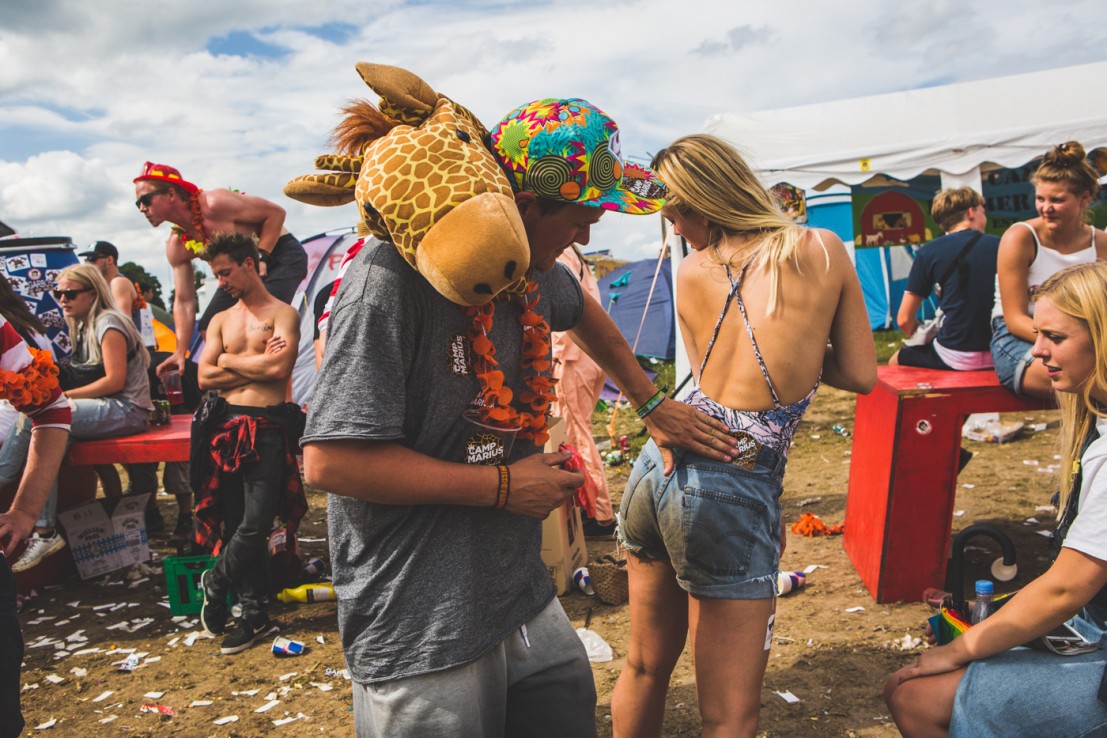 At the very basic level, there are gazebos everywhere, aimed at bringing people out of their tents and into the camps. Go up a level, and great tarpaulins bring together 10-15 tents all under one banner, and at the very top of things, is a whole area devoted to the bigger structures and builds, aptly named the Dream City. On our first night we venture out to here and it's a little bewildering at first to say the least. Lights flash and sound systems boom, the cacophony of noise and light enough to spin anyone's heads out - especially two people who've just returned from Glastonbury, used to the this kind of thing in the central music areas, let alone the middle of a campsite.
The arena itself – where music is officially programmed – is at the centre of these campsites; working like a central organ where, the campsites like arteries, stretch out from. To the east, there is Dream City, to the West, swimming and fishing lakes and an all the more serene and calm atmosphere. In the arena, nine main stages house music. There's the huge main stage, the festival's symbol - a concave web of orange tent material, pulled taught at either side by two pylons that face skywards. With only three or so bands playing the main stage per day – there is not only the space for bands to perform sets to whatever length they feel they want to, but also, enough time to explore the other stages on site as well. 
Elsewhere, you'll find Avalon, a stage that feels like a cross between a theatre and the lighting section of Ikea. Cheapened by my description – it actually proves to be a hotspot for some amazing artists over the weekend, a place to find a band that are huge elsewhere, but barely known in your home country. There's also Apollo, a huge white cube arena where the majority of the dance music is billed. Arena, a large white canvas tent for bigger name bands, and Gloria, the perfect hideaway spot where new music is based. Alongside these, you'll find food halls, barns, graffiti laden art installations, and a plethora of little covered seating spots, like mini gardens where you can find a haven of calm.
Our first day opens with a 3-hour performance by the Orchestra of Syrian Musicians, backed by Damon Albarn, Africa Express, and featuring (to name just a few)- Julia Holter, Baaba Maal, Bassekou Kouyaté, Rachid Taha, TALA, Issam Rafea, Faia Younan, Noura Mint Seymali, Malika and Boo Kalthoum. Damon takes a back foot roll for the set, joining only for two covers - The Beatles 'Blackbird', and a version of Blur's 'Out Of Time' - instead allowing the Syrian musicians to play as their mood takes them, swinging at one moment from orchestreal hip-hop with Malika and Boo Kalthoum to traditional Syrian folk songs with Faia Younan.
Later into the evening, there's afrobeat from Pat Thomas and the Kwashibu Area Band. The band has been working recently, with legend Tony Allan – Pat, himself, a strong part of the legacy of Ghanaian music. The performance leaves everyone hungry to dance a little more – and with Red Hot Chilli Peppers (pictured below) just beginning outside, many choose to change up the feel and opt for the funk and punk legends. Their set is a well-loved mix of old and new, with classics like Californication and Give It Away receiving the warmest praise.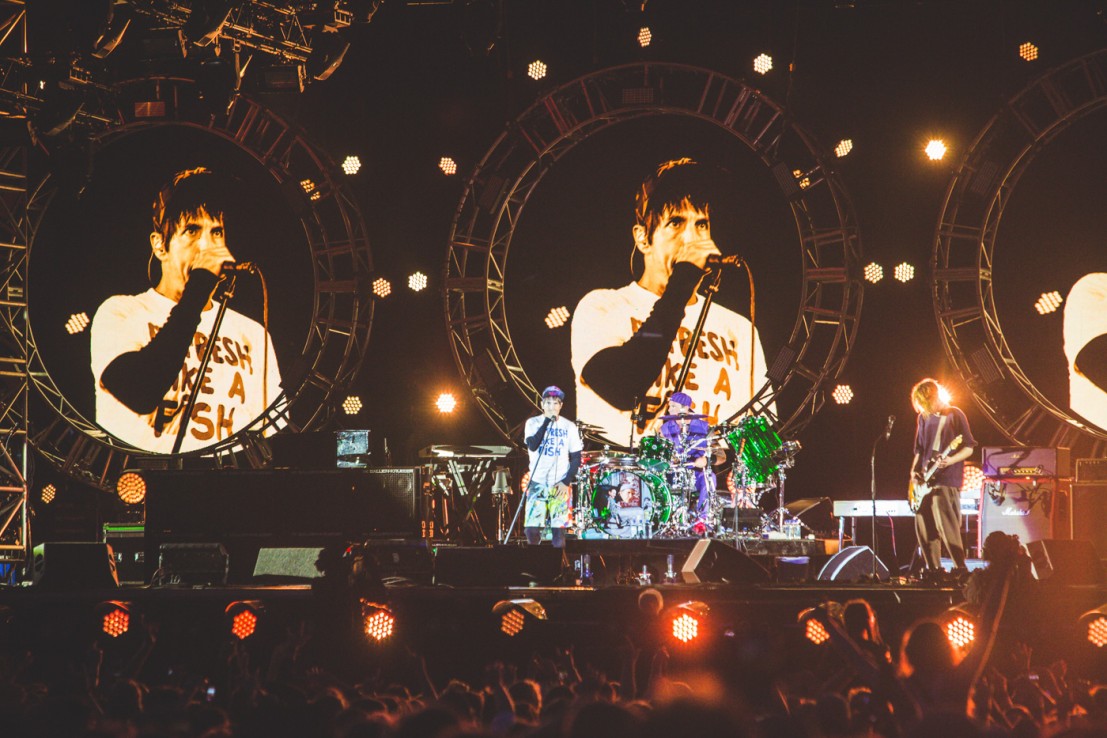 Come Thursday, the grind of the campsites is well in motion. Having been here such a long time people are quickly over their hangovers and out exploring. We only really get going by the time House Of Pain comes on stage, dragging our feet, hampered by our own hangovers caused by the plethora of free beer thrown on in the first day, and the triple measures many of the bars serve.
We take things slowly, enjoying Bomba Estereo, Latin America's latest success story, a dance band who bring in a huge audience who bring out some nimble footwork. But we're beset by hunger. Whilst a food tour of the site in the morning did get us going, there's something hiding in the corner of the East campsite that we're eager to explore.  
Foodjam is a project put together by the Danish board of Health, and is a welcome reminder that festival food doesn't just have to be a grotty affair of just burgers and kebabs. This, unique to Roskilde, is a place where you can cook your own dinner, enjoying access to a full larder and a culinary supervisor to get you thinking about food. We spend hours here, messing around with ingredients, before tucking into our own little banquet. By the time we've finished it's not long until Tenacious D.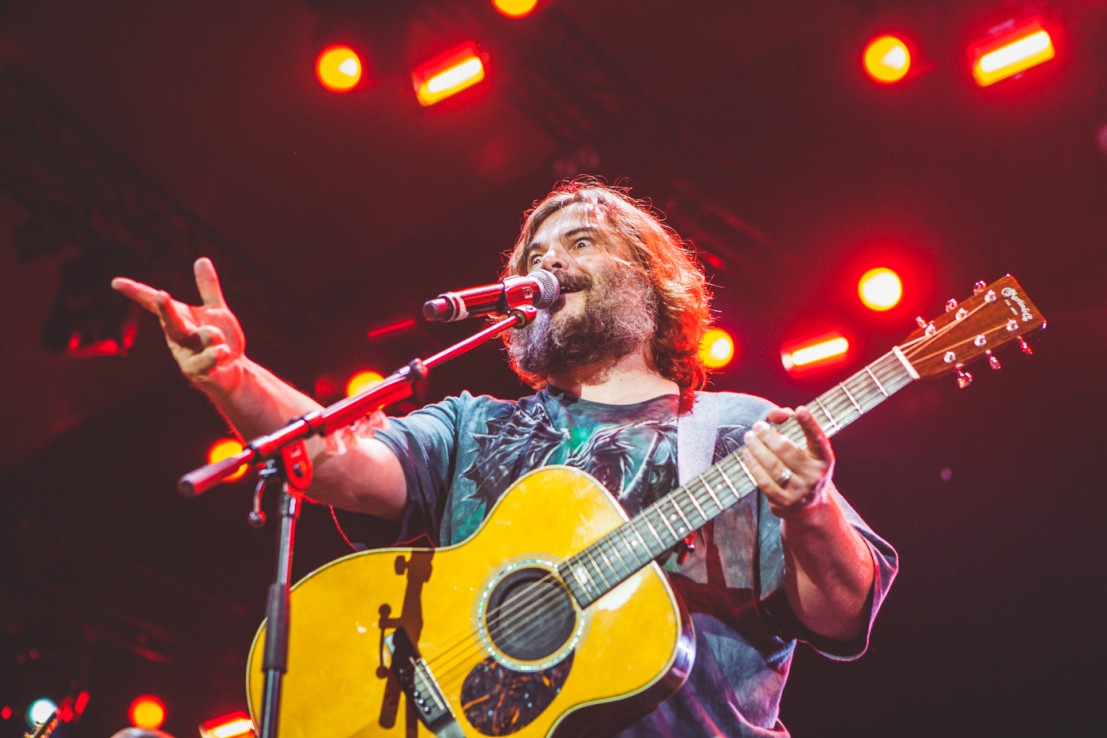 All in all, watching Jack Black perform on stage is, as you would expect, a completely hilarious affair of jokes, banter and music. But at stages the set does feel like it is resting on previous success with the Pick of Destiny, with much of the other material feeling lacklustre and a little boring at times. It doesn't mean there's nothing to enjoy here, but an outing of some of the School of Rock songs wouldn't have gone a miss.
Come Friday, and we enjoy some of the early on-site art talks. First on is Martha Cooper, an American photojournalist who shares and records her experiences during the civil rights era in America. Closely followed by Darren Cullen, talking about his Pocket Money Loans project. Both are a welcome break. At times Roskilde can feel a little music heavy, with little space for other cultural arenas. This could just be me being sour that there's no circus, having just spent days enjoying the circus field at Glastonbury, but there could be more.
Out on a wander, we find a stage we wish we discovered earlier, an off the map stage, who's line up is etched just on a little black board rather than found in the programme. It becomes a home away from home over the weekend, a place where the incredibly left field music at Roskilde can be absorbed. Early favourites are Anden Enhed, the collaboration of Pinkunoizu's Andreas Pallisgaard and Michael Mørkholt, a pair who utilise synthesisers and sequencers to make a pleasing mix of kraut electronica. Pleasing too, are Small White Man, a group of 8 locals who play droopy, stoner-binge lo-fi music that screams of late nights and melancholy.  
Come the last day of the festival, things take a more jazz like affair. People have been here for almost a week now, and the burnt faces can be seen just around everywhere. Whilst many begin their walks back to the car, dragging their sound systems on large trucks with them, an older crowd seem to enjoy and take to the vibes in the main arena.  
A breakfast buffet in the morning, of scrambled eggs, pancakes, bacon and sausages, makes for a great start, before dipping into Avalon to watch one of the most experimental orchestras I've ever seen. The Andromeda Mega Express Orchestra, a Berlin based orchestra who's 25-year long relationship with Daniel Glatzel, has led to a long and accomplished set. The 20-piece orchestra mix diverse film scores alongside, minimal ambient, techno and jazz to bring together something that feels a little like the Penguin Café Orchestra. It's the most exciting thing I watch all weekend, futile to describe, so I can do nothing more than push you to just listen.
Later on, there is the pleasingly down tempo Tiken Jah Fakoly, an exile of the Ivory Coast who moved to Mali before collaborating with musicians from across Africa. His set is enthused with classic reggae records, ending on a Bob Marley classic.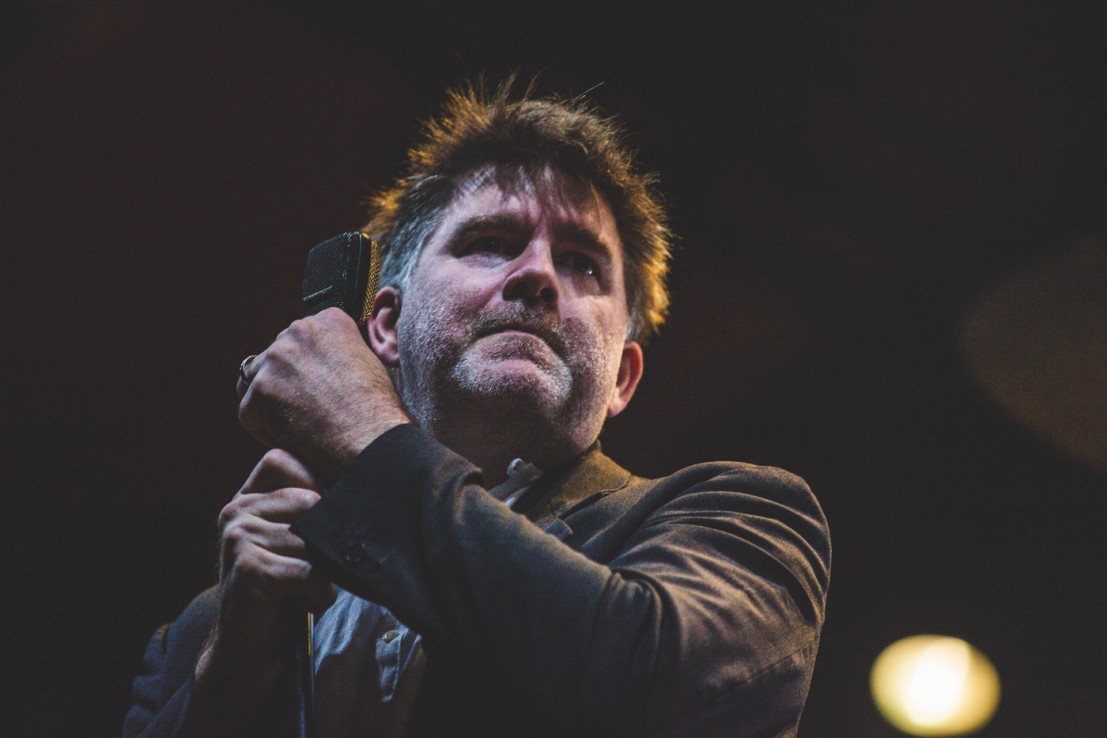 Come later afternoon, and it's time for Los Pirañas, a vehicle of Columbian dance music, a band whose main aim is to innovate traditional Latin rhythms for modern ears. By night, awash with the love and energy of Roskilde, we're enthralled in the arms of LCD Soundsystem (above). Their set is a 2-hour journey; into one the most pleasing back catalogues of any modern band. It all wraps up to 'All My Friends', with us, arms gushed around each other, hugging and kissing the new group of friends we've made over the week. 
Too often, it takes a little time to make sense of the past few days when you come back from a festival. For Roskilde, that confusion happens over a week, spilling its way through my head as I tried to figure my thoughts about it. It's undoubtedly an amazing festival – from its unique campsite mentality, to the volunteers whoa are at the backbone of its operations, Roskilde aims to challenge things a little. Throwing into the status quo, a message that you can measure a rock festival on different terms.
Find out more about Roskilde Festival at roskilde-festival.dk.