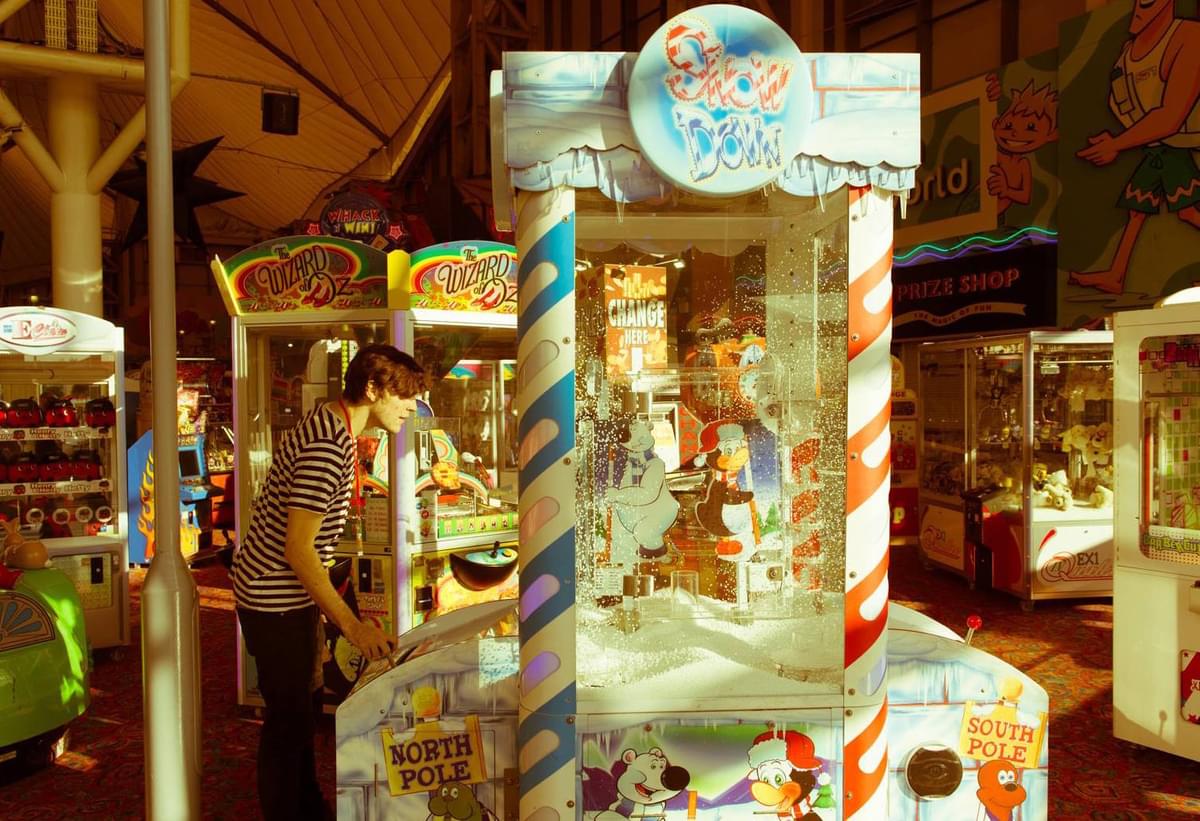 What we did at Rockaway Beach
03 November 2015, 13:21
In the same month that Britain's oldest rollercoaster reopened at newly-hipster Dreamland in Margate, Butlin's at Bognor Regis launched the maiden voyage of Rockaway Beach – a new festival hoping to draw crowds to the once-popular seaside resort.
The first instalment of the festival took place from 9 - 11 October 2015, running from afternoon until late each day. Artists played at various venues in the huge Skyline Pavilion at the centre of the park, surrounded by all your standard seaside resort fare: crazy golf, ice-cream parlours, retro funfair, a pool with some MASSIVE slides. Oh yeah, and a beach.
Who headlined Rockaway Beach?
Spiritualized, Johnny Marr, Echo & The Bunnymen, Public Service Broadcasting, The Fall, Young Fathers, Nadine Shah, plus loads more.
What we saw at Rockaway Beach
Emma Pollock
The better half of The Delgados cut a small figure at the huge Centre Stage venue on the first night of Rockaway Beach. But plenty of banter (with us and her backing band), while she swigged on a can of Red Stripe, kept the crowd laughing in-between songs. The understated lo-fi tracks allowed her beautiful, instantly-recognisable vocals to take centre stage (pun not intended) – reminding us all why we all fell for The Delgados way back when.
Errors
Glaswegian post-electro trio, Errors (managed by Mogwai's Rock Action Records), is one of the acts we were most stoked about seeing, but there was something a little lacklustre about the performance, and the sound let the band down: the volume just didn't do the Errors' synthy sound justice. It would also have been great to hear some tracks of the first LP, It's Not Something But It Is Like Whatever – which would have lent a heavier, beats-led, meatier feel to the set, to accompany the light, bright, Pet Shop Boys-eque sound of the new record.
This is, of course, all placed beneath a substantial caveat: James Hamilton on drums was a goddam animal - his timing and speed seemed to defy the laws of physics. We could have watched him all night.
Echo & The Bunnymen
Clearly one of the biggest draws on the bill, we saw many a Bunnymen t-shirt during our stay, on music fans young and old. Apparently some (including a hen do) assumed they had booked onto an '80s themed weekender, because of the Bunnymen/Johnny Marr headliners.
We can only assume the hen do ladies were mildly disappointed not to find any Wham! cover bands or Boy George impersonators (hell, even we would've gone to that) but at least the Bunnymen lived up to expectations in their black funeral overcoats, surrounded by smoke and bathed in blue light; bringing an eerie, haunting atmosphere to what is usually the resort's all-singing, all-dancing, "jazz hands" cabaret venue.
The Fall
It was a bizarre sight to behold: The Fall – about as unwholesome a band as they come –playing in the "Reds" venue, home to the legendary (and decidedly family-friendly) Butlin's Redcoats. Mark E. Smith snarled, barked and yelped incomprehensibly at a slowly depleting audience (you got the feeling a lot of people had just shown up to see what was on, and they couldn't handle what they found); but the band was tight, the fans up front clearly couldn't believe their luck at seeing their hero in such close proximity, and Mr Smith didn't wet himself. Which is a bonus.
Ghostpoet
Now on his third album, Shedding Skin, Mercury-nominated (and Metronomy-remixing) Ghostpoet drew a crowd about three times the size of that for The Fall the following afternoon.
"This is WEIRD. I've never been to Butlins before," he shouted bemusedly to us. "But there's a first time for everything. We're playing Butlins. BUTLINS?!"
We instantly decided he must be the coolest person ever to grace this Butlin's stage (since the Four Tops and Fats Domino…yes, you read that right), and his soulful but raw delivery won over a seriously diverse crowd, young and old, of all different backgrounds, as far as we could tell. Middle aged women out on the lash turned to each other squealing, "Oooh don't you just love him??", while bald 40-something guys in Ben Sherman shirts clamped their plastic cupped pints in their mouths so they could applaud uproariously for Ghostpoet. His first Butlin's outing was a unequivocal success.
Public Service Broadcasting
Bespectacled uber-dweebs, Public Service Broadcasting got off to a bit of a slow start – issues with equipment meant that their set started a whole hour late. This didn't deter the crowd though, in fact we had a very enthusiastic fan behind us shouting continuously into his mate's ear: "You're gonna love these guys, they're AMAZING". On repeat. For 60 minutes.
They began with an emphatic apology, tweed-jacketed and bow-tied J. Willgoose Esq. speaking to us via his synthesiser (as is customary during the band's performances – you never hear their actual voices), which sounds like a 1940s BBC robot sent from the past: "We've always wanted to play at…BUTLINS!"
The futuristic set – tracks off 2015's The Race for Space - was accompanied with archive visuals of the space race, and old Russian propaganda material. The feeling of driving forward, progression and urgency in the music (think Kraftwerk but fun, and very English) was reflected in the visuals, and really gave a sense of a collective experience – albeit with its tongue placed firmly in its cheek – which made it one of the most memorable of the weekend.
The set culminated with a heavy funk brass section overlaid with Cold War style public service messages – "This is Moscow calling" – complete with synchronised dancing, and an astronaut. If you don't believe me, see for yourself. Or go see them for yourselves. Which you really, really should.
Skinny Girl Diet
Citing Pixies as their favourite band, and earning praise from legends like Viv Albertine of 1970s post-punks, The Slits, we obviously had Skinny Girl Diet earmarked immediately when planning our weekend.
The band were put on stupidly early (about 4pm on Sunday) and were let down by the stage: the Skyline, which was basically just a stage right in the middle of the huge Pavilion, when their sound and vibe would have suited one of the interior venues, but they still drew a huge crowd – which got even bigger once lead singer Delilah Holliday opens her mouth with a (sorry the comparison can't be avoided) Courtney Love-style yowl.
But this is Courtney Love-style circa Pretty On The Inside, when it was all about noise and attitude, and the Skinny Girls were more than up to the task: they raged through their short set (20 minutes tops) at break-neck speed, with blood-curdling screams and full-throttle growls. The drummer Ursula Holliday was impressive, dealing deftly with the unusual time-sequences and frantic speed-ups, and bassist Amelia Cutler provided a moody anchor to it all, apart from in one track in which the chorus consisted mainly of her screaming her guts up.
They may be niche – think early Hole, Bratmobile and The Slits – but they received one of the most emotive encores of the festival, no small feat for a band that is yet to release an LP. We booked tickets to their London show that night, which says it all really.
Pinkshinyultrablast
Another bizarre moment was watching Russian shoegaze outfit Pinkshinyultrablast at the Central Stage: St. Petersburg meets Bognor Regis. Who'd have thunk it eh? The ethereal vocals of lead singer Lyubov drifted delicately over swooping, shimmering guitars and created a crystal-like atmosphere, elusive and light to the touch. Lyubov's stage presence too – with her hair covering her face throughout – was otherworldly.
Young Fathers
Mercury-winning Young Fathers' set began ominously: a single drummer in the shadows, beating a slow simple call to arms. The militant feeling was drawn through the rest of their performance like a thread: the three young men from Edinburgh delivered their unique brand of clubby hip-hop, while they stared intently, almost manically into the crowd. It felt like they were not only talking directly to you, but that they were challenging you, confronting you.
Every move was choreographed with direct, militant precision: each of the three men knew exactly where they were meant to be at all times – effortlessly threading and weaving between one another, sometimes standing in formation facing each other – and resulted in one of the most visually striking performances we've ever seen.
Kayus Bankole was mesmerising, seemingly in some sort of rapture as he writhed and twisted, his eyes fixed on us in a combative, near-possessed, gaze.
Alloysious Massaquoi brought some relief to the tension with his soulful flow, cutting a distinctive figure in a bright white shirt, but any let-up was soon quashed when Graham "G" Hastings took to the mic for a stirring speech, the sort to evoke a military coups: "Migrants. We're all migrants," he said, staring intently, cutting into each of our souls. "I'm a migrant, you're a migrant. And you, and you, and you."
"Shame on you if you think you're better than your fellow man. Shame on you."
He asked the crowd to clap if they agreed the UK should do more to help Europe's refugees. There was plenty of clapping, but not everybody, and that went someway to highlight the inherent weirdness of holding a liberal arts festival in a distinctly 'Middle England' place like Bogor Regis.
Spiritualized
Jason Spaceman and his band of neo-psychedelic explorers had a lot to live up to after Young Fathers. The fact that he chose to sit motionless on a chair to one side of the stage, and constant malfunctions with the otherwise hypnotic light show (nothing kills a buzz like seeing a Microsoft page projected onto a rock show) meant that the whole performance felt stilted and static: it had none of the urgency or dynamism of the show we'd just come from. Not that any of the die-hard fans were complaining: for them it was clearly the perfect ending to a brave new festival.
How we survived
Copious amounts of crazy golf and unashamed abuse of the free dodgems at the funfair helped stave off daytime boredom, along with a media vs band bowling match against Nottingham psychedelics, the Cult of Dom Keller. There's nothing like a spot of healthy competition to keep you on your toes.
An inflatable cinema screen was erected in the centre of the Skyline Pavilion each night to coincide with the end of the headline acts, showing classics like Lost Boys and The Big Lebowski. It's a stone's throw from Bar Rosso – one of the park's more 'elegant' watering holes – so if you feel like ordering a White Russian and settling down to watch a movie in your dressing gown then go right ahead, man.
What were the lowlights?
You know when you're walking along the seafront waiting to get to the "nice bit"? Well, you might be walking a long way in Bognor Regis. Venture out of the park and – apart from a few good fish n chip places – you might be disappointed with what you find. The seafront has none of the crumbling Victorian grandeur of say, Scarborough, and a fairly depressing town centre.
We massively regretted being too knackered to catch Flowers and The Cult of Dom Keller (both on at 1am Friday and Sunday) who according to fellow 'beachers were both well worth staying up for.
The verdict
If Rockaway Beach can bring in more well-regarded acts lower down the bill (in the late afternoon/early evening slots) then it could go on to draw festival-goers from London, which has a direct train from Victoria, and further afield, considering the popularity of the already established ATP festival. It might do well to look at another aspect of ATP: the curating by a single band lends it a certain appeal that Rockaway Beach could try to emulate in some way.
The resort itself would have felt more like a festival with a little effort (a bit of bunting and a few posters can go a long way): apart from a single merch stand outside the main venue, there was no sign that we were at a festival when walking around the park. As such, the whole thing felt more like we were staying at a Butlin's, and there just happened to be some gigs happening, rather than having the full festival experience.
This is a small criticism though: the organisers were brave with some of their choices – Young Fathers, Public Service Broadcasting and Ghostpoet don't exactly match up with the more middle-of-the-road headliners – and that totally paid off. We'd like to see more of the same boldness next year, and with rumours of PJ Harvey already circulating, we're keeping our ears to the ground for the 2016 announcements.
Find out more
Get the Best Fit take on the week in music direct to your inbox every Friday