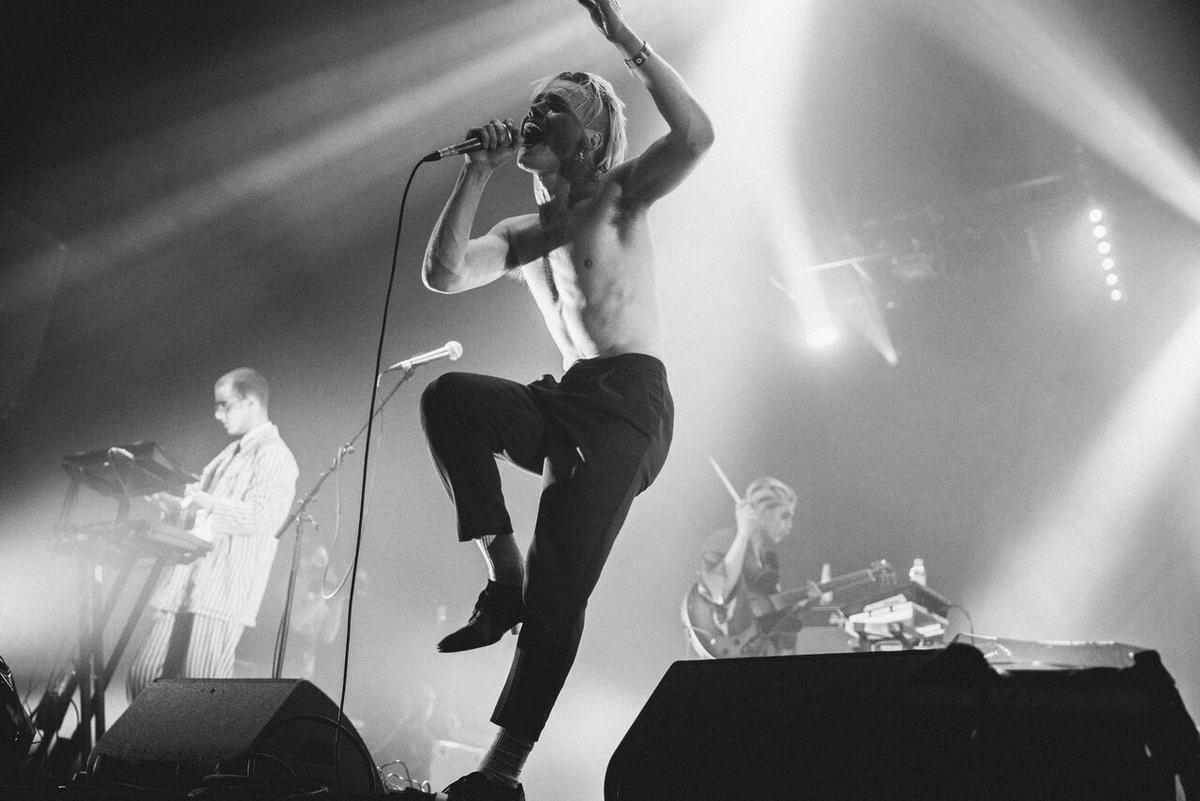 Revelations From The City Of Lights
07 November 2017, 10:43
This year's Pitchfork Music Festival Paris brought some of the best and brightest from around the world to a cavernous former abattoir in the Parc de la Villette. But did the 13-hour lock-ins, wallet pacifying prices, polite crowds and Brits abroad detract from the magic?
A slaughterhouse turned cultural centre played home to Pitchfork's annual celebration of global alternative music. In true Pitchfork style, perplexing and fairly unsettling decisions like having two stages on either side of the same space, serving no French food and essentially locking their customers in one place for hours at a time turned out to be minor hiccups in what was a stunning display of diversity and talent.
Food & Drink
One of the most confusing things about the whole festival experience was the sheer lack of any sort of local culinary experience. Stalls serving pulled pork, hamburgers, spicy noodle soups and ham sandwiches amassed huge queues and charged ungodly prices in true festival tradition but not a croque monsieur (ham and cheese toasty to the common man) in sight. This would not have been a problem if you were actually allowed to leave the venue during the performance but stringent security policies made that impossible and subsequently, the food a little less palatable.

Top Tip
If so inclined, drink copious amounts of supermarche wine before entry. £7 a pint really takes it's toll.
Aromatic Waters
The toilet situation, like Parisian sewers, was post-apocalyptic, cataclysmic and at points dangerous. Tread with caution and bring loo roll.
Moses Sumney
Moses Sumney kicked off our festival experience with a dark and haunting performance that really pierced the veil. The falsetto soul artist rose to fame back in 2014 with an EP made on 4-track tape purloined from TV on the Radio's Dave Sitek. Since then Sumney has been a regular on the indie tour circuit but hasn't made the shift to the pop realm many said he would do. Regardless, the boy has got lungs and by God he can use them.
HMLTD
It would be easy to assume that one of the most divisive sets of the weekend was courtesy of glam rock peacocks HMLTD who, with confidence and ease, gyrated and hip thrust their way through a set peppered with terrible mullets, numerous guitar problems and masterful stagecraft. Reminiscent of Dirk Wears White Sox-era Adam & The Ants, the proud prancers in all their livery and pomp demonstrated why they are one of the most exciting live acts in the UK and hinted that their rainbow love machine may well take over all of Europe before the year is out.
Cigarettes After Sex
In sharp contrast to that performance, the muted lovelorn musings of Greg Gonzalez's Cigarettes After Sex touched on all the excruciatingly painful parts of post-break up depression in a haze of reverb and drawn out vowels. Tracks like "Affection" and "Nothing's Gonna Hurt You Baby" got cordial nods and the occasional drunken shout out but it was a bit a repetitive after awhile. In the words of our friends over at DIY: "They're very good at their one song aren't they?"
Sylvan Esso
The indie-pop duo from Durham, North Carolina delivered an awe inspiring performance and easily one of the weekend's highlights. Front woman Amelia Meath ducked and weaved through glitchy synth bangers, backed by a wall of triggered neon lights and flanked by DJ and compadre Nick Sanborn. The disjointed rhythms and electronic harmonies seemed at home in front of a French audience and an endearing mishap at the start of the set only added to the adulation.
Rejjie Snow
Rejjie and co really did try to get the crowd going. If anything they spent nearly half the set shouting "can I get a hell yeah?" which led to songs like "Virgo" and "PURPLE TUESDAY" (the collab with Joey Bada$$ and Jesse Boykins) getting cut, much to our dismay. Still, Rejjie's blend of old school hip hop and elements of Atlanta trap were given a warm welcome as was his fantastic running man and velvet tracksuit.
Loyle Carner
Man like Loyle Carner is always a firm favourite and this performance was no exception. The stage was set with the now trademark lamps and Grandad's lazy boy which seems like a lot of effort for very minimal usage. Loyle has gotten to the repetition levels of fame now, it's almost scripted. The same anecdotes, the same stories, the same jokes but delivered eloquently and at the right moments it still worked. Definitive highlight was the realisation that Rebel Kleff looks like Gadget from This Is England.
BADBADNOTGOOD
Someone picked up the flute. The rest is history.
Pitchfork Music Festival Paris will return in 2018.