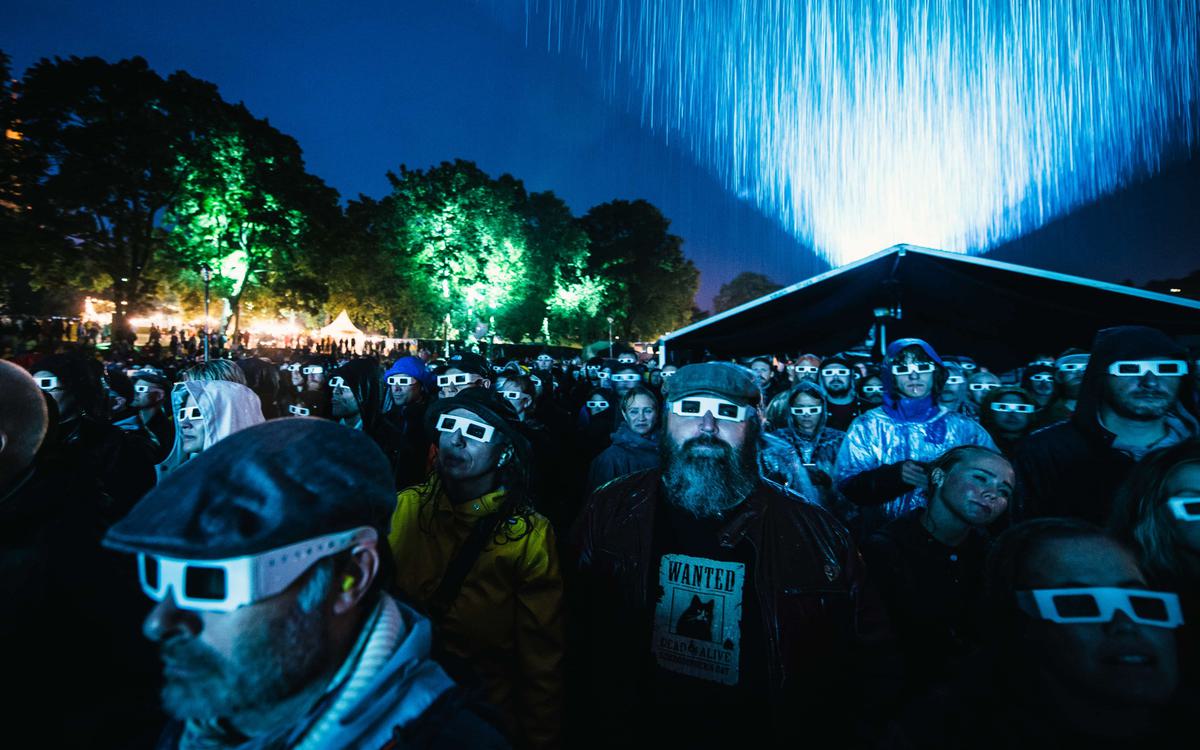 Pstereo Festival is a rich and varied delight in the heart of one of Europe's most beautiful cities
30 August 2018, 14:30
At Pstereo Festival in Norway's sublime city of Trondheim, we find a festival with the spirit, beauty and charm to match its home city, and some stupendous live sets to match.
For a historic town of less than 200,000 people, Trondheim has a musical calendar that puts cities twenty times its size to shame. Pstereo sits alongside the SXSW-esque Trondheim Calling in February, Trondheim Jazz Festival and the grassroots one-dayer Bakkefestivalen in May, Trondheim Rocks in June (which this year featured Iron Maiden), while the century-old cultural institution UKA (Norway's biggest festival) takes over the whole of October every second year. Known for its considerable student population, the days in between are bursting with shows throughout the city.
Pstereo must surely be the most vital of them all, however. It is a distillation of the irrepressible creative spirit that runs through Trondheim's beautiful streets and weaving waterways, where a streamlined, multi-genre line-up dominated by Scandinavia's finest offer sets titanic and tremendous. With three stages and a dance tent pocked around its small, but picturesque riverside site in the shadow of the imperious Nidaros cathedral, a medieval gothic masterpiece, it's relatively small but packs a powerful punch.
With a mix of genuine legends like krautrock's founding fathers Kraftwerk and Brazilian metal titans Sepultura, Scandinavia's most effervescent pop superstars Aurora and Sigrid, hip-hop, punk, dance and a focus on the best in new and Norwegian music, the amount Pstereo crams in to its three days is remarkable. More remarkable still is how little they sacrifice in terms of the loudness and length of their sets. The site is nestled nicely within the heart of the city, but as Mogwai's thunderously loud Saturday show proves, there's little in the way of restriction, while even the earliest sets of the day run no shorter than 40 minutes.
How Do I Get To Pstereo?
Trondheim has its own international airport (with a waiting room that offers stunning views of the fjord). Although direct flights between there and the UK are fairly infrequent, it's less than an hour's connecting flight from Oslo. From the airport to the festival there's a regular bus service, or a taxi if you've got the Krone.
How Does Pstereo Work?
Pstereo's two biggest stages, the headline-sized Elvescenen (river stage) and the smaller Kanonscenen (cannon stage) are located within the same arena, on the banks of one of the Nidelva river. As soon as a set finishes on one, the next set begins on the other, meaning there's plenty of preparation time for the artists while the audience are treated to nonstop music. There's the occasional bit of bleed from the soundchecks, but only if you're stood right at the back.
Around the corner there's the smallest stage, the Veitascenen (Acqueduct Stage), which plays host to the most raucous of the weekend's shows, often courtesy of Trondheim's fertile homegrown scene, while up a short hill the Forte! tent runs a constant program of DJs and live dance music. Forte! runs a one in one out policy when things get too busy, so it's worth getting down early for its biggest shows.
After the headliners, the festival runs 'Club Pstereo' across a number of locations across the city until the early hours of the morning. For most of them tickets are individually priced, available to all but significantly discounted or free for Pstereo ticket holders. There's a number of choices taking place simultaneously each night, meaning just about any whim in the wee small hours is catered for, whether metal, punk, psych, R&B, electronica, pop, disco, soul or straight up rock. Among our picks: a gorgeous sweeping pop set from The Fjords' Petter Vågan in the Church of Our Lady (completely free), and a closing party by bearded space rock titans Black Moon Circle in the tiny Byscenen club (50 Krone entry – less than a fiver.)
Getting Around At Pstereo
Trondheim is small enough that just about everything is within walking distance. It's also incredibly cycle-friendly, with many of the central streets either pedestrianised or open only to electric cars. In terms of finding the festival itself, the massive spires of the Nidaros cathedral tower over the city and make the perfect landmark. Alternately, just follow the Nidelva river until you reach its beautiful old town bridge. After dark, all the Club Pstereo venues are within fifteen minutes' walk from the festival gates and easily found via the festival app's map feature.
Things To Do In Trondheim
Trondheim is an exceedingly pretty place. Even the airport is on the banks of the gorgeous Trondheim fjord (at only ten minutes' extra drive, the scenic route from the airport to the city takes you through the winding hills along its shores and is a must). In the city itself, you could do worse than take a wander by the river through the city's old town Bakklandet, a district of considerable prettiness that's laden with coffee shops, art galleries, second hand stores and bars. It ends at the Gamle Bybro – a bridge built in 1681 that offers glorious views over the river.
The city centre is pocked with micro-breweries, with Visit Trondheim offering a popular drinking tour, and by unique shops like Livid Jeans who'll make you custom jeans from scratch. Modern art institution the Kunstmuseum has two locations, while on the outskirts you'll find the radical socialist/anarchist Svartlamon district, where creatives have successfully fought off attempts at gentrification and redevelopment from the city council for decades.
The 17th century Kristiansen Fortress overlooks the city from high in the city's Eastern hills, and is accessible both on foot and via the world's only bicycle elevator. While we're there, the military are firing howitzer rounds into the air in celebration of Crown Princess Mette-Marit's birthday. The fort, and the steep hill that leads up to it, forms a crucial part of the route for the Toppidrettsveka – a hugely prestigious cross-country roller-skiing event whose competitors are some of Norway's most famous people. It's a local tradition for Trondheim's residents, especially the children, to jog the route in the morning. It takes place at the same time as Pstereo, and is worth spectating. Given it runs right through the town and beside the festival site, it's hard to miss.
Also hard to miss is the cathedral, which you'll pass each day en route to the music. It's similarly stunning on the inside, where the eagle-eyed can hunt for ancient Old Norse runes carved into the brick, a medieval sculpture of what they thought a lion looked like in the 1200s that is comically inaccurate, and the tomb of St. Olav, one of Norway's most revered kings.
Food and Drink
Sadly, Norway is pricey for a Brit, if not quite living up to the horror stories you might have heard. Pints of the most popular local lager Dahls are priced at around 80-90 Krone (£7.50-£8.50), with meals similarly expensive compared to their equivalent here – about £25 for a pizza and a drink for example. That said, know where to go and you'll easily feel like you're getting your money's worth. Alma's bar (below the Byscenen club) offers a good variety of food, while Habitat's lunchtime offer of a (really quite excellent) pizza and (also really quite excellent) soup for 89 Krone (£8.20) is as good as it gets. It's also home to the Monkey Brew microbrewery, consistently voted Norway's best. Superheroburger is the most popular of the city's late night burger joints, while Jacobsen and Svart is our pick of Trondheim's many excellent coffee shops.
Onsite, there's a stall that offers the picks of Trondheim's burgeoning craft beer culture, while Trondheim's own Falafelkompaniet's wraps infused with hot sauce, and local curry house Indian Tandoori are our picks of the bunch.
Survival Tips
Trondheim's weather is notoriously bonkers, and can turn from glorious sun to torrential thunder and rain within minutes. Therefore, it's advised to take provisions for all occasions. Comfortable shoes are also essential, as you'll likely be walking just about everywhere. Also, if a local celebrity DJ offers you a drink called Karsk – a 96% proof moonshine mixed with coffee and sugar that's so strong that it's llegal and regulated as a drug – handle with care.
Who We Saw
Kraftwerk
Kraftwerk (pictured above, by Thor Egil Leirtrø) stand imperious, iconic and in their famous four-man formation: Ralf Hütter, Fritz Hilpert, Henning Schmitz, Falk Grieffenhagen side by side, each at the helm of an identical space-age control platform. The 8,000 people in front of them, drenched by pouring rain, don the 3D glasses they were handed on entry and are guided through a transcendent vision of what music should be, and is capable of being. Sliding with a sharp, deft brilliance as they visit one of their supreme projects after another, their visuals are supreme. Opening with a shuddering and brisk rendition of 'Numbers', which then blends into a medley of Computer World material, reels of binary code float in and out of focus as individual digits thump into the foreground in time with a motoric beat. On 'Trans Europe Express' a floating train leaps forward out of the screen in time with each of Kraftwerk's intense crescendos. On 'Spacelab' a UFO makes its landing in front of the Nidaros cathedral, and on 'The Robots' those famous figures in their red and black suits pirouette ghoulishly and reach into the crowd.
In 2018 Kraftwerk are more than just particularly flashy nostalgia-bots, however. Musically they are as vital as ever, and searingly loud. When they play 'Radioactivity', by now a 40-year-old track, they loom over us with colossal doom, the screen blaring in stark capitals the names of nuclear disaster sites, newly updated to include Fukushima, while classics like 'The Robots' and 'Computer Love' are ignited with a newfound pace and power. Kraftwerk's approach to their own past is no mere rehash, it is vital and forward-facing. 50 years on, they're still ahead of their time.
Sigrid
Sigrid (pictured above, by John Arvid Johnsen) played at Pstereo in 2017, relatively low on the bill, a set that many at the festival tells me has gone down as one of its defining breakout shows. What a difference a year can make; this time round she draws by far the biggest crowd of the entire weekend – bigger than Swedish rock veteran Thåström, considered legendary in Scandinavia for 40 years, bigger than her compatriot Aurora, bigger, even, than Kraftwerk. As arguably the most exciting of the considerable raft of Norwegian talent that Pstereo's lineup includes, she performs, as always, with that tricky combination of humility and unshakable confidence. Wearing that now-trademark beaming smile throughout her patter – which is in Norwegian, but seems to be going down well – her set is hard to fault.
Sepultura
Brazilian metal monoliths Sepultura (pictured above, by Dean Sheridan) are intense. Very intense. It feels fitting that at the very moment they march onto the Elvescenen Stage, the black clouds that have been brewing overhead throughout the day burst into a torrent of thick, punishing rain. Backed by a grotesque painting of the so-called Metal Messiah, the title of their most recent record who is powered by what seems to be a foetus in a jar attached to his head, frontman Derrick Green cuts an imposing figure in the pouring rain. He adds just the right amount of theatrics, demanding us to bow down to the metal messiah and stomping with indignation as he screams, but such is the titanic power of Sepultura's breathless, bracing groove metal, that it's never quite cartoonish.
Lil Pump
Lil Pump's set, if nothing else, is memorable. It's a small crowd, but the most dedicated of the weekend – a cluster of hectic, hyped up teenagers have been milling around the barriers for an hour, bristling with pent up energy. It's the rapper's 18th birthday the following day, and he's here to celebrate, but the crowd have another 40 minutes to wait until he actually appears. After a five-minute break, the first 15 are devoted to his DJ, and the subsequent 15 to his hypeman, who repeatedly shouts 'What's up Pesto Festival?' and asks us to follow on Instagram without telling us his name as he blusters his way through the warm up. Not that the audience seem to mind, as the hypeman clambers the stage's scaffolding he sees a small but powerful pocket of carnage unfurling beneath him, and when Lil Pump does eventually appear for a brief three-song performance – taking up about eight of his scheduled 45 minutes – it's intensified to a feral, rabid state. To close, his hypeman leads a hilariously tuneless rendition of 'Happy Birthday', and gifts Lil Pump a Supreme-branded life jacket as his present, because his real name Gazzy sounds a bit like jet ski, apparently.
LONELY KAMEL
Oslo's Lonely Kamel (pictured above by Idamarie Røragen) are Norway's sludgiest band, stoner rockers who cast relentless wave after wave of crushing, hulking noise. There's something satisfyingly straightforward about them, with tracks like 'More Weed Less Hate', 'Fascist Bastard' and 'Psychedelic Warfare' succeeding on little more than snarling riffage, a primal thud of driving rhythm and a gruff, growling vocal. More than just route-one riff-merchants, the band can burst from a Queens Of The Stone Age pump into a blast of Motorhead-esque pace within a microsecond, and prove one of the weekend's surprise delights.
The Fjords
The Fjords, or more specifically their central creative force Petter Vågan, plays five minutes' walk from the festival grounds, late into the early morning as part of Pstereo's city-wide afterparty program in The Church of Our Lady, an inauspicious building from the outside but the home of one of Trondheim's most beautiful interiors. Coffee and cakes are served as revellers pile in and take their places on the pews, with Vågan stood not by the altar but right in amongst them, flanked on both sides for an immensely vulnerable performance that's both opulent and intimate in the extreme. With the church's huge, glistening crucifix behind him, he offers tender electronic pop that resonates through the venue's deep, powerful atmosphere.
Sheer Mag
One of Pstereo's few clashes of note comes when Philadelphia rockers Sheer Mag clash with Mount Kimbie. We plump for the former, and are richly rewarded. Tina Halladay is a staggeringly good frontwoman, her voice scratchy and snarly but also propulsive as she prowls the stage, while Hart Seely lays down chugging bass with tense, reckless energy and a trio of guitarists spin riff after glorious riff. Though known for their no-bullshit independence and tenacity, what shines brightest in Sheer Mag's live set is a sense of unabashed joyousness; it's hard not to leave bearing a massive grin, content in the knowledge that there's still space for straight up rock 'n' roll done right.
Mogwai
When I last saw Mogwai at a British festival that shall not be named, I was left profoundly disappointed by how hard it was to be fully absorbed into their live set. Much of that had to do with the festival in question's pitiful main stage sound restrictions, it would seem, for when treated to a stage like the Elvescenen, which can be ear-splittingly deafening, they are a titanic live force. With this performance they are more searing than on record but no less beautiful; they find elegance in chaos and explosions, in the aftermath of an assault of overwhelming musical power where you're left reeling in delight. It is tremendous.
AURORA
In Norway, they are not subjected to the annual John Lewis advert, last year's edition of which was soundtracked by Aurora's sickly, saccharine cover of 'Half the World Away'. Aurora (pictured above, by Esben Kamstrup) is massive in Scandinavia on her own terms, the headliner of Pstereo's final day, and though it's hard not to treat her with a hint of suspicion as a Brit thanks to that advert, her performance makes a staggering finale. She has phenomenal presence, almost mystical in its ability to make something truly transcendent of her songs, an organic, flowing strength that it's impossible to be unmoved by.
It is the laziest comparison in music journalism to compare an alternative female pop artist with Kate Bush, but it's hard to deny that there's more than a touch of Hounds Of Love in those thudding, magical drums that pack such a strangely emotional punch. For a number of tracks she's joined by three backing dancers, the four of them weaving in witchy sync, and the screens behind her thunder, storm and spiral into the heavens. Though we weren't expecting it, Aurora's set is not just a highlight of Pstereo, but of the whole summer.
Black Moon Circle
Black Moon Circle (pictured above, by Esben Kamstrup) are the outliers in Trondheim's heavy-psych community. They play at Club Pstereo, in the tiny Byscenen bar above Alma's Restaurant in the centre of the city, and are stupendously powerful as they blast past the stratosphere with a space-rock jam of interstellar proportions. Their guitarist and bassist boast long, flowing beards as they stand with druidic power less than a metre in the rammed attic club, their music a tsunami of unstoppable heft that shakes it to its foundations as the trio power on and on into the early hours of the morning.
Pstereo returns next year from 15-17 August