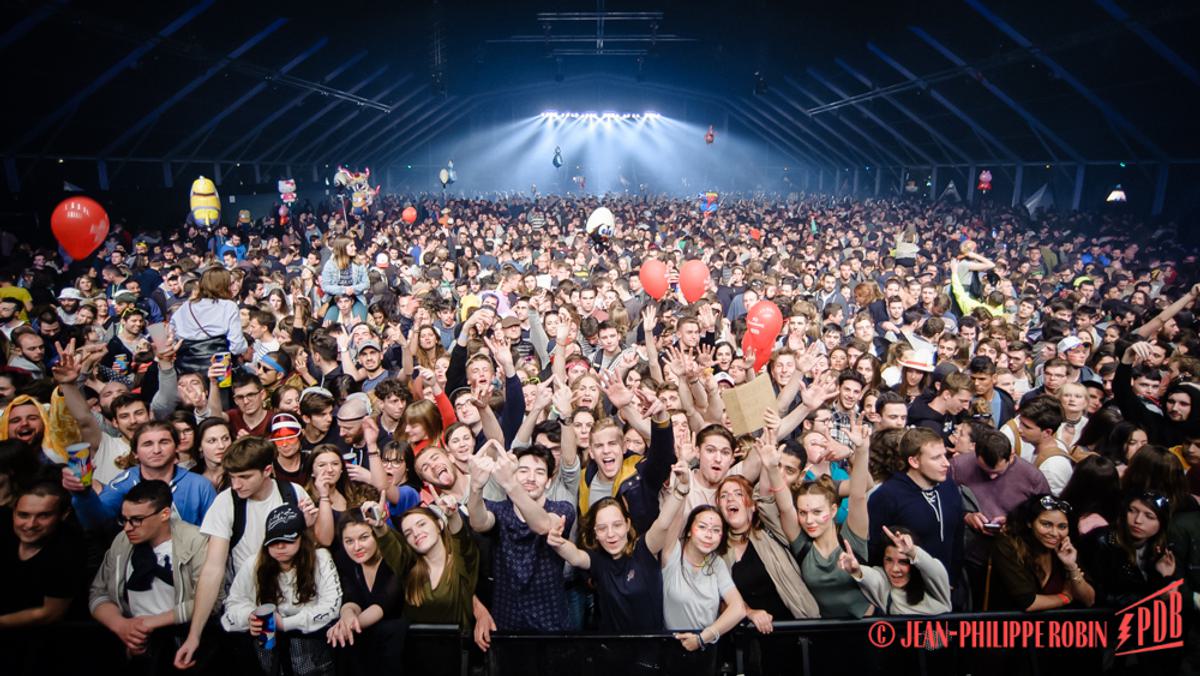 Printemps De Bourges 2017: a musical celebration
30 April 2017, 14:29
Every April, the small town of Bourges in central France fills to the brim with visitors from all over the world, here to celebrate all that is musical at their springtime festival.
Proudly featuring a diverse range of genres, as well as both up-and-coming and established acts, Printemps de Bourges is a hotspot for encountering new and new-to-you bands. With over 200 artists playing across a number of different venues during the five-day festival, you are guaranteed to stumble upon something you love.
The whole town goes nuts for Printemps. Bars everywhere have live music, DJs and throngs of people dancing on the street outside until the wee hours of the morning. The hotel we stayed in had old festival posters decorating the walls. You can tell the residents are really proud of the event and the whole atmosphere is one of celebration and community.
Getting About
Bourges is well connected by train and bus to major cities (including Paris). To go from London, the Eurostar to Paris followed by train to Bourges (a €15 festival deal is available) is your best bet. Once you're in Bourges, the festival site is within walking distance from the centre of town (ten minutes) and there are shuttle buses running for the duration of the festival. The only frustrating thing can be getting a cab at night – the town only has a handful of taxis which operate a shuttle service from the venues in the evening. Use the time queuing as an opportunity to make friends with the people standing next to you and get their music recommendations for the day ahead.
Eating and Drinking
Ah French food! Like many quaint little French towns, central Bourges has a sunny square flanked with bistros and bars, all of which offer outdoor seating when the weather is fine. There are more dotted up the winding side-streets throughout the old part of town. The 'plat du jour' and a glass of excellent wine in any one of these establishments will set you back no more than €8-12. Most of the local bars also offer a 'Printemps cocktail' – a fruity punch that is only a few euros. This is about as far as their offerings go in terms of mixed drinks, however; even a gin and tonic can be hard to track down and you can't get an espresso martini for love nor money. Trust me, we tried.
Food at the festival site is pretty decent. Along with more regular festival options like burgers and hot dogs there are crepes by the metre (!), incredible Belgian mussels and fries and some local food and drinks stalls that are well worth a visit. Again, the food is not overly pricey – it's totally possible to get by on a fairly tight budget. The drinks on the other hand are noticeably pricier than in town. Make sure you keep hold of your reusable cup – it will save you 1 € every time.
What We Saw
Laura Cahen
The programme at Bourges this year was commendable for the range of top quality female performers featured. One of the newer acts from this eclectic lineup, Laura Cahen (pictured above), was our first stop on Thursday night. Achieving an exuberant welcome from the loosely-packed, early evening crowd as she graced the stage, Cahen treated them to favourites such as Froid. Dressed in a black velvet dress with her signature black eye-makeup, she was an impressive figure standing in the middle of the large stage. Cahen's almost operatic voice and simple, structured guitar-work held the crowd captive but despite her impressive presence the performance would have worked better if she'd been supported by her band – a solo performance for a venue of this size was on the ambitious side. Nevertheless she rose to the challenge with grace and determination.
Aquaserge
Aquaserge boast an impressive, ever-evolving lineup that has at times featured members acts such as Stereolab, Tame Impala and Acid Mothers Temple. Unsurprisingly, given the nature of these contributors, Aquaserge's sound is deliciously weird and unforgivingly psychedelic, with elements of French jazz and prog rock thrown in for good measure. Out of this cocktail of genres somehow comes a sound that is well balanced between experimental and polished. Playing on one of the free stages on the Thursday (which goes to show the high standard of music available to the general public at Bourges), Aquaserge beguiled their audience with their out of the ordinary instruments (that was a bass clarinet apparently), outfits (70s style kaftans all round) and music. Great fun.

Coely
As the sun set and evening crowd warmed up, it was time to head indoors and take in Coely's set. The young Dutch hip-hop and rap artist (pictured above) has a voice that could fill stadiums and it felt like a fortunate joy to see her play such an intimate setting. Bouncing around the stage with infinite energy, Coely exuded passion for her art but did not concede any precision in the pursuit of this. The packed crowd roared as she leaned low and sang to them with obvious delight. Her lyrics, which were all in English, are powerful and punchy, with a depth of understanding and emotion that one might not expect from someone her age.
Parcels
Parcels (pictured above) is the band that you didn't know your life was missing. But it is, oh it is. Taking to the stage as if they'd stepped straight out of a time machine from the 70s, Parcels channelled all the retro pop greats; Steely Dan, Fleetwood Mac, Chic, even Average White Band. But there is also something inherently modern about them – you can hear elements of Daft Punk's Random Access Memories coming through, and they are easily comparable to contemporaries Vulfpeck. There aren't many bands than can still make you feel like dancing after 48 hours of travelling but these are the guys to do it. Every sound they made was thought-out and sublime, but their energy onstage prevented them from feeling even the slightest bit stale.
Aliocha
Aliocha's sweet nature is apparent as soon as he walked on the stage at the cool Jacques Coeur Theatre. The place was packed out for the young singer-songwriter (pictured above). Tall and beautiful (he's also an actor) he looks uncannily like a young Bob Dylan, and doesn't sound unlike him too. In fact, he kind of sounds a bit like every popular folk star ever. There's a bit of The Tallest Man on Earth, a touch of Mumford and Sons. He chatted with endearing slight awkwardness to the audience between songs in his Quebecois-accented French, flashing a winning smile at the end of every sentence. Having clearly nailed the look and the context to his sound, it will be very interesting watching his style develop over the coming years as he comes into his own.
Calypso Rose
Beyonce wishes she had half the sass off Calypso Rose. "Let me party, let me party!" the 76 year old (pictured above) shouted during Leave Me Alone. The crowd is joyous. There are all ages out to party with the Calypso Queen – at one point she stops mid-chat to point out two kids in the audience: "after the concert, come to see me – I want to give you a cd each" she says with the doting smile of an adoring grandmother. Seriously, can you get much cooler? Between doling out advice ("Never marry a man for money. Never marry a man like Trump!") Calypso Rose and her incredible band churn out song after fantastic song, many with a political undertone to their sunny sounds. There is something so incredible about seeing a badass older woman who takes no shit fill a sports hall with happy people who are still singing as they leave the venue. "I am the Queen of France!" she bellows as she takes her leave. We would have to agree.
Unno
French trio Unno brought their laid-back, electronica-laced hip-hop to the free stage with a well-crafted and confident performance that was perfect viewing on a sunny Saturday evening. Looking undeniably cool, the trio mixed live and produced drum beats with dreamy vocals, keys and guitar to create a cohesive and distinct sound.
Siska
Sometimes you are just particularly lucky with your slot. Such was the case with soulful singer Siska, who took to the stage at 8pm, just as the shadows were lengthening but the warmth had not gone from the day. It turns out her music is exactly the thing you want to listen to in the sunshine with a pint of cold beer in your hand. Gifted with a brilliant voice, Siska easily captivated the packed crowd while her small but talented band matched her every note with precision and energy. What resulted was a sound struck a subtle balance between chilled out and dynamic.

Juliette Armanet
'Pop' has become such a by-word for all that is bad about current outputs of mainstream music that at times it's easy to forget that sometimes, pop is just great. Juliette Armanet (pictured above) embodies all that is good about the genre, from her pristine, high-pitched voice to her songs that are as tongue-in-cheek as they are delicate and wistful. She began her set solo, seated at a keyboard and seemingly totally at ease in front of her appreciative audience. Her sound is quintessentially French, and the fact that she sings in her native language does in no-way make her music any less entertaining or engaging. After a few songs she was joined by her band, who provided a subtle but intuitive addition that elevated her sound. Together they wove a diverse but noticeably retro pop sound. All the while Armanet amused the audience with humorous asides (at one point, becoming breathless she commented, "I really need to stop smoking"), which culminated in a cover of The Weekend's I Feel It Coming, which in her version (in French) was changed to "I feel you coming" and had the audience in stitches. It turns out that if you have the voice of an angel you can get away with being vulgar.
Honourable Mention
La Jerome, Civil Civic, Clèa Vincent, Twin Triangles and Mountain Bike.