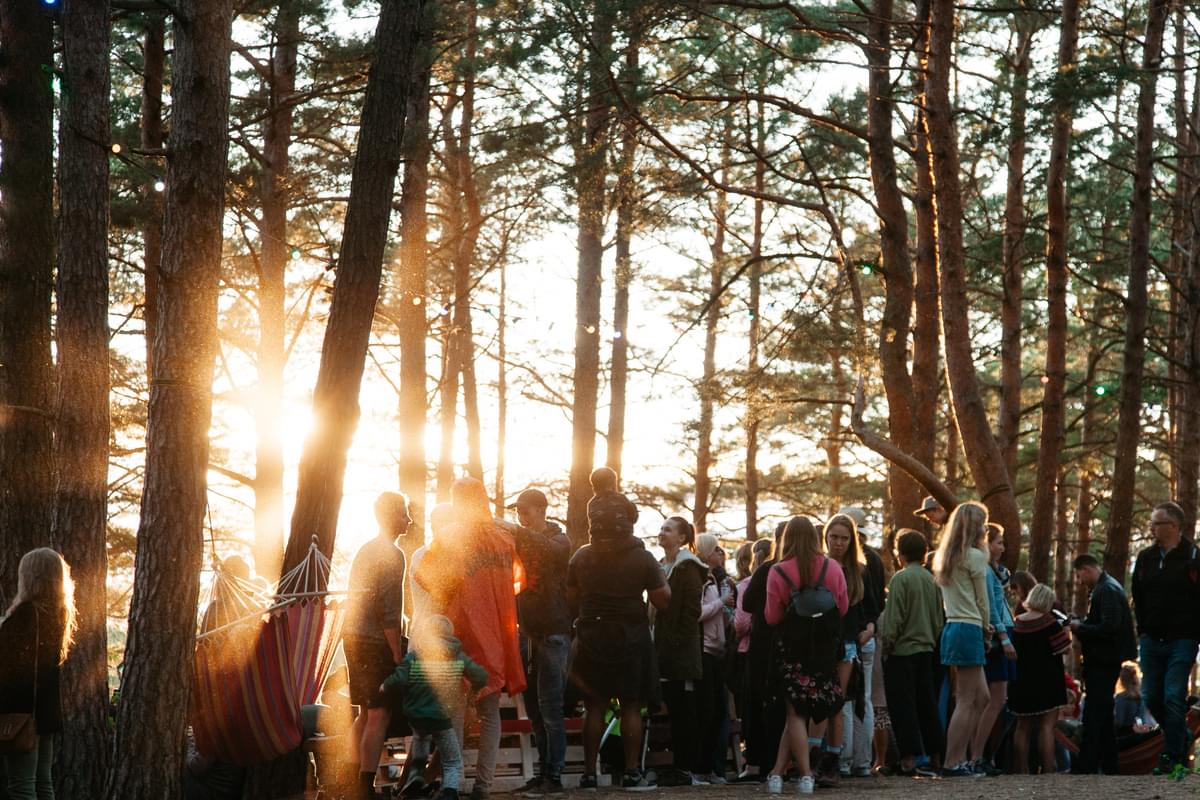 Positivus Just Might Be the Festival of Your Music-Loving Dreams
26 July 2017, 11:25
If you're looking for a perfect mini-break that combines music and adventure with a fun passport stamp, it would be hard to find a better option than Positivus Festival in Latvia.
It only takes a few hours at Positivus Festival to find yourself wondering: What if the best festival in the world is in the Latvian woods?
Yes, Glastonbury has bigger acts and Coachella has more celebrities, but if you're looking for a place to truly enjoy music—and perhaps sip a pint while watching the sun sink into the Baltic Sea while waiting for the Pixies to guide you through their greatest hits—Positivus is practically perfect.
Hear me out: First of all, the festival has smartly organized it schedule so that you can actually see every act, and not make a Sophie's Choice between Pixies and Grandmaster Flash (note: I refuse to watch Sophie's Choice and prefer to live with the blissful idea it's about Lollapalooza). Instead when one set ends, festivalgoers can stroll through the sun-dappled woods, grab a cold brew coffee and a locally-made t-shirt, and walk up to the front row of the stage to watch the next set. If you want to eat your vegan risotto or your Latvian meat platter and watch the music, simply grab a seat in the back for dinner and a show. It's all quite civilized. There's no need to argue with friends about whether to see Grandmaster Flash or Alt-J or Rae Sremmurd, because at Positivus you can see them all. And, frankly, as a music fan who is traveling to a music festival, isn't seeing all the acts you want to see kind of the entire point? More festivals should figure this out.
Second, the location is truly gorgeous. The festival sits in a forested plot of land about an hour from Riga, not too far from the Estonian border. It's a corner of the world most people never visit, but should—and the festival is a great excuse to play tourist. The site's many trees mean it's too find a spot of shade to watch a moody contemplative set by Cigarettes After Sex or the arena style rock of Maximo Park, minus the arena, as it was the band's first foray into Latvia and they were doing their best to earn fans in the Baltic region. They were working so hard, that the band's lead singer Paul Smith nearly lost his voice trying to make sure that even someone getting a kebab at the opposite side of the festival ground could hear the band. Some clever person strung hammocks up in the trees on the outskirts of the site, and if you could snag one near the stage, it was a dreamy place to rock yourself to sleep in time with José Gonzalez's chill folk. Wake from your nap, and wander through the woods to the cinema tent, where films like La La Land, Swingers, The Darjeeling Limited and Whiplash were playing, offering a little respite from the great outdoors, and making it possible to watch Spring Breakers on a Latvian beach—and then hearing a hundred Latvians trying to emulate James Franco's drawling "sprannng breaakkk" over the course of the evening.
Outside the cinema tent sat the tiny Arts & Nature stage, that is so tucked into the trees that it's easy to miss, giving it a bit of a fairy house feel. Local artists like ambient creator Sign Libra, the genre-bending Pachamama Beats, who combine visual arts with global rhythms, and Comedy Latvia and Comedy Estonia, kept the stage filled all day. Their music helped provide the soundtrack for the sand-lined beach that lay just beyond the trees, offering a quiet place to watch the Baltic waves crash on the shore (as well as the occasional skinny dipper).
At Positivus, there are no rules about where you can and can't drink—no closed off beer gardens where pints have to be downed like shots before seeing a band. That makes it possible to get a glass of wine (or prosecco or a gin and tonic) to sip while you watch Kamasi Washington and his staggeringly good band play while sitting in the grass and relaxing in the sun. It almost feels more like a garden party than a music festival as the sun shines down on Margaret Glaspy's mood music, perks up Rhye's make-out tunes, and turns Danish indie pop mainstays Mew into the soundtrack for a dreamy idyll that you wouldn't find at, say, Bonnaroo.
Finally, while Latvia itself may not be the most diverse country around, the Positivus line-up spanned all genres and styles, and frankly could show Reading & Leeds, Glastonbury, and Isle of Wight a few things about programming diversity. The headliners alone are a diverse mix of old school cool from the Pixies and Grandmaster Flash and new school schtick (Alt-J - pictured above, photo by Laura Studarus) and retro pop with Ellie Goulding, who seemed to walk straight out of the '90s for her headlining set on Saturday night. She wore massive white trainers and an oversized t-shirt that Sporty Spice would have considered a bit much. The crowd loved her, though, singing along to every word and seemingly able to tell her massively repetitive songs apart.
The festival's thoughtful and diverse curation continued through the rest of the line-up. Rising UK standout ESKA (picture below, photo by Laura Studarus) and Ray BLK were given prime spots on Sunday afternoon. While Ray BLK canceled her set for unknown reasons, the silver lining was that more people got to see ESKA play—and, frankly, everyone should see ESKA play. The Mercury Prize-nominated artist who didn't launch her music career until she was 43-years old, is a one-woman reminder to always follow your dreams. On the opposite side of the musical spectrum from ESKA's art house soul pop is Rae Sremmurd, the ebullient brother act from Tupelo, Miss., behind viral hit "Black Beatles". Now, Latvians love hip hop and the local scene is thriving thanks to acts like Vina, Fakts, and Singapūras Satīns, so Rae Sremmurd was a big draw for the fans. The boys got the crowd riled up, playing hits like "Swang" and "No Flex Zone" and songs from their upcoming album SremmLife 3, but as wild as the emcess were on stage, the crowd was cheerful, cheering, and dancing without getting out of hand. It's a truly great festival that makes it easy to get up close with your favorite bands without getting an elbow in the back of the head or forced into a mosh pit with 12 angry men working out their daddy issues on the nearest bald-headed bloke.
Similarly, when Grandmaster Flash was a bit late to take the stage (not a diva move, but something about his tour manager's a delayed flight), the crowd was hungry for his beats. A few rowdy Americans were pushing at the gates chanting, "Grand master! Grand master!" which sounded a bit Game of Thrones-y but got their point across, however no one threw a bottle, no one started pushing, they just waited or the godfather of hip hop to take the stage. And, boy, did he. With one fist pump and a few bars of Survivor's "Eye of the Tiger" bleeding into UB40's "Red Red Wine" and Suzanne Vega's "Tom's Diner", all was forgiven. Only Grandmaster Flash could make some tripe from the New Kids on the Block sound edgy.
My one complaint about the festival is that some of the local bands played so early in the day it was hard to catch them, especially if you were driving in from Riga. Of course, if you were camping at the festival like many of the (smarter) attendees, it would be easy to see everyone and get a taste of what's next in Latvia and perhaps what's coming to some of the bigger festivals soon. Gives you a chance to say you heard them before they were cool, and who doesn't like that?
If you're looking for a perfect mini-break that combines music and adventure with a fun passport stamp, it would be hard to find a better option than Positivus.
In short: see you next year in Latvia.
Get the Best Fit take on the week in music direct to your inbox every Friday