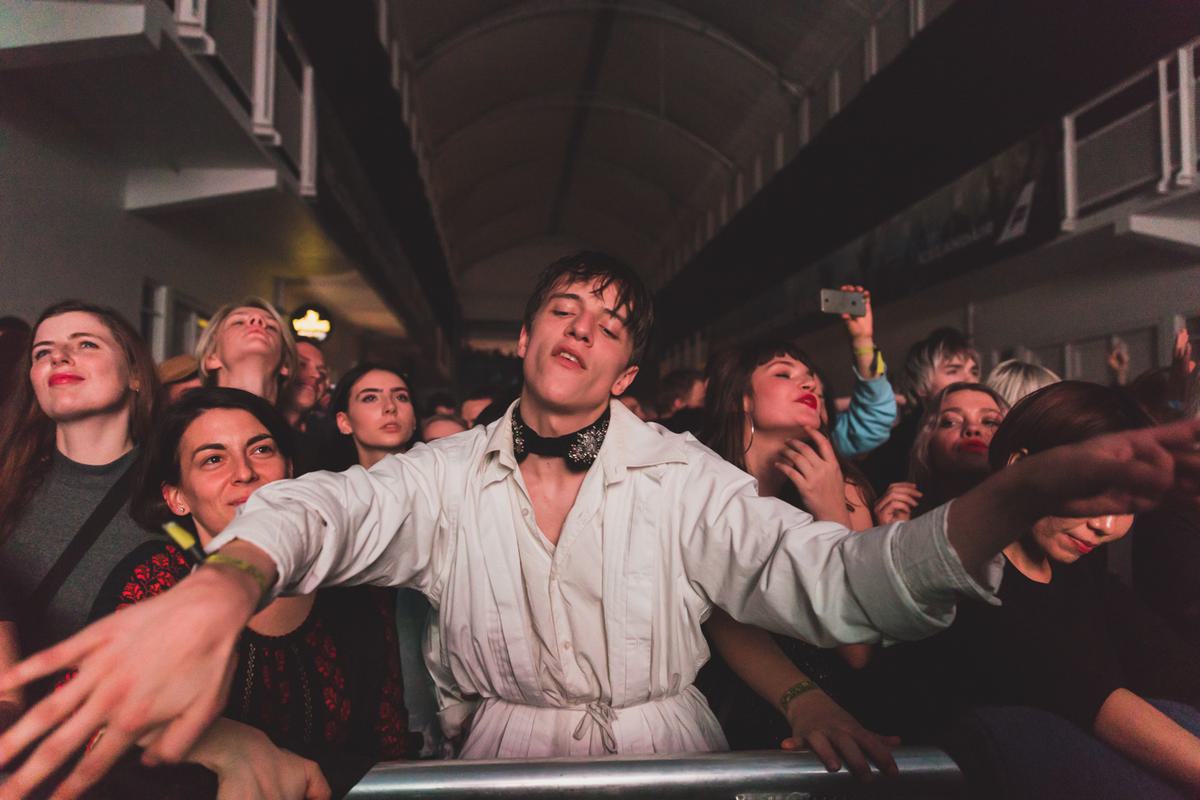 The penultimate day of Iceland Airwaves was the day of the queues
05 November 2017, 18:50
A few years back, everyone complained about the queues at Airwaves. No matter where you went, you'd have to wait outside for a while, and this evening felt like a callback to those days. Up until now, the crowd has been split pretty evenly between venues, with guests forced to pick one act to see out of four amazing ones. This evening, however, the queues to see Mammút were so long that they rivaled ones formed at oxford circus when a new iPhone is released
It's maybe to be expected; Mammút has after all been steadily growing in popularity. Armed with a good sense of song composition, well layered songs, and a dramatic stage presence, they've long since outgrown their contemporaries in Iceland and it's only natural that their rise to stardom extends outside of these shores. With their latest album 'Kinder Versions' featuring English vocals, they've also become more accessible to the billions of people that don't speak the draconic Icelandic language.
I'd love to be able to detail their show at Gamla Bíó, but as previously mentioned I couldn't get in. But that's not to say the rest of the evening was a bust.
At Húrra, the esoteric Grúska Babúska (above) put on a show that is difficult to categorise. On the one hand, the band was dressed in a manner similar to Matryoshka dolls, and at a cursory glance the music seemed to evoke the spirit of cartoon soundtracks from the '70s and '80s, but with more layers. When the music was jolly, it sounded like it was straight from the Moomin valley, but when it got dark it was reminiscent of that hospital scene from Akira. Their use of glockenspiel, music boxes, violin, and melodica was also noteworthy.
Immediately thereafter, the mysterious and hooded aYia showed just what a cult following they've amassed in the short time they've been active, filling Húrra in record time. Minimalistic blinky electronic beats pulse through the venue as singer Ásta Fanney softly whispers, barely enunciating the lyrics. The control the band had over the audience was astounding, with Ásta obfuscating herself with her movements, hiding her face behind her hair and hood, only to reveal herself at the opportune moment.
The show came in like the tide, at first starting softly and restrained with "Crystal Quicksand" and "Easy Does It" before picking up with "Water Plant", "Risotto" and "Ruins". At the end Ásta's voice had picked up, coming out more defined, only to get drowned out by the instrumentals. It was another brilliant show from what is arguably a band miles ahead of its contemporaries with regards to composition, aesthetic, and live performance.
Special-K, the side project of Reykjavíkurdætur's Katrín Helga (pictured above), brought smiles and joy to Hressingarskálinn. The outfit had only released one song before, the bittersweet "I Thought I'd Be More Famous by Now", and the set followed a similar vibe with songs about the expectations and realities of the millennial generation, FOMO, love in the age of Tinder, and so on. The juxtaposition of these often humorous songs and the band's outfits, shiny golden tube dresses reminiscent of the '60s, reinforced the message that these songs are serious and playful, anxieties and let downs mixed in with laughter and bliss.
The Malian Songhoy Blues (above) was like a breath of fresh air, playing their own brand of upbeat rock. The four members were forced into exile after a ban on music on pain of death was put into effect in their home country. Now they tour the world, playing afro beats that are, refreshingly, actually from Africa. During the set, the singer would jump around on the stage, stepping, dancing, and racing all over the place, inspiring the crowd to do anything but stay still.
At times their music sounds like the band members are each in their own world. Everyone plays to the same beat, but there's no communication between the instruments until the chorus when everything comes together in explosive harmony. But in between the bass dives and climbs, the guitar seems stuck in perpetual solos, drums carry on steadily, and the singer uses every pause in between the lyrics to address the crowd. It's an amazing ride.
When GusGus step onto the stage, they get right to business. The band (pictured above) has always made overtly sensual music, so when I see a couple of strangers turn into a couple in front of my eyes, I imagine the band can only be pleased with themselves. With the thick throng of people gathered at the art museum, I also imagine a few more couples were made tonight. But as someone who has obsessively listened to their last two albums 'Arabian Horse' and 'Mexico', the show didn't do much for me; it was a little too paint by numbers. With only one singer present and performing, too much of the show seemed to rely on playback.
Over at Húrra, I caught Kelly Lee Owens, who seemed to have exactly what I found missing from GusGus: that 'Oomph' and 'je ne sais quoi'. A beat that wasn't afraid to avoid repetition, and a dynamic sound that was catchy enough to dance to, and yet sophisticated enough to listen to by itself.
I heard that the explosive Milkywhale had put on a fantastic show, with singer Melkorka Sigríður Magnúsdóttir (above) at one point knocking the glasses off of our photographer with her crotch. But unfortunately it was past this tired journalist's bedtime.