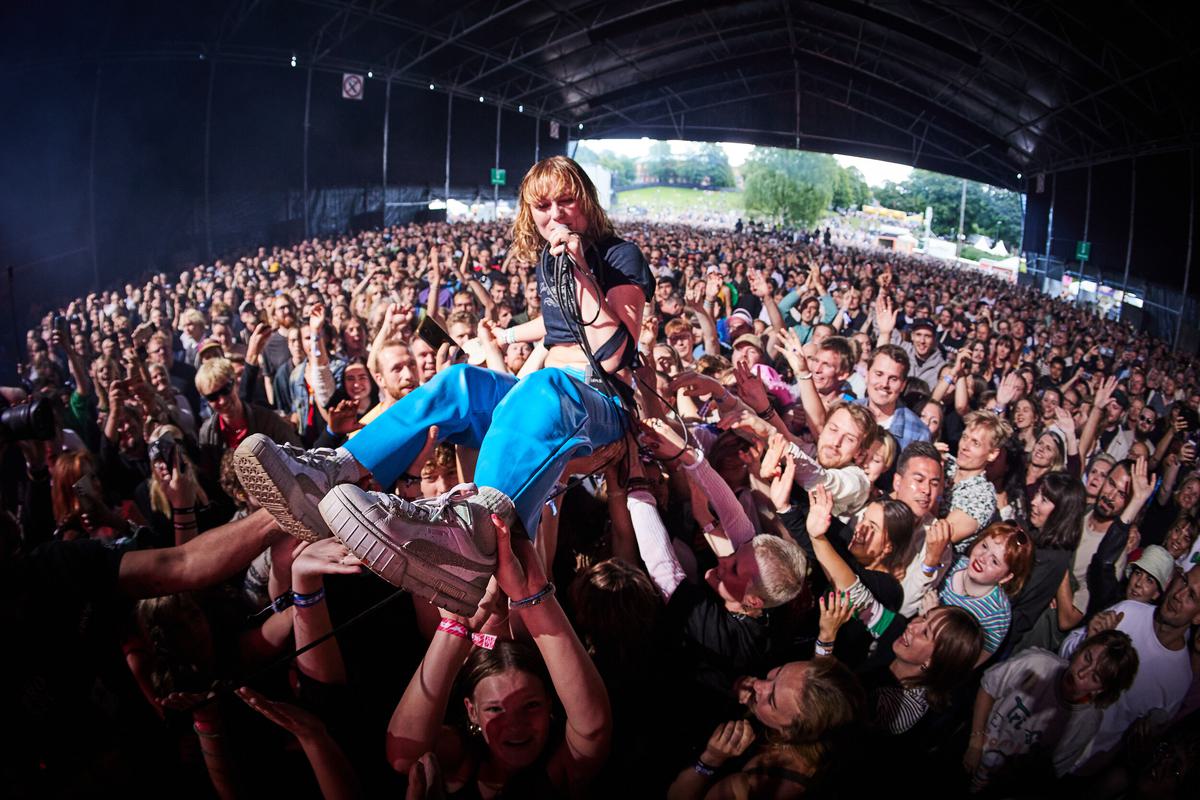 Øya is a beacon of how to do festivals right
18 August 2023, 10:00
Header photo by Helge Brekke.
With its strong emphasis on inclusion and representation, eco-friendly Øya continues to offer an unbeatable blueprint for how festivals can be. Alan Pedder went to Oslo to soak it all in.
When is an island not an island? When it's Øyafestivalen, Norway's biggest and best outdoor music event.
The name translates literally to 'the island festival', inspired by its original site on Kalvøya in the glittering Oslo fjord, where the first two editions took place with mostly Norwegian artists. Now in its third location, the landlocked Tøyen Park on the east side of the capital, Øya is an island in only the figurative sense. More of a lighthouse, really, and the organisers have taken that guiding role to heart, maintaining a strong focus on Norwegian music while also attracting an impressive range of international artists.
Spanning a generous five days – four at Tøyen plus Tuesday's club night – and spilling out after hours each night into Oslo's many indoor venues, Øya has become a hugely important event in the city's cultural calendar. With a strong emphasis on sustainability and a very visible message of wanting to create a safe and welcoming space for everyone, it has a feelgood factor that other festivals could do well to learn from. There's no aggro here, and precious little ego either. It's clean, well serviced, spectacularly efficient, easy to navigate, and the view of the stage is rarely crowded with the glare of phone screens filming entire sets. At Øya, it seems, people are more interested in seeing than in being seen to be seeing.
Nerves were up on the Tuesday as Storm Hans (an actual weather front, not a Scandinavian death metal band) continued to batter the country, but the high winds and heavy rain had mostly subsided before nightfall and the gates to Tøyen opened as planned on Wednesday afternoon. One person not getting her shoes muddy backstage is Róisín Murphy, who's been laid low by a respiratory infection. Sebastian Murphy (no relation) steps in to close the gap with the rest of the Viagra Boys, heating up the Sirkus tent with their raucous satirical punk.
Over on the main stage Amfiet, a body glittered Lorde is also in a dancing mood. Eventually. After a shaky start, in which it feels like she's trying to convince herself more than anyone that she's happy to be here, any sense of disconnection melts away and things feel genuinely joyful. Performing against a large gold sun hanging centre stage and a curtain of mirrors on each side, half concealing her band, Lorde's "Night Vision edition of the Solar Power tour" turns out to have very little Solar Power to it, with songs from Melodrama and Pure Heroine filling out three quarters of the set. "Team" and the closing "Green Light" are particularly strong, almost renewed in their conviction, reminding us how devastating she can be when she digs just a little bit deeper. "These times are beautiful and they freak me out," she writes in a rare Instagram post the following day. "There's so much to tell you." Go on, Lorde, we're listening.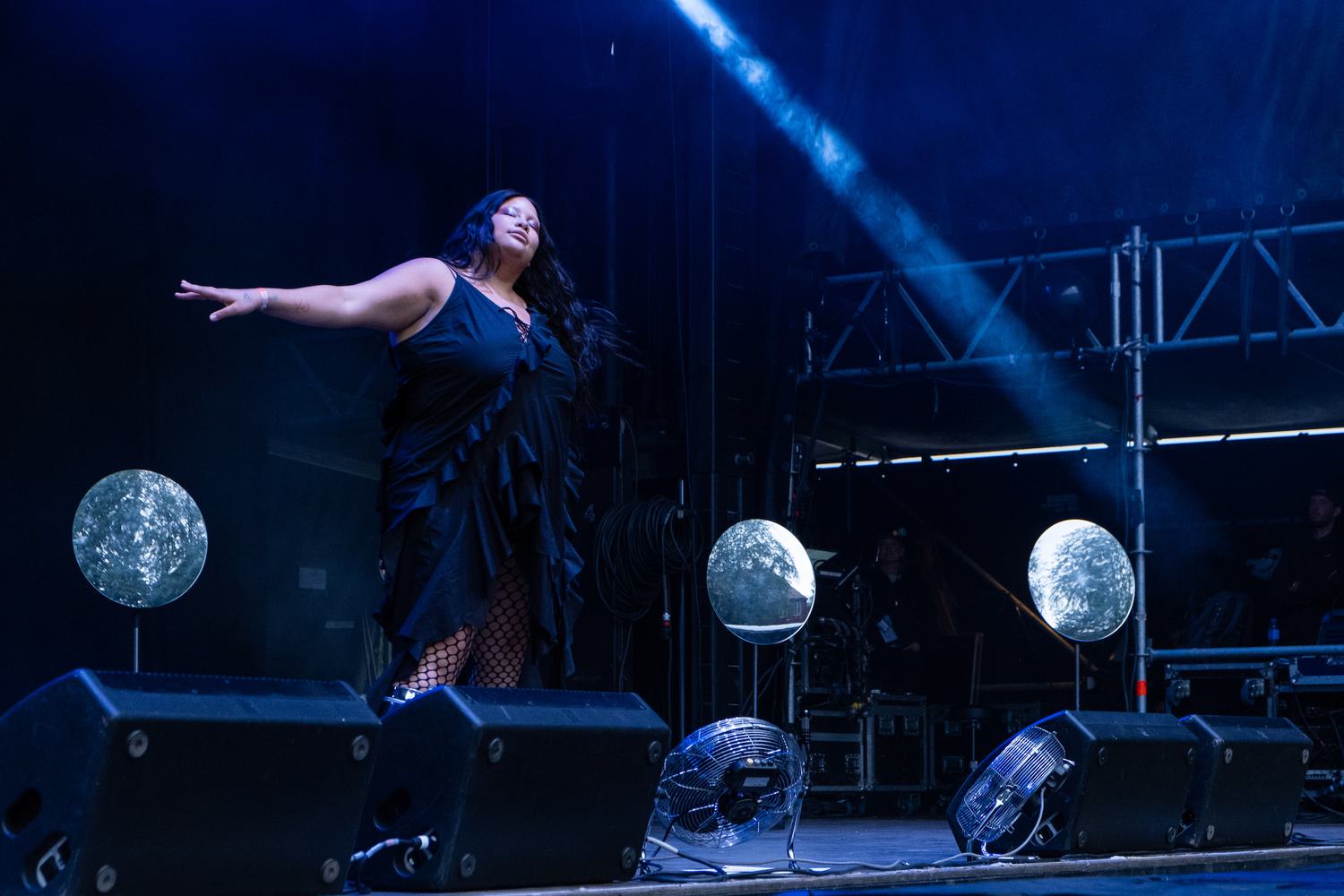 After a brief visit to Moderat, just in time to hear the brilliant "Bad Kingdom" which is somehow already a decade old, it's Shygirl's time to shine. There's no one better right now than the Björk-backed Londoner at raising the bar while lowering the tone, and even in this stripped-back setting there's no mistaking the seductive contrasts and authoritatively feminine power of her songs.
Celebrating their 50th anniversary as a band this year, new wave heroes Devo know a thing or two about contrasts, and their headline slot in the Sirkus tent draws a diverse crowd of young and old, costumed seasoned pros and curious newcomers to the DEVOlutionary Army. If this is truly the band's farewell tour, they're making every relentlessly fun second count. Gerald Casale and the Mothersbaugh brothers Mark and Bob still have the voices and wonky pop nous to make their weirdness work. With the band's Josh 1 newly enlisted to the Foo Fighters to fill the massive shoes of the late Taylor Hawkins, it's up to Josh 2 (Hager) and stand-in drummer Jeff Friedl to flesh out the sound, and they do it in style.
Over on the main stage, Afrobeat frontrunner Wizkid is less convincing. Aside from his tedious and wasteful water bottle stunt that he really needs to retire – it feels particularly out of place here at eco-friendly Øya – he's unable to hold the crowd's full attention. No doubt Wizkid is a huge talent, but tonight the highs just don't stack up to as much as he and his emcee would like us to believe. "Are you ready to hear the greatest song in the world?" hypes the DJ at one point. Always, but this weaksauce is really not it.
Compared with some other festivals, the four days at Øya can feel individually quite short, presumably partly because of its residential area setting, but more digestible and with fewer painful clashes as a result. Having to choose between exciting R&B experimentalist Liv.e and the always spellbinding Susanne Sundfør on day two is a blow, but a rare one. I opt for the latter, and apparently so does almost everyone else. There's a lot of homeland love for the singer-songwriter from Haugesund, on Norway's North Sea coast, with people blanketing every inch of Amfiet's steep slope – even more than for Lorde in the same time slot the day before.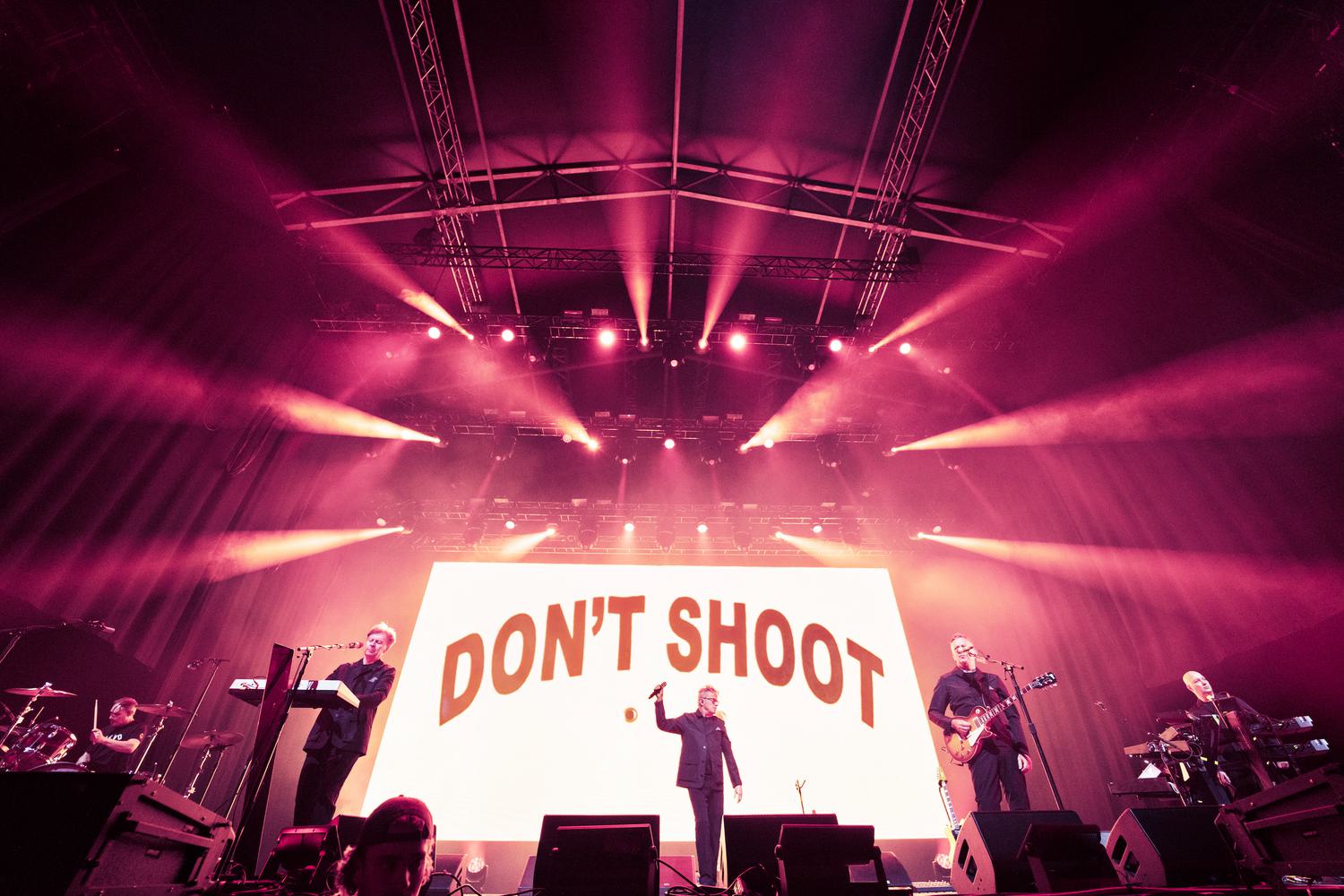 Wearing a scarlet tasselled lace dress and surrounded by a large ensemble of musicians and a choir that add a welcome new flavour to the songs, Sundfør is as commanding a presence as ever. It was never going to be easy combining the cinematic, ambient-leaning folk songs of her newest album blómi with the punchy synth-pop of Ten Love Songs in a festival main stage setting, but Sundfør is a master of pacing and transitions, overcoming earlier sound issues to close with the emphatic final run of "Fade Away" to "alyosha" to "Delirious" to "fare thee well". It doesn't just work, it dazzles.
For something entirely less serious, it's over to Sirkus where Norwegian entertainers Sløtface – once a trio, now a solo project, here a six-piece band – are picking up from where Amyl & The Sniffers left off earlier in the day. Those who appreciate the Australian band's feral energy are in safe hands with Haley Shea and friends. They may not be as extreme, but their euphoric punk spirit and outsized heart is well worth tuning into. Sløtface forever!
Feeling half destroyed, I choose to watch Blur from a safe distance. Roughly 16,000 people can squeeze onto the Amfiet slopes, and they're all in place tonight to see the resurrected favourites power through a 20-song setlist that leaves untouched only two of their nine albums. With The Ballad of Darren having been so well received, Blur could quite easily have just run through the whole thing and left their Britpop banter-era classics gathering dust. Who needs to hear "Parklife" ever again? Everyone, it seems, even with Damon Albarn doing Phil Daniels' best bits himself.
Day 3 of Øya promises some much-anticipated debuts with Caroline Polachek playing her first show in Norway and supergroup boygenius their first ever show in all of Europe. Both belong on the main stage but for some reason Phoebe Bridgers, Lucy Dacus and Julien Baker find themselves on the smaller Vindfruen stage next door. Unlike Lindsey Jordan's Snail Mail, who phoned in a disappointingly tepid performance earlier in the day, the boygenius show is built on chemistry and charisma. The connection between the three women is a rare and glorious one, and it seems to suck in everything it meets with its gaze. The boygenius discography may be slim – of their 18 recorded songs, 15 are played this evening – but it's rock solid stuff, even more so in the live setting where their individual characters add so much to the songs. If the volume of shrieking in the audience functions as any kind of a review, this is Øya's biggest coup.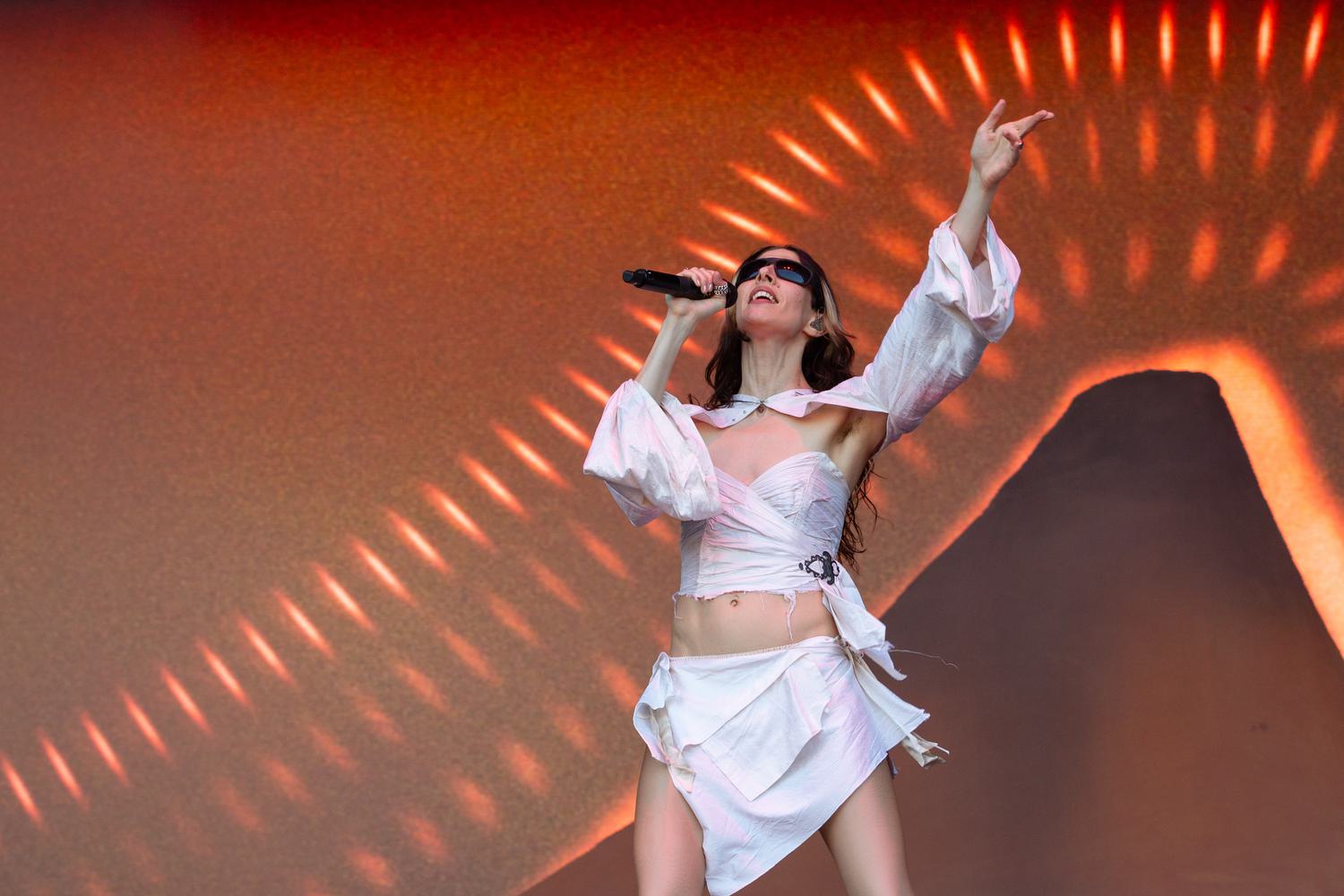 Of course, Caroline Polachek is no slouch in that department either. The former Chairlift singer turned art-pop chameleon has plenty of superfans in the Øya crowd, and they make sure she knows it. Opening with the brazenly weird "Welcome to My Island", she hardly rests for a moment, striding from one side of the stage to the other and arching her tall body into dramatic, often glamorous poses. Not even a wardrobe malfunction can stifle her star power.
Øya's final day is another diverse offering, taking in everything from jazz prodigy duo DOMi and JD BECK to metal mixologists Pigs Pigs Pigs Pigs Pigs Pigs Pigs, via the laidback summer groove of Swedish band Dina Ögon (Your Eyes) and the bogglingly popular warp-speed bluegrass of Billy Strings. Indie rock lifers Yo La Tengo put in a fairly detached showing, but there's enough intensity and grit to see them through almost to the end. The long-winded finale of "Pass the Hatchet, I Think I'm Goodkind" starts to lose the audience, who don't necessarily have the appetite for nearly 15 minutes of extended feedback, but Yo La Tengo have never been in it to please anyone but themselves and all respect to them for that.
It's inspired programming to have the full-on assault of Pigs x7 to follow (and, this being Øya, the stages are barely two minutes' walk apart), while the stony-faced, hypnotic post-punk of Dry Cleaning offers a perfect palette cleanser. There's enough imagination in their peculiarities to keep them compelling. Her stage persona may be deliberately dispassionate, but Florence Shaw can't hide her charm completely. The broad grin she flashes at the end of the hour says it all really.
Today's co-headliners are Norwegian pop saviour Sigrid on the main stage and recently reformed The Soundtrack of Our Lives, and both are fantastic in very different ways. Sounding a million miles away from their early Britpop-adjacent days, the Swedish sextet fronted by Ebbot Lundberg have held on to their refined instincts for the kind of dynamic, goosebump-raising rock that's best experienced live.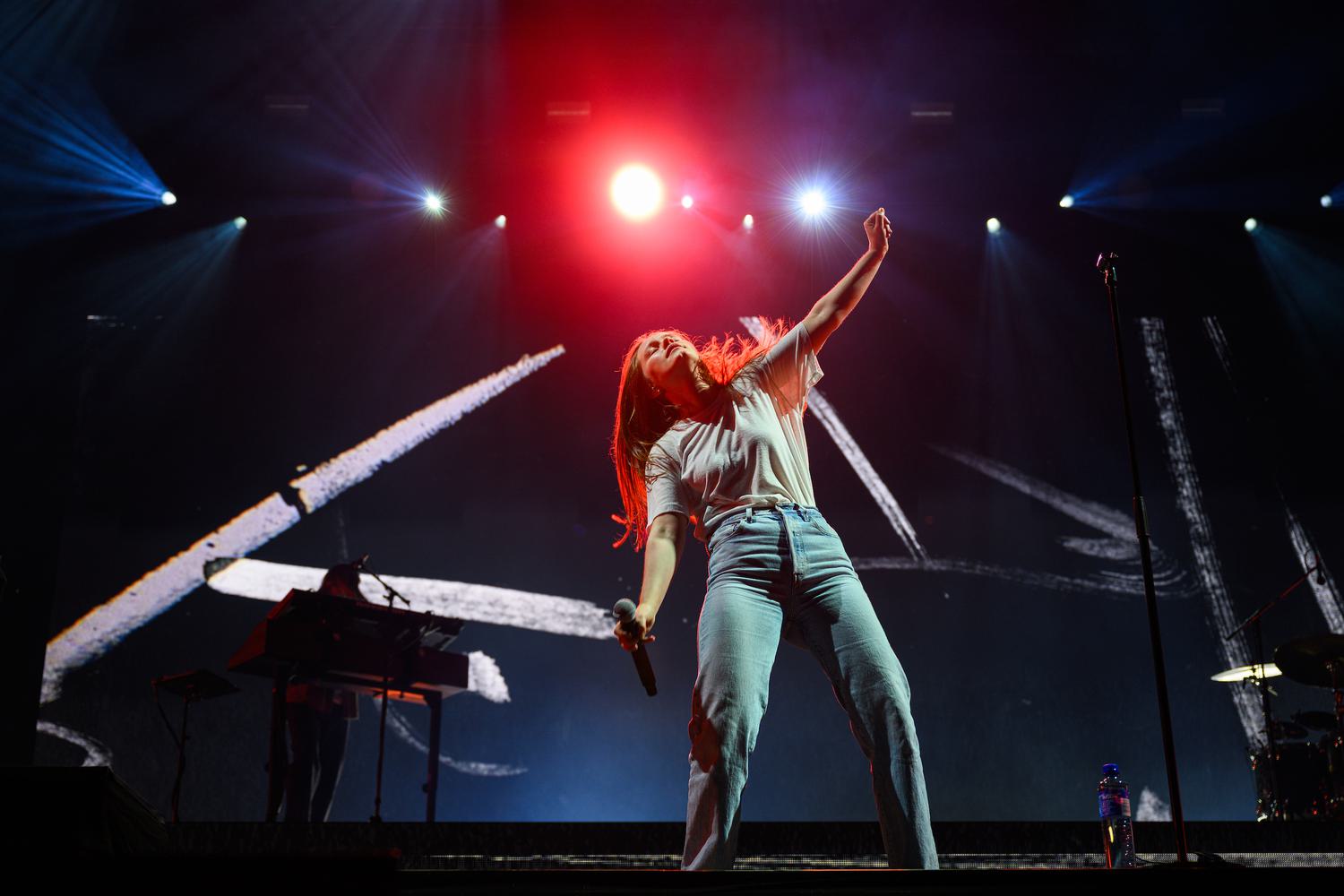 Wearing his trademark knee-length masonic robe and a long scarf, Lundberg looks every bit like a cult leader, arms aloft and shaking a tambourine. It's a great visual contrast to the removed cool of Mattias Bärjed with his low-slung guitar and the dramatic, lost-in-the-music lunges of Martin Hederos on keys. At times they sound absolutely massive, charging into old favourites with full force, and Lundberg's singing can't always keep up. But even with a few minor hiccups, the band deliver more than enough to leave the people wanting more. This is the third and final festival show of their comeback after an 11-year pause, but I'd be shocked if they don't do more. As Hederos tells me later, the hardest work is already behind them and they've been having so much fun.
Over at Amfiet, Sigrid is having her well-deserved main character moment. She's played almost every stage at Øya in the past, she says, and now she's the final night headliner – a slot the festival always reserves for homegrown talent. It's a dream come true for the 26-year-old, who has had a phenomenal year with her second album How to Let Go becoming her second #1 in Norway and the single "Mirror" becoming a huge airplay hit in both the UK and US. Rising to meet the occasion, her performance is a full-scale spectacle with absorbing visuals and huge plumes of fire. The artist herself is immediately engaging, too. There's no warming up to it like Lorde, Sigrid sings her heart out from the get-go, giving her all to undeniably well-crafted songs like "Sucker Punch", "Mirror", "Don't Kill My Vibe" and the live debut of her new track "The Hype". What a brilliant surprise.
For me, though, Sámi artist Katarina Barruk is Øya's biggest revelation. On a passionately held mission to bring her critically endangered Umesámi language into mainstream culture, the Sweden-born, Oslo-based artist has an astonishingly powerful stage presence. Beautiful, sincere and deeply moving, her best songs have a muscularity and rawness to them that jolts the brain awake. I hesitate to use the word primal, because Barruk's music is distinctly modern, but it's the closest one I can find to describe the depths that it can stir.

Speaking to the crowd in Norwegian and in Umesámi, she describes her pride becoming the first artist to have a song in Umesámi playlisted on national radio station P3 and the long struggle it has been to get to this point – not just for her but for her people, who, like other Sámi cultures across northern Sweden, Norway and Finland, have been systematically marginalised. "It's been one step forward, ten steps back for such a long time," she says, later wiping away tears of joy as she soaks in the love radiating back from the crowd.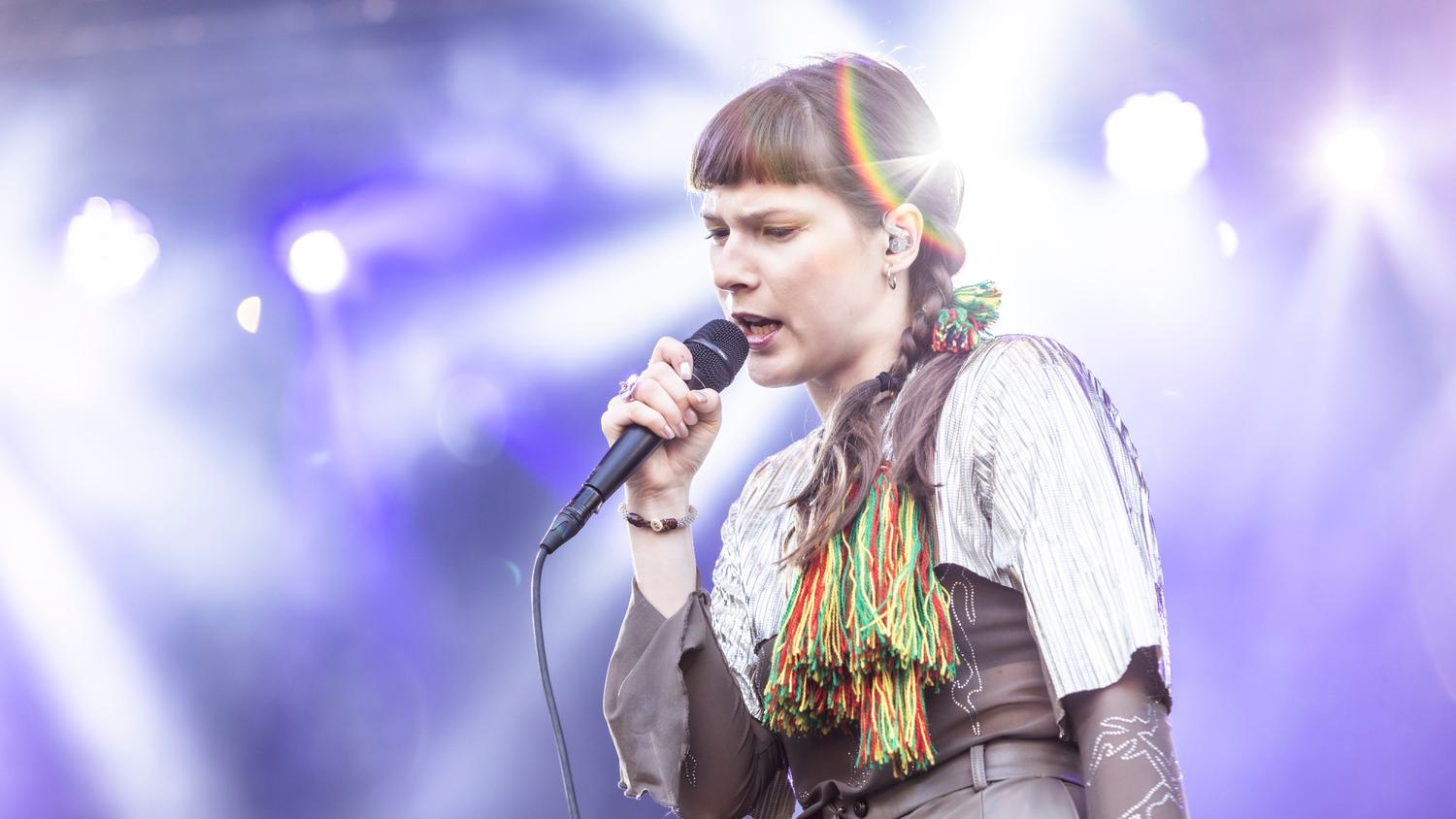 It's these rare moments of unfiltered emotion that crystallise Øya's mission to so visibly platform Norwegian talent. It's the look of disbelief on rising star Beharie's face as his artistry seems to take a visible leap right in front of our eyes. It's the immense pride of rapper Jonas Benyoub, who gives one of the performances of his life at a jam-packed Sirkus. It's the tenacity of Sigrid, whose voice starts to falter late in her set but she just keeps going. For Øya, representation isn't just a buzzword, it's a living imperative. To paraphrase Ms. Polachek, welcome to everyone's island.
Early-bird tickets for the 2024 edition of Øya Festival are on general sale now. See the festival's website for more details.