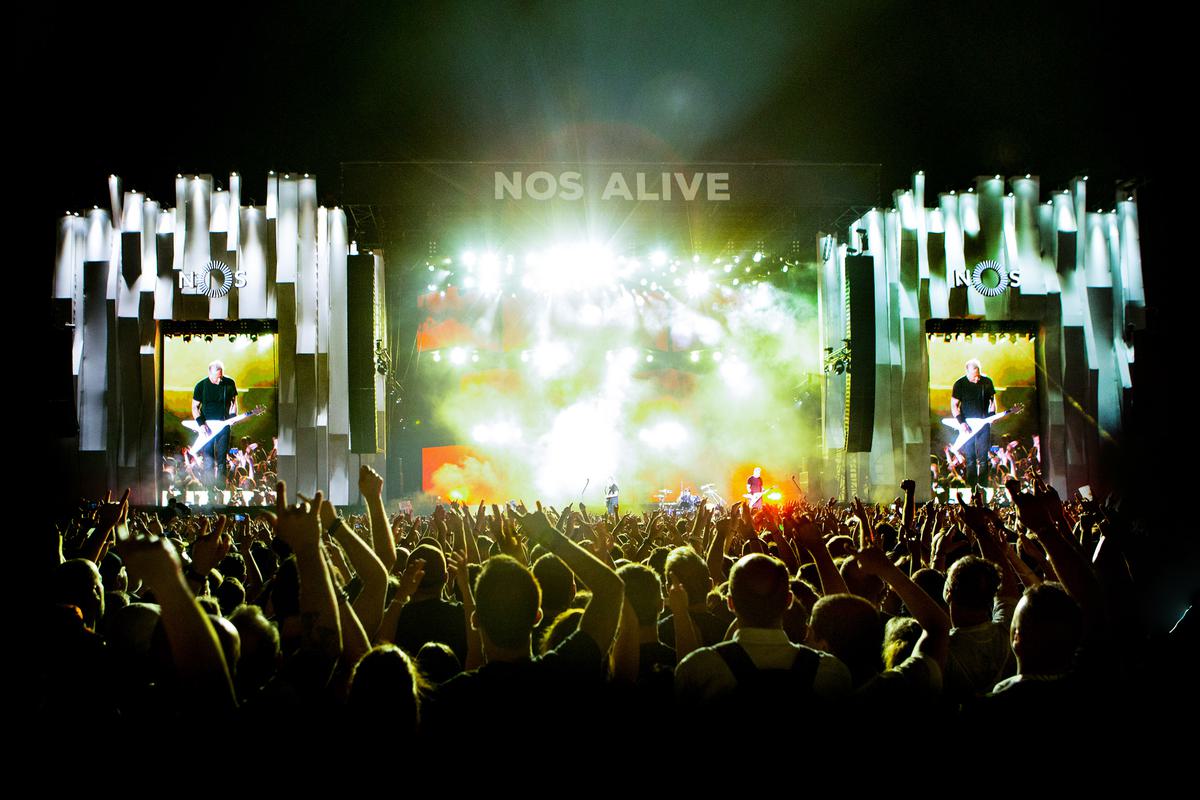 Nos Alive remains a rough diamond among European festivals
14 July 2022, 09:00
Well done to Nos Alive, bouncing back after an atrociously gender-imbalanced 2019 edition to bring us what might be a solid blueprint for the mid-sized European Festival.
It's Portugal's very own Field Day - a cute and boxy shanty-town affair held in a cheap, astroturfed space on the Algés riverside and spread over four nights. Surrounded by boat yards and motorways, it's maybe not the most accessible space for a first-time tourist to get to but is boosted by a waterfront location that feels like Primavera Sound's Barcelona base – but less intimidating to move around in.
While not quite commanding the same level of respect over here in the UK as Pitchfork Paris, Sonar or any of the Primaveras, NOS has done a very respectable job as its slides into its 14th year, largely becoming an event that has locals in mind first and foremost. The majority of the line-up is Portuguese while the international bookings include a lot of monumental firsts and notable returns: The Strokes haven't been here in a decade, whilst this is Phoebe Bridgers' debut in the country and Florence + The Machine headlined back in 2010, before the festival's telecomms sponsor Optimus rebranded itself as NOS. One thing the estrangeiros can all agree on? Lisbon is awesome and they always have a good time when they come and play here.
It's not quite a golden year for the Lisbon event: Stormzy, Glass Animals and Clairo - arguably three of the festival's strongest bookings - all cancel - and its headline bookings are safe bets, led by two sold-out nights: Metallica on Friday, and a less inspiring Imagine Dragons on closing night.
There are some curiosities among the line-up though: Modest Mouse turn in a serviceable set to a half empty tent after pulling their 1am appearance forward to fill the gap left by Clairo. It's always tough watching a band whose recording career peaked around the middle but when they were good, they were very, very good. And let's be real: an Isaac Brock guitar scratch and vocal snarl is as good as a hug from an old friend.
The Strokes fare better as the opening night stars, playing their first show here in eleven years. Never a particularly great live band, they've morphed into passable mid-sized festival headliner in recent years - mostly reliable, barely controversial but still just about decent. Of course there's nothing new here but that's kind of the point. A 20-minute delay and sloppy performance doesnt go unnoticed by the crowds and Lisbon media - it even makes it onto Deux Moi as a sign that the band are heading for a crash. They don't play "Last Nite", they do play some of Clairo's "Sofia" (a song that already channelled The Strokes) and there's a three-song encore that closes with "Juicebox". It's nowhere close to their catastrophic Roskilde set from a few days back but as hoary guitar music goes, it's enough.
Leaving my comfort zone, I check out Portuguese-born German comedian Herman José - clearly a beloved, legendary figure on these shores - play to an at-capacity comedy tent. Elsewhere I find local heroes Dirt Cult – here as winners of a battle of the bands competition that runs each year in Oeiras, the region of Lisbon that hosts the festival. Their prize includes a slot playing to the biggest crowds they've ever seen. There's an oddly inhospitable makeshift Fado 'cafe' too which nevertheless hosts to some of the most incredible vocal performances at the festival, with the likes of Sara Correia, Matilde Cid and Cassandra Cunha.
A Thursday main stage line-up throws in Jorja Smith and Celeste before Florence which brings out a notably different crowd to the rest of the event. The more melancholic moments in Celeste's nuanced sound don't quite hit as well as they should pre-sundown – and with a crowd fighting against highs of 36 – but it's still a remarkable performance from an artist who ups the ante with every release.
Smith's here for the second time and even a hair malfunction which halts her set doesn't spoil the reception she gets. But it's Florence the crowd really want: barefooted and in a red-dress, she cuts a striking figure and plays a tight 17-song career-spanning set. Metallica could learn a thing from her - they stretch out their performance to well over two hours and it's maybe a little much but the fans dont care and are rewarded with fireworks and flames for encore tracks "Damage, Inc." and "One".
The festival's MVPs might just be Fontaines DC, who continue their run as the best live band around with a set that genuinely energises a largely sedate crowd. There's crushes, there's mobile phones out, and there's a very sweaty Grian Chatten embracing his destiny as a frontman for our troubled times – more than ever equal parts Ian Curtis, Jonny Rotten and a caged animal on speed. This is the band you want to see every time they play and right now they have a body of work substantial and consistent enough to give the kind of depth to guitar music we haven't had since IDLES broke through. M.I.A. delights too and despite it being almost two decades since her best work Arular was released, "Paper Planes" remains peerless at every performance.
NOS Alive 2023 will run from 6-8 July next year