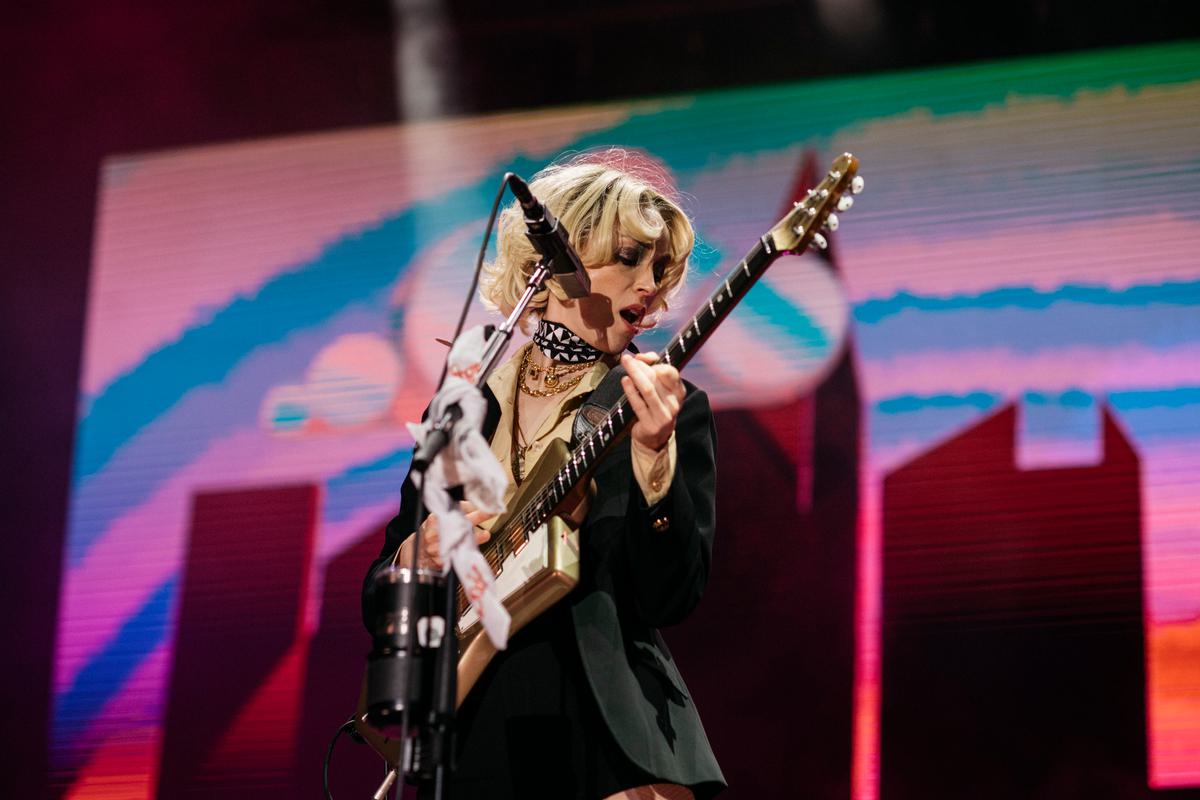 Mad Cool 2022 ditches men with guitars for the best in female pop
20 July 2022, 12:00
Just a half hour train ride away from Madrid's city center, Mad Cool's Valdebebas venue is the perfect size for a festival: pleasantly bustling but never too crowded, plenty of food and drink and almost no queues, no worrying about losing your wallet since everything is cashless and app-operated.
Barely any noise bleed between stages means I can happily hop from the main headliner stages to the smaller pop and electronic acts. For any gap in the schedules, an actual disco is set up right in the middle of the venue for a quick dance to fill the time. Everything about the festival is relaxed and easy-going: a literal mountain of Ibérico ham sandwiches and food stalls for every preference or dietary requirement; frozen José Cuervo margaritas that make your brain forget any unanswered emails; a ferris wheel to take all the stages in; and, best of all, barely any queues.
The first night starts off strong, with summer goths rejoicing when Placebo take the main stage to play their classics. There's a grateful rumble in the audience for their cover of "Running Up That Hill", the track that's become the song of the summer thanks to Stranger Things. Metallica put on a dad-friendly show, complete with fireworks and a lot of aggressive strutting, whilst welcoming the crowd into the "Metallica family." Watching them from a ferris wheel with the Madrid sun going down behind the metal legends is a perfect way to usher in Mad Cool's return edition.
On the other side of the venue, starting mid-Metallica set, is Canadian pop star Carly Rae Jepsen, who delivers the best performance of the day, getting even the middle-aged scenesters to bop to "I Really Like You." Her set up is simple and earnest: a glitter dress, a backup singer Jepsen shares the spotlight with, and Tom Hanks levels of positivity in every song.
The second day is heavy on men with guitars on the main stages - with an inexplicable amount of people gathering to see Imagine Dragons perform their TikTok-favourite singles "Enemy" and "Believer". Indie elders The Killers are surprisingly bland, with Brandon Flowers rushing around the stage like he's trying to get his steps in, and some robotic banter with an audience that isn't really dancing, not even to "Somebody Told Me" and "Mr. Brightside". Foals, who play the last big set of the night, work their way through their hits, starting off with "Mountain at the Gates" and ending with one of their very early tracks, "Two Steps, Twice".
On the smaller stage (which mostly house female and pop artists), St. Vincent's show is almost empty, a bizarro experience in itself, as is seeing the singer in her Daddy's Home era, blonde hair and a seventies air to her whole set. Norwegian singer Sigrid is the revelation of the day, with effortless charm and zero effort in set design or theatrics, there is an undeniable confidence in that her voice is enough – and it is. By the time the day ends, with Swedish pop of the sexier variety courtesy of Tove Lo, it's confirmed: Mad Cool's most exciting acts are the pop girls.
Friday is the first day the Madrid heat starts to really creep up and the first female headliners of the festival are HAIM, whose hit "3 AM" can be heard all the way from Valdebebas station. With witty banter and easy cool, the sisters encourage women in the audience to get on friends' shoulders so they can 'see how beautiful they all are'. In a bizarre scheduling choice, The War on Drugs play on the main stage at the same time as sad girl icon Phoebe Bridgers is on the smaller one. Braving the heat in a black suit and a glitter skeleton top, the cult of Phoebe is in top form, with the audience chanting her name as she makes her way through "Kyoto" and ends on the very apt "I Know the End".
People are generally surprised that Incubus are still playing, and throughout their predictably uninspired set, they sound muted and out of time, while Muse, on the main stage directly after, blow everyone away. Even the most casual of fans has to contend with their musicianship and stage presence, gliding through their hits "Hysteria" and "Time is Running Out" with occasional, playful riffs on Jimi Hendrix and AC/DC. They prove that rock dads are okay after all, and I overhear a woman tearfully go on a journey of accepting her status as a Muse superfan.
English indie boys Alt-J close Friday night with a dreamy light show and minimal audience interaction, working their way through material from their latest album The Dream as well as peppering the set with familiar tunes like the horny hit "Every Other Freckle" before closing the day on new single "Hard Drive Gold" and the familiar "Breezeblocks".
Saturday night is a relatively uninspired schedule, aside for influential alt-rockers Pixies, who play coolly to a rapturous crowd of overgrown alt-kids, everyone collectively losing their mind when the familiar riff of "Where is My Mind?" starts, eventually the audience drowning out even the band with their 'oooooh's.
Outspoken Swedish singer Zara Larssen, performing on the unofficial pop stage, finds a devoted audience for her hits "Ruin My Life" and "Poster Girl"; although Larssen's vocals are undeniable, the show itself feels over-produced and lackluster. Australian DJ and producer Flume causes some serious crushing in one of the tent stages with his set, going into his hit remix "You & Me" very early on. Apparently, Kings of Leon also play.
Florence + The Machine, the only female-fronted act on the biggest stage, is a deliberately designed magical experience to finish off the night. Playing into the spooky chicness of her stage persona, Florence Welch bounces from one side of the stage to another, inciting a 'ritual' wherein we all have to put our phones away and experience the music, and asking for 'offerings' in the form of women on people's shoulders. Her performance of "Never Let Me Go", a song she rarely plays live, is shimmering with emotion. I see tears, a fight, a semi-proposal, and some ecstatic dancing well-suited to the choreomania theme of latest album Dance Fever.
With still a day to go, Saturday night and Florence + The Machine's ethereal set feels like a natural end to Mad Cool. The last day proper of the festival actually closes with the likes of Sam Fender fans braving the crushing Sunday heat to hear "Hypersonic Missiles" and Spanish rapper duo Natos y Amor being one of the few Spanish headliners of the weekend.
Mad Cool feels like two distinct festivals in one: men with guitars and pop girls, with big acts booked from both camps, and a few curated old-timers to cater to the alternative nostalgics. This balance of curated acts works well, with a hilarious whiplash effect of going from Mø to Muse, Foals to Four Tet. The streamlined organization and the compact size of the festival makes it all feel like a seamless and dreamy experience. With no organizational woes, we can focus on the music and this year, the pop girlies beat out the men with guitars.