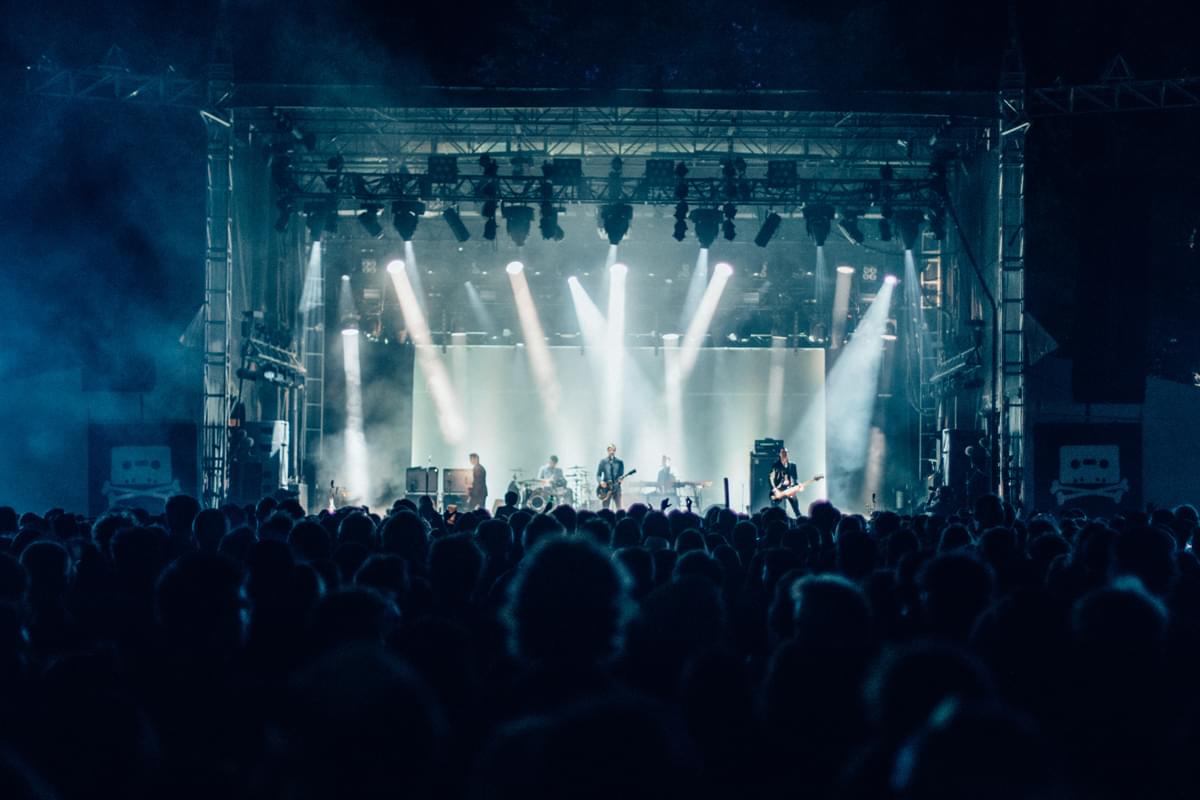 Hits and history collide at La Route Du Rock
25 August 2017, 03:53
"Walking through the cobbled streets of St Malo's old town feels like you've stepped back in time" - so begins the tourist board's description of the coastal town.
Famed for its oft recounted tales of privateering and its unwavering campaign for independence, this is a city with a spirit that refuses to burn out. Sure enough, arriving in the historic location, with its castle walls towering by the seafront, there's no doubt that this is a town with a tale to tell. Over the course of three days, through performances from some of the brightest and most beloved acts around, La Route Du Rock seizes the chance to tell that tale, and it's a story that's never felt more alive.
Housed by the walls of an 18th century fortress, it's evident from the get go that this is a festival like no other. The main arena occupies just two stages, which face each other, and performances alternate between the pair. Simply put: this is one of the few festivals where you can see everyone there is to see. No more pouring over clash finders or debating whether a band is worth splitting up with friends to watch - La Route Du Rock is an experience to be shared by everyone in its entirety.
That doesn't mean there aren't any opportunities to explore. In fact, it's quite the opposite. Thursday night sees a central St Malo venue, La Nouvelle Vague, taken over by a trio of acts to usher the festival into full swing, while a stage by the seaside offers enchanting musical entertainment through the early afternoons. With locations spread out across the city, La Route Du Rock is an open invite to explore, an opportunity to see, hear, and experience the very best of what the surroundings and the situation have to offer.
That's exactly what the line-up strives to present. As one of France's longest running festivals, now in its 27th year, La Route Du Rock has built up considerable experience in providing just that. Much like the city that surrounds it, the festival has got more than it's fair share of tales to tell.
As with any story, it makes sense to start with a beginning. So let's rewind a litte: the year was 2001, and faced with a last minute drop out from their line-up, the festival's organisers were faced with the daunting task of finding a replacement. The answer, it seemed, was obvious. And so the festival took a chance on a little known band out of Brooklyn, New York. Making their first ever festival appearance in front of 10,000 people, with nothing but an EP to their name, the then-quartet were taking their first steps on their path towards greatness. Sixteen years on, returning as festival headliners to draw the event to a stunning close, Interpol revel in their time to shine. But now we're getting ahead of ourselves.
On the first day at La Route Du Rock, volume is king. A juxtaposition of somber songs and jet black attire against the blazing sunlight, PJ Harvey is, characteristically, a sensation to behold. Keeping the main stage swinging through her driving off-kilter anthems, Harvey and co. perform like a well-oiled machine. Their juddering rhythms and perfectly timed power stances bring the set's darkened topics to life with a mesmerising force. Leaving the subtlety of their records behind, Car Seat Headrest take to the stage ready to walk on the wild side. Careering and freewheeling at their heaviest sounding yet, it might not be the band as you know them, but we'll be damned if they've ever sounded this alive.
It's at this point things really turn up to eleven. IDLES waste no time whipping their audience into a frenzy. The Bristol punks incite their own brand of chaos with a set of rapidfire anthems packed with enough energy to leave you physically reeling. There's no time to catch your breath though: it's a mere five minutes before Thee Oh Sees are shredding from the main stage. With a twenty year history behind the band, John Dwyer and co. are pretty much seasoned masters by now - though their performances never fail to surprise. Raucous antics abound through frenetic refrains that seem to expand without end, driving into the night with a fiery spirit that refuses to be doused. Ears ringing and faces grinning, this is the energy that people are here for.
Slightly (only slightly) more subdued, but no less spirited, Saturday is an open handed invitation to dance. Arab Strap have the energy flowing within moments, a rousing rendition of "The First Big Weekend" embodying the life of the festival season in all of it's hazy and oft-hungover glory. The Jesus And Mary Chain were always going to impress. With a repertoire of hits as well-loaded as theirs, that comes as no surprise. Powering the performance from centre stage, Jim Reid is every inch the rockstar. There's a moment of magic amidst the mayhem with "Just Like Honey" ushering in a sense of captivated awe, then it's back to full throttle frenetics as the band close on the rapturous "Reverence" - and it's a testament to the band's own reverence how many people are left singing along to every word.
Marvelling at the mass of the crowd stood before them as much as the audience marvel in the music being played, Future Islands' set is nothing short of empowering. Frontman Samuel T. Herring makes the stage front his own. Master of the freewheeling and flailing dance motions, the band give him a plenty wide berth to throw himself around to the music, and barely a moment is wasted before he's doing exactly that. Elaborate stage set up in place, when Soulwax take to the stage it's the crowd's turn to go wild. Well into the early morning, that's exactly what they do.
It might typically be a day of rest, but Sunday is when the La Route Du Rock party really hits full swing. Angel Olsen laughs and jokes with her audience between songs, reminiscing about her previous rain drenched performance at the festival with the gathered like old friends. Mac DeMarco's performance is characteristically laced with comedy. Introducing a table of family and friends at the stage side before performing a rendition of Vanessa Carlton's "A Thousand Miles" where every line is "making my way downtown," every ounce of energy presented on the stage is geared towards having a freewheeling, feel-good time.
It's at this point that La Route Du Rock's story starts to come full circle. Sixteen years on from their first ever festival performance, returning to that very same event, on a weekend that marks fifteen years since the release of their debut album, Interpol walk onto the main stage ready for celebration. There are comments that the group might be phoning it in, playing a set that includes a decade and a half old 11 song album in full, but tonight isn't about recreating any former glory. Older and wiser, as the saying goes, the performance is a commemoration of how far the band - and indeed, the audience watching them - have grown since the first time around - whenever that might have been for each person present.
Opening with a series of fan favourites ('cause let's face it, what else would you hope a headliner would do?) before diving into Turn On The Bright Lights in its entirety, Interpol are every bit as masterful as they always have been. Paul Banks' voice, though a little rough around the edges, is equal parts silken and spellbinding. From behind the drumkit, Sam Fogarino crafts rhythms that pummel and shine, while Daniel Kessler's brightened guitar riffs play into the moment with characteristic charm. Essentially: this is everything Interpol have always been. With their hearts on their sleeves, there's nothing more majestic than that.
Like a gift that keeps on giving, that's not all there is to offer folks. It's Ty Segall who closes the festival properly. Armed with a setlist of garage rock at its most addictive, and backed by a band with enough raw power to shock an adrenaline junkie, Segall and co. see out the festival with a flair that can't be faulted. Jamming out the intro to Black Sabbath's "N.I.B", attempting their way through a discordant rendition of "Happy Birthday" for their soundman Sam, for as long as the group are on stage, anything goes. Electric and engaged, as frenetic as they are freewheeling, it's a fittingly ferocious end to the fortress-held festival.
Like the town of St Malo La Route Du Rock is rooted in history, but more than that, it's a festival shining a light for the future. From the wondrous, to the wild, and everything in between, it's events like this where stories of greatness are made. The future might be unwritten, but La Route Du Rock feels as carved in stone as the fortress that houses it. All that remains is to sit back and see what thrill ride they have in store for next year.
Photos courtesy of Nicolas Joubard and Mathieu Foucher.
La Route Du Rock
will return in 2018.
Get the Best Fit take on the week in music direct to your inbox every Friday