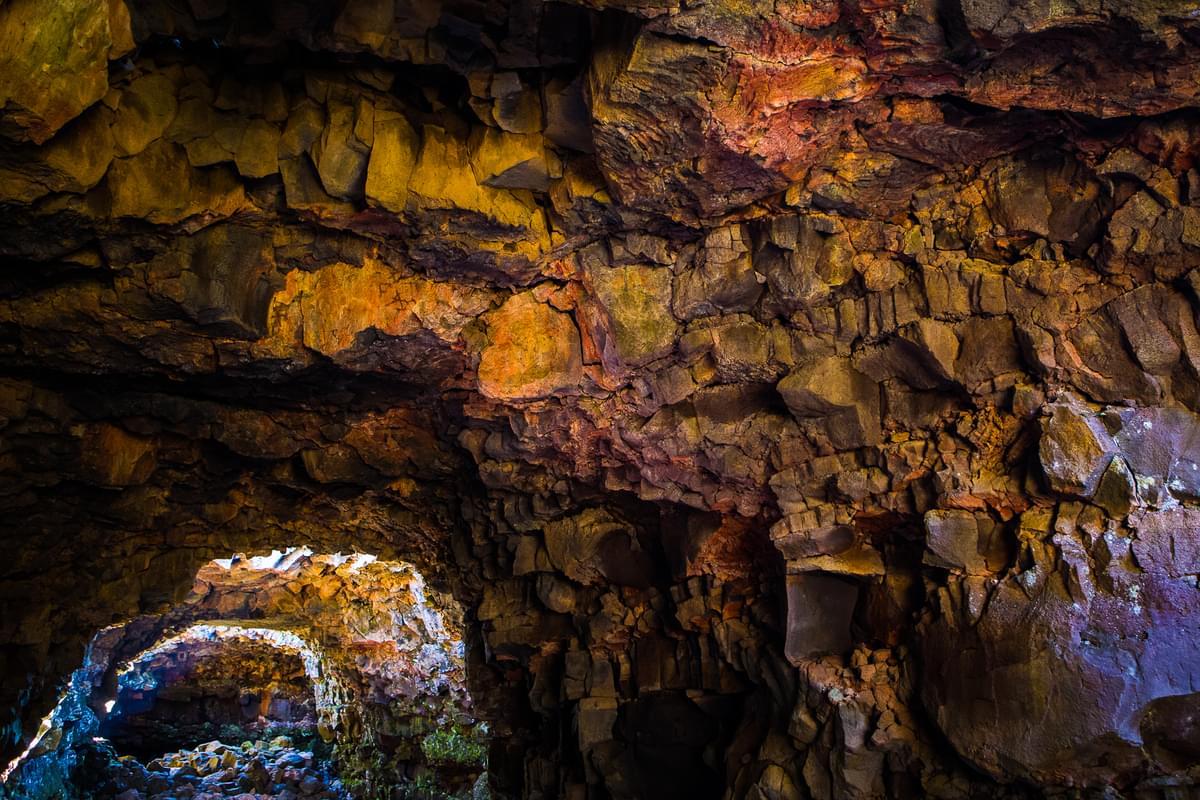 Lava tunnels and raving in glaciers at Iceland's Secret Solstice
05 July 2019, 10:00
Every summer, Secret Solstice has descended on Reykjavik's modest city centre for three days of partying in almost-permanent daylight. The draw for foreign attendees is blatant: a chance to catch a solid roster of internationally-renowned hit-makers, whilst witnessing Iceland's dramatic scenery, bathed in the light of a sun that never really goes down.
The setting of the festival is a curious one: sandwiched between a large gymnasium and football stadium in the centre of the city. Picking up my pass on the first day, I find myself surrounded by a flock of Lycra-clad children taking a break from their acrobatics lesson, the festival's 'local-ness' unavoidable. This is surely one of its subtler strengths: from the visibility of the super-passionate organisers to the audience of ecstatic teens from the Icelandic suburbs, Secret Solstice doesn't feel like just another generic international festival – even if its line-up has been undoubtedly crafted for a global audience.
As for that line-up, Solstice has a tendency to be a bit of a grab bag, last year hosting Stormzy and Gucci Mane next to Bonnie Tyler and, erm, Slayer. This year is no different: Patti Smith and Robert Plant bump shoulders with Jonas Blue and The Black Eyed Peas, with not much attempt to bridge gaping genre gaps.
But days are programmed to help pool similar artists (and audiences) together, and the big names really bring their A game. After losing headliner Rita Ora to a chest infection, the team roped in Pusha T as the understudy for her Friday opening slot – a genius booking and one which ensured the inaugural night went off with a bang. On Saturday, The Black Eyed Peas shutdown the main stage with a whip-fast tour through their back catalogue: "Hey Mama". "Boom Boom Pow" and "Let's Get It Started" got the generous crowd cutting rugs, and proved a reminder that – sans the formidable pipes of Fergie – Will and co have still got it.
Some of the most incongruent mid-tier bookings also showed themselves to be well-chosen. Pussy Riot, never ones to phone it in, rocked up in matching neon safety jackets and smashed out a chest-rattling performance of hyper-political electro punk, strobed images of blood-soaked cuddly toys and lyrics about strap-ons perhaps a little much for the handful of families that choose to stick around. On Saturday, veteran rap duo Foreign Beggars gave their all to a soundtrack of screeching dubstep and drum and bass, commanding a sea of glitter-stuck faces along to the onslaught of soars and drops.

Icelandic acts were mostly billed early on in the day – a lamentable, if completely understandable, decision from the organisers (as one person flagged to me, Iceland's sister festival Airwaves really is the home for local talent spotting). Arriving bleary from the airport on Friday, my socks were knocked cleanly off by a performance from Auður, an Icelandic R&B crooner who lit up the stage with an electricity that belied his mid-afternoon slot. With hits that recall early Bruno Mars, it was exciting to see tracks like "Freðinn" and "I'd Love" interpreted for a live band: blistering guitar solos were an unexpected but welcome addition.
Elsewhere, the festival played host to a myriad of Icelandic hip hop artists, who were enjoyable on a base level thanks to the novel sound of rappers spitting in their musical mother tongue. Popstar BRÍET brought a troupe of dancers – along with her quintessential Scandi-pop soprano – to perform hits from her last EP 22.03.99 (BRÍET managed to nail a Dirty Dancing-eqsue lift in the set's final moments, much to rapturous applause). Part of the joy of catching local artists was seeing fans' reactions: Solstice provides an opportunity for locals to glimpse the stars splashed across their newspapers in a flesh, and at each show, groups of white-haired teens clutched their friends and belted along with a palpable hysteria.
One of the most unique offerings of Secret Solstice is its excursions, which run alongside the main event and provide festival-goers with a chance to explore the surrounding, otherworldly landscape. On Friday, a trip took the event's most party-hard crew off to rave in a glacier, with EDM DJ Jonas Blue stepping in for the billed Martin Garrix. I was lucky enough to join a hundred punters at a gig held in a lava tunnel, headlined by electronica duo WARMLAND. It was an experience that you just wouldn't get anywhere else in the world: neon lights bouncing off stalactites, an audience clad in waterproofs and hard hats, voices and instruments carried by the cavernous reverb of… an actual cave. For those looking to immerse themselves in 'the real Iceland', attendance at these side events is an absolute must.
Although Secret Solstice takes place during a period of almost permanent daylight, Reykjavik's weather is unpredictable, and organisers encourage bringing a hardy wardrobe. Thankfully, our weekend was mostly dry, bar Sunday, when the skies opened and the site – which is entirely outdoors – was suddenly hit by heavy rain. The downpour scared away much of the crowd, but did ensure we were able to round off our weekend with a rare, highly intimate performance from the legendary Patti Smith.
Bringing along the tightest team of musicians, Smith indulged attendees with covers – including a stonking rendition of Midnight Oil's "Beds and Burning" – and originals – "Pissing in the River", "Ghost Dance" – occasionally stepping out to the edge of the stage to wave, with queenly poise, at the front rows. Her set hit its apex when the band slammed into some swirling psychedelia, their leader lifting her arms to the sky, encouraging us to do the same. "Feel the blood in your hands" she cried "Feel the creative energy running through you… We are fucking free!". It was a moment where the strange energy of the solstice felt suddenly acute – a proper shivers-down-the-spine highlight and one that demonstrates how the collision of music and mysticism of Secret Solstice can really work. All in all, a genuinely mad, but often brilliant, escape to a fascinating destination.
Secret Solstice was held 21 - 23 June 2019.
Get the Best Fit take on the week in music direct to your inbox every Friday