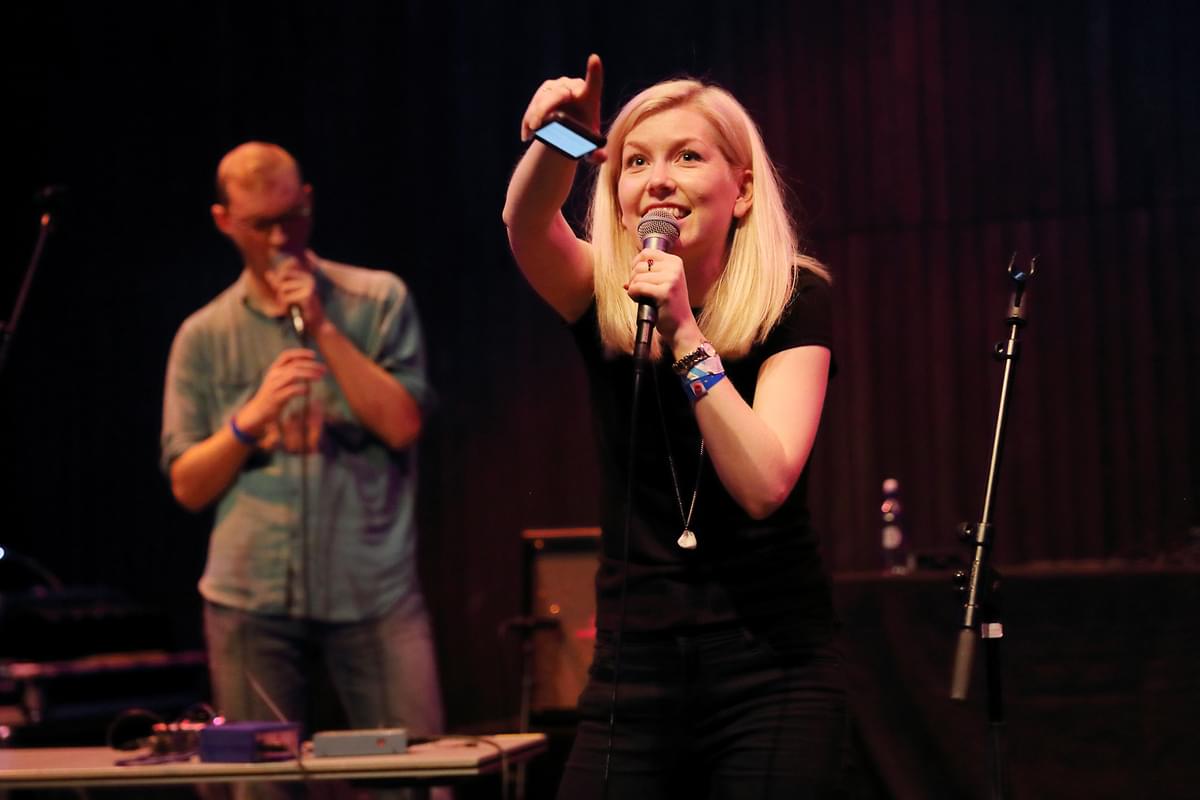 Iceland Airwaves Day 2: Softly Does it
04 November 2016, 10:00
With Iceland Airwaves now in full swing, it is impossible to walk through downtown Reykjavík without imbibing culture, music, and good vibes.
After carousing at Best Fit's off-venue at Loft, I head out to the Reykjavík Art Museum for the second time this day. This time I'm not checking out Richard Mosse's Enclave or Örn Alexander Ásmundsson's Some New Works (which are both worth visiting), but listening to the gentle and honest tunes of Jófríður Ákadóttir (pictured below, photo by Burak Cingi). Usually associated with Pascal Pinon and Samaris, Jófríður is on stage today performing her solo material as JFDR.
The music is very minimalistic, with gentle guitar plucking, soft drumming, and tender keys creating the perfect backdrop for Jófríður's hushed singing. The whole show is so quiet that it seems nobody dares so much as breathe out of fear of breaking the dreamy spell cast over the audience. Jófríður ends up playing "White Sun," a song that she just released a video for earlier in the day. On the way out, everyone I pass looks incredibly serious, as if they were battling their own personal demons, or contemplating their own mortality. Or maybe they were just stoic Icelanders…
Over in Kaldalón, Airwaves virgins RuGl (pictured above, photo by Burka Cingi) combine soft harmonies with catch-style song structures. The show is so intimate that the photographer sitting in the front row's repeated use of his flash makes my skin boil. Eventually he leaves, and the duo continue their soothing indie pop songs. There's not much depth to be found, and a lot of the songs sound similar to one another, but there's something very delightful about the simplicity of RuGl. "August," for example, is a simple song about forgetting all of your problems for two hours and celebrating Christmas in August. Cute.
I only catch a glimpse of Julia Holter at the Art Museum. She seemed cheerful, but I continue to see Dr. Spock's only Airwaves show (pictured above).This crass punk rock band promises that they're only going to play "a few calm songs" before whipping the people in Húrra into such a frenzy that it's a real miracle nobody got stomped to death.
Last time I saw Dr. Spock perform live was three years ago when they filled in for Lára Rúnars and rocked everyone's socks off, and I can safely say that they've only grown more potent with age.
A few doors down Kött Grá Pjé (pictured above, photo by Rúnar Sigurður Sigurjónsson) put on the best show I've ever seen from him. While this rapper might have an amazing stage presence, catchy beats and sweet tunes, outsiders will not be able to comprehend the beauty of this artist without understanding the language. Deeply political, KGP's poetry is all about subverting ideas of masculinity and overthrowing the status quo. Indeed, KGP manages to demonstrate how you don't have to be testosterone-fuelled to be tough. Also, I'm in love with his hair.
I see a good portion of Soffía Björg's refined pop rock show (pictured above, photo by Birta Rán), wherein she shows yet again what great control she has over her powerful voice, and displays her confident stage presence and sass, all the while singing about matters of the heart.
I had met with Ásta Fanney (pictured above, photo by Burak Cingi) the day before Airwaves and had a lengthy discussion with her on her desire to stop being invisible as an artist, and the musical poetry she's been working on. Having said that, I had no idea what to expect from this decorated performance artist and poet. When the lights dim, three members of her band are on stage, but Ásta is nowhere to be seen. The drums start clattering, a tall man starts mumbling into the microphone, and the keys player hits notes seemingly at random. And then Ásta steps, no, dances onto the stage. She smiles at the crowd, and then everyone begins clapping. Jófríður sneaks onto the stage and starts hula dancing. The music starts coming together and the tall man's mumbling turn into guttural chants. Ásta invites everyone to do "a little samba" in their seats. I don't know why, but I start giggling.
Then she says she's going to "stop being a poet and become a life coach, and maybe sing more." At the point that I think the show can't get any more absurd, Ásta falls to the floor and says softly the importance of being seen, then repeats it louder, and then repeats it in a death growl as the music becomes increasingly loud. I can't stop laughing. The people around me can't stop laughing. And then it's over. Ásta says that maybe next time she'll perform poetry.
I have no idea what I just witnessed, but I loved it.
Recovering from the stitch Ásta gave me, I stuck around to listen to Tonik Ensemble (picture above, photo by Alexander Matukhno). Snapshots was one of my favourite albums of 2015, and seeing it performed live was an experience that stirred something deep inside of me. The chill electronic music is complemented by a strong visual element that guides the listener on this deep and engaging journey through time and space, with film clips showcasing a control room, astronauts, astral bodies, the greater cosmos, and more. There were no lights on Tonik or his two band mates, Jón Þór and Ragnhildur Gísladóttir, bringing even more attention to the sheer hypnotic powers of the music.
I could mention how I went to see The Sonics afterwards, but let's pretend I didn't walk out on the monotonous and unexciting show and that my night ended with the serene tunes of Tonik Ensemble, because I like that idea much more. I also heard that Mammút (pictued above, photo by Burak Cingi) performed a stellar show at the Art Museum, performing only new songs.
Get the Best Fit take on the week in music direct to your inbox every Friday