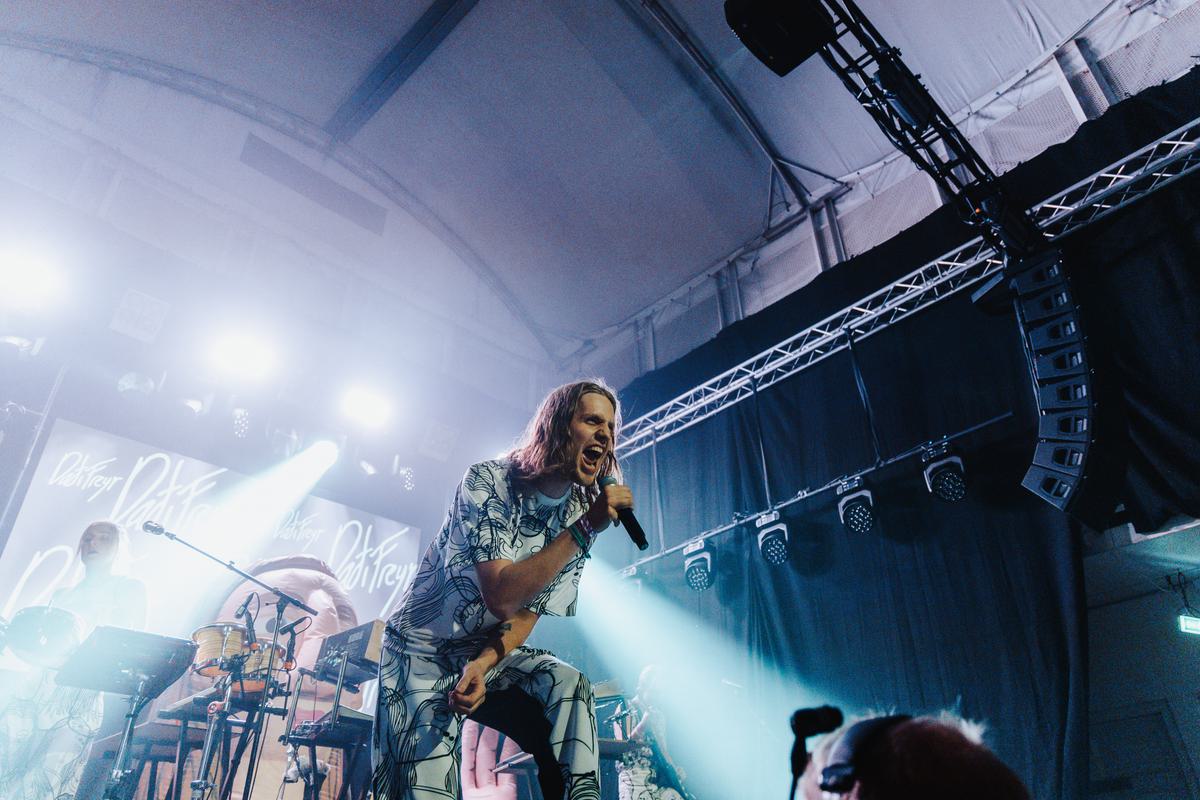 Iceland Airwaves 2023 is a return to form
08 November 2023, 15:00
Lead image of Daði Freyr by Aníta Eldjárn
Showcase festival Iceland Airwaves is back, offering a weekend of musical enjoyment in the northernmost capital of Europe. Blessed with good weather, Gabríel Benjamein explores, enjoys and recounts the musical offerings.
What started as a small one-day music festival in Europe's northernmost capital in 1999 has since morphed and expanded, waxed and waned, exploded, collapsed, and now been reformed. After years of growth and development, Iceland Airwaves has emerged as the country's premiere music festival and is often talked about as the end-of-year festival for Icelandic musicians, particularly in the indie and pop scenes.
Spread out over numerous venues in downtown Reykjavík, the yearly festival excels at highlighting up and coming local artists, showcasing established acts that are taking or have already taken the step onto the big stage, and attracting international bands of a quality seemingly outside the festival's weight class.
There was a time the festival was a five-day extravaganza where musicians would run around town playing upwards of a dozen shows (significantly more if they were in multiple acts) in everything from packed music venues to window displays in high street outlets. Daði Freyr mentioned in a recent interview how in 2013 one of his many shows that year was at a diner where 20 people were eating their morning eggs and bacon. Many people went to Airwaves each year without ever purchasing tickets as the majority of the musicians were also performing at off-venue shows like the aforementioned diner. When the festival was bought out by record label/music promoter Sena, these ambitions were reeled in to stop Airwaves from haemorrhaging funds and spreading itself too thin. The main show, too, was turned from five to four days, and down to three after pandemic restrictions were lifted.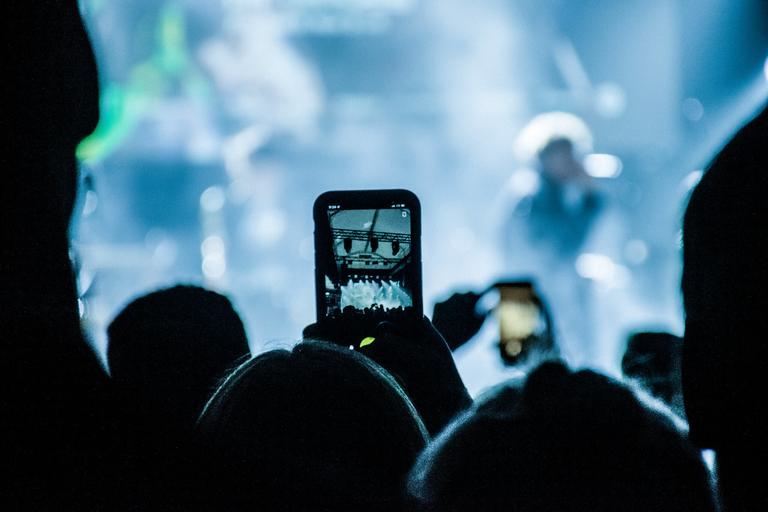 Photo by Flore Dikkers
It is easy to think fondly of the big years where music was oozing from every nook and cranny, instruments were jutting out of every window of downtown Reykjavík, and the streets were littered with fast food wrappers and broken beer bottles, but it was obviously unsustainable. Yet after the reformation it is still disappointing to see so few of the homegrown weird and unorthodox DIY acts.
But at the same time, Airwaves is and hopefully always will be a magical experience of discovering new and exciting acts and enjoying some of the best local talent. Of being around so many people that are genuinely interested in the scene, and getting recommendations from people the world over who are gushing about their favourite acts.

With humanitarian catastrophes unfolding on live television in Eastern Europe and the Middle East with an innumerable loss of innocent lives, there is perhaps no better occasion to disconnect for one weekend, come together and just enjoy something profound and temporal before facing reality again.

And the 23rd iteration of Iceland Airwaves was exactly that shelter from the storm. 99 artists played over these three days on eight stages, in addition to nine partner venues, eight off-venues, and numerous pop-up performances and unsanctioned living room concerts. Many of the main acts played at least one off-venue show, giving hungry festivalgoers a chance to see new favourites again or catch ones they couldn't make it to. As the festival goes on, these off-venue offerings became so popular that fewer made it inside the venue than tried.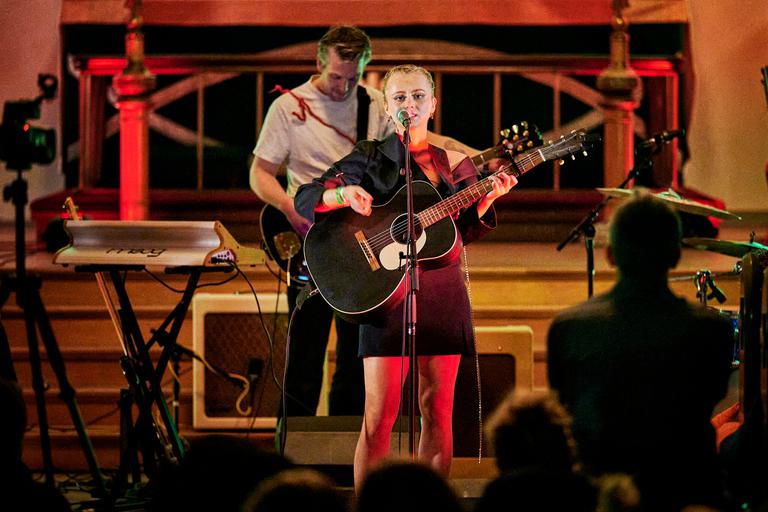 Elín Hall by Florian Trykowski
The festival proper starts with gusto with acts such as Kvikindi and Elín Hall gathering sizable crowds. Kvikindi has won numerous awards, including best album for their debut this year, and they bring their blend of catchy pop tunes and biting lyrics. Frontwoman Brynhildur Karlsdóttir also displays great crowd work, jumping into the pit at one point only to retreat back on stage and joking that with her big pregnancy bump that people probably think she's "going to give birth" in the audience. Highlights include "Heiðin há", a translation of Kate Bush's "Wuthering Heights", "Sigra heiminn", a song about winning the world but coming home to an empty bed, and carnal autotuned dance ode "Ríða mér".
Elín Hall in Fríkirkjan similarly holds the audience spellbound in the church, apologising for all her lyrics being in Icelandic, only to comment that she had ChatGPT translate all of her lyrics and printed out a QR code with them, saying: "It's silly, but sometimes it's scary how close the translation is…" The highlight of her show is clearly when she explains the story behind bittersweet song "Augun mín" being about a boy who gaslit her, only for the song to get picked up by the radio and being put on the workplace of her ex's. "So then he had to explain to all of his friends and coworkers what had happened," she explains gleefully.

Karítas and Hekla both play with different shades of melancholic feelings, with Karítas being cold yet vulnerable with her dark indie pop, while Hekla bathes the entire church in dark red lights as if she is opening the Hellmouth, summoning unknowable beasts with her infernal theramin.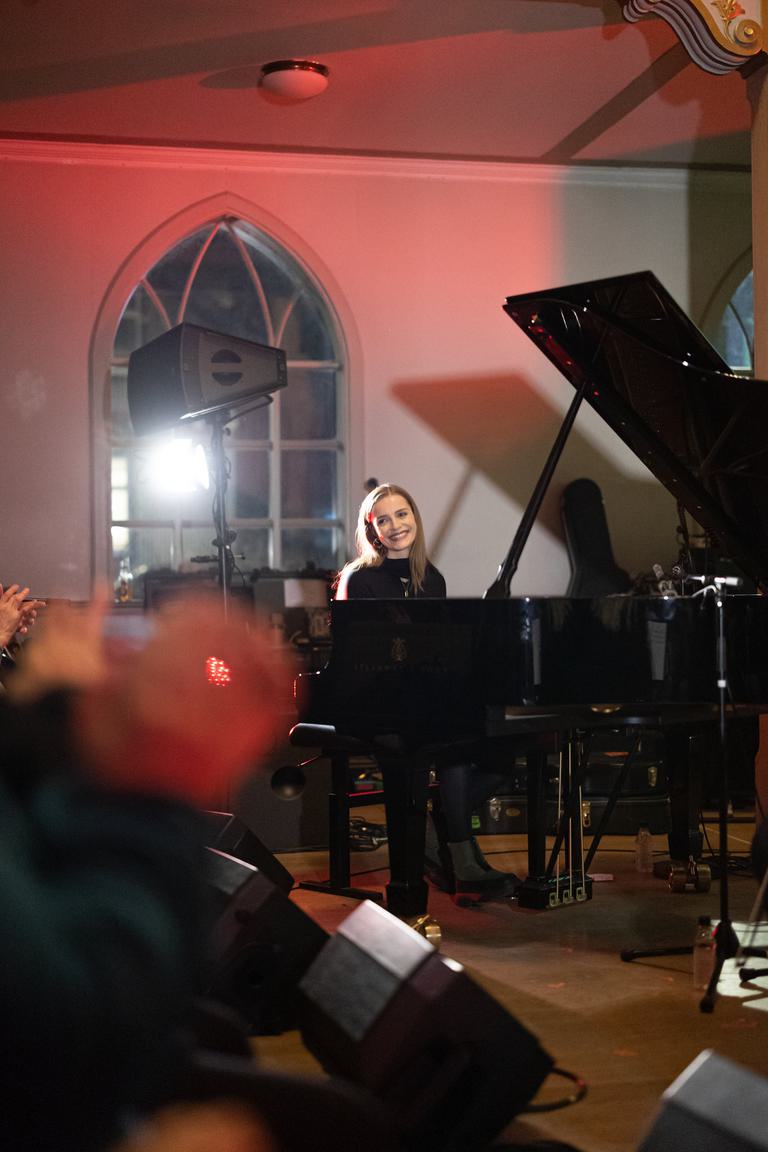 Eydís Evensen by Thelma Arngrims
On the softer and slower side are acts such as Markéta Irglová, Eydís Evensen and JFDR. The Czech-Icelandic Markéta is Iceland's first Academy Award winner for "Falling Slowly" from musical film Once, and she plays with a string quartet, serenading through songs such as the 10-minute "Quintessence". JFDR, too, seems happy to see a full audience as she glides through her gentle catalogue, finishing her set with the otherworldly "The Orchid".
Eydís also plays with a string quartet, telling the crowd how this is her third Airwaves and that she had her first live show on that stage, only to then play introspective sombre notes that seems to leave much of the audience lost in thought.
Similarly, Airwaves virgin Kónguló was playing her first ever live show at Airwaves. This composer and performer has challenging song structures that often don't go the way you expect them to. Fun and exciting, she gets RAKEL and Neonme to sing as guest vocalists. Ends with "The Water In Me" which feels like the most fleshed out song of the set.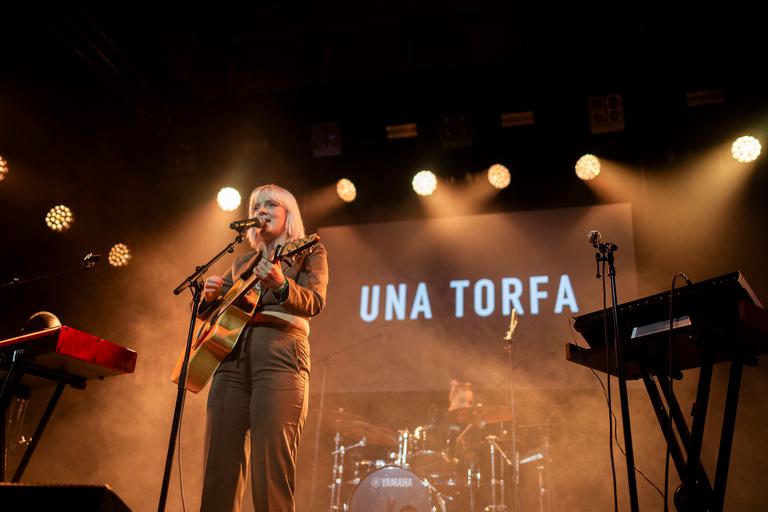 Una Torfa by Cat Gundry Beck
Una Torfa has hopefully been on cloud nine following her performance at the women's strike on 24 October 24 where she played feminist fighting song "Áfram stelpur" to a third of the country's population. She brings that powerful delivery to her shows at Airwaves, filling rooms with nothing but her voice and acoustic guitar, talking about how releasing one song two years ago has made all of her dreams come true.

Meanwhile Sunna Margrét defies expectations by not playing the lively electronic show she's known for, but instead rearranging her entire catalogue for a live band in a creative and fun manner. She plays with discordant harmonies, uses her voice like a whammy bar, and makes her soundscape tangible. She finishes with thumper "F**k It", but doesn't leave the stage until after she's urged the crowd to "keep resisting the injustice."

Blondshell, too, gives a memorable performance. The youthful LA-based New York-born Sabrina Teitelbaum steps onto the stage wearing flannel and jeans, and with cheerful demeanour sings sad bangers about bad fucks. At times it feels like a depressing and cool take on sex, drugs and rock 'n' roll, a modern crack at grunge music. "So, like Pearl Jam," a friend asks. Yeah. Like Pearl Jam.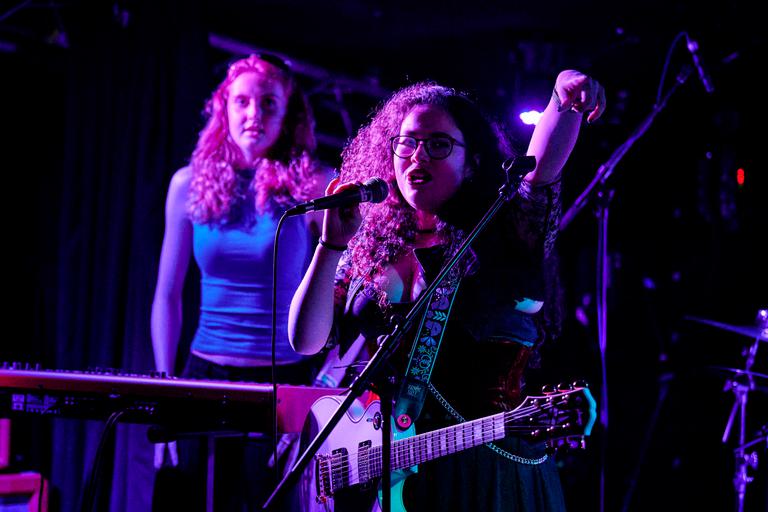 Fókus by Florian Trykowski
The even younger Fókus, who won this year's Músíktilraunir (Iceland's battle of the bands), threaten to bring the roof down with one '80s hard rock-esque song, only to then confess that they rehearsed it for the first time the day before. This band has considerable prowess and a very natural groove but has yet to write more songs, as becomes apparent during their encore when they apologise for having to play one of their songs for the second time.

Squid play a fast and fun post-punk show, and Rock Paper Sisters draw such a big crowd that most of the audience only gets to hear it from outside the venue. Mugison brings his patented bluesy gospel, but even with a full band his devilish vocal fry steals the show.
Hatari by Anita Eldjarn
Headliners and Eurovision contestants Hatari and Daði Freyr give wildly different shows. We've been singing the praises of the industrial soapbox performance act Hatari for more than half a decade, and the band's concept has remained the same since then. Despite a member change this year, not much else has changed, and the art trio pulls a big crowd to the Art Museum. They have some refining to do as co-performers, but a Hatari show is still a Hatari show.

Meanwhile Daði Freyr brings a very dynamic and humorous show in front of a nine-foot inflatable bust of himself and his hands. He gets the crowd moving, dancing, jumping and singing, and smiling in between songs with his natural banter. And as predicted, when he getssi to his cover of Atomic Kitten's "Whole Again", more than half of the crowd humorously sing the chorus in the wrong beat.
Two Irish bands prove to be the best end-of-night shows. Kneecap bring the biggest mosh pit of the festival, and have more Irish than locals in attendance (or at least a more vocal crowd). Rapping in both Irish and English, the Belfast-born trio start working through their slow songs before picking up the tempo and increasing the intensity of Republican-fuelled sentiments. The crowd bops, cheers, spills and throws beer all over. Meanwhile Dublin-based Sprints close out the festival with a performance that's well worth waiting 30 minutes in a queue for. Fast, fun, and unafraid of crowd surfing, Sprints get the crowd to finish the last drops from the tank, offering a great sendoff from another great edition of the Airwaves festival.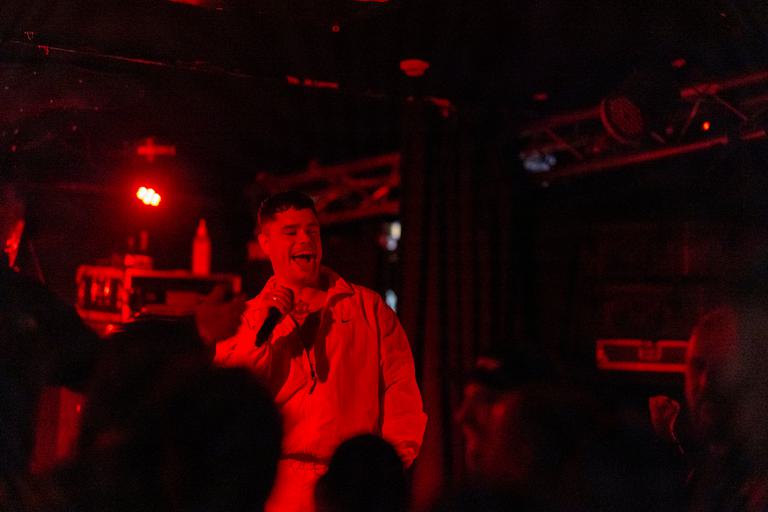 Kneecap by Cat Gundry Beck
The very best act of the festival, however, had spoiled the fun by playing earlier in the lineup. The three (or four) girls in Gróa are only in their early 20s, but have been playing together since 2017, growing from strength to strength each year. At Gamla Bíó, bassist Fríða Björg Pétursdóttir skateboards onto the stage, tearing through cords as drummer Hrafnhildur Einarsdóttir smashes her cues violently into the drum kit, with singer Karólína Einarsdóttir screaming from somewhere behind stage right into her microphone.

Seeing this three-piece punk band bounce on stage, tearing through a deep catalogue that belies their young age, they continue their streak of never delivering a half-assed show. They play with their instruments, using them as scratch boards and noise makers, bouncing sonic waves relentlessly around the venue only to deafen the audience with complete silence.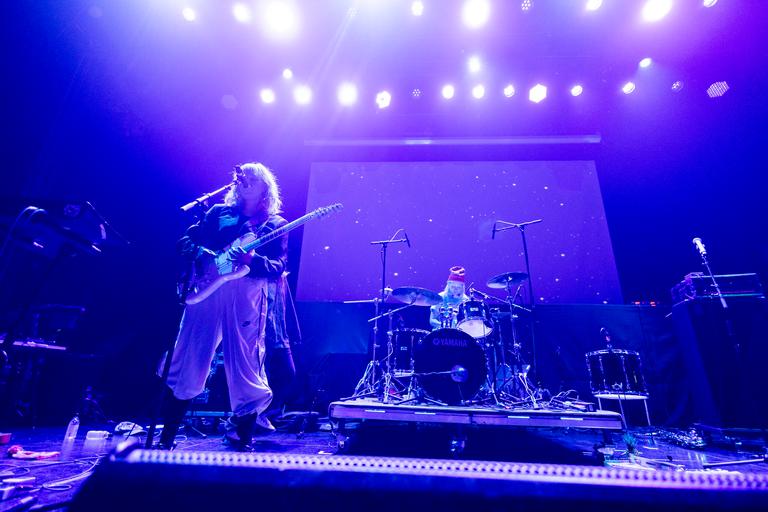 Gróa by Cat Gundry Beck
There are guitar-led songs, bass-led songs, drum-led songs, and screech-led ones, too. Playing fast and relentlessly, they have lyrics ranging from the banal to political, from personal to bizarre, with each song having a very clear and well defined identity. The band has grown up on stage, going from writing simpler songs about teenage desires to writing with a more adult and irreverent tone, and so too have their songs gotten heavier, with rougher drums, growlier guitars and a thumpier bass. Instruments clash, harmonies are formed and come apart, and then the soundscape is entirely reinvented in the next song.

Gróa is one of Iceland's best active live bands. They are dynamic, volatile, and incredible to see, whether it's at a big stage like Gamla Bíó or crammed in a small record shop like Lucky Records.
Iceland Airwaves will return November 7-9 2024. Super early bird tickets are already on sale from icelandairwaves.is