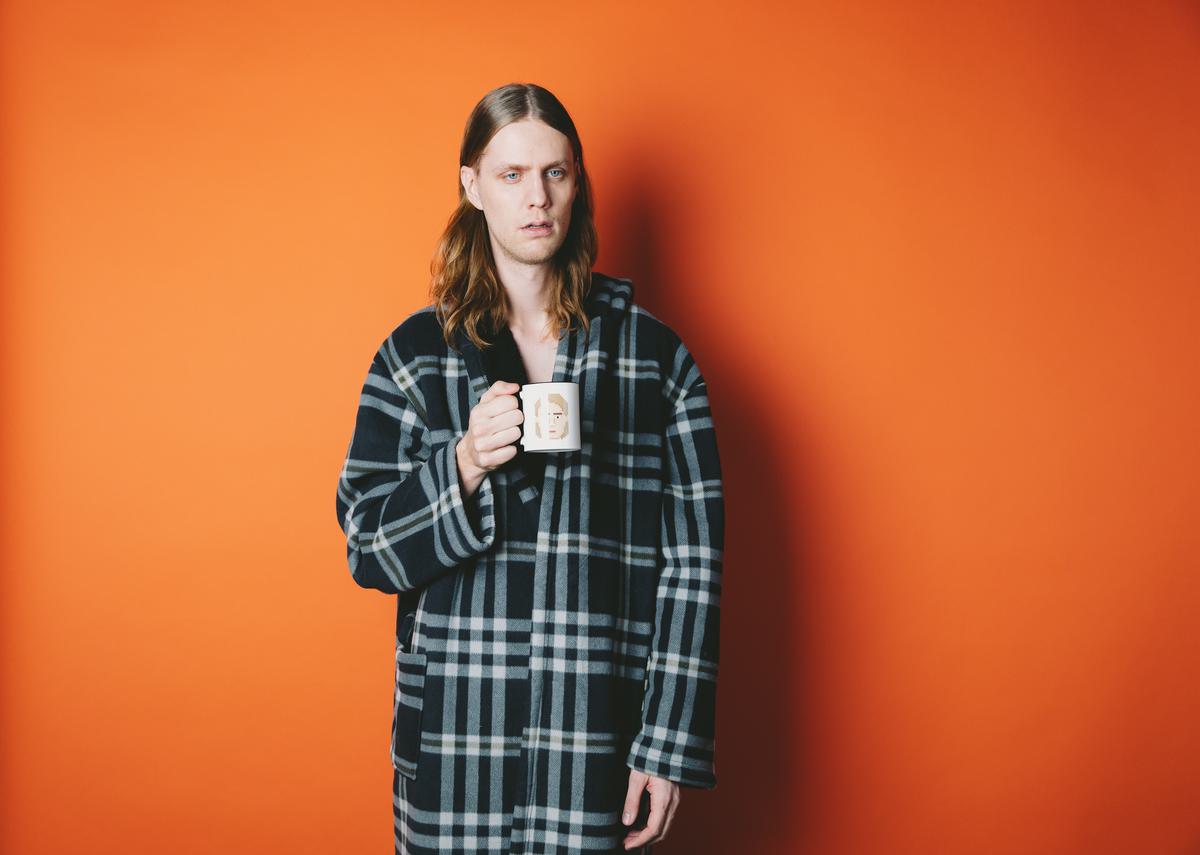 Talking about things with Daði Freyr
26 October 2023, 14:55
International pop sensation Daði Freyr tells Gabríel Benjamin about personal growth and his headline slot at this year's Iceland Airwaves.
"Oh, it was so much fun… And I had no idea people would get so involved with the song." This is how Daði Freyr describes over video chat his 90-second rendition of Atomic Kitten's "Whole Again" at the Eurovision Song Contest held in Liverpool, England.
Freyr was invited to do a short cover, but it had to be of a Liverpudlian song; the moment he realised the host town of Eurovision was where Atomic Kitten was from he couldn't even consider any other song.

Joining Daði Freyr on stage were were more than three dozen dancers all wearing the signature Daði Freyr teal green pixelated pullover, breaking the song contest's strict six person on stage rule, with hundreds of copies of Daði Freyr's face pasted on giant monitors, lip syncing and reacting to the song. As he rounded the chorus an audible portion of the audience tried signing along, unaware that Daði Freyr's cover had delayed time signatures, leading to their singing being comically a few beats ahead of him.

"I didn't ever consider that they would try singing along, but of course they did. Even now, months later, that still happens at about every other show I play; the crowd sings along to the song, but some are still singing to the original beat. They get it wrong in the first chorus, but then they catch on by the second or third. That, or they stop trying and let everyone else take it away," he says smiling.
Daði Freyr has become a household name since competing, and his bonus performance at this year's Eurovision Song Contest was a feather in an already well-feathered cap. Back in 2020 his song "Think About Things" was picked as the country's entry to the song contest. When the contest was cancelled due to pandemic restrictions, the song gained a life of its own and was touted by many as the one that should have won the competition. Returning the following year with "10 Years", Daði Freyr and his band Gagnamagnið ended up taking a respectable fourth place.
Ever since then he's been hard at work touring and releasing a new album. I talk to Daði Freyr between his parental duties, recording sessions and meetings with his record label. This gentle giant jovially alternates between sipping from two Moomin cups, filled respectively with coffee and tea, as he talks about his journey so far, separating his public and private persona, and where he wants to go next.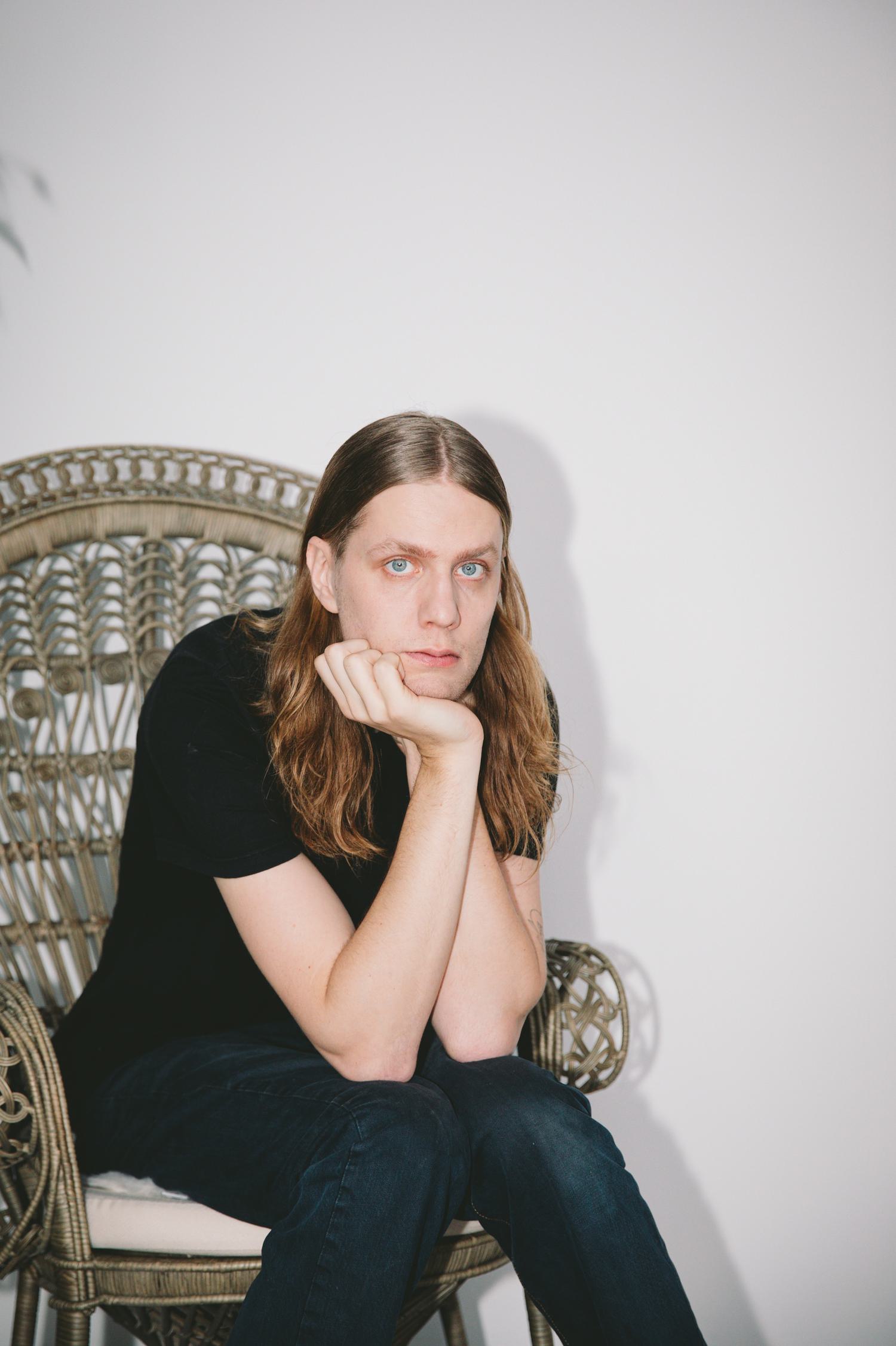 Born Daði Freyr Pétursson in Reykjavík, Iceland, he goes by his first two names (or sometimes just his first name). He grew up and spent his formative years in Denmark before moving back to Iceland as a teenager, attending FSU college where he met his now-wife Árný Fjóla Ásmundsdóttir as well as the friends that would form RetRoBot. Said band competed in and won the 2012 Músíktilraunir, Iceland's venerable Battle of the Bands contest, which has been the launching pad for many of Iceland's biggest musicians and musical groups, such as Mammút, Of Monsters and Men, JFDR and Mínus.
The band was active for two years and released the album Blackout before Daði Freyr and Árný moved to Berlin for him to pursue a BA in Music Management and Audio Production at DBS Music institute (now Catalyst). "Me and Árny really loved living here," he says smiling. "We stuck around for three more years after I graduated, only to realise we weren't ready to go home." The couple got married and had their first child in 2019, followed by a second two years later. "Now we have a tight-knit group of friends here and there's no other place that's calling to us."

While in Berlin he formed the synthpop solo project Mixophrygian, releasing one eponymous album in 2015 which he describes as a "space sci-fi saga," before reversing course and deciding to play under his own name. As himself he freely explores personal themes, talking about dreams and aspirations without having to apply the filter of an alter ego. It also means he was free to be as humorous as he naturally is. "I'm not a very serious guy," he says, chuckling. "I want to have fun. I listened a lot to Flight of the Conchords and I don't take music writing all that seriously. I'm not out making comedy songs or trying to insert jokes into them—I'm just making music that I think is fun."
While Daði Freyr seemed to ascend to stardom almost overnight on the international stage, in Iceland he was not all that big until he competed at the Eurovision preliminaries back in 2017 with his song "Hvað með það?", anglicised to "Is This Love". Dancing in his now iconic fashion, joined on stage with his band decked out with colourful instruments and now signature teal green pixelated pullovers, the live performance of the song reaches its plateau with a rambunctious keytar solo, which in the video is lowered from the ceiling as if it is a gift from the gods.
While this entry ended up in second place and thus not nabbing the nomination, it made him famous in Iceland in a way he hadn't been before. "It stopped being fun going downtown on the weekend," he says. "I became a lot more self-conscious around other people, and assumed that everyone already knew who I was. It's a strange feeling, and I still haven't gotten quite used to it."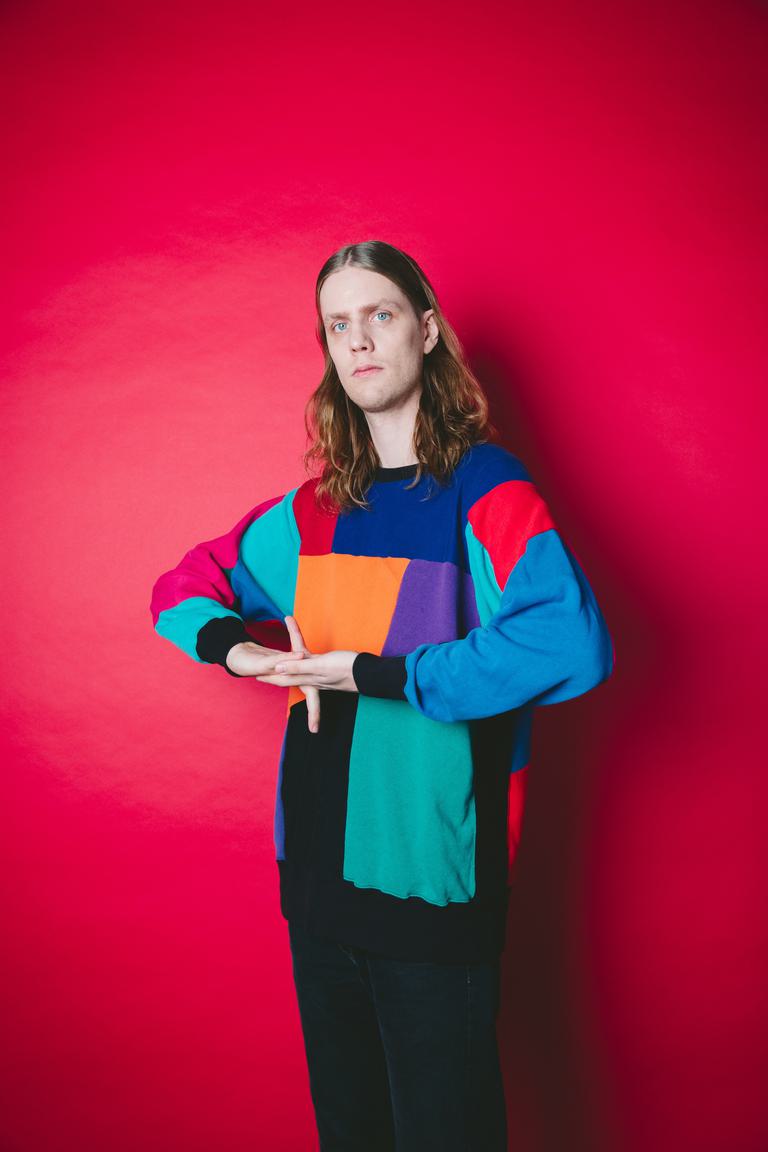 While uncomfortable, he says that it proved to be a good warmup for how his life would change after "Think About Things" blew up. The heartfelt song about his love for his newborn daughter seemed to resonate with so many during a time of isolation. Speaking about the hit, Daði Freyr nonchalantly says that its success was largely down to factors outside of his control.
"It was the most personal song I've ever written about, and it's also the most popular. It was an absolute fluke that it became so popular, and I know I can't expect future songs to reach such heights. It was picked up by a Tik Tok frenzy at the perfect time for it to spread all over. You can't replicate that with some formula to success. But what I can do is to work towards keeping the fans I've gained this way with more music and performances."
A part of dealing with this newfound fame means sealing away what is most most important to him and shielding it from the public eye. He says he writes a lot about his personal thoughts and ponderings, but that he keeps some things sacred. "Outside of writing about my life, I don't let people in. I don't post stories of personal things, I don't put my children on the internet, and I don't put pictures of myself with friends online. When I'm with them it's just for me. Honestly, I'm a very private person outside of the music I make."
Just this past August Daði released the third and final portion of his sophomore album I Made An Album. It was released in three portions, he explains, because of his temperament: "I'm really impatient and I just want to put the songs out as quickly as possible. I didn't want to release a few singles and then unveil the whole album. It's an album, yes, but each song is written as its own entity. They were all written in the same time frame and captured my thoughts at the time, and I arranged them in an order that made sense to me, but I'm not going to demand that people listen to the album in that order. You can listen to one song, then the fourth, followed by the first; it all works as far as I'm concerned."
"The access you get as an artist at Iceland Airwaves is outstanding; it really feels like the year's end celebration of the music industry."
(D.F.)
Asked if this is how he personally listens to music, he staunchly denies it. "No, I listen to albums. But personally I think it's more fun to make songs; it's so incredibly draining to make an album in its entirety and to constantly be thinking about it as one unit." He says the Mixophrygian album was an exhausting science fiction piece and that & Co. had had too many collaborations.
"Most of the songs on it had other featured artists. When I started thinking about following it up I wanted to really focus on making an album as myself, by myself and about myself. I wanted to be number one on the album and prove to myself that I could." Asked about the experience, he laughingly says he doesn't want to do that ever again. "No, absolutely not! I have to work with other people on the next one, because it's so weird to always work by yourself."
On I Made An Album Daði Freyr explores themes such as fighting to stay on point while being a tired family man on "Moves To Make"; about his as of yet inexhaustible well of love on "Limit To Love"; fighting his inner critic on "Shut Up"; and still desiring more and more fame on "I Just Want It", going so far as to want to be on magazine covers, playing huge shows and wanting "a lot of the things that come with fortune and fame".
"That's the theme of that [last] song," he comments. "And also much of the album. It's about wondering where to go next and what to reach for. I don't have any particular goals in mind," he says pausing for a bit. "I have no idea what I'll be doing or where I'll be in five years. But I know what I'm doing right now and that's playing shows and writing more music. And that's exactly what I like doing. I love performing and am always excited for a show. I think my live performance is my biggest asset, and while I've got the energy to perform the show I envision, then I'm going to keep on doing that."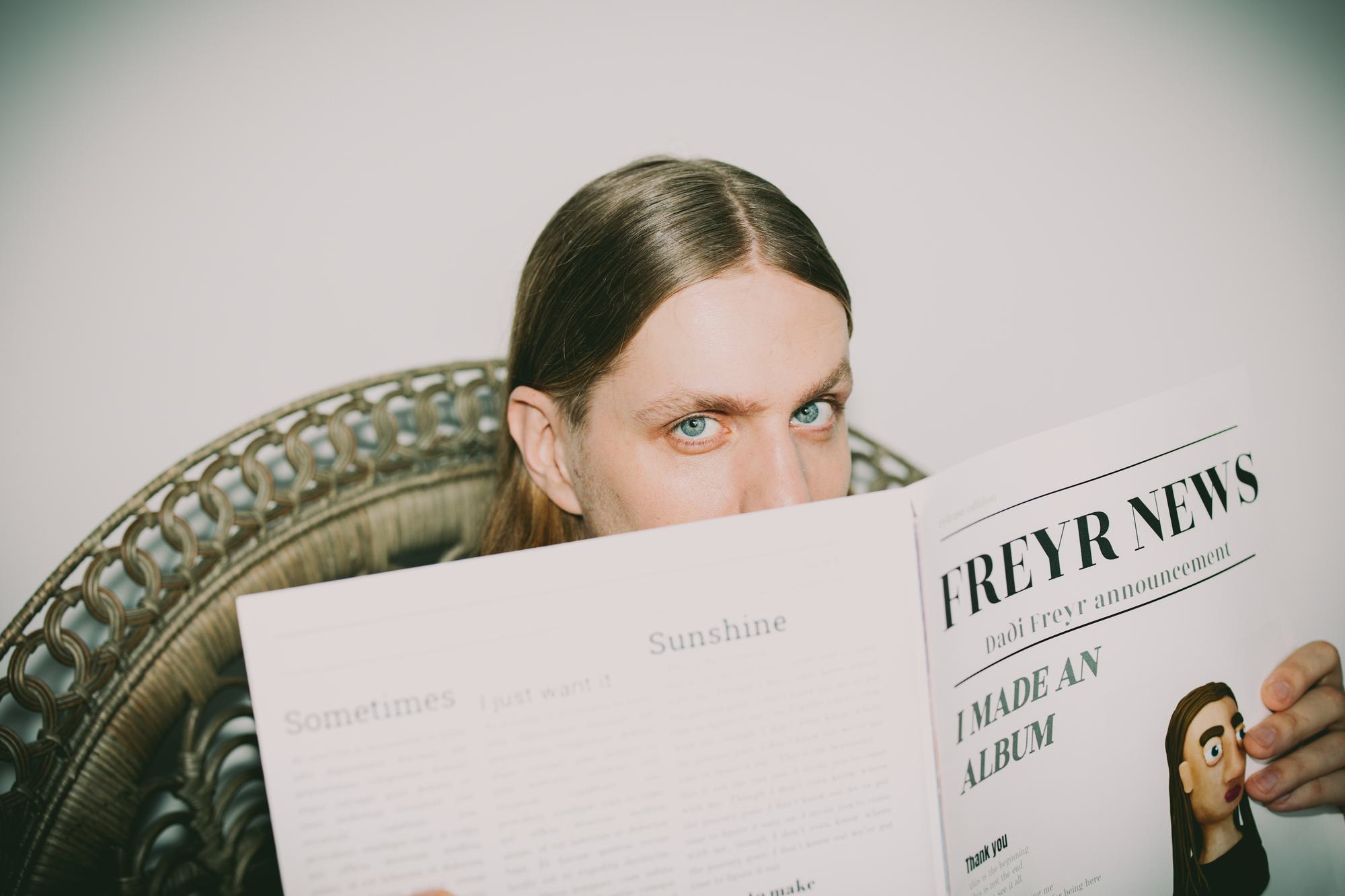 With Iceland Airwaves being just around the corner, where Daði Freyr will perform at the biggest stage on the biggest night, he says he has a lot of love for the festival. He describes it as a pivotal part of becoming a performing artist in Iceland. He went there a few times as a festival goer from 2009 and onwards before playing with RetRoBot two or three times from 2012. "I didn't ever play as Mixophrygian, at least not on the main lineup I think," he ponders. "But I then went as Daði Freyr from 2017 and onwards."

He says the experiences as an audience member and as an artist are completely different. "As a festival goer, I remember examining the lineup really carefully, curating my own evening and thinking about what time I need to show up where, what time the shows start and how quickly I need to then get to the next venue, wondering how well I need to dress and how long the queue will be. Then, the first time I played I remember seeing artists that I looked up to in the audience, watching me play. It felt so surreal, and then I got to speak to them and all sorts of people during the festival. The access you get as an artist is outstanding; it really feels like the year's end celebration of the music industry."

He fondly remembers his experience from 2013. "RetRoBot played seven or eight times that year, and some of those shows were really out there. We played at Prikið at eight thirty one morning. There were about 20 people there, having eggs and bacon. Then we played at a window display at Cintamani, surrounded by mannequins. At the time we took literally any gig we were offered, so long as we had enough time to run to the next show in time."

He remarks that he even went when he got married in 2019. "We got married at the district commissioner's, and then we went straight to Airwaves that evening. Now that I think of it, I've really missed Airwaves…"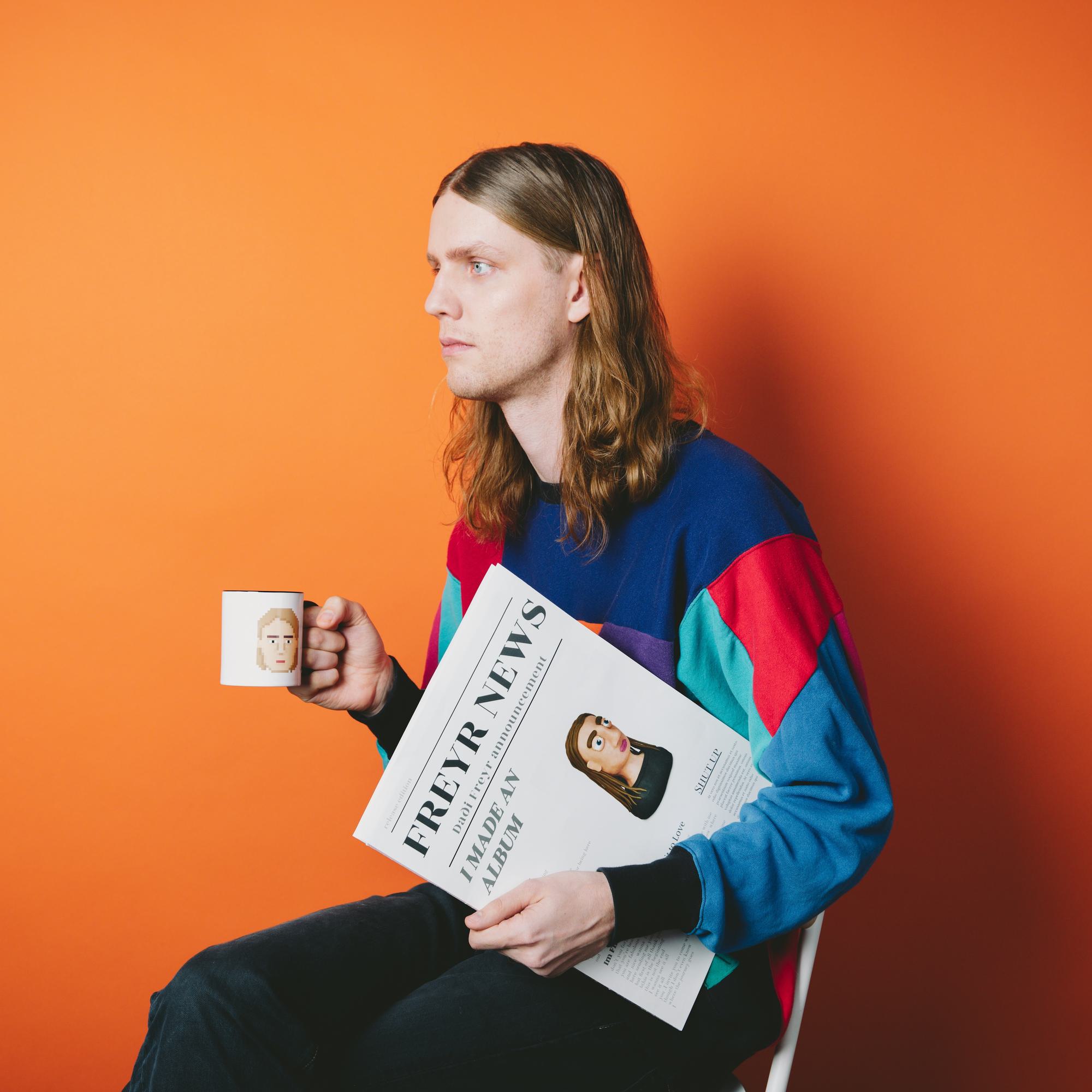 Asked about his thoughts on this year and the lineup he says he's really excited to see Ásdís, Hatari, Warmland, Una Torfa, Clubdub, Bombay Bicycle Club and Trentemøller. And as a performer, he feels very thrilled to play. "I feel like I have something to prove this time. I don't fully realise how folks in Iceland see what I'm doing, whether they care, but my show is completely different to what it was when I last played. It's really incomparable, and I've gotten a lot more seasoned as a performer."
He comments that Airwaves, combined with Músíktilraunir and Eurovision, each were instrumental in making him as successful as he is today. "We all have to get our opportunities from somewhere. Of course I'd like to believe I could've made it this far without these stepping stones, but it would have been a very different experience."
He says he took his first steps with Músiktilraunir and Iceland Airwaves, and that "Eurovision is the best advertisement you can ever get as an artist. After 'Think About Things' was unveiled, we put together a European and British tour and they were almost sold out immediately. We managed to play two nights in a row at Shepherd's Bush Empire in London, and then another two at Paradiso in Amsterdam right after. It's been a real dream."
While Daði Freyr is unsure what the local festival goers think of him, his fans known as "Daðaistar" are very excited for his show. Speaking to them, they also had a few questions like when he'd get to making changes to the Discord server, what his favourite comic books are and his favourite LEGO set.
"I use the Discord server when I want to share announcements directly with my fans. But to be honest I sort of lost control of that server; it took on a life of its own, so many people have made close friends there, and so I feel a little bit out of sorts trying to organise what is at this point their community."
Daði first says that he never really got into comic books, before correcting himself. "That's bullshit, I read a shitload of Donald Duck in Danish. Even after I moved back to Iceland I continued being a subscriber of the Danish version of the comic book. I don't personally have a favourite LEGO set, but one of my goals in life is to see a Daði LEGO set; I even know how it would look," he says gleefully.