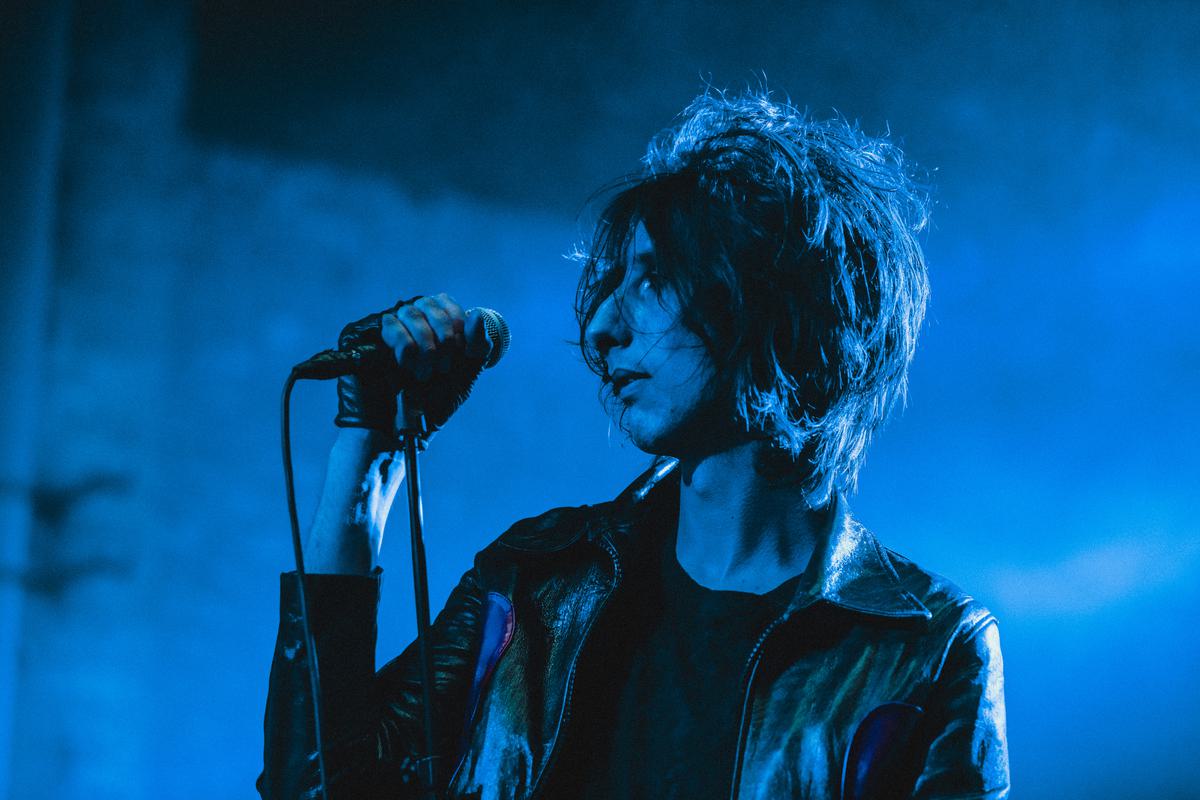 Hit The North proves Newcastle to be a city at its musical peak
11 May 2018, 15:00
The second edition of the North East's largest inner-city festival provides stellar shows from established favourites and a host of thrilling newcomers and makes use of some of Britain's very best venues.
If nothing else, Hit The North is a showcase for its home city of Newcastle. The town is alive with culture right now, elegantly navigating its history, its politics and its ongoing growth into one of Europe's overlooked cultural capitals without succumbing to facelessness and gentrification. From the bank of the Tyne to warehouses burrowed among the former industrial district, and from dingy attics, basements and bars, to historic sites repurposed specifically for the weekend, its streets are pocked with brilliant small venues, each of which shimmers with its own unique personality.
There is The Boiler Shop, for example, the same building once used by pioneering industrialists Robert Stephenson & Company as the world's first locomotive factory, now transformed into a stark and beautiful grand hall. There's the two-storied Think Tank, a grimy, gritty grunge bar nestled in the side of The Centre For Life – a combination of NHS clinics, scientific research facilities, biotechnology companies and museums – and there's the grand Victorian glory of the Mining Institute, with its gorgeous library and lecture hall both transformed into sublime performance spaces.
Across 14 such venues, each as unique and as different as the last, Hit The North hosts 160 bands with a keen eye on whose music will best suit the atmosphere of each room. With a focus on new music the line-up is dominated by relative unknowns, but nonetheless can still boast the likes of The Horrors, Circa Waves, Peace, Marmozets and The Magic Gang towards the top end of the bill. With heavy-hitters like these to bring the crowd-pleasers, and a host of undiscovered prodigies, this festival strikes the perfect balance.
How Does Hit The North Work?
Ostensibly, Hit The North is an inner-city festival in the mould of SXSW, with one wristband allowing entry to everything across the whole weekend. They're available to pick up from outside the Riverside on Friday afternoon onwards, and from then on it's a frantic three-day dash from one venue to another as the bands come thick and fast. Each of these three days has its own distinct twist, however.
Friday sees two huge opening gigs from Circa Waves and Jungle respectively – a weekend wristband gets you in but they're individually ticketed too, and as a result feel more like special, standalone shows than festival sets. Saturday is billed as 'Meet The North', with the emphasis lain more heavily on new music and small shows, while a climactic Sunday is rammed with so many big names that there's a tough decision or two in store when it comes to planning your schedule.
Getting Around At Hit The North
Hit The North's scale is such that its parameters encompass a varied taste of what the city's venues have to offer, but keep everything within walking distance. The central hub is the Riverside, which is on the banks of the Tyne and impossible to miss. From there it's a quick hike up the winding castle steps to the city centre, where the majority of the rest of the venues are located, including the other two major sites The Boiler Shop and the O2 Academy. Unlike other urban festivals there are no awkward outliers that take ages to locate with the biggest distance between two gigs walkable in about fifteen minutes.
Things To Do In Newcastle
Music doesn't kick off until around 2.30pm, which means the mornings can be spent ambling around the city's streets. Beatdown Records is one of the country's finest vinyl vendors, while the twelfth-century Newcastle Castle is just a few minutes away from the Riverside and well worth an explore. Further along the Tyne, on Sundays the Quayside Market takes place with independent artists, food traders, designers, record collectors and more selling their wares. A walk across the Millennium Bridge to the other side of the river takes you to the Baltic Centre For Contemporary Art, a converted flour mill which boasts free exhibitions and stunning views of the city centre from its top floor.
After the shows have finished there is Newcastle's famous nightlife to contend with. There are hordes of stag and hen parties in the city centre, especially on a bank holiday, but they're confined mainly to the mainstream clubs and bars and leave more characterful drinking holes like The Head Of Steam, Gotham City and the Town Wall free for an after-show pint.
How Do I Get To Hit The North?
Newcastle train station is right in amongst it when it comes to the festivals' boundaries – you'll inevitably pass its gates at least a dozen times as you hike from one venue to the next. Alternatively, there's the coach station just a few minutes' walk from there, while Newcastle airport is only 20 minutes away via train.
Who We Saw

The Horrors
At a festival like Hit The North, The Horrors (pictured above, photo by Dean Hindmarch) find themselves in an unusual position. Surrounded on a bill rammed to the rafters with unknowns and up-and-comers, they are relative old-timers as they take to the Grade II listed Boiler Shop. This is reflected in a crowd that's a little sparser than you might expect, but also in the experience that underpins their dextrous live performance. The band's newfound industrial edge exhibited on last year's album V now permeates their older material too – it's thicker, heavier and more propulsive than before. They make full use of the Boiler Shop's colossal new soundsystem as frontman Faris Badwan careens around stage, looming and all in leather. They're tremendous.
Jungle
Jungle's set on Friday night is co-opted as an opening party of sorts for Hit The North, with the 1820s-built industrial warehouse now alive with anticipation as the blazing sun begins to set for the first time this Bank Holiday. They arrive to a roar, their name displayed in enormous lettering above a colossal rig of lights that hurl forth a gaudy, golden disco glow, and slip quickly into a show that's slick, effortless and assured. They're heavy on new material too, which picks up where their 2014 debut left off. As a show it's immensely enjoyable, and as an opening act they're the perfect fit.
Glasvegas
Secret shows are always a strange one, much is dependent on just how much word gets out, and for Glasvegas' low-key gig at the Riverside it seems as though it hasn't. "Excuse me mate, do you know who this is?" asks a teenager behind me halfway through the band's biggest hit, Geraldine; it's evident that this isn't their crowd. The band are warming up for a series of album-in-full shows to mark a decade since the release of their self-titled debut, and so must power their way through album tracks too, but it's to their immense credit that they maintain such a sense of power and momentum throughout, delivering a fine reminder of just how good that record was, and of their un-blunted ongoing abilities.
Denzel Himself
Denzel Himself plays to a crowd of about seven people, venue staff included. He's also completely magnetic, lurching and lumbering about a tiny room above a pub with the frantic determination of a man as intent on delivering here as he would be anywhere else. His beats are for the most part skeletal and spare but pack a powerful punch, coating the room in a murky gloom, within which he spits with the kind of charismatic, collected calm that makes it all the more brilliantly unnerving.
Kay Greyson
Kay Greyson's name might not be known to many beyond Newcastle, but it's one that's on the lips of just about every Tynesider in the know throughout the Saturday of Hit The North. She offers bracing hip-hop that calls more on the grandiose, personality-led tradition of the US than it does the claustrophobic intensity of the UK but imbues it with something that's distinctly her own. There's no posturing to Greyson's work, only a dynamic flow and unflinching honesty; sometimes her stories are dark, and sombre, at others they're full of eagerness and joy, but in every emotional mode Greyson is authentic to her core.
Art School Girlfriend
What most stands out about Hit The North is the abundance of beautiful venues at its disposal, but fairest even of this brilliant bunch is the Mining Institute Library. It's tailor-made for someone like Art School Girlfriend (pictured above, photo by Tash Bandicoot), who plays as we shelter from the harsh heat outside in its cooler, oak-laden climes. The sun bears down through the enormous stained-glass windows behind she and her band, their set is sparse, intimate and unflinching, yet sprinkled with enough hypnotic texture to make it comforting, immersive and embracing too.
Roxy Girls
Across the weekend the Think Tank, a dingy rock bar nestled bizarrely among the city's so-called 'science village', is overtaken by the bill's grungiest, spikiest and most gnarly guitar bands. Among this host, Sunderland's Roxy Girls stand out. They have that strange, slacker charisma to them – they're awkward and shaggy but engaging too, particularly when their bassist raps the entirety of A Tribe Called Quest's "Buggin' Out" to fill time while they fix a guitar malfunction. Their springy chops of guitar and thick Mackem accents will garner immediate comparisons to their fellow Wearsiders The Futureheads, but there's an added intensity to their live set, a post-punk edge that finds them closer to the likes of Gang Of Four in both sound and breathless concentration.
British Sea Power
Like The Horrors, British Sea Power (pictured above, photo by Victoria Ling) are relative old-timers at Hit The North, and close the weekend with a late-night set at Riverside. The stage is bedecked in flora as they open with a fierce and propulsive "Who's in Control". If nothing else the set affirms just what a brilliant back catalogue the group have at their disposal, with each of their six studio albums represented in force, striking that line they walk so well between wry humour and emotive punch. There is that killer, jackhammer riff of "Lights Out For Darker Skies", the nascent delights of "Carrion" and "Remember Me" from their debut, sublime melancholy sweeps cut from Open Season, the choicest cuts from last year's excellent Let The Dancers Inherit The Party and a particularly delightful rendition of their gorgeous career-highlight "Machineries Of Joy". As they end with a staggeringly beautiful turn of "The Great Skua" two people in enormous bear suits wobble their way among the crowd for a last dance. It is the perfect send off.