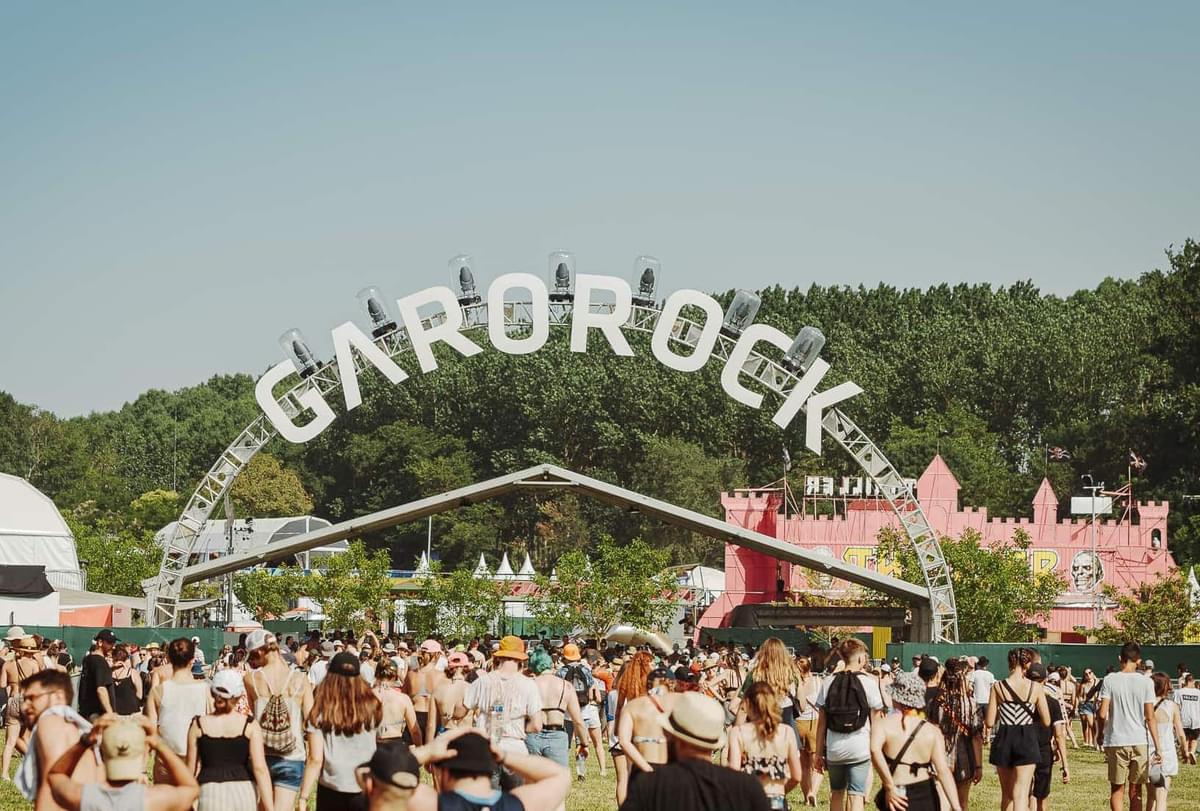 Garorock is a festival that takes you out of your comfort zone
04 July 2019, 17:14
France is renowned for culture. From the beautiful, historic Parisian streets to the vast rolling country-side with its vineyards and farms, everything feels like a Hollywood movie once you first set eyes upon it. But when it comes to the music festival scene, however, you have a few choices, but no real big hitters like the UK scene, which in itself is a blessing
In fact, if you head down south a bit, then a bit west, near Bordeaux, you will find Marmande. A French town that's mostly known for its tomato production, but once a year, it becomes host to Garorock, a music festival that breaks all ideas of genre-boundaries and just gives people an excuse to let loose and soak up that Southern French sun. It also sees more than triple the actual towns 17,949 population per day (With more than 145,500 attending this years over the weekend).
Its first instalment came back in 1997, and ever since it's grown from strength to strength. Over the last few years in particular headliners have included Muse, Foals, MIA, Marilyn Manson and further down the bill a pre-second album Slaves. So there's never really been any draw or attraction missing, that's for sure.
This year presents itself as no different, but first there's the case of getting there. Travelling from England presents only a few options given the area isn't exactly an international hub. The most common route in is via airplane, landing at Bergerac, a cool hour or so outside of Marmande.
I was staying in a house in a town fifteen or so miles down the road from the festival, so if camping isn't your scene you can easily find Air B'n'B's dotted around the country-side, or in neighbouring towns. But as you make your way through the wooded land that plays host each year to this hidden gem of a festival, tents soon begin to appear in various sections that will be lay waste by the end of the weekend to both the African sun that's appeared over France this week, and the unstoppable fray of kids letting loose.
The site itself is made up of three key stages - including a pair of twinned main stages - it's almost impossible to get lost on the site itself. The two towering stages, Garonne and Plaine, take their focal point, while directly in line with them the smaller, shipping container bordered Garoclub Deezer stage always finds itself a beacon of thumping dance and hip-hop.
Running from Thursday to Sunday, due to flight scheduling I missed the first day which played host to helmet-clad DJ Marshmello, and Brighton duo Blood Red Shoes, but the rest of the weekend made sure to make up for it, with a wealth of French acts and a curious smattering of English ones.
You tend to arrive on site later in the evening as mains acts don't start until six or seven pm, leaving plenty of time to explore the region - or laze by a pool if you're that way inclined, no noise carries until you reach the opening of the trees, its then that you find the familiar rumble of bass, and the slow passage of revellers making their way to the site from wherever they're kipping.
One of the real reasons for attending a festival like Garorock is to get a better understanding of what's happening in cultures over in mainland Europe. In France it would appear to be a whole heap of dance, hip-hop and electronic culture.
On the Deezer Club stage, Kap Bambino are the perfect embodiment of what Garorock represents for the local kids - loud and brash beats, like something out of Crystal Castles circa 2006. Similarly over on the main stages, the French influence is strong. Columbine, an act with severe clout and the ability to command the thousands of bodies before them, appear to speak on a higher societal level backed by genre-bending beats. Georgio is another figure who can bring a crowd to attention and has a certain emotional anchor to the melodies that drive his smooth French
There's something particularly enchanting and dangerous about Therapie Taxi's performance. Flitting between energy-fuelled jams and the trope of proposing during a bands set is easily over-done at this point, but pulling on stage a young lesbian couple who do so feels like a joyous culmination of all that the culture Garorock is celebrating.
Of the headliners, the first, Christine and The Queens - a France native, no less - seems rightly at home with her emotive and charged dancing, and every song is performed in her mother tongue (sadly I don't speak French, nothing above 'Oui', 'Pommes' and 'Bonjour' so what she was saying is beyond me.)
One of the more odd-names on the billing, Sum 41 prove that Garorock is about catering to all music fans. A set that delivers raucous pop-punk hits of yesteryear and metal driven jams of more recent, the predominantly dance-obsessed crowd are not only welcoming but ready to let loose at a moments notice.
Given they found their start on a French label, and they in fact played here six years ago, Two Door Cinema Club make cool work of the sun-dried crowd. Up-tempo disco rhythm of their newer material matches perfectly with the indie-driven focus of their bright earlier to begin the conclusion of short but sweet weekend.
The closing ceremony falls to both Interpol and Macklemore, with the former putting a display of emotional goodness with their effortless New York-chic cool suits (including singer Paul Banks in sunglasses for the duration). It's worth noting that the crowd was particularly barren, with the majority choosing to wait next door for Macklemore. A proof of the burden for bands at these smaller, regional European festivals, but being a lover of Interpol's timeless darkness this was a moment of joy (and yes, tears were shed).
Macklemore, as expected, brings out a show that does its best to prove he's a lot more than 'Thrift Shop', even though it receives the largest reaction of any of his back catalogue.
As the festival closes for another year, the real joy is what will await next year. Given their ability to book acts of all sizes and scales, while retaining an untouched beauty, Garorock is certain worth a bet if you're wanting to get immersed in a different culture while knowing you'll be able to see some of your favourites acts out of their comfort zone.
Get the Best Fit take on the week in music direct to your inbox every Friday