The instrumental of The Killers' "Mr Brightside" is blaring over the PA. My drink – a double that cost me Student Union prices – is nearly emptied as the first verse kicks in: a mass of Canadian tourists and amused Francophone locals united in yelling Brandon Flowers' quintessential millennial break-up song. My new friend Stephen commands the mic like a veteran, punching the air and belting the hooks to whoops from the assembled. At some point, a conga line starts.
I am having an excellent evening.
I'll be honest, this was... unexpected. My love affair with Canadian festivals started at one of the country's flagships – the world renowned, 500-gig strong Montreal Jazz Festival. A sophisticated affair, it straddles the city's most prestigious venues for 10 days of jazz and jazz-adjacent acts, plus copious chin-stroking.
Uninitiated, I thought FME – Festival de musique émergente – didn't sound like a far cry. A modest roster of discerning up-and-comers (Dominique Fils-Aimé, Jeanne Added, Sessa) and some more established acts (The 5, 6, 7 8s, … And You Will Know Us By the Trail of Dead), with a heavy slant on repping local talent, and a slew of venues across a town to host.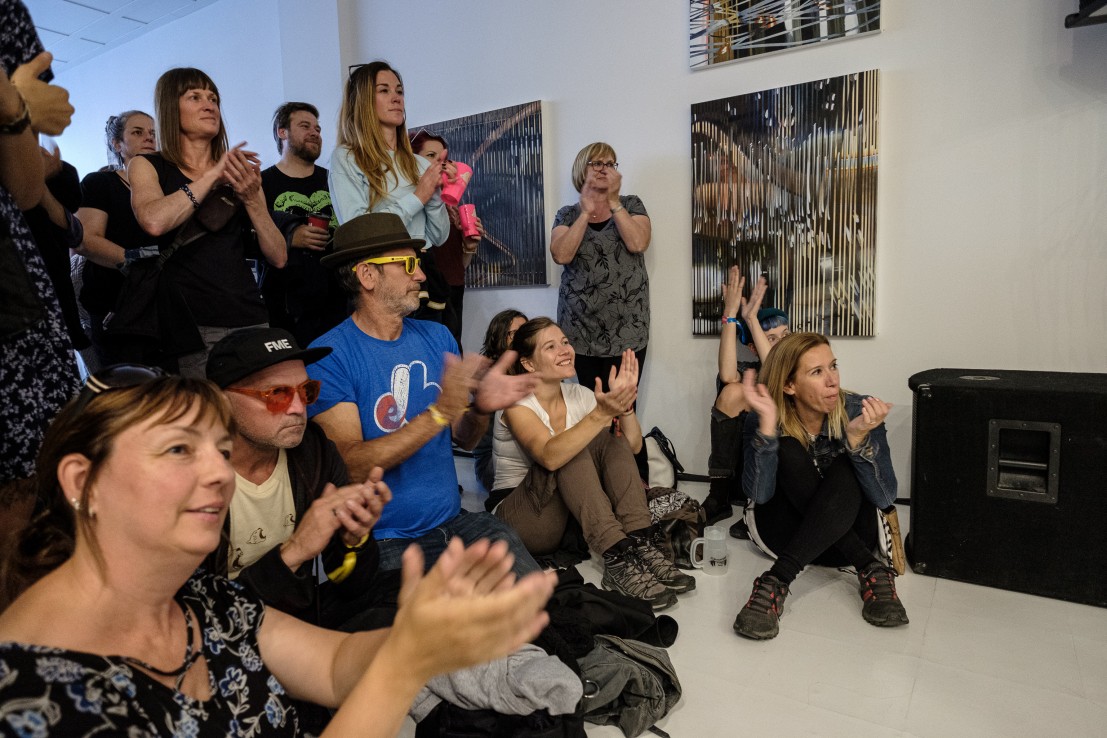 But Rouyn-Noranda is incomparable to Quebec's major cities: the sleepy mining town is encircled by miles upon miles of wilderness, its shop signs unironically retro and its residents mostly French-speaking. A Canadian friend asked me, innocently, when I told her I was headed to FME why there was a festival there: after all, you'd expect a town like Rouyn to buckle uncomfortably under the weight of thousands of out-of-towners and "tastemakers". I was told by the festival's ex-pat PR Danny that the organisers were simply sick of great bands skipping the sticks to play in Montreal. And, in practice, the town is surprisingly equipped for the deluge: due to its now-established position in the Quebec arts scene, it holds a number of unique and vibrant venues, plus enough local curiosities – the 24-hour poutine joint, the gorgeous lake – to make hours not spent in the pit highly entertaining.
The journey to Rouyn is a long one, especially if you're coming from Europe. I took a plane from Heathrow then an eight hour coach to the festival. It's a relief that the journey is at least beautifully scenic, winding through pine-dense forests, and lakes spotted with Silvanian Families-esque cottages. Arriving at Rouyn, I was surprised at how quiet it was: despite welcoming thousands of punters to its door each year, my impression – at least during the daytime – was of wide, carless streets, the occasional bike orbiting the lake, and cafes populated almost entirely by international journalists making use of the free Wifi.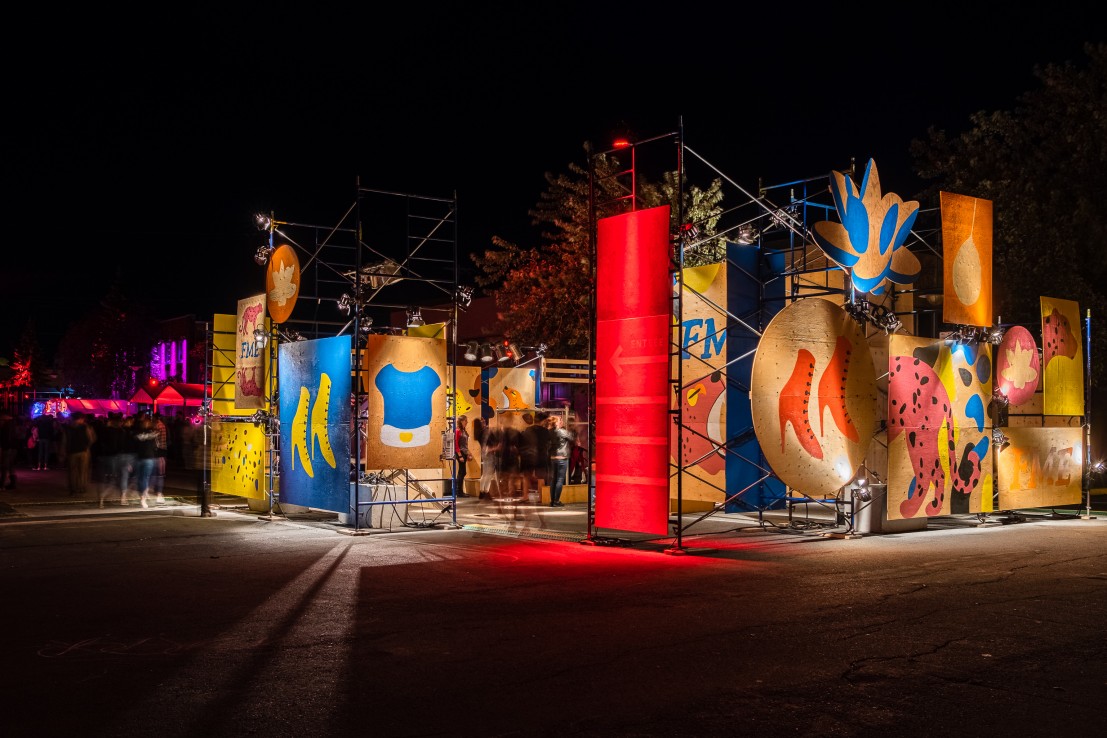 Music at the festival runs from Thursday to Sunday, with gigs held in churches, restaurants, dive bars, sticky clubs, converted garages, seated, chandelierd theatres and even car parks. Each year a super-branded main stage is erected on 7th Street to host the biggest headliners, but the atmosphere here felt designed to give those from the 'burbs A Festival Experience – something I was happy to shun for cheaper beers and better (perhaps a strong word) loos. In doing so, I also discovered just how much electrifying talent Quebec has to offer: from clattering post-punk to crooning balladiers, the province is an orchard of ripe, rare musical gems.
And, as with any decent festival, the music is only part of it. An ignorant tourist who flunked my Year 9 French exam, I was worried about spending four days alone in a remote town with no roaming internet. But a few days in, and Rouyn had me enchanted: the open-armed locals manning the bars, pubs and restaurants; the unusual collection of outlets and points of interest dotted along the main drag (want a shop that sells copious amounts of Playmobil and vinyl? I didn't think I did either); the venues themselves – some resplendent in vintage glamour, some ruddy and regional and full of soul.
I caught a number of stellar headlines – La Force, The 5,6,7 8s, Loud amongst others – but these are the six local gems who stole the weekend.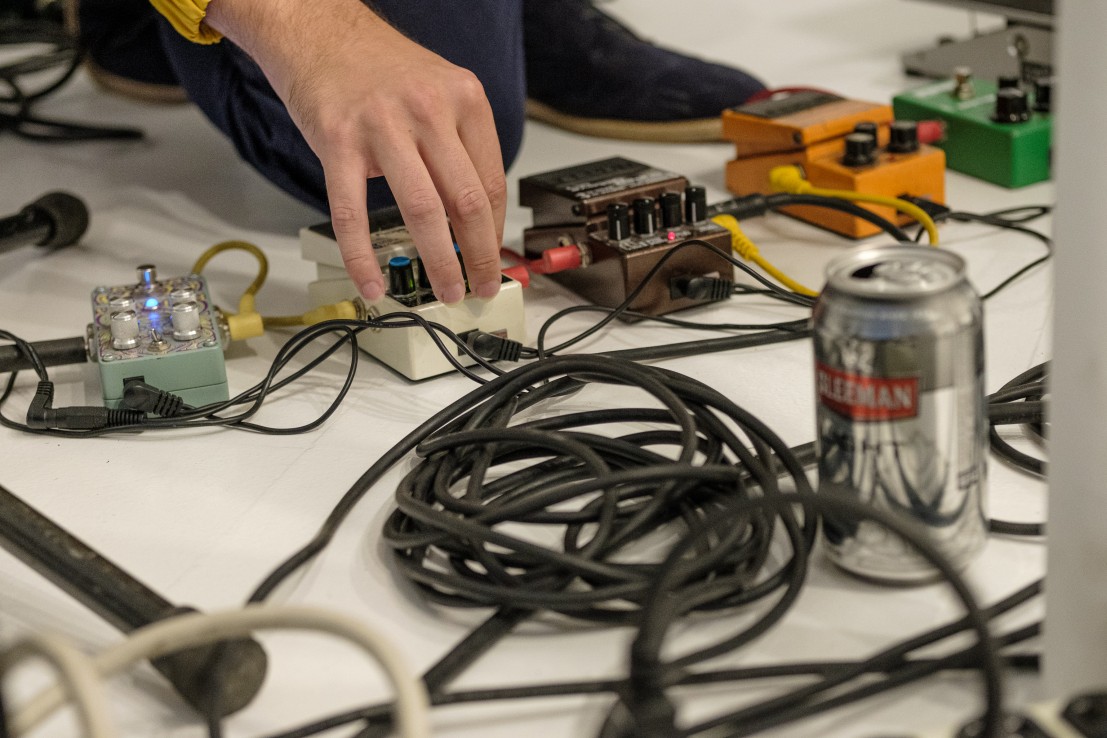 Branddo
My introduction to Branddo speaks to something about FME: I was walking down Principal on my way to another gig, when, floating on the air, sparkling mallets and thrashing axes made me change track. I ended up at Le Cachottier – a bistro bar kitted out with a diddy stage, sitting diners squished next to beanie-wearing head-nodders and the band's faithful merch team. A spider-web of netting had been pinned up to frame the stage, which poked out under the restaurant's awnings into the street. Cute.
Entertaining the full house was Barrdo: actually the project of just one man – Pierre Alexandre. His live set up was hefty, with guitar, drums, keys, bass and one guy with an extensive pedalboard whose job it was just to make noise (always a good sign). The set was obscenely diverse: I'd caught them at a Tapes and Tapes-esque rolling rock moment, but they volleyed from psyched-out surf punk, to drone, to wonky pop with flair. Barrdo embraced repetition and distortion throughout, with heady peaks and loose outros where headbanging would have felt appropriate, were the setting not so neutered. And four part harmonies gave everything – even the sets' grizzliest cuts – a Beach Boys romance: at one point, the gang, in matching t-shirts, gathered around their band leader to serenade us a'capella with what sounded to me like a French lullaby. Magnifique.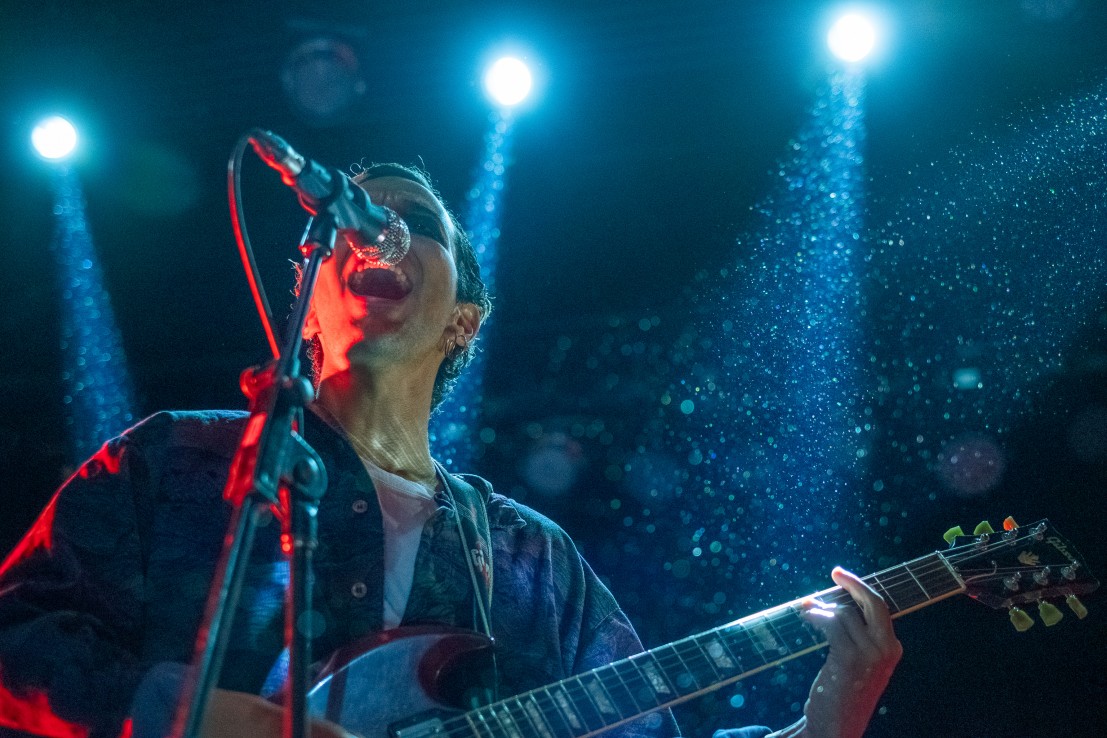 Adam Naas
I lost my breath briefly walking into Le Paramount. In such a small town, it was jarring to see such decadence: its walls lined with velvet, and its ceiling strung with chandeliers and a humongous disco ball.
I lost my breath for a little longer when Adam Naas appeared from backstage. A friend at a too-early hotel breakfast had tipped me off by playing me about 30 seconds of his recent single, and knew it was my thing – but reader, how much. Petit and panda-eyed, he slid into the literal spotlight and unleashed a powerful, pitch-perfect falsetto that shook the room, wrists twirling like a ballerina, expressions exaggerated like a kid in his first-year nativity. After a brooding, SPDS-based opener, he slipped into single "True Intimacy", a slice of 80s funk-pop that showed off his band's chops – thumping bass and soft-yet-spiky harmonies encircled Naas' crooning lead vocal. Sex was never far from reference: Naas got his band to introduce themselves with orgasmic cries, and at one point, dropped down to his knees and got very intimate with his microphone.
So far so Prince, right? And the Purple One is an immutable influence on Naas. You can hear it in the hiccup of his high notes, the overwrought sexual drama in his lyrics, the androgyny he wears so well. But Naas isn't a tribute act: he's a lot darker, a lot more Twin Peaks, than Prince ever was. This was the strongest performance I caught at FME – a tall order, given the competition.
KT Gorique
It was a bit of an endurance test waiting for KT Gorique's gig. Billed just before Loud - one of Quebec's premiere Francophone exports - I slid my way to the front of the main stage to be greeted by a gaggle of school children, drunk teenagers and the occasional perturbed-looking guardian. This was the provincial Festival Experience I was talking about - everyone high on the rarity of such an opportunity – and I guess it should have been a joy to watch. But after the second spilled pint and the third, bizarre chant of "Hey Baby", I was considering noping out.
I'm so pleased I didn't. KT's performance was electrifying: a bouncing ball of flying dreadlocks and camo, she took a set of old school-influenced hip-hop and injected it with an energy to match her near-hysterical audience. Hits "Kunta Kita" and "Singulier" displayed her charisma and expeditious flow, but she dropped into a cheeky bit of double time halfway through her set, even introducing some trap near the end (albeit with an apologetic introduction). On every technical XP, she was better than the boys, making headliner Loud – whose diminutive DJ-and-emcee set-up seemed dwarfed on such a large stage – seem phoned in by comparison. Really, really worth the wait.
Victime
One of the biggest strengths FME is the extremity of its eclecticism. Having been spat out from the main stage after Loud, ears ringing from the sound of a thousand yelling adolescents, I hot-footed approximately 300 meters to sweaty haunt Cabaret De La Dernière Chance to catch guitar-wielding troublemakers Victime. This venue was one of my faves at the festival, with a scuzzy wood-panelled hangout with a cosy dancefloor, cheap booze and arguably the festival's most interesting clientele.
Victime are a Francophone three-piece taking their cues from post-punk and the pointier bits of Riot Grrrl. Clambering to the stage just after midnight, they sprang into action with squealing distortion and disjointed rhythms. Bassist Laurence Gauthier-Brown and guitarist Simon Provencher competed for the spotlight: Laurence with her yelping sing-talking and an intense stare that broke delightfully between songs for effusive displays of gratitude; Simon with his rainbow of sticker-covered axes and alarmingly wide-legged stance. In the back, Samuel Gougoux kept the beat with Janet Weiss-esque chops, each song a mixture of defiant politicism and unbridled joy. The crowd was manic – and visibly queerer than other shows I'd caught (where had all the asymmetrical hair and stick-and-pin ink been hiding?). After a quick and dirty tour through their back catalogue, Victime ended with at least one broken guitar strap and a wall of distortion, Simon wriggling on the floor and the pit heaving with sweat. What a riot.
Naya Ali
Of all the artists I caught at FME, Naya Ali was the only one I'd invested in beforehand. From the very first line up announcement, her hypnotic, heartfelt brand of rap – as showcased on debut EP Higher Self – has been stuck on rotation. But when I turned up to see her, I was mildly concerned: the venue, sticky local nightclub Evo-Lution Musique, with its mezzanine first floor and piano-key stairs, felt under occupied, and the 5pm timing of the slot wasn't likely to bring walk-ins.
The thing is: if you're this good, you can magic a vibe out of anywhere. As soon as Naya came out – dressed in a tight, monochrome ensemble I can only describe as "Stormtrooper chic" – she beckoned the timid crowd forward, and promptly slammed into a sub-wrecking rendition "Out The Dirt". Ali's magnetism is potent: there was a girl actually swooning in the front row, and by the end of the set, our protagonist had abandoned the stage in favour of the pit, commanding the dance as she spat a precise and mighty rendition of single "Get it Right".Possibly the smallest turn out I saw at FME, with the biggest energy of the weekend.
Elliot Maginot
On the last day of the festival, I bumped into new-found friends roaming through the town's shut-down centre – the perk of festivaling in such small quarters – and followed them one of FME's more out-of-town stages. Based on the edge of the lake, it was a clean, wooden structure with a dinky bar and an equally dinky stage, fringed by long grass. The crowd consisted of mostly families: parents wiping ice cream from toddlers mouths, and aunts and uncles baring their forearms to catch the last rays of the Canadian summer.
Like too many of the artists I caught at FME, Elliot Maginot is, somehow, not really known outside Quebec. With other natives, you could argue they're too spiky, too avante garde – but not here: Elliot makes extremely compelling, radio-friendly pop, somewhere between the fist-pumping ballads of Springsteen and the big-hearted anthems of Bryan Adams. He turned out a performance that simultaneously melted mums and got two-year-olds bopping in their onesies: as the rip-roaring lick of "Still Alive" opened his set, and shivering keys faded into the periphery, the audience was rooted.
Maignot's live arrangements were record-perfect, with juicy, layered vocal harmonies and abundant reverb making the ensemble seem 10 feet tall. As the sun drooped in the sky above us, and kids tripped their way over the decking, his set reminded me of the redeeming qualities of pop – my leaving-day blues (and hangover) somehow evaporated.
The rest of it
FME's various stages fire up mid-afternoon, so you get oodles of time to soak up the town before heading to a gig. One discovery worth making is the 'VR garden', an installation of various headset-based activities hosted in two anonymous rooms just near venue Diable Rond. I arrived with a sore head on Sunday morning to a upsettingly cheery throng of pink-shirted FME stewards, who steered me between chairs, sofas and cushions to the works on display. Amongst them, a spacey virtual drum kit, an abstract film noir set in a monochrome universe, and a 360* performance of Beethoven's Fifth set to electronic fireworks. Ace.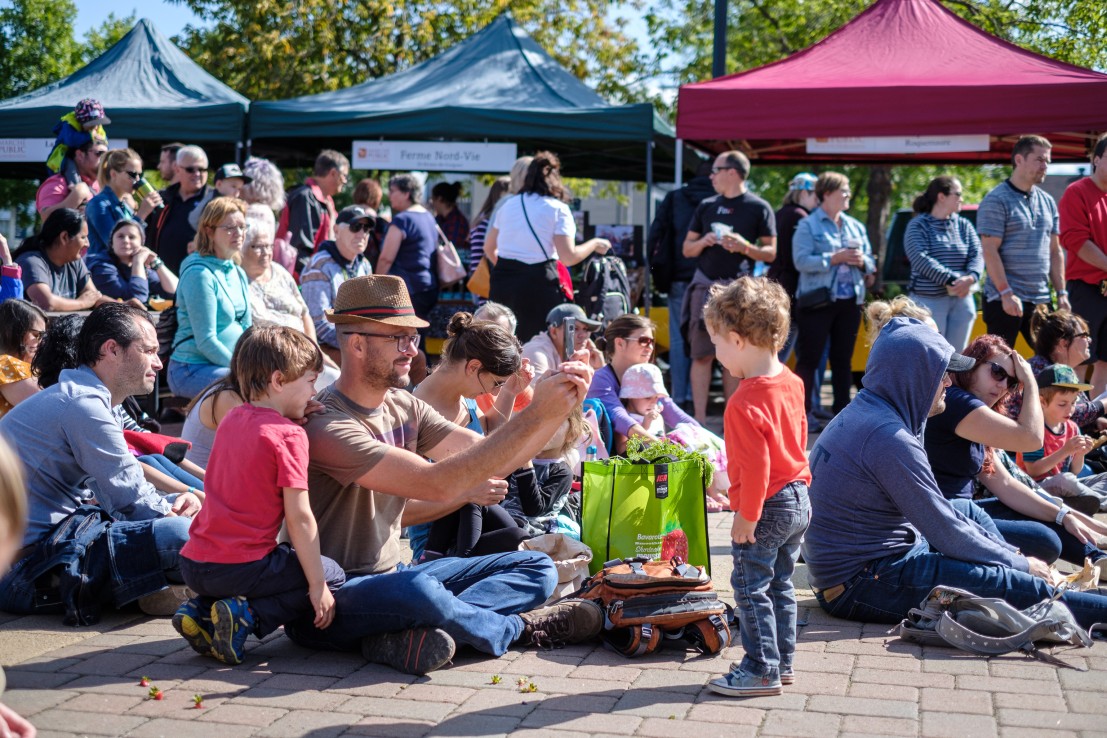 Hanging around the town you'll find some decent antique and thrift shops, too – though be aware that almost everything shuts on Sunday. There's also the Blockbuster – fully in use, and curiously stocked with a large amount of fancy dress gear and by-the-litre liquid detergents – if you want a terrifyingly realistic flashback to 2001. But, if you can afford it, hiring a car will expand your options greatly. On the Saturday, we got a lift to the local(ish) animal conservation centre and met Chewy the Porcupine, white wolves, owls and actual Canada geese. Elsewhere, friends had a fab time kayaking in Aiguebelle National Park. With such rampant wildlife on your doorstep, it'd be a shame to not meet a least one moose.
On the food front, FME is actually pretty good in small-town-Quebec terms. For the healthier amongst us, Horizon Thai does a yummy – if pricey – mostly veggie menu, and high street veggie joint Freshii offers massive Buddha bowls of grains, tempeh and salad to offset your festive indulgence. Quebec-based chain Habeneros also scored highly with our clan for great Mexican food. That said, if you just want to lob carbs at your face, you can't say fairer than the 24-hour poutine joint positioned cleverly just meters from the main stage.
And finally – whatever you do, spend at least one evening at Bar Des Chums for karaoke. From the C- Simpsons graffiti on the toilet doors, to the 'how cheap???' drinks prices, this hospitable locals club is run by a gorgeous, entirely French-speaking crew, and was a guaranteed party hub every night of the week.
The verdict
Let's get the hurdle out of the way first: FME is a serious hike, and some people just won't want to brave the planes, trains and automobiles required to get there.
However, if you're a confident driver and you fancy seeing 'The Real Quebec', FME offers a seductive clash of cultural exploits: punk gigs, outdoor pursuits, fringe arts... and well-stocked DVD rental stores. The province is incubating some of the most vibrant and boundary-pushing artists I've had the pleasure of nodding/dancing/moshing with, and – as so few will ever, sadly, make it across the ocean to us – it's the least you could do to visit them in their thriving natural habitat.
FME ran from August 29 to September 1 2019.