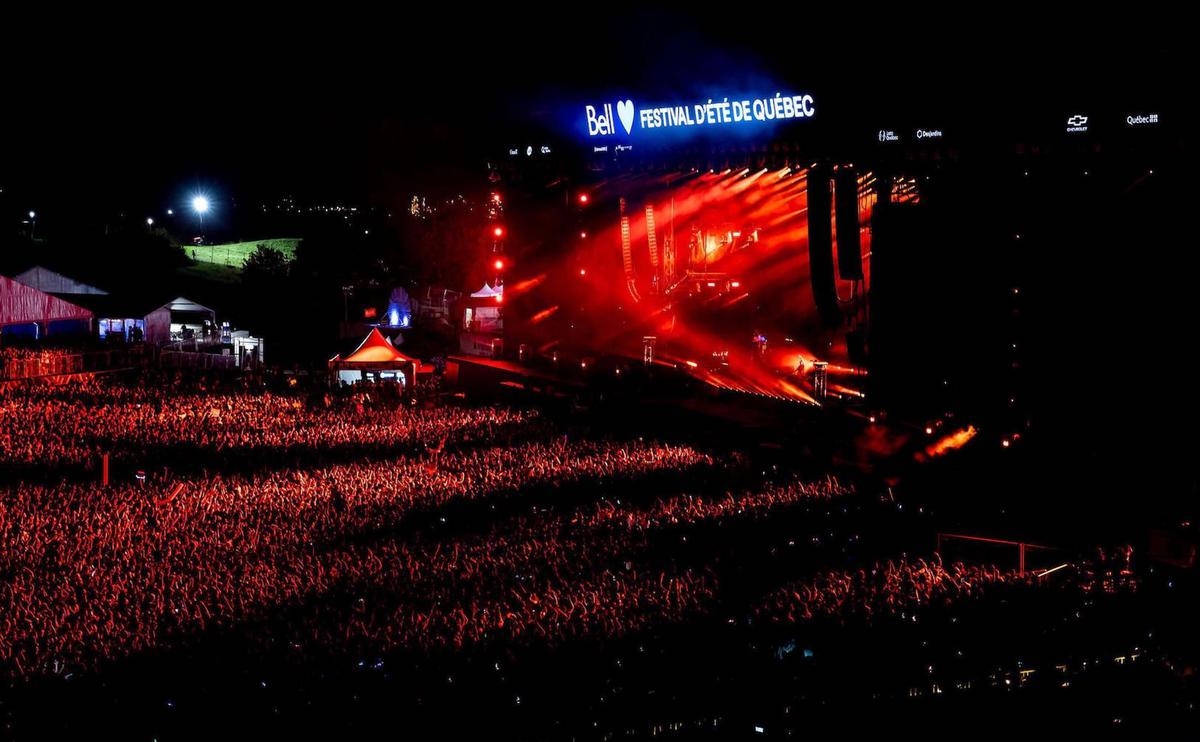 Festival d'été de Québec is a gloriously grand grassroots affair
20 July 2023, 22:00
Across a behemoth eleven days, four stages, and three sites, Festival d'été de Québec is an undeniable showman's feat, despite maintaining a quintessential underdog charm. Thomas Turner reveals the dichotomies that give its 55th edition such a joyful character.
Proving that life may well start in your fifties, the 55th annual edition of Festival d'été de Québec offers a programme full of vim and curatorial flair, with Québécois favourites like Les Cowboys Fringants and Les Trois Accords brushing shoulders with Illenium, Pitbull, Foo Fighters, and Lana Del Rey.
Set amidst the sprawling centre of Québec City, Festival d'été de Québec is a festival made complete by its surroundings and, in turn, has become an unshakeable component of the character of the city itself. Lovingly abbreviated to FEQ, the eleven-day undertaking has been a triumphant source of pride for its inhabitants over the last half a century. Initially the brainchild of a group of local entrepreneurs and artists hoping to showcase the city's shining potential, the festival now annually welcomes hundreds of thousands of visitors to bask in the talent of over two hundred acts.

An idyllic slice of cosmopolitan utopia overlooking the St. Lawrence River, Québec City is the capital of the French-speaking province Québec, and the oldest city in Canada. Comprised of two halves - one modern, business-orientated, and teeming with arts, restaurants, and drinks spots, the other antiquated and protected by UNESCO as a world heritage site for its rich history and undeniable chic - the city's districts are sewn together with a bubbling potentiality at their seams. With both areas within a stone's throw of each other, it takes just a few days to acclimate to the cultural offerings and secret treasures of the city.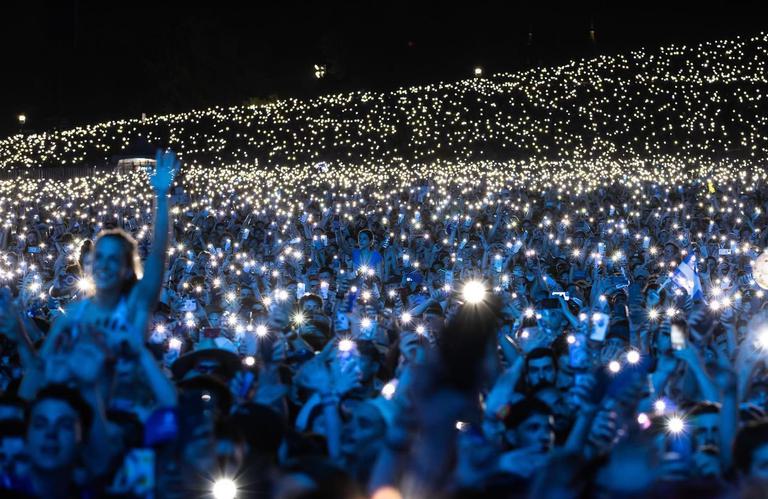 Photo by Sébastien Dion
As reliant on the beauty of its setting as the legions of talent it attracts with its proven success, FEQ spills across three sites. The smallest, Hydro-Québec Stage, hugs the walls of the Old Town; the middling stages Sirius XM and Loto-Québec are conjoined, with acts playing consecutively and the crowd pivoting between sets to secure the best view; and the largest, the Bell Stage, is nestled among the Plaines d'Abraham, an eighteenth-century Anglo-French battlefield turned into a glorious 240-acre stretch of parkland central to modern city life.

Screaming in blues, reds, and pinks, FEQ branding entirely dominates the city for the duration of the festival, vibrant against the cool stone of Québec City's fortifications. Pop art banners are smattered on lampposts, in museum hallways, and even in the Arrivals lounge at the local airport. Life north of the States seems to pause momentarily, as if doing anything else with the first two weeks of July is impossible, and FEQ becomes a sort of terminus all roads must lead to. For all extents and purposes the city's central street, the Grande Alleé, becomes the festival's strip, bounded with restaurants, bars, merch trucks, photo stations, giveaway spots, and even the godsend of a foot massage stand.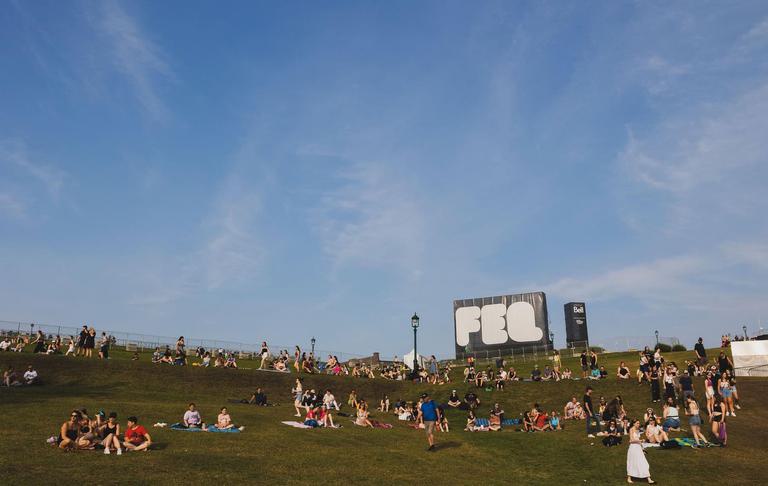 Photo by Phillipe Ruel
With a music history as rich as its political one, renowned artists are one of the biggest exports of Québec alongside the maple syrup and caribou paraphernalia that line the souvenir shops. From pronounced Québécois chanson singers like Leonard Cohen and Jean Leloup, to the rock and pop-leaning Arcade Fire and Cèline Dion, the area has always been known for producing, as well as fiercely supporting, an assorted and compelling roster of artists.
Split among eleven evenings (unprecedentedly extended to twelve for 2023 after a bout of bad weather led to the cancellation of one of the nights), the curation of FEQ's line-up similarly kept diversity in sound and artistic origin at the very foreground of intentions. With four stages to toy with the schedule was drawn up banding artists together by genre, so all of similar leanings would play in the same night at the same site. Creating a seamless audience-focussed experience, this let fans maximise their time with the acts they felt most comfortable with.

Therefore, whilst the schedule may have demarcated its running order in days - jour 4 (day 4), jour 5, jour 6 heading the top of the website and brochure - the crowds affectionately came to nickname these "country night" or "metal night," able to pick their poison each day and take a heavy dose. They also got involved in the theme of each evening, with technicoloured neoprene and glitter galore on show at the EDM-fronted sets, and Pitbull greeted by a sea of faces in bald caps and sunglasses for his headline slot on "Latin/Pop night."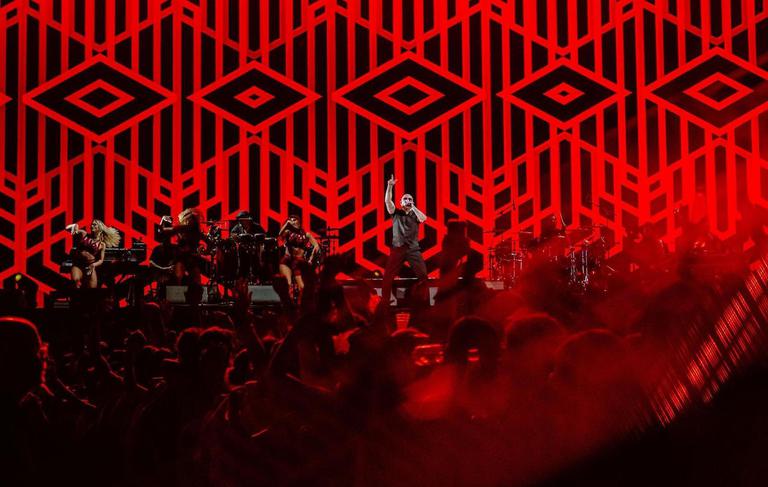 Photo by Stéphane Bourgeois 
Alongside its main stages and headline acts, FEQ is a kaleidoscope of many other shades. True to the festival's original proviso of underlining the beauty and tourist potential of the area it is held in, eight free pop-up concerts were organised across the week and a half, with artists from the FEQ line-up bringing small and stripped-down sets to unusual locations around the city. Occurring in the middle or late afternoon, this served the perfect warm up for a festival that didn't start proper until 6pm each night.
This was then book-ended with Extras FEQ, an extra helping of festivities held in the Québec Armoury after the stage lights had dimmed every evening. Bringing waves of techno, disco, and electronic into the late hours of the night, the historic hall became a boxing ring of writhing bodies dancing to the projections and pulsating beat of the central DJ stand.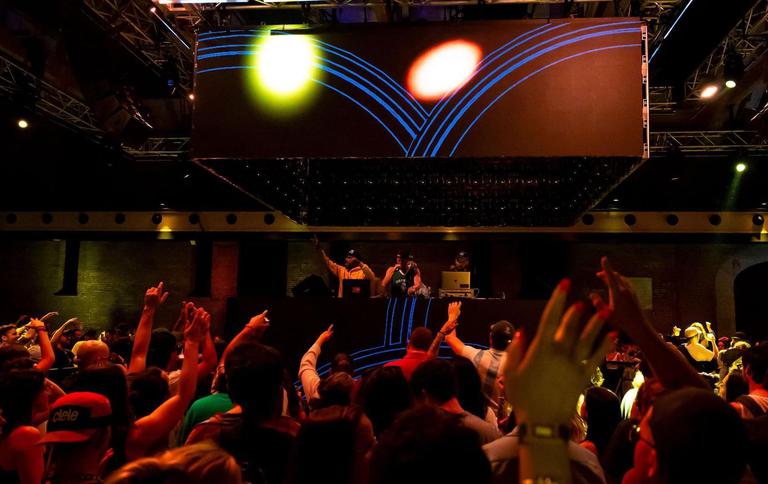 Photo by Phillipe Ruel
Attracting world-respected talent, and offering gargantuan feats of engineering and organisation, it still remains the people of the city that ultimately transform the Festival d'été de Québec to the heavily-adored and appropriately-adorned, FEQ. No matter the glitz and grandness of the event, the festival swells with a genuinely intimate charm. Everyone is so proud of their city that the streets quite literally smile back at you, oozing with a canonically Canadian syrupy sweetness.

During Lana Del Rey's set, a clear highlight which moved buoyantly between her usual thronging moody-pop and her twinkling excitement to be there, a lady in the crowd next to me took a genuine interest in the fact I was reviewing the festival. Seeming a little distressed by hearing a British accent so far from the UK, she provided various recommendations for what to do with my time in the city, before telling me with a laugh and a wink that Québec City "is magnificent" and that it "needs to be kept an unknown secret."
Québec has a slogan in French, "je me souviers" (or "I remember"), affixed on statues and license plates across the province. Although various locals I asked about it found it funny, claiming that they didn't know what they should be remembering specifically or claiming everyone's memory in the area was too bad, it struck me that the capital city felt steeped in a genuine interest in its own past, cultural footing, and current vantage point in the world. FEQ's historic footprint on Québec, for instance, is clearly considered with immense reverence and precedence by the population.
In fact, going to the festival has always been something of a right of passage and a huge part of the area's culture. On a cicerone walking tour of the city, it was moving (if slightly anachronistic) when one of the guides dressed in seventeenth-century garb recounted seeing The Who, Elton John, The Rolling Stones, and Billy Joel in iterations of the festival past. He explained that he was grateful the same experience was still afforded to younger generations, and motioned that it is an experience of unbelievable community for the people of Québec City.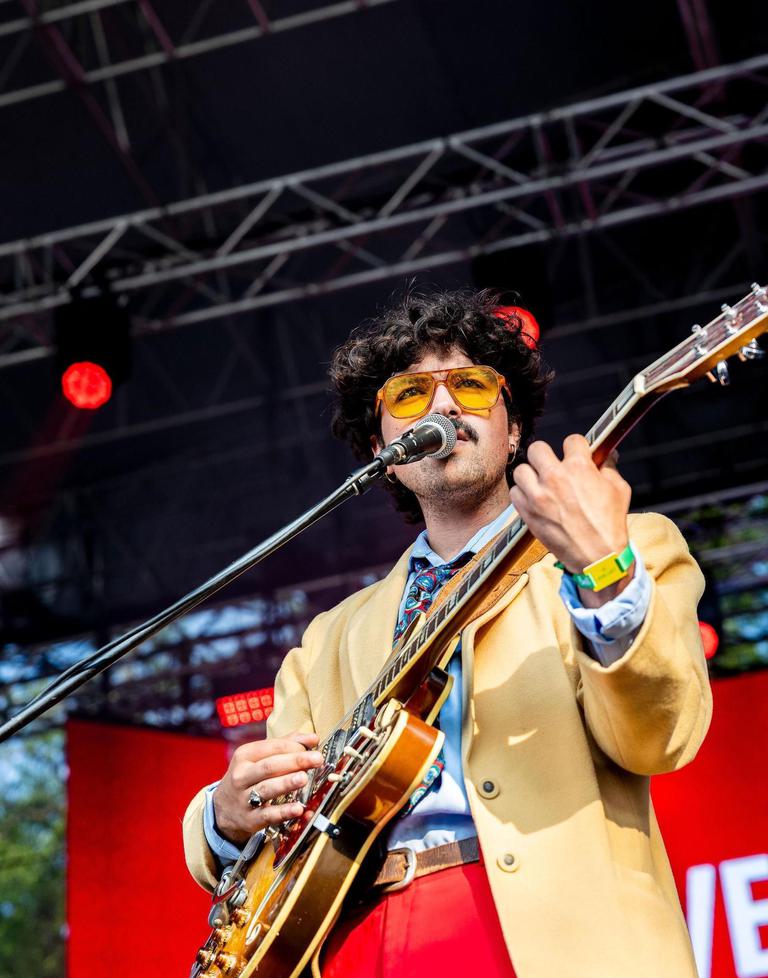 Photo by Philippe Ruel 
A proudly French-speaking province in otherwise English-speaking Canada; a charmingly preserved and still-fortified Old Town perched next to a festival with around 1.2 million admissions over its eleven day stretch (100,000 of which turned out in swathes to ogle Pitbull storming through his hits on a former eighteenth-century battlefield); the crunch of metal juxtaposed with lycra-laden electronica, and fragrant folk-pop on three different stages in one evening. FEQ is a success because of the curious and one-of-a-kind contradictions that comprise its making.
The most impressive dichotomy at the heart of the festival though? How it so cunningly maintains its mass commercial appeal with, but also notwithstanding, its idyllic underdog charm. Surmise to say that Festival d'été de Québec is a gorgeously grassroots affair: created for the enjoyment of the province's population, curated with a well-conceptualised human touch, and consummated by the wonderfully joyous people of the city.