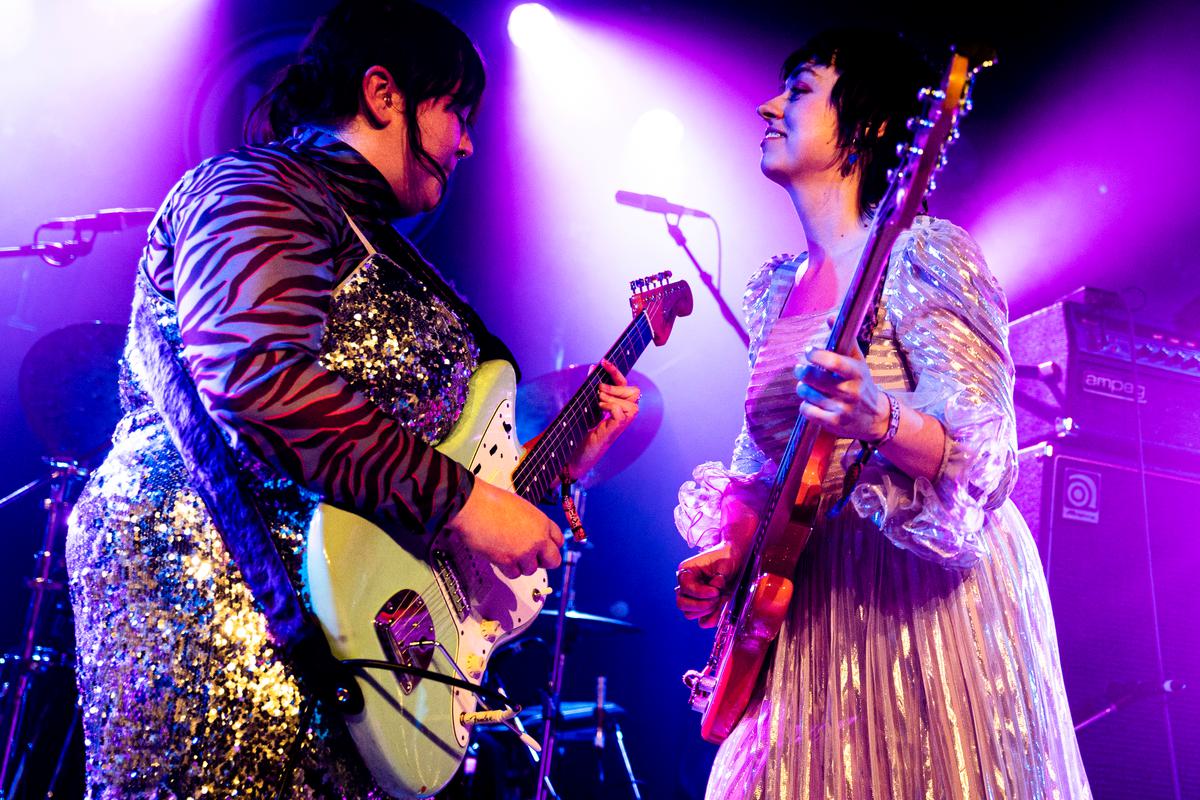 Eurosonic returns stronger than ever
25 January 2023, 11:15
After a two-year hiatus, the Groningen-based new music conference returns to showcase a broad and spectacular range of artists with comfortable ease.
From traditional Spanish licks to Welsh-language punk-rock, ESNS23 unites Europe's emerging artists with music industry and fans alike for three nights of thrilling, inspiring and illuminating new music taking in a wealth of talent from across borders and genres.
While the past two editions were held online (you can guess why), this year's conference was full steam into back to back panel talks and showcases, with little hangover from the preceding break. ESNS, or Eurosonic if you're feeling familiar, is primarily focused on bringing together the live side of Europe's music industry, from festival bookers to agents.
Cemented with their Music Moves Europe Awards, the festival nominates fifteen outstanding artists from countries across Europe who they believe will have break-through success on this year's festival circuit. This year's winners were Schmyt (Germany), July Jones (Slovenia), Oska (Austria), Kids Return (France), and Queralt Lahoz (Spain). The prestigious Grand Jury Prize was awarded to Sans Soucis (Italy) and the Public Choice award went to Jerry Heil (Ukraine).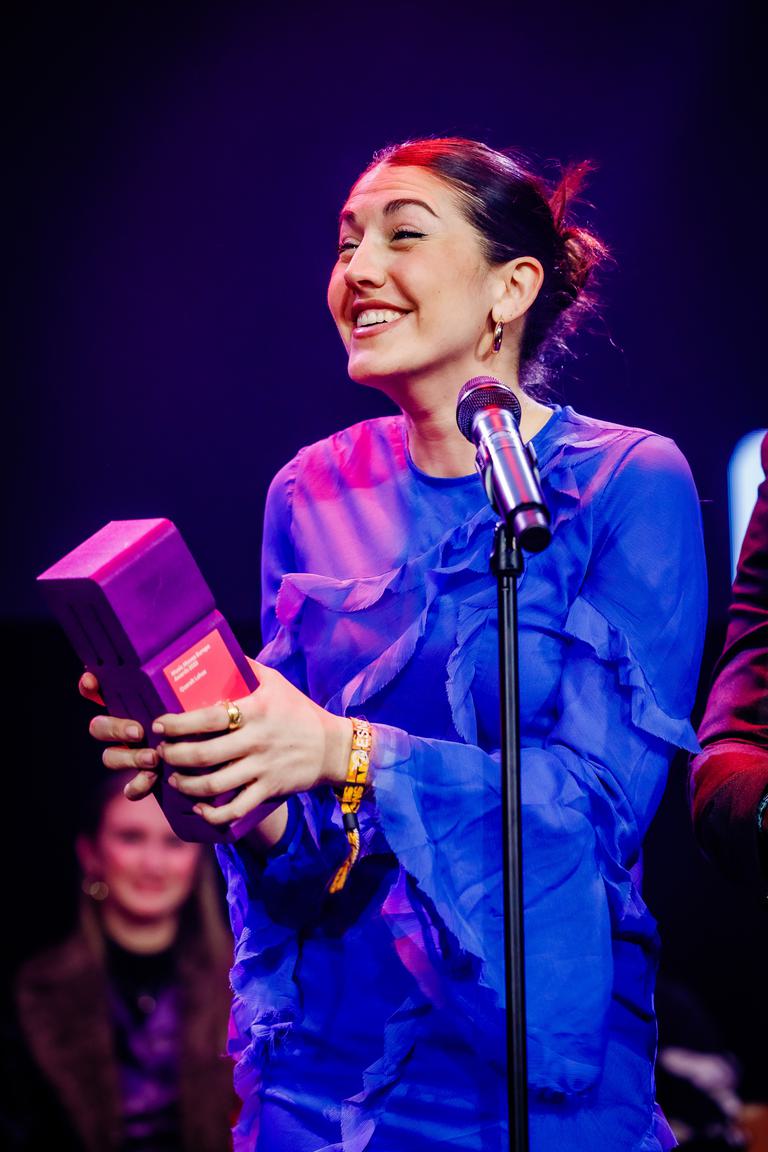 Queralt Lahoz by Ben Houdijk
This year's conference also focused on sustainability, encouraging attendees to travel by train, hosting panel talks on the subject and inviting innovative organisations such as Music Declares Emergency. A step towards progress, but it did seem a little at odds with the large single-use plastic name-badges hanging from the necks of every delegate.
While the conference is hosted at the central Oosterpoort building, the majority of the showcases take place in smaller venues all around the city, running in the evenings from Wednesday to Friday. From beautiful churches to stuffy basements, most venues are within a short walk and very few ever seemed to hit capacity.
Eydís Evensen by Kerk Bart
However, a quick walk can feel like forever when you're battling sheets of icy rain. While not ideal, Wednesday night's weather did complement Icelandic pianist Eydís Evensen's stark and stormy performance. From the North of Iceland, she played songs from her debut album Bylur to a hushed crowd at the beautiful Akerk church. Choosing to showcase solo without stringed accompaniment, it gave her the space to play with the reverent dynamics in her music, creating a captivating escape from the outside weather.
At concert hall Stadsschouwburg, the venue had switched back to front, so audience members stood on what would normally be the stage with the acts playing in front of the impressive tiered seating. With performances being filmed for the European culture channel Arte, it would have looked stunning on screen, but did cause a few sound issues across the week's shows.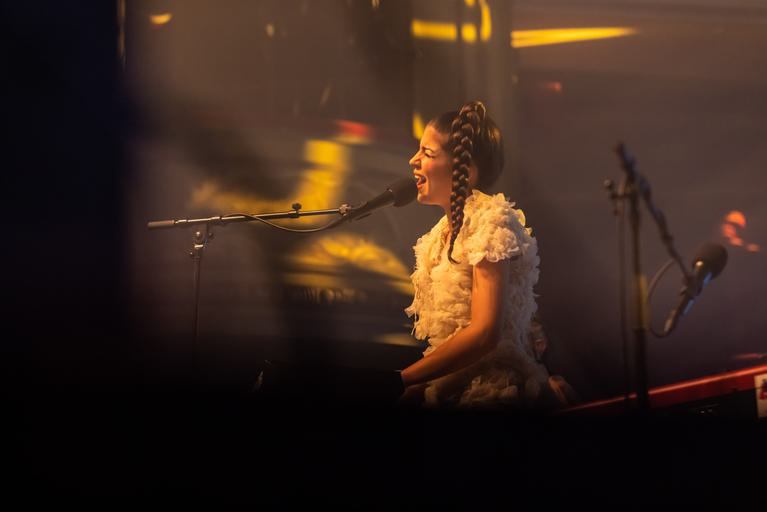 Marina Herlop by Ronnie Zeemering
Luckily for Catalonian polymath Marina Herlop, her flawless set escaped technical difficulties. Accompanied by the folk duo Tarta Relena, she played with voice, song construction and electronics across forty-five minutes of arresting musicianship. Moving between keyboards and lip-syncing to her own percussion, Herlop looked comfortable and confident. Clashing vocals in minor keys and playing with time signatures, her set didn't even relent for applause. It was one of the standout performances of the week.
Closing out the night at VERA, Spanish artist Ghouljaboy fumbled through bursts of indie-pop. The songs themselves were bright and summery singalong cuts of shining chorus, but the live show didn't feel fully formed as he contended with missed guitar solos and a runaway backing track.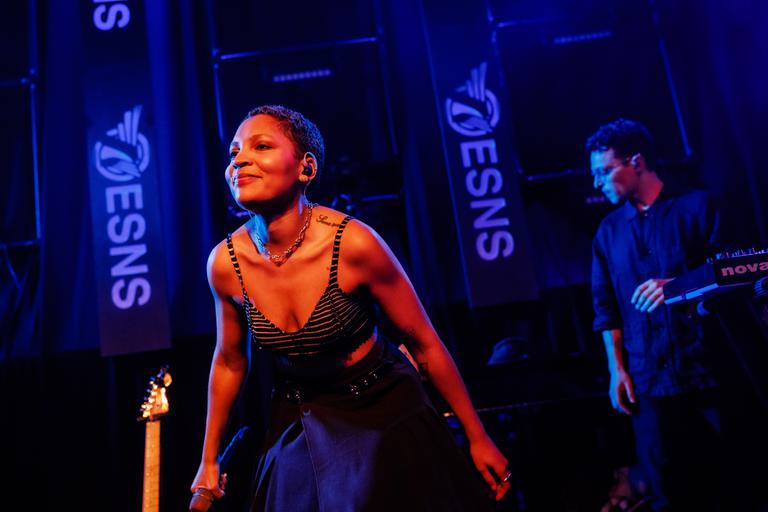 Sans Soucis by Ben Houdijk
Thursday night was heavy with hotly-tipped performances, and Catalonia's Queralt Lahoz put on an epic show of two halves at the Stadsschouwburg, fresh from her win at the MME Awards. Kicking off with a raucous set of RnB-influenced rap-pop, commanding the stage over electronic beats, she quickly swapped her sportswear and sunglasses for a short summer dress, drawing on her flamenco-roots as the second half of her showcase moved to a more traditional rhythm.
In the basement of News Cafe, Dutch singer-songwriter Mazey Haze hit the brakes with a set of swooning dream-pop. Singing over a tapestry of guitar and synth, the songs were encapsulating, swaying in sentiment and washing through the dark room.

At the Grand Theatre, Grand Jury Prize winner Sans Soucis bounced through heartbeats of electronic pop with practised confidence. Originally from Italy but now based in London, they struggled a little to keep the industry-heavy audience on their side. "I wouldn't know who I am right now without music," they said before racing into a homage to their home country.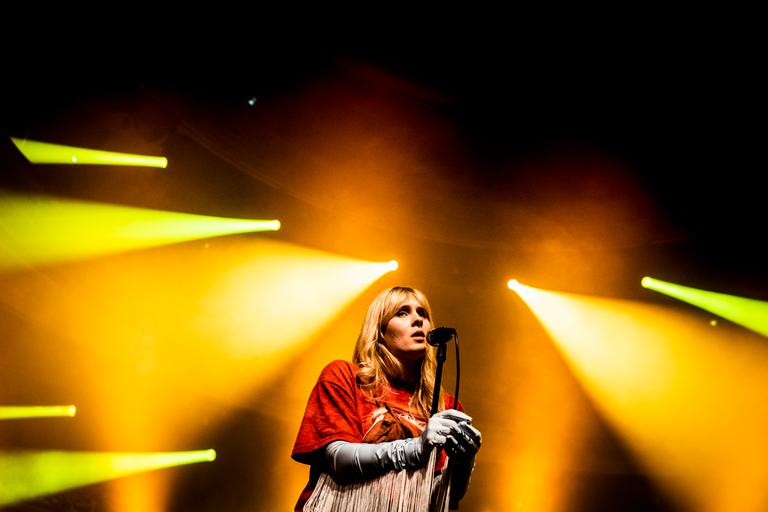 Eee Gee by Siese Veenstra
Replacing fellow Irish artist CMAT at the last minute, indie quartet modernlove. played to far too few heads at the Stadsschouwburg. With a set rich in instant choruses, drama and charisma, their show felt deflated without the energy of a large crowd. It was a shame as of all the artists showcasing, they probably had the most commercial potential.

Conversely, across town hotly-tipped and MME Awards nominated Portuguese band Hause Plants packed out the VERA venue. Unfortunately their heavy-handed delivery had the hallmarks of bad pub-rock and the hall cleared out within minutes of the first song. Meanwhile back at Stadsschouwburg, Danish singer Eee Gee was resplendent with classic songwriting, accomplished delivery, clever lyricism and a really captivating cowboy shirt.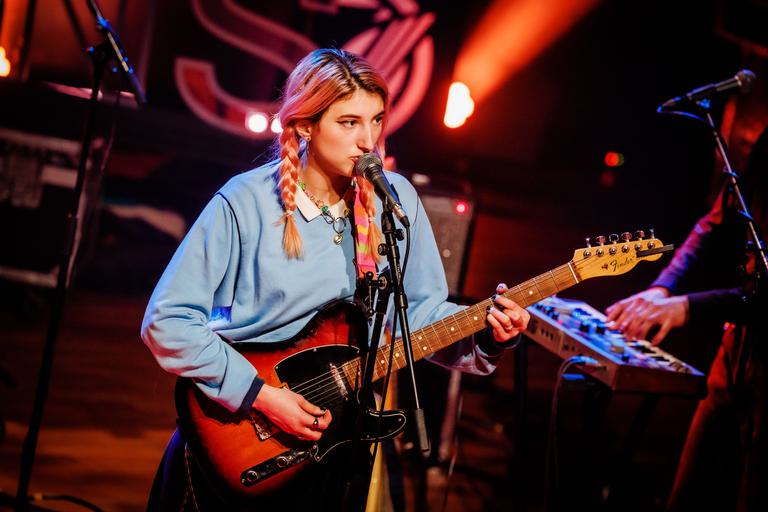 Marta Knight by Ben Houdijk
By Friday evening some delegates had begun to head home, the conference infrastructure was being dismantled and the smell of the weekend (beer and farts, it would seem) was very much in the air.
Catalonian indie upstart Marta Knight kicked off showcases at the ornate Stadsschouwburg. Inspired by UK guitar music and US singer-songwriters, tracks like "I Hate Dancing" had the breezy choruses and fuzzy sunshine guitars of a late-noughties blogosphere dream. Meanwhile at VERA, from Luxembourg by way of Canada, Francis of Delirium ripped through an impressive show of 90s inflected alt-rock with all the fervour and grit of a teenage nightmare.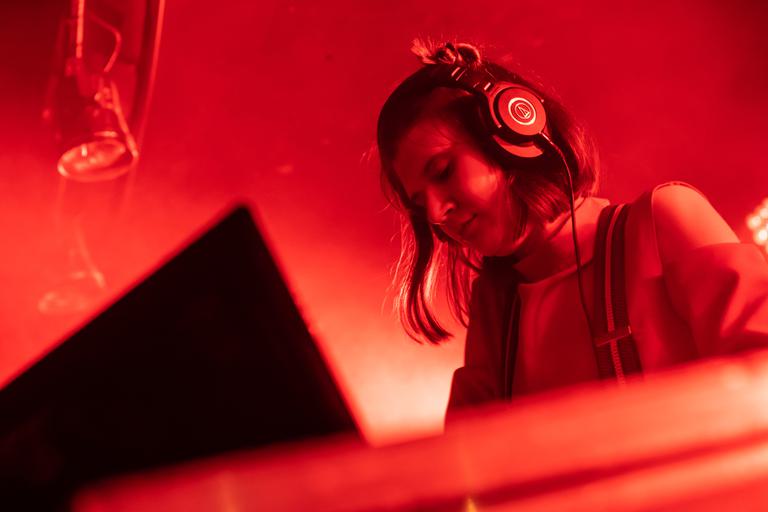 Monikaze by Ronnie Zeemering
A quick dash up the street at News Cafe, MME Awards nominee Monikaze tore through a relentless rush of pounding electronica. Confident and accomplished, you'd never have expected that the young Lithuanian only started producing music a year earlier. One older gentleman in the corner was so taken with her set he attempted a chat afterwards, only to nearly pull her entire table of gear off the stage. For a half-full basement of folded arms it certainly felt like a dramatic show.

VERA continued its run of raging guitars with Welsh feminist-punks Adwaith. Singing in their native language, their songs were melodic, their delivery tight, and their stage chat absolutely perfect. "We wish we could do this all again," said lead vocalist Hollie Singer before signing off with a resounding cheer of "WALES."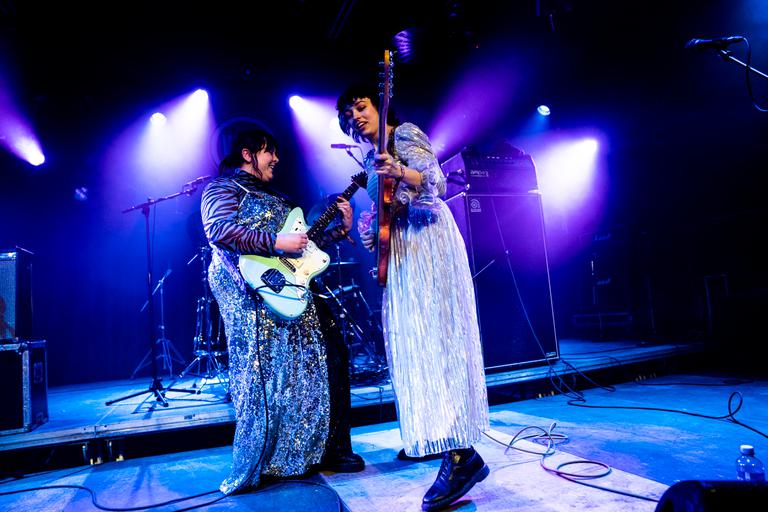 Adwaith by Siese Veenstra
Over a canal and up into the carpeted rec room of the Werkman College, Irish quintet M(h)aol decimated the eardrums and egos of their audience. Spitting provoking lyricism and banter alike, singer Róisín Nic Ghearailt took on anyone unwilling to conspire. "Do you realise you're at a feminist punk show?" she asked one obtuse man at the front of the crowd. It was vitriolic, immediate and wonderfully raw.

Ending the night at Akerk, brothers Maestro Espada showcased their electronic, percussive folk odes. Shining a light on the traditional chants, rhythms and melodies of Murcia, they explained that often their region's music is overshadowed by the flamenco of neighbouring Andalucia. Jumping from synths to Castañetas, a traditional cane-like instrument that echos with a percussive crunch, it was a transgressive and enthralling set and the perfect way to close out an expansive and inspiring week of new music.