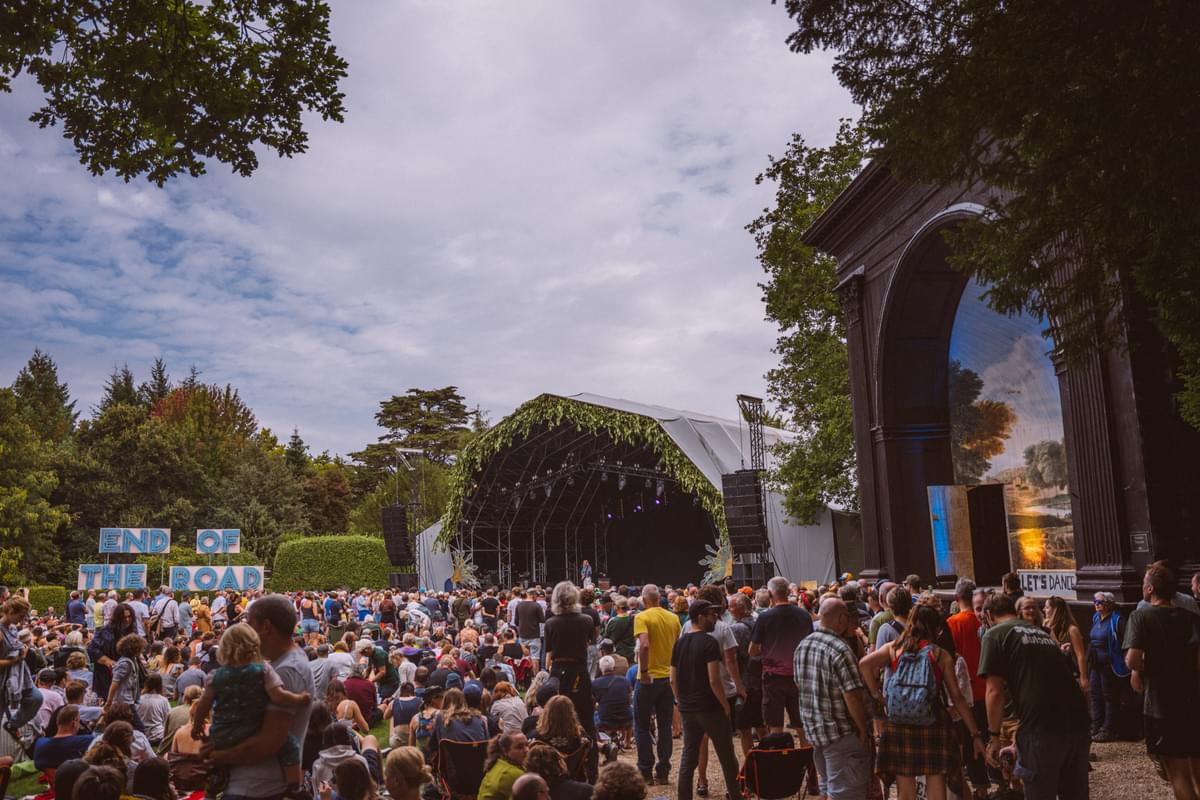 End of the Road 2022 expands into the forest for a magical second day
03 September 2022, 12:00
Lead photo by Parri Thomas
Campers crawl out of tents into the second day of End of the Road Festivla and expectations are high as the festival finally throws open its gates to the Garden Stage and all the wonders awaiting in the woods beyond.
Wearable papier mâché heads swing from branches, cotton wool clouds are strung out with rainbow coloured string and lanterns shaped like houses sit high up in the trees. This attention to detail is a hallmark of the festival. Even individual leaves are stamped with dreamy sentences – "oh, we love each other so", "hold me dear into the night."
Kids dressed up as fairies hold hands with parents in matching glitter, kicking up dust on the path that leads further into the woods. The idyllic afternoon atmosphere means that more than a few people can be spotted sitting on the grass reading their books or knitting. Today guests can expect sets from headliners Fleet Foxes as well as Soccer Mommy, Porridge Radio and Nilüfer Yanya, but for now they're all happy exploring. At End of the Road, you never know what you might stumble upon.
Around lunchtime the clouds finally break and the sun starts shining through the gaps in the trees just in time for the first secret set on Best Fit's Piano Stage. Each year artists performing on bigger stages throughout the weekend put on a surprise intimate set. In previous years, the stage has hosted performances from artists like Whitney, Laura Marling and Julia Jacklin.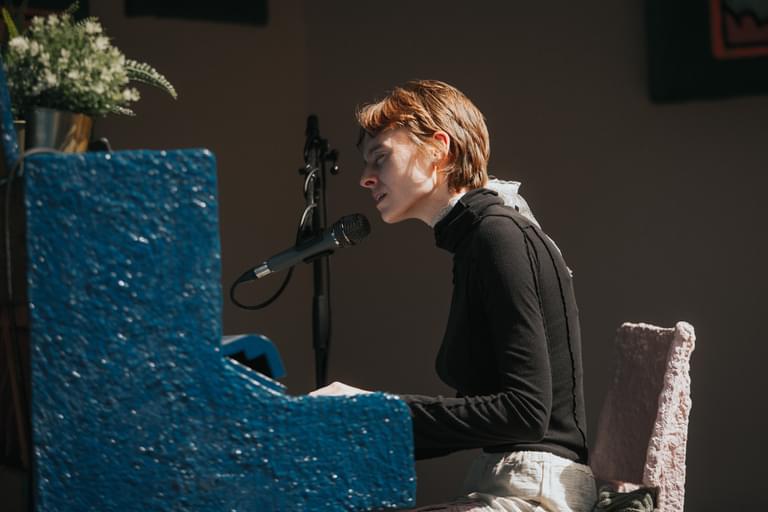 Skullcrusher by Parri Thomas
This year the stage's living room theme gets a contemporary update with framed abstract art and a 3D painted piano. US folk artist Skullcrusher kicks off today's performances, playing a quietly captivating set from the piano with her back to the audience. It's a special moment of calm amid the chaos of the bustling activities found elsewhere in the forest. When she speaks, it's almost at a whisper and the mellow pace holds the crowd in spellbinding silence. Her second ever UK set closes with a cover of British folk band Fairport Convention's 1969 track "Reynardine".

Nestled into a gap in the woods near the Piano Stage you'll find the games area where parents dodge flying ping pong balls and kids engrossed in games of tug of war. It's easy to see why End of the Road is the festival of choice for so many young families. From croquet and giant Jenga to storytelling and printmaking workshops, imaginations run riot. It's an inspiring place to be. One artwork offers parental sounding advice for aspiring artists: brush your teeth, eat vegetables, expect the worst.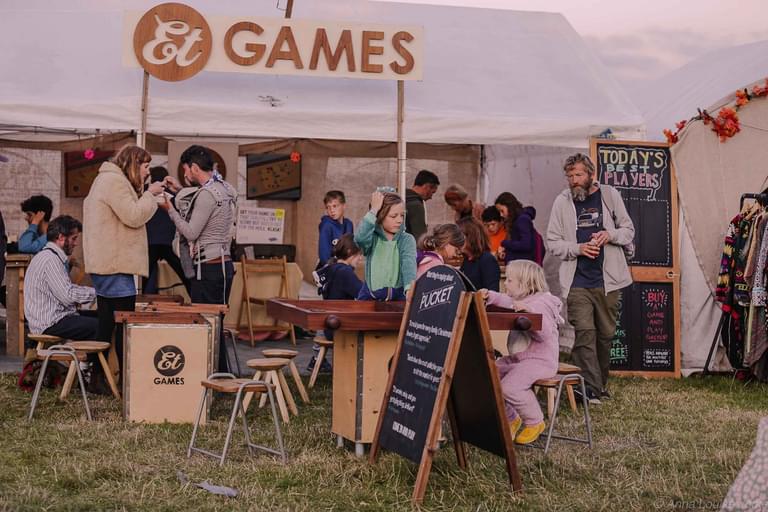 Porridge Radio are next up on the Best Fit Piano Stage, playing a vulnerable set that leads into passionate crescendos of impossible to ignore repeated refrains. Swapping in a different bandmate halfway through, their set closes with an Animal Collective cover. The vulnerability they evoke during their small set becomes a powerful exclamation of unavoidable feelings on the Garden Stage later in the evening. They come on stage waving branches from the forest in the air as birds fly over the crowd. Festival-tailored lyrics mean you could stumble upon them for the first time and still sing along. Dana Margolin's signature voice quivers in the foreground of her bandmates' riotous guitars and disco-y synths. During a pause the frontwoman tells the crowd to check out the festival's New Pavilion art gallery where she has some artwork on display.
Indeed, at this festival, culture doesn't begin and end with music. As well as the art gallery, literature, comedy and film are all on offer. For those who fancy resting their legs after a busy afternoon of live music, the cinema at the back of the woods provides deck chairs and a programme of cult classics to be enjoyed throughout the weekend. Friday's selection is curated by director Shane Meadows (This Is England, Dead Man's Shoes.) Showing films from 10 in the morning until past 3am, cinephiles can pop in to watch classics like French New Wave staple The 400 Blows, cult British comedy Withnail + I and anti-war epic Come and See. Across the weekend, films span from kids choices like Robin Hood and Fantastic Mr. Fox to recent indie cinema hits Licorice Pizza and Titane, so there's truly something for everyone.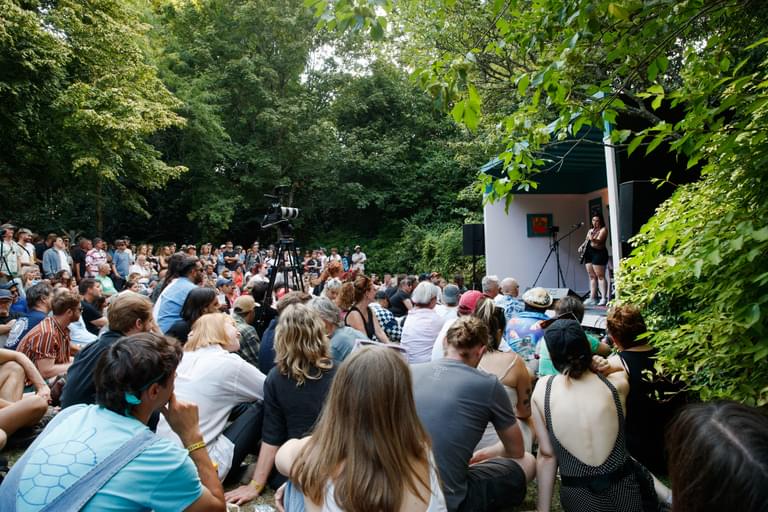 Soccer Mommy by Parri Thomas
Back over on the Piano Stage, news of Soccer Mommy's secret set has clearly spread as a large crowd gathers to hear stripped back versions of new album tracks and a cover of Slowdive's 'Dagger.' She amps up the volume later, packing out the Big Top tent with shoegaze-driven guitars and upbeat introspection. Dehd is another highlight at Friday's Big Top. The Chicago band delivers their slacker surf rock as they jump up and down thrashing at neon guitars. Their expressive fun-filled show goes down a treat.
Finally, headliners Fleet Foxes take to the mainstage for a career-spanning 90-minute set. The band, who first played the Garden Stage in 2009, blend in harmoniously with Larmer Tree Gardens' outstanding natural scenery as choral cries reference landscapes of forests, rivers and trees. It's a colourful multi-instrumental spectacle, but one of the most moving moments comes when Robin Pecknold stands alone onstage with his guitar seranading a couple at the barrier.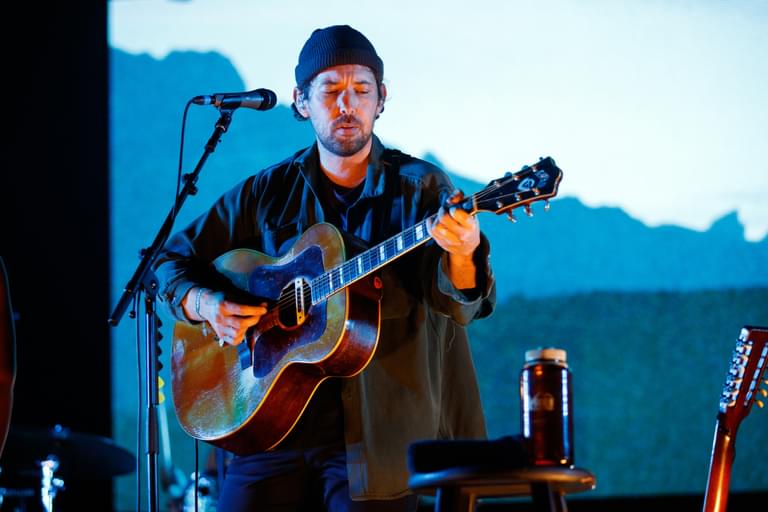 Fleet Foxes by Burak Cingi
It's a gentle end to the night at the mainstage, but for audiences who want something heavier, experimental rock group Battles are on next at the Big Top while electronic pop duo Audiobooks take over the Tipi. Meanwhile, late-night DJ sets are kicking off in the woods for those who want to dance beneath the trees lit up in psychedelic purples, reds and blues.
From the folky charm of Fleet Foxes to the quiet emotion of the Piano Stage secret sets, the second day of End of the Road is a well-rounded yet mellow affair perfectly in harmony with its wondrous surroundings.

Get the Best Fit take on the week in music direct to your inbox every Friday