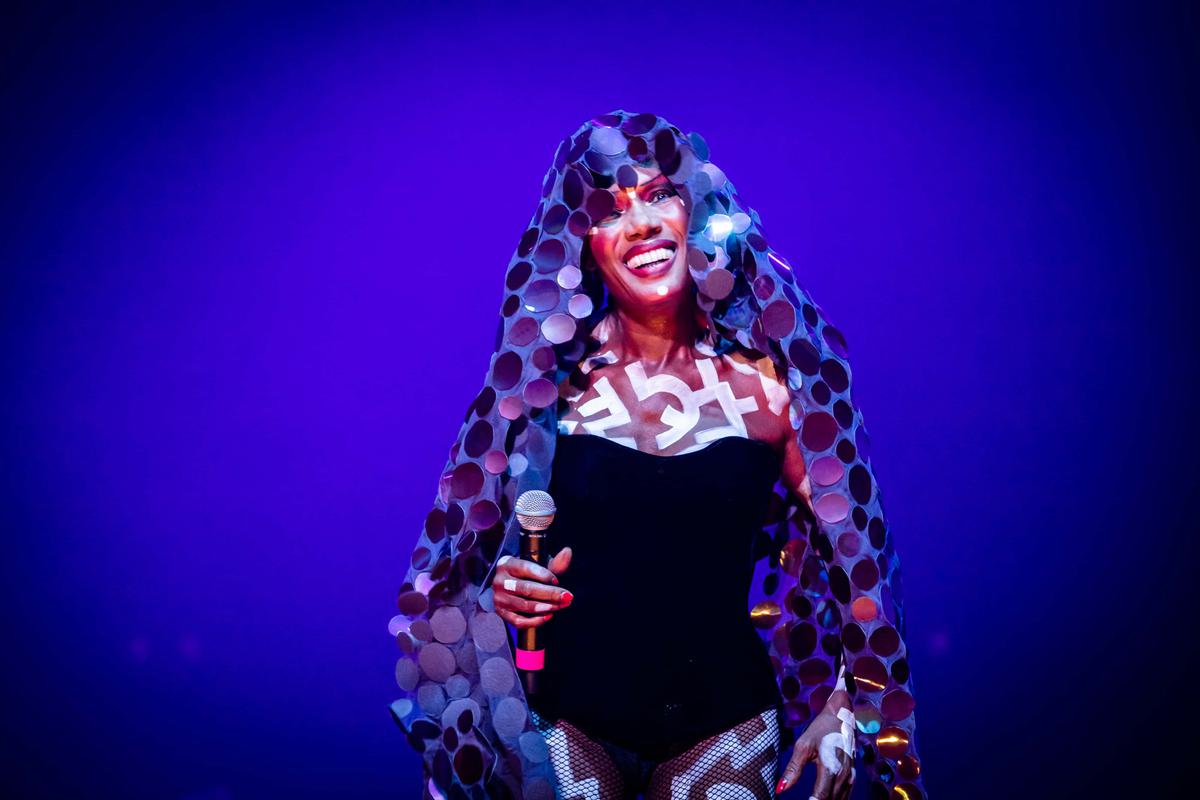 Black excellence and experience shines at Grace Jones' Meltdown
22 June 2022, 09:00
Grace Jones is known for having a different relationship with time than the rest of us, but the two-years-late arrival of her Meltdown edition was quite out of her hands.
After all the frustration and sadness of the shifting dates and changes to the roster – Solange dropped out, Lee 'Scratch' Perry left this earth – Jones' Meltdown could have been an anticlimax. Instead, it was a triumph, with one of the most diverse and joyful programmes in the festival's 27-year history.
Jones is a self-professed "people collector", and her legacy as art-pop innovator and maverick style icon is both unique and extensive. From Studio 54 to age 74, Jones continues to be the ultimate in cool. She first performed at Meltdown in 2008, handpicked by curators Massive Attack, bringing down the house with a flawless greatest hits set and previewing tracks from Hurricane, her first new studio record in 19 years. It was inevitable that she would one day come back to run the show.
Like Massive Attack, Jones opted to open and close her edition of Meltdown herself, performing two distinctive sets. The first, billed as 'Grace Jones: Up Close & Orchestral', was a collaborative affair, with special guests Dave Okumu (The Invisible), Southbank Centre residents Chineke! Orchestra, and all-women choir The Soul Sirens. The second was all Grace, all the time – literally, as she gave a running commentary of everything from off-stage outfit changes to her pounding heart rate, to riding around the auditorium on the shoulders of a security guard.
Jones - pictured below (photo by Victor Frankowski) - was far from the imperious and intimidating, almost alien creature she's often portrayed as. That's part of her appeal, of course, but in-person she comes across as fully self-aware and in on her own preposterousness, which only adds to it. Goofing around, flirting with the stagehands, dripping with double entendres and theatrically downing several glasses of wine, Jones' act verged at times on stand-up comedy. "Are you touching yourself?" she demanded of one guy in the audience. "That's a good thing!"
What Jones lacks in respect for deadlines, she more than makes up for in making an entrance. The sight of her towering 30 feet above the stage in a flowing Keith Haring-inspired dress set the bar incredibly high. And from start to finish, the final-boss stage of Meltdown did not disappoint, with the indefatigable Jones inviting gleeful chaos in ever-changing elaborate headgear. Each song was a highlight, but special mentions go to a blistering performance of "Demolition Man", which ended with Jones throwing her cymbal stands across the stage, and to the staging of "Hurricane", with Jones in a billowing black cloak pretending to fight against strong winds to reach a pole dancing platform.
New track "Sunshine In Wartime" sounded very promising; a slinky, smouldering protest song of sorts, it was as dramatic and intense as any of the familiar material. "There's no such thing as innocence lost," she intoned. "All I get is war, just give me some peace!" The track comes from a new album due to be announced. In the festival closing speech, the album is described as an "African hybrid" record, a tidbit of info offered as one of the reasons why this year's Meltdown was so wonderfully inclusive of African and African diaspora artists. There was no shortage of Black excellence to be in awe of here. From London's own Big Joanie, Shingai and Greentea Peng, to South African exports Desire Marea and Skinny Pelembe, Senegalese legend Baaba Maal and Congolese collective Kasai Allstars, Jones' handpicked roster showed her passion for amplifying the voices of the global majority.
Angélique Kidjo shares this passion. The Benin-born artist's most recent album Mother Nature not only won a Grammy in 2021, but also landed her a spot on Time's 100 Most Influential People in the World list. Kidjo, who sings in at least six languages – as well as making up her own, Enya-style – has long been a vocal advocate of pan-African culture. Mother Nature was her love letter to the next generation of African and African diaspora artists, featuring collaborations with hip hop duo Earthgang, rapper Sampa The Great, London-based jazztronica duo Blue Lab Beats, and Afropop star Yemi Alade, among others. It's also one of her most political releases, railing against corruption and the climate crisis.
For her sold-out appearance at Meltdown, Kidjo's mission was to bring Mother Nature to life and amplify its message. Opening with "Crosseyed & Painless" from her Talking Heads covers record Remain In Light, Kidjo - pictured above (photo by Pete Woodhead) is energetic from the outset, busting some moves that belie her 40-plus years in the business. "Don't be sitting in those stupid seats!" she commanded at one point, and the crowd oblige, rising to their feet for the rest of the show.
At 61, Kidjo remains in terrific voice. Agile, expressive and strong, it lends a forgiving sincerity to some of her more well-worn lyrical tropes (the one-world-one-love school of songwriting has a lot to answer for). It's impossible not to get swept up in the majesty of Kidjo in full flow. Even the absence of Sampa The Great's rap cannot dampen the spirit and meaning of the brilliant "Free & Equal", a song about humans not living up to the task of fulfilling their own declarations.
In interviews for Mother Nature, Kidjo revealed that some of her young collaborators would call her 'mom', and her maternal side comes out when welcoming some of them to the Royal Festival Hall stage. "I don't have a crystal ball to see the future, but I do know we need to listen to the youth," she said, bringing out Blue Lab Beats for a rousing version of resistance song "Fired Up". Later, she was joined by Yemi Alade for the anthemic "Dignity", written in response to police brutality during Nigeria's End SARS demonstrations in 2020, which Alade experienced firsthand.
The chemistry between Kidjo and Alade was electric, particularly on "Mama Africa" and the closing tribute to Miriam Makeba – the original Mama Africa – with a massive singalong version of the timeless "Pata Pata". Kidjo refers to Makeba as her "musical mother", having studied and performed with her in Paris and South Africa, and Alade is seen by many in her homeland as a natural successor to Kidjo. But, as Mother Nature and her Meltdown debut proved, Kidjo isn't passing on the baton just yet.
Another artist whose name appears in the long list of Kidjo's career collaborators is Meshell Ndegeocello, the Berlin-born, US-raised musical chameleon who describes herself as "genre-repellent". Ndegeocello has been on the scene for 30 years now. In 1992, she became one of the first artists to sign to Madonna's new imprint Maverick Records, eventually releasing five albums for the label. Those albums, and the seven since, have proven her to be one of the most unpredictable artists of her generation. Equally at home with postmodern jazz and visionary avant-garde as she is with the smoothest R&B and contemporary soul, Ndegeocello is a musician's musician. With bass as her instrument of choice, she has appeared on albums by everyone from Madonna and Alanis Morissette to The Rolling Stones, Ibeyi and Joan As Police Woman.
Surprisingly, despite all her experience, Ndegeocello still suffers from stage fright. "I'm so nervous, I'm shaking inside," she said at one point, several songs into her sublimely laidback performance at the Queen Elizabeth Hall. Ndegeocello feels her music incredibly deeply. At times she seems completely rapt by the groove. At the mic, her eyes are most often closed, her head bobbing. Stepping back to play bass or just to enjoy the prodigiousness of her band, she moves under the spell of the music, singing inaudibly to herself as if a secret second concert is happening under her breath. Rarely does she meet the gaze of the crowd.
But for all her nerves, Ndegeocello never once gave the impression of not being fully in command of proceedings. Highlights included the blissful, dubby "Come Smoke My Herb" from her 2003's Comfort Woman, buzzing main set closer "Dead End" from 2011's Weather, and a clutch of unreleased songs – at least one from a multimedia project inspired by James Baldwin's essay collection, "The Fire Next Time", one of the most influential books about race relations in the 1960s.
In a moving tribute, Ndegeocello and her band honoured '80s R&B artist Bernard Wright, recently killed in a road traffic accident, with a cover of his US hit single "Who Do You Love?". Percussionist Abraham Rounds, who has a keen falsetto, took the lead as Ndegeocello broke through her shyness to instigate a singalong. Other covers included Leonard Cohen's "Suzanne", George Clinton's "Atomic Dog", and a smooth reworking of "Waterfalls" by TLC, from Ndegeocello's 2018 covers record, Ventriloquism. Oddly, Ndegeocello dropped the song's implied reference to HIV, changing the lyric to "may we all find peace in our final resting place" – the only jarring moment in an otherwise artful and gratifying show.
Coincidentally, Ndegeocello's setlist included "Shirk", a song from her 2007 album The World Has Made Me The Man Of My Dreams, recorded with Malian Wassalou singer Oumou Sangaré on backing vocals. Now every bit the grande dame as Kidjo and Ndegeocello, Sangaré - pictured above (photo by Burak Cingi) - became a huge star in West Africa at the age of 21, with her 1990 debut Moussolou selling over 200,000 copies. Kora player Toumani Djibaté brought her music to the attention of British label, World Circuit, who gave Moussoulou a wider release and kickstarted Sangaré's international career.
Like Kidjo, Sangaré's mission is to elevate African culture, to show "Africa the most beautiful". Performing almost exclusively from her 2022 album Timbuktu – written during a pandemic-extended stay in Baltimore, where she eventually bought a house – Sangaré brought all her joy and warmth, generosity and humility to bear in a spellbinding set, interpolating her Wassolou roots with elements of American blues, folk and rock: n'goni meets slide guitar, essentially.
Throughout her 13-song set, Sangaré sang with pride, with emotional clarity, and with a deep love and concern for her homeland and its troubles. Highlights from the new album included anti-war song "Kêlê Magni", the self-preservational "Samara" and the flowing introspection of "Degui N'Kelena". Older hits like "Diaraby Nene" and "Kounadia" got some of the biggest cheers from the sold-out crowd, while an extended version of "Yala" closed the show with a stage rush and pure joie de vivre. Hugging anyone who got close enough and throwing her bracelets into the audience, Sangaré bowed out on a high. "Thank you, Britain, for believing in Oumou Sangaré", she cried, with a chorus of we-love-yous back.
With almost 50 albums between them, Sangaré, Ndegeocello, Kidjo and Jones have long and storied careers. Each of them holds a different space in Black culture: Jones as the luminous iconoclast, Kidjo as the earth mother figure, Ndegeocello as the queer vanguard, and Sangaré as fearless disruptor. Where else but Meltdown could you see them all together, under the same auspice?