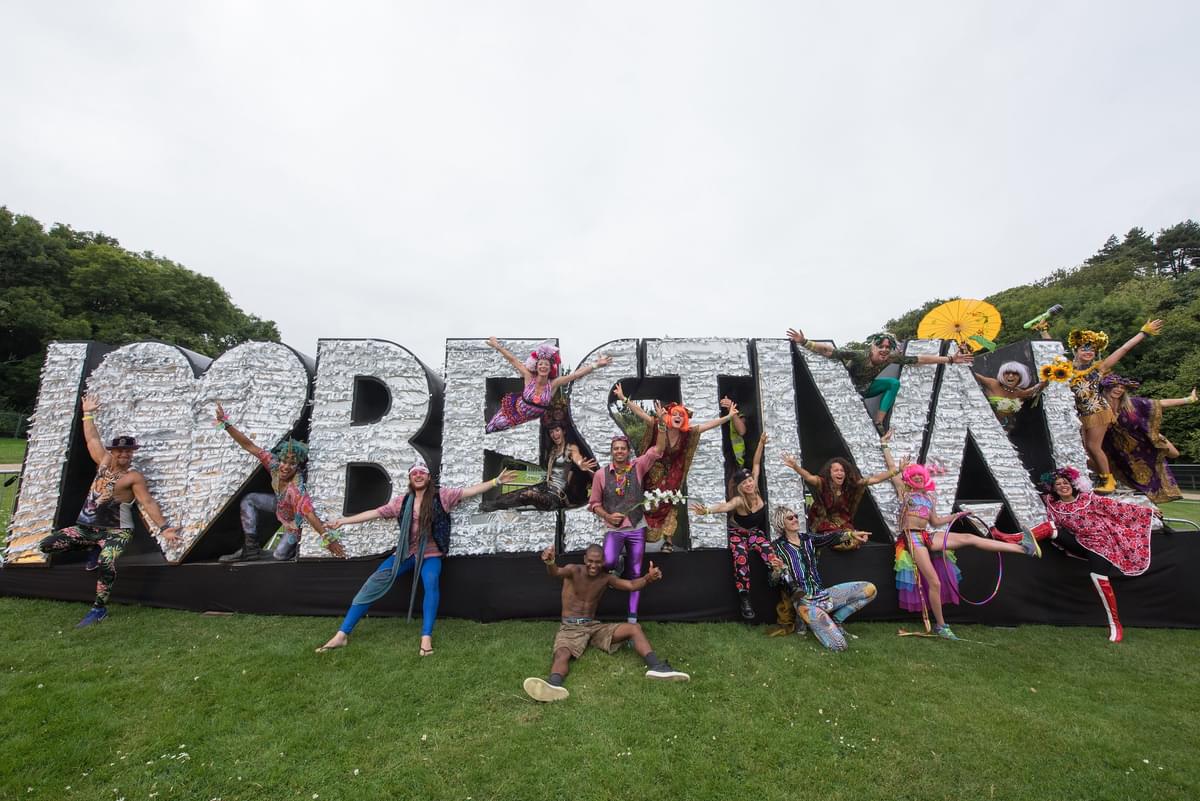 Bestival: Best For Last
14 September 2016, 09:00
Brilliant new music, huge legends, rain, and an overwhelming feeling of change - it's Bestival 2016.
Bestival sits in a unique spot on the festival landscape. It's a bastion of hyperactive eccentricity, full of vibrant arts and the kind of magic that's just not found at the ten-a-penny behemoths towards the top of the dogpile. It's one of the few festivals with a genuine, tangible identity and its own unique way of Doing Things Proper. It's never perfect, but we'd never want it to be – the rough-around-the-edgedness of it all is part of the ramshackle charm that brings us all back year after year. Bestival is a temporary oasis of hedonism where crusty rave meets bohemian weirdness meets cutting-edge hip-hop meets top pop meets yadda yadda yadda... it's inclusive, and it's welcoming, and it's a community. Comparisons to Glastonbury are not off base.
But in 2016 we can't avoid the elephant in the field.
As organiser Rob Da Bank and his crew have nurtured the fledgling fest into an award-winning institution, there have been a growing gang of purists each year yammering on about 'too much change' and Bestival 'losing its spirit'. Up until this year it's been easy to ignore, but now there are serious questions about the direction of Bestival.
2016's event sees Rob Da Bank embarking on a drastic course of festival feng shui, rearranging and squashing and consolidating areas in a big way. Many long-time stages, firm favs of the festival's faithful, have vanished into the ether without a word. A case of going "back to its boutique roots", he told revellers on social media – though few bought that as the sole reason.
The sudden upspringing of corporate sponsors was conspicuous – true, there have always been a few, and Nando's and Jägermeister have made themselves welcome by adding a touch of magic, but Samsung? Co-op? That Bulmers Colourena thingy that's been parasitic over the past few years?
But these are all symptoms rather than causes.
Rob Da Bank's cited difficult trading conditions, a wobbly economy, and stiff competition in the festival market. All very valid, and none unique to Bestival.
But Bestival has another hurdle to clamber over that few UK fests have to face. For years Rob Da Bank's had to do battle with greedy travel companies, striking up an often difficult relationship with these notorious oligarchs (Red Funnel, Wightlink, and Southern Vectis) out of sheer necessity. The Solent is often referred to as the 'most expensive stretch of water in the world' (though that's not quite true), and it is a particularly acute issue during the arbitrary 'peak times', which tend to fall on Bestival and Isle Of Wight Festival weekends, when prices skyrocket.
If you're literally traversing the ocean to get to a festival, it has to be a fucking good one. Since 2004, Bestival has been able to be that festival with ease and aplomb, roping in enormous names such as Elton John, Amy Winehouse, OutKast, Chic, Stevie Wonder – Rob Da Bank frequently eschews the norm in pursuit of leftfield, inspired choices.
Rob Da Bank's strongest suit is his music taste, but not enough people saw that this year. The Cure played recently-ish, Major Lazer are playing every festival on the planet (or at least it seems like it), and Sean Paul and Wiz Khalifa did little to persuade many – at least on paper, but more on that in a bit. Lower down the cards were some stellar picks, but the eye-grabbing poster plastered online showcased arguably the blandest Bestival has offered in years – this could've been V, Wildlife, T In The Park, BBC Radio 1's Big Weekend, you name it. There's nowt wrong with that, but the oomph that makes a Bestival lineup an instantly distinguishable Bestival lineup was not front and centre.
But onto the good stuff – for all its evident troubles, Bestival still has a lot of good stuff. It has much, much more good stuff than bad stuff.
For starters, look beyond the main stage and the lineup is stunning. It's a cornucopia of fresh sounds stretched across the musical gamut, with some of the hottest up-and-comers and some of the finest unknowns keeping us away from the Main Stage almost all weekend. Digging around the smaller acts and you're bound to find more than a handful of buzzing thrills.
Thursday allowed us to feast our ears on the criminally fun Strong Asian Mothers, whose off-kilter brand of hip-hop, dance, pop, and indie culminated in a delirious live-remix of rap anthems. They're comfortable on the Invaders Of The Future stage, and go bonkers enjoying the opportunity. Best band of the weekend? Maybe, but it's early days yet.
Dusk turns to night and Glass Animals make the Big Top a sweat lodge – steam billows from the crowd. The set's a deliriously fun mesh of slick indie-pop and crunchy hip-hop; beats are paramount as the Oxford outfit wow the crowd. Hot Chip follow swiftly after Hot Chip and end on a rousing rendition of The Boss' "Dancing In The Dark". Apt.
On Friday Petite Meller celebrates the release of debut record Lil Empire in style at Bestival. The audience triples in size quickly once her infectious brand of dance-pop erupts, with plenty of dancing (read: hungover shuffling) and belt-along moments to adore. Swiftly after Meller moves off, MØ lures an enormous crowd for her oddly placed mid-afternoon set – plenty of solo jams build for the inevitable "Lean On" climax.
After Major Lazer are done Zorbing across people's heads during the Friday night headline slot, there's plenty more fun to be found, with Royce Wood Junior and HÆLOS closing Friday with aplomb. The latter chill out the night owls still fluttering about in a boozy stupor – a moment of serenity amongst flashing neons.
Pinegrove, Ardyn, PUP – the weekend is bulging with brilliant music. Bristol's Bad Sounds slam their feet on the funkometer, while Madrid's garage fiends Hinds encourage a stage invasion. Danny L Harle is ruthless fun, injecting his own high-octane hyper-pop with a double dose of energy. It's loud, it's delirious, and "Broken Flowers" is unadulterated joy. Nimmo step in for the hotly tipped Raye at the last minute, lighting up the Jägerhaus with infectious dance-pop beats. Bittersweet club anthem "UnYoung" is a rousing, determined finale.
Even on the Main Stage there's gold. Despite playing in 2011 The Cure did a bang-up job of thrilling all ages with a lengthy set of megahits and hidden gems. Sean Paul brought the party with a uniquely, Bestivally banquet of bangers. Major Lazer can 100% throw a party (dressed in Portsmouth FC shirts, surreally – maybe a dig at renowned Southampton fan Rob Da Bank?) with plenty of action to keep you occupied through their otherwise middling set. Wiz Khalifa, although tepid, was certainly different.
What did let these headliners down, in part, was an underwhelming soundsystem – the team have already made a statement acknowledging the mistakes on that front, but veer too far from the main stage and general chatter was louder than the music. The bass didn't shake your core until you got to the sardine rows.
Bestival isn't all about the music, however.
Roam around the site – a quaint country park for most of the year – you'll stumble across quirks galore. The site's scaled back for sure, but in the Ambient Forest area (take a guess what that might be) you're whooshed away from the cacophony. It's rather beautiful, actually, despite smelling like weed 99% of the time. Be sure to checkout secret speakeasy The Blind Tiger for eclectic, albeit sweltering, laughs. Bestival is a labour of love and not just a business, and the little touches show.
There are talks, debates, lectures, yoga sessions, workshops, and more over the weekend to soothe the soul. The world's biggest Bouncy Castle is here. You've got face-painting and a thriving kids' corner, plus The Chuckle Brothers and Mr. Motivator. The Caravanserai is a wacky oasis of folk, cocktails, and acrobats, and The Amphitheatre showcases excellent British theatre, comedy, and performance art – from the Edinburgh Fringe favourites Shit-Faced Shakespeare to "genderfuck army" Sink The Pink.
Festival food is often overlooked, but it's something that Bestival has traditionally been excellent at. This year, Rob Da Bank's Feast Collective assembles the best UK street food under one (tent) roof – Le Rac Shack's melty, gooey poutine is the best hangover cure, while local grub can be found everywhere. Blue corn, sweet potato, and chickpea tacos from The Chocolate Bear Kitchen are the perfect gut fuel and Pina Colada lollies from Polar Pops are refreshingly boozy. It's a great range – especially for those with bellies hankerin' for something beyond chips, chips, and chips.
All in all, there's a lot for the Bestival team to take away this year. It's not been a vintage year, although there are highlights aplenty. What's obvious is that Bestival will not be the same in 2017 – will it go "boutique" again, edging into End Of The Road and Green Man? Will it crank up the dance and ooze into the gap currently occupied by Creamfields? Will Rob Da Bank welcome offers from big sponsors?
It's all up in the air – it's clear that there were problems this year, and Rob Da Bank knows it. 2016 was never going to be the final Bestival, despite doomsdayers' rantings, and maybe this is all just a hiccup in the eventually long and triumphant tale of Bestival?
Vocal minorities would have you believe it was a village fête full of tweens doing heroin, but it was nothing of the sort. The torrential rain didn't help, and heavy-handed security were a pain in the arse, but many made memories to last a lifetime – it's soppy, but Bestival 2016 was what you made it. There were real gripes, but if you went and sulked all weekend about a few stages being smaller or shuffled around, it was always going to be crap, wasn't it?
If Bestival were to end no one would gleefully wring their hands. Bestival is an essential pillar of the festival community. While the most of the big dogs get smoothed out into a homogenised paste of Carling and Strongbow and giant corporate sponsors, Bestival has remained a festival with integrity and identity.
Bestival needs to stay fucking weird and Rob Da Bank and his team are the ones to make sure that happens – this can be a fresh start and a new chapter in the Bestival story.
Get the Best Fit take on the week in music direct to your inbox every Friday