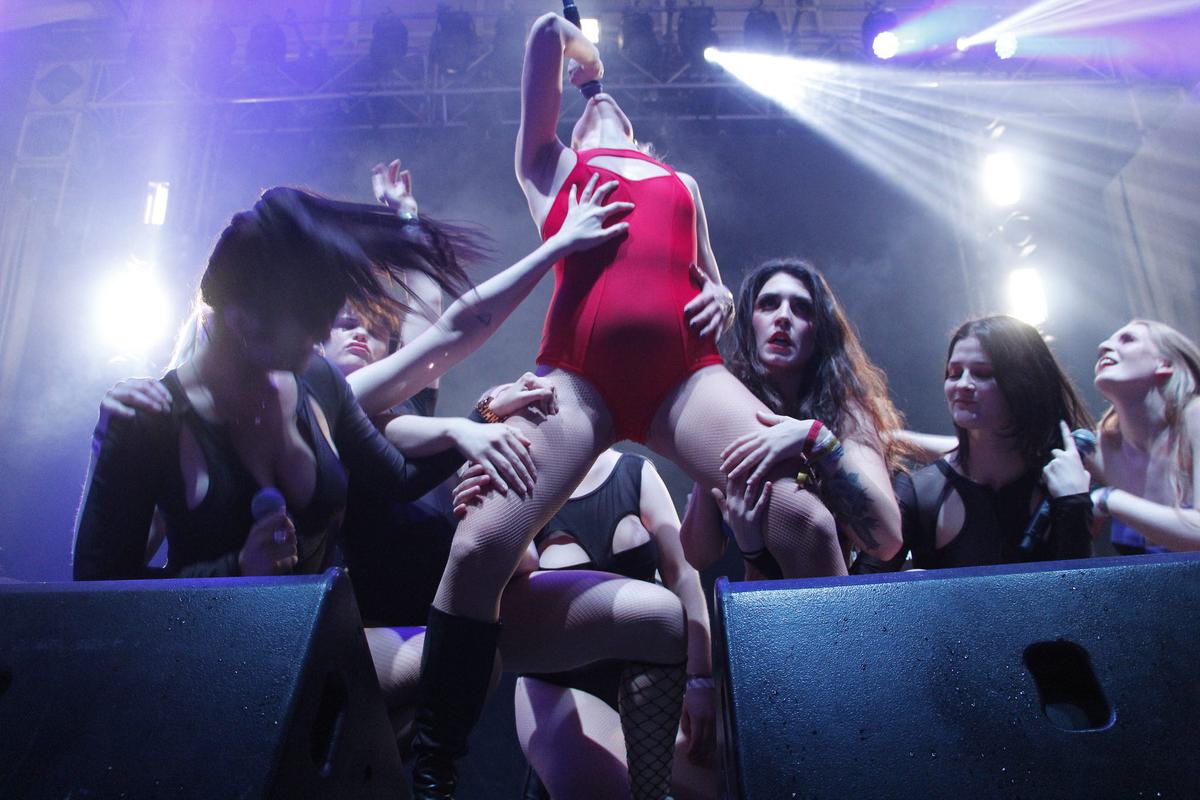 Being a fanboy on the second day of Iceland Airwaves
03 November 2017, 14:47
Harpa Kaldalón was unexpectedly host to some of the very best shows last year, and while lamenting the fact that the stage is not in use this year won't change anything, Þjóðleikhúsið was more than sufficient as a replacement. Like Kaldalón, it is a seated arena with nothing to distract you from the performance at hand; drinks weren't even allowed into the auditorium
JFDR's growth as an artist can be characterised like her music as subtle and nuanced. Sitting near the front row, one cannot help but notice all the little details that make up her live routine as she plays with a full band, such as the backup singer breathing softly into the microphone to accentuate JFDR's vocals; the drummer tapping lightly on the snare drum; the saxophone murmuring a looping sound; a single guitar pluck stretched out for the better part of a minute. Even in such a large hall, JFDR managed to deliver an incredibly delicate and intimate show.
Une Misère's show was in sharp contrast to this, with the hardcore punk band starting out running with drums blasting away. The three guitarists and bass player terrorised the crowd with their fast and aggressive riffs, and the singer shouted fiercely into the mic, beat his chest, and stalked tenaciously across the stage before jumping into the moshing crowd. The testosterone-fuelled performance didn't earn an ovation, but vicious fist pumps from the horde gathered.
Following this punch to the gut was Hatari, a performance art outfit that commands attention (above, photo by Ásta Sif Árnadóttir). Their dark-and-heavy synth pop is delivered with such intensity that it's impossible to look away. In a time when so much of art is vague on political stance, and uncommitted to a controversial cause, Hatari fully embraces it and delivers apocalyptic sermons about populism, consumerism, and apathy. There is nothing subliminal in their delivery; the band is clad in full-on BDSM fascist attire with macabre videos playing in the background that synch to their performance. Hatari holds a dark mirror to society and their warning is clear: mend your ways before it is too late and the moral decay of society is such that Donald Trumps will be remembered as a moderate.
After only playing a few select times in the past few years, the beloved pop-rockers of Grísalappalísa had created great anticipation for their show, filling Gamla Bíó to the rim with festivalgoers. Their show was an explosion of joy and irreverence, with banal topics such as the petty squabbles of flatmates turned into a powerful ballad in the band's hands. Grísalappalísa's frantic energy was palpable and contagious, with guitar and saxophone competing for attention while frontman Gunnar Ragnarsson balanced on the thin barricades before leaping into the crowd without a care in the world. Although the band has a new album in the works, they didn't play any new songs, instead relying on their hits and delivering a knockout show.
Over at the art museum, Reykjavíkurdætur—Iceland's most impactful hip-hop outfit (pictured above, photo by Sigurður Ástgeirsson)—filled the stage. In the four short years they've been active, they've dictated the terms of how women are portrayed and talked about in the music industry, and have sent out a rallying cry that's inspired more women to step up and take space. It is difficult to deny the influence they wield, and while this show was not their best, they were still more than capable of closing the night in style. Rapping with gusto and attitude in spades, the Daughters of Reykjavík tore through "Kalla mig hvað?", woked through "Láttu líkamann ráða", spat out "Fanboys", flaunted new English song "Pussy Pics" from their new EP, only to end on their newest banger "Reppa heiminn".