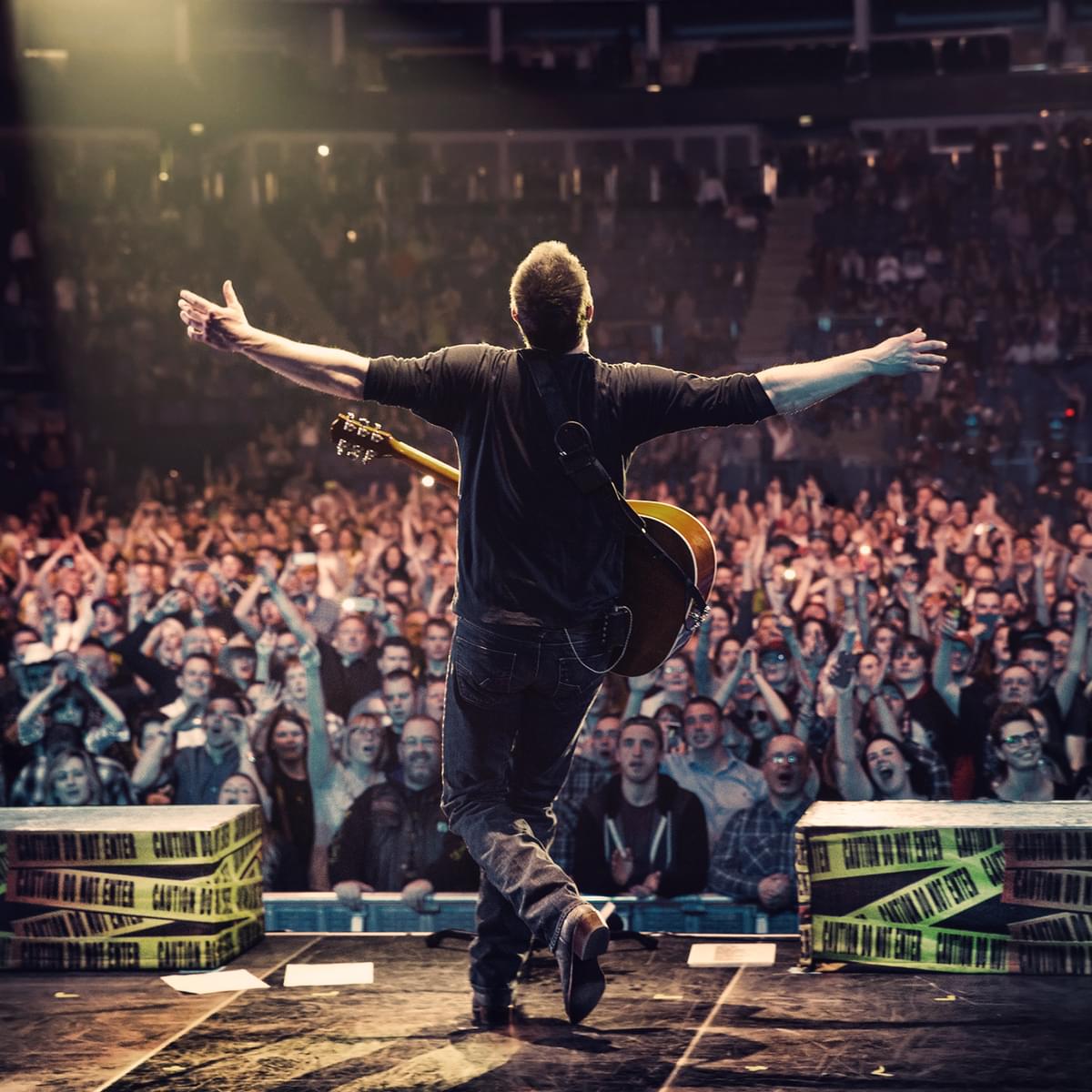 Are you ready for the Country?
21 March 2016, 10:00
The fourth annual Country To Country festival brings America's prize country artists in all their hatted and booted glory over for its annual celebration at the O2.
Apart from its heyday in the mid-seventies and its stadium revival in the nineties, country music over here has often felt like heavy metal has, with a large dedicated following, but existing primarily outside of the mainstream.
Since the nineties boom of Garth Brooks, Shania Twain, line dancing and The Woolpackers, country music has been something of specialist interest. In the last couple of years all that has been changing though. The success of the Nashville TV show, Dolly Parton's appearance at Glastonbury and Taylor Swift's increasingly unassailable world domination are all flashpoints behind the resurging interest in country over here, and with Radio 2 and the BBC pushing and playlisting country artists, the annual Country To Country festival has grown from being a two day event in London with eight artists performing to a three day extravaganza taking place in Dublin and Glasgow as well as London. With over 60,000 tickets sold for the three days across the three cities, and an additional 10,000 people coming down to London for the pop-up festival that takes place during the day, it's obvious that whether you like it or not, something is definitely happening right now with country music on the wrong side of the Atlantic.
Country To Country isn't the first big international country music event to take place in the UK – the International Festival Of Country Music took place annually between 1969 and 1991 and hosted legends like Dolly Parton, Johnny Cash, Willie Nelson and Tammy Wynette, but by the early nineties country was on the turn again, and the line-ups began to feel out of touch with the way country was heading. It was revived briefly in 2012, but the following year the inaugural Country To Country festival took its place in the calendar. The only act on the bill for this year's Country To Country that could have possibly played at Wembley the first time around was Dwight Yoakam, and his main stage appearance following Charles Esten, who plays Deacon Claybourne in the Nashville TV series, proved that there was still a place for timeless classic hardcore honky tonk country in amongst all the Thomas Rhetts and the Sam Hunts. He medleyed through eighties classics like 'Little Sister', 'Honky Tonk Man' and 'Guitars, Cadillacs', mixing them up with songs from last year's critically acclaimed Second Hand Heart album. He sounded as provocative and out of place as always, and it was fitting in a way that Yoakam should be part of this bill; coming out of Los Angeles and playing shows around the punk clubs with bands like The Blasters and X, he was part of the first wave of neo-traditionalists that emerged in the mid-eighties, and his influence and impact is being felt a second time around right now in a new wave of neo-traditionalist country artists like Sam Outlaw and Cale Tyson, revisiting and reworking the classic sound of honky tonk, bluegrass and traditional country, adding just enough contemporary production touches to make it commercial and crossing over to the same non-country audiences that Dwight Yoakam crossed over to the first time around.
After last year's Country To Country was dominated by pop and bro-country, it was a relief to see the line-up reflecting the shift in country music that's happened over the last two years. If last year was all about the men, then this year was definitely all about the women. I sometimes think that it's just because of Tammy Wynette's 'Stand By Your Man', but country music has always had a reputation for being socially conservative and retrogressive. At the same time in terms of gender politics it's actually thrown up more radical ideas than any other genre – no one made a record as militantly feminist as Loretta Lynn's 'The Pill' in the mid seventies – and with tales of retribution, independence, rhinestones and vengeance, this year's three big names are the undisputed queens of contemporary country: Carrie Underwood, Kacey Musgraves and Friday night's headliner, Miranda Lambert. The main arena and the pop-up stages around the festival were dominated by female artists. Unlike the famously photoshopped Reading Festival poster, if you removed all the acts that didn't include women from the line-up the poster for Country To Country would still look pretty much the same.
Growing up in Knoxville, Tennessee, Ashley Monroe (pictured, above) has pretty much lived out the narrative of most country songs – she won a talent contest when she was 11 singing Patsy Montana, before her dad died when she was 13 and her mum took to drinking and left home. Monroe came to prominence as one third of Miranda Lambert's hellcat country throwback trio Pistol Annies, but played a two song set of material from her two solo albums before Miranda Lambert. Her album, The Blade, from last year was an album of classic country songs, albeit disappointingly overproduced; written by Monroe, along with songwriting heavyweights like Guy Clark, Chris Stapleton, Jessi Alexander, Barry Dean and Brendon Benson, it felt like it had country music radio too much in mind when it came to the production - it was too polished, tweaked and cleaned up - and as a result, when it missed at country radio, it didn't really make sense or cross over to an audience outside of country either. It's a shame, because when Monroe plays live and the songs are stripped of their glossy production they are some of the funniest and the saddest and the most beautiful country songs around right now.
While Ashley Monroe plays the weed smoking wallflower of Tennessee, Miranda Lambert is the shit talking, whiskey drinking, cigarette smoking, pistol packing outlaw queen of Texas. She's Thelma and she's Louise. A tough as nails traditionalist and firearm wielding feminist - "I love my apron, but I ain't your mama", she sings at one point. Taking a break from her Roadside Bars And Pink Guitars tour, with its famously all female line-up, she brought a blistering greatest hits set to London, belting her way through songs like 'Mama's Broken Heart', 'Gunpowder And Lead', 'Kerosene', 'Fastest Girl In Town', 'White Liar' and 'Little Red Wagon', before Ashley Monroe joined her for an acoustic run through of 'You've Got A Friend' that was so sweet it made Elmo look like GG Allin. Sitting more comfortably alongside fourth wave feminism than anyone else making records right now, this was Hot Feminism at it's most incendiary. If you think 'Salute' by Little Mix is empowering you haven't seen Miranda Lambert behind a pink Gibson 339 singing 'Bathroom Sink'.
If you think 'Salute' by Little Mix is empowering you haven't seen Miranda Lambert behind a pink Gibson 339 singing 'Bathroom Sink'.
Country music was always primarily music made by adults, for adults and about adults. It's always thrived in spite of the various musical forms that have come up against it – rock n roll, pop, hip hop, whatever it was – mainly because it was there to deal with complicated adult responses. It was never built for teenagers and that's what made it so unique from every other genre and probably one of the main reasons it's endured so well. That all changed after Taylor Swift. Tanya Tucker and Leann Rimes might not have turned 16 yet when they broke through, but their songs touched on the same adult themes as country always had. What made Taylor different was that she sang from the perspective of a teenager. Perhaps there needs to be some sort of timeline or dating system for country music that recognises the coming of Taylor Swift – before Taylor and anno Taylor – because her success changed so much of the landscape.
Saturday night began where Friday night left off, with a main stage set from perky post-feminist duo Maddie & Tae - definitely anno Taylor - whose table turning bro-country bashing pop country anthem 'Girl In A Country Song' probably sums up the gender gap in contemporary country better than anything else; a biting parody of bro-country, a genre that glorifies machismo, partying and beer drinking, while women are reduced to riding along in pick up trucks wearing bikini tops and cut off denim shorts, it looks back to a time when women in country songs "used to get a little respect", and highlights the contrasting way women in contemporary country sing about themselves with the way they're often depicted in the songs being sung by men. It felt like a game changer when it came out in the summer of 2014 and it sounded like a victory anthem almost two years lateron Saturday night as part of a line up dominated by female artists.
25 year old Maren Morris is definitely more of a Tanya Tucker than a Taylor Swift; there's a world-weariness to her songs that belies her age. She released her first album 10 years ago but it wasn't until last year that she signed to Columbia Nashville after her song My Church racked up 2.5 million streams on Spotify. She's one of a new wave of country singers coming through – along with Brandy Clark and Chris Stapleton - who have built their reputations in Nashville as songwriters. Like Ashley Monroe the night before, stripped of the glossy production of the record that made 'My Church' a hit at country radio but almost holds the songs back on the recordings, it sounded raw and timeless when she played them acoustically.
Country music has always been divided against itself, with endless internal arguments about what it is exactly that makes something country, and the resurgence of the Americana genre – with its own inaugural UK festival taking place in London earlier this year – is another sign that the debate is far from over. Artists like Sturgill Simpson and Kacey Musgraves have found a more welcoming home for their classic and "authentic" radio unfriendly sound in the Americana movement, while being largely ignored by the larger country music establishment. As the only artist returning to perform from last year, Sam Hunt is unlikely to be playing the Americana festival anytime soon, but he also seemed refreshingly out of place on the Country To Country bill. You would have been forgiven for squinting and thinking you'd accidentally turned up at a Justin Bieber concert, but like Bieber, beyond the hip hop beats, baseball caps and knee length t-shirts, there are some undeniably infectious country pop songs, and it was exciting to see a young country crowd losing their shit for nearly an hour.
Until tonight, the appeal of Little Big Town (pictured, above) had always eluded me. They're Abba-esque all smiles country pop always seemed cheesy and embarrassingly uncool, but their Saturday night main stage appearance between Sam Hunt and Carrie Underwood was an absolute revelation. Opening with an a cappella version of 'Jolene' on a barely lit stage, before breaking into 'Little White Church', Karen Fairchild went on to steal the show, dressed in gold glitter pants and a sequined silver baseball jacket. Every song she took lead on was a country lover's dream, from 'Pontoon' and 'Day Drinking' to the Grammy award winning 'Girl Crush'. Karen Fairchild has come along and filled the Shania shaped hole that I've felt in my life for the last ten years.
Saturday night's headliner, Carrie Underwood (pictured, below), has probably done more than any other artist to reestablish country music in the UK over the last few years. Her name has become synonymous with the genre over here after she played the first Country To Country festival in 2013, sold out the Albert Hall and became the first country artist to appear as part of the iTunes festival at the Roundhouse. Despite the mainstream success, Underwood has eschewed following Taylor Swift in a move towards pop, and last year's Storyteller album was her boldest and most country yet. From the vengeful melodrama of 'Dirty Laundry' to the domestic abuse murder ballad 'Church Bells', the songs off the new album brought new life to her greatest hits set at the O2. The mysterious southern gothic of 'Choctaw County Affair' is pure Dolly Parton, and could have fitted comfortably on any of Porter Wagoner's weirder concept albums from the late sixties, while her version of 'I Will Always Love you' sat perfectly between the sweetness and frailty of Parton's original and the towering emotion of Whitney Houston's version. It deserved every single second of the awed silence from the audience. Set alongside songs like 'Something In The Water', 'Little Toy Guns', 'Undo It' and 'Blown Away', the new songs have added a depth to the tales of self-determination and vengeance that look like making her the undisputed queen of country, switching seamlessly between Okie girl-next-door and imperious Las Vegas diva. If tonight is anything to go by, this should be the year of Carrie Underwood. Forget the fact that this is country music. This is just some of the most exciting pop music being made on the planet right now.
Forget the fact that this is country music. This is just some of the most exciting pop music being made on the planet right now.
If anything was missing from the Country To Country line-up this year it was alt-country or Americana. Even on the daytime pop up stages that surrounded the festival there was a distinct absence of artists from the new wave of alternative country that's been causing such a buzz with non-country audiences in the last eighteen months over here. It seems that while artists like Cale Tyson, Daniel Romano, Nikki Lane, Aubrie Sellers, Margo Price and Sam Outlaw are all finding a new outlet with unconventional often non-country audiences and the Americana movement over here, they're being left out of the bigger picture to its detriment. The pioneering alt-country London label Loose, who put out the first two Sturgill Simpson albums, only had Andrew Combs gunning for them this weekend.
The twenty-something Nashville based singer-songwriter received universal acclaim within the country press (and beyond) with last year's All These Dreams, an album that pitched Combs (pictured, below) as the poster boy for the uber hipster East Nashville scene. Having last played to a mere 75 people at Hoxton Square Bar & Kitchen on his last visit to London, the vast setting of The O2 didn't seem to phase him one iota. Easing in to the mid-afternoon set with the breezy 'Foolin' and 'Please, Please, Please', Combs' heart-on-sleeve brand of country was met with total admiration - his confidence showingly growing throughout as he geed the audience up into a sing-along during the bluesy swagger of standalone single 'Emily'.
At teatime on Sunday, Country To Country had its moment. Six months ago when the line up was announced, Chris Stapleton (pictured, below) had yet to clean up at the CMA awards after performing a show stealing duet with Justin Timberlake, and he was still four months away from picking up two Grammy awards for his debut album Traveller. Stapleton's success has changed country music irreversibly. The album, recorded with Dave Cobb, who also produced the last two Sturgill Simpson and Jason Isbell albums, was a stripped back emotional old school country soul record that looked back to classic country and the outlaw movement of the seventies, with Stapleton's gravel voiced tales of drink and despair at its centre. It went against everything that had been happening on country music radio and the establishment wasn't in any way prepared for it. Overnight it felt like the signposts had been turned around and the country bubble that everyone had been living in had been burst. It was like Belle And Sebastian winning Best Newcomer at The Brits, but if they'd won Best Band and Best Album as well.
As Stapleton walked unceremoniously out onto an unlit stage with his threadbare band, which included his singer songwriter wife Morgane Stapleton, you could sense that the audience understood the enormity of it all, but any expectations that they might have had were completely shot to pieces over the next forty five minutes. Every song was met with a stunned silence while he sang and then an ovation following it. It was genuinely moving and a little bit odd to connect to something so emotionally in the often sterile corporate surroundings of the O2. He took the opportunity of a London show to perform 'If It Hadn't Been For Love', an old song he wrote when he was in bluegrass band The Steel Drivers, but introduced it merely as a song that "a young lady from here recorded", neglecting to mention that that person was Adele. Stapleton is almost painfully humble, and seemed genuinely taken aback by the reception he got. The applause he got after singing 'Whiskey And You' on his own mid-set ran for close to a minute. The intensity didn't let up as Morgane Stapleton took the lead to sing 'You Are My Sunshine', a track off the new Dave Cobb produced Southern Family album. Their voices fit so perfectly together that it feels almost intrusive listening in sometimes. It really is the most incredibly beautiful thing. They closed the set with 'Tennessee Whiskey', but could have played for the rest of the night and I don't think the audience would have moved from their seats. Being there in that arena for Chris Stapleton will stay with me forever.
After that, the kitschy hyperreality of Kacey Musgraves country and western revue fell a little bit flat, and her curtailed set lacked some of the magic that her and her band had brought so successfully to her show at the Royal Albert Hall last November. It was a laudable Kacey Musgraves show but it wasn't to be her night and it was never going to be Eric Church, who followed her's night either. There are some things you just wouldn't ever want to follow, and Chris Stapleton in that sort of mood is one of them. If he returns next year, which seems almost inevitable, it would only be fair to the other acts if he went on last.
It's a ridiculously exciting time for country music at the moment, and it doesn't look like letting up anytime soon. The Country To Country festival is getting bigger and stronger every year, and the only real problem they'll have with next year's festival is bettering this year's line up. With a new record from Sturgill Simpson due and Daniel Romano, Margo Price, Nikki Lane, Cale Tyson and Sam Outlaw all coming over to do shows in the UK this Spring, any gaps that were left in the Country To Country line-up should have been plugged by the Summer too. The signposts have definitely been turned around, but if this is the direction country music is heading in right now then there really isn't anyplace else you need to be. I hope you're ready for it.
Words: Jof Owen / Rich Thane
Photographs courtesy of C2C Festival London 2016
C2C returns to London next year from 10-12 March 2017.
Get the Best Fit take on the week in music direct to your inbox every Friday