Read all of our SXSW 2010 Diary Entries… Day 1 / 2 / 3 / 4 / YouTube Channel
SXSW. What can I say? It's been epic.
Actually, SXSW is kind of stupid. I realised it more this year than any other.
The buzz acts that are coming out of SXSW (think Washed Out, Smith Westerns, jj) – that's not news. We all knew about them. We already have their albums. And if you don't, you can just download them on emusic.
Even the likes of Freelance Whales, Magic Kids, The Middle East, Das Racist – in the world of mp3 blogs and artists breaking in a matter of months, even these names sound old.
So what is SXSW?
SXSW no longer seems the place you go to discover new music. It's the place you go to see the new music you already discovered online. And with the amount of free parties this year, you don't even need to spend out on a badge anymore. Most of the venues didn't even charge a cover. Yeah, it meant there were some hellish queues, but I think that's just a sign of how things are changing, and it's something that should be welcomed.
SXSW is also a massive awesome party. That's kind of becoming the best bit.
So a couple of 'shouts' before I start…
Firstly, thanks to Michael Azerrad for putting up with my company for a lot of the festival, especially Saturday when I was wasted. He's an awesome writer and if you haven't read his books, you should.
Also, everyone should check out Get Off The Coast. A blog that will have far more to tell you about exciting SXSW acts than mine. I met Jheri in Austin but I've been reading his blog for a while. Right now he's in the middle of a 46 hour bus journey home. That's dedication.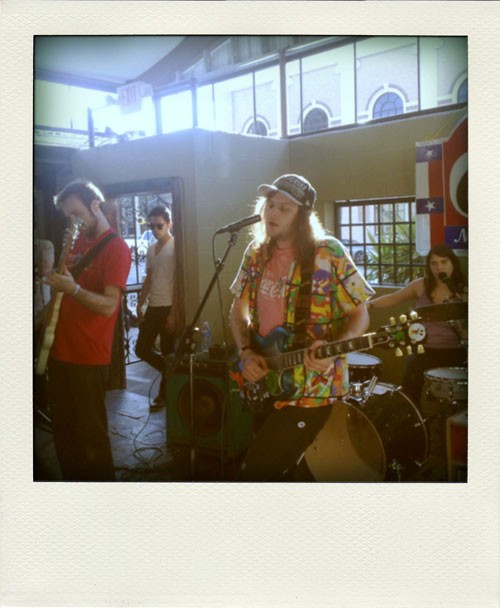 I arrived in Austin on Tuesday in time to catch a bit of Unicorn Kid, Fenech Soler and (unfortunately) Shunda K. I missed Pomegranates. I'm still bitter about this.
Wednesday was insane. Toro Y Moi was a little on the dull side, which is a shame as I love his record, although maybe 1pm isn't the best time to catch him.
Mynameisjohnmichael were excellent, although I only caught the very end of their set and never managed to see them again. It was like indie-rock with a continental, aggressive edge.
The venue was rammed for Warpaint, but they sounded great. Again, love the record. Want to see and hear more.
Neon Indian was good – and a full band too. I wasn't expecting that.
Happy Birthday were my band of the day. I love them. They're signed to Sup Pop and I'm going to buy their album tomorrow.
Magic Kids had a lot of energy. I heard they put a few people off but I just thought they were very endearing, multi-instrumental, pop whizzes.
Hunx and his Punx…. I might just not write bad things about bands here actually.
Harlem were one of my favourite bands from last year's SXSW. They've gotten better. Check out their debut album.
The Smith Westerns I didn't find hugely impressive but the crowd were into them and, again, I love their album. There's a recurring theme going on here.
Fools Gold were brilliant live although it's not really what I would usually watch. Sleigh Bells and SALEM were amazing although both had their sets cut short, which blew.
Watch // jj: "Let Go"
jj. I love the jj record. I was so excited to see them (her?) live and it was, quite frankly, weird. I still can't decide what I think. I've never seen an artist care so little on stage. Maybe she was nervous? And he just stood there, right next to her, with his hands in his pockets. And they chatted while the backing track played?! And people used to give YACHT stick for their backing track? At least they made an effort.
On Thursday I caught a bit of Real Estate and Dum Dum Girls. In both cases, love the record, wasn't hugely impressed with the live show. Maybe they were still hungover, I was.
I saw Coasting at a DIY day party. They were brilliant. Really shambolic, fuzzed up post-punk. Pill Wonder followed and were my band of the day.
I caught a bit of Male Bonding who were joined on stage by tour buddies, Vivian Girls. Explode into Colors were good at times, a little off during other tracks. I couldn't make up my mind. Although their drummer really is every shade of amazing.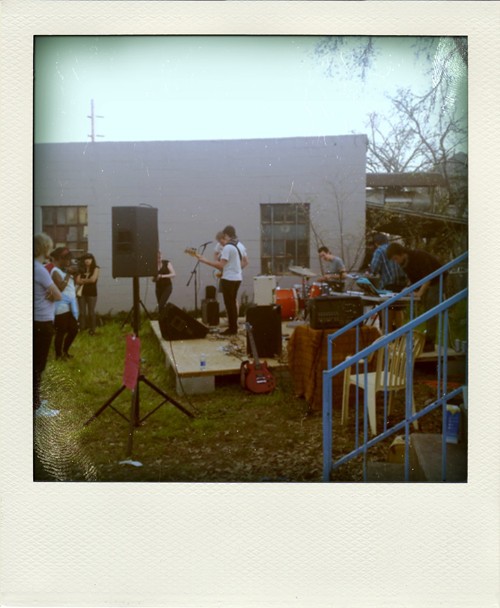 UUVVWWZ, Eagle Seagull, Jessica 6 and Campfires were a bit disappointing. Missing Bear in Heaven thanks to the line for The xx was even more disappointing. White Denim played what was probably the show of their lives.
Friday began with an impressive Stricken City performance and a depressing one from Soko – I left during the first song. Not great.
Ruby Suns at the I Guess I'm Floating party were good, but their set didn't really justify the amount of time it took them to set up. Small Black and Washed Out were worth watching just for the venue atmosphere when 'Despicable Dogs' ran into 'Feel It All Around'. It was immense to say the least. Small Black acted as Washed Out's backing band but also played their own set. I enjoyed both at lot, but I think Washed Out slightly topped it – Ernest is an engaging front man.
A quick trip East to see Cloud Nothings was one of my best decisions of the festival. Brilliant, fuzzed up indie pop. I can't wait to get their record home. They were my band of the day.
I spent the entire night at the Ecstatic Peace showcase. It was amazing, until Bill Murray punched me in the face. I'm lying. He was at the showcase though.
Thurston Moore opened the night playing solo on an acoustic 12 string. The songs mostly sounded, as you may expect, like a stripped back Sonic Youth, although somewhat underprepared. Who cares though? The man is my hero. I spoke to him very briefly. It was the best moment of my year.
Black Helicopter and Violent Soho were amazing. Lord Jeff were entertaining, Talk Normal twisted my consciousness into oblivion and Awesome Color blew it away. Serville Sect put me in a 25 minute trance, the Entrance Band had an unbelievably cool bassist, Viv Albertine was great and No Age ripped the iron roof off.
Watch // Demolished Thoughts
And then it was time for Demolished Thoughts; Thurston Moore, J Mascis, Don Fleming and Awesome Alison. Andrew WK was supposed to play too but didn't show so Jonah from Fucked Up filled in on bass. They're basically a hardcover covers band – Thurston read the lyrics from a stack of printed A4 papers, but it was amazing. The crowd went mental, and then it got pretty violent so a lot of people backed off. I didn't and got punched in the face by a stage diver. Serves me right.
As I blearily wandered out into the night Damian from Fucked Up gave me tips on icing my eye and Dean from No Age gave me a hug and tickets to the next night's aftershow.
On Saturday I started at the Red Eyed Fly watching Savoir Adore and finished in a mess dancing to Avey Tare DJ. In between I saw Dawes, a must for any fan of The Boss. I interviewed Savoir Adore whose album is a lesson in perfect pop. Rafter were fun, Crystal Antlers' percussionist was fantastic (as always) and Freelance Whales were wet.
I loved Kit. They were far more punk than I was expecting; load of energy, just great. Gwar were everything I'd ever hoped they might be. I later drunkenly described them as 'The Lady Gaga of metal' much to a friend's disdain.
I saw Abe Vigoda and Best Coast in a basement. Abe have calmed down a bit and used a lot more synths in their set. Best Coast were brilliant, 90s grunge pop fuzzed up for now. Loads of attitude too. It was awesome.
I made a late trip across the highway for the Pitchfork party to see Bear in Heaven who were enchanting and had every member of their crowd locked. I had an argument over the theme for Tiny Tots, drank too many rums and danced about like an idiot to Sleigh Bells as I finally got to see them play a full set. And they were spectacular. I love how raw they are. I think I might become a bit obsessed.
And then it was 3am and I was watching No Age kill it, hands clasping a free beer, memory fading into the early morning. I awoke feeling rough in my hotel room 5 hours later.
I thought SXSW was over. It wasn't.
There was a free show at Beerland, so I finally got to experience Jeff The Brotherhood's duo rock crush my mind, post-Mae Shi Signals spazz it out, and Golden Triangle cool it down. And then a group of 5 boys called Surfer Blood played the most hungover show of their lives.
Not sure if they'll amount to much, really.
I'm kidding. We all knew who was going to be a big tip from SXSW before we arrived. But it was definitely worth the ride, and the liver damage.
Read all of our SXSW 2010 Diary Entries… Day 1 / 2 / 3 / 4 / YouTube Channel