A three-night crawl-style celebration of the best new music of Iceland, in Iceland – it was always going to be a magical weekend. To be an outsider welcomed into something as tight-knit as Reykjavík's ever-blooming and perpetually-evolving independent music scene is an experience of immersion quite unlike any other and, over the three days and nights spent in the city, we find ourselves totally consumed by the indomitable grassroots spirit its creative inhabitants live and breathe.
Each evening of Music Mess - now in its third year – is split between two venues: for the most part, Volta – a fairly standard-issue club in the centre of the city with an enveloping downstairs bar – and the gorgeous vintage-swathed restaurant/bar/library of Kex – a hostel overlooking the breathtaking Mt. Esja that could easily, without hyperbole, be described as one of the hottest spots in Europe.
The weekend is sparked off by an opening party on Thursday night, for which all ticket holders have been invited to an open exhibition of exclusive artwork based on the mugs of the bands appearing over the weekend. Prints of the work hangs from strings through Kex's enormous wooden-floored gym, where an enormous turnout makes short work of a gargantuan supply of complimentary Thule – a beer from an independent Icelandic brewery, responsible in part for the festival's sponsorship – before gathering around to loosen their limbs to local heroes Boogie Trouble. The band's line of pop-funk is all sung in Icelandic, which is refreshing, and features bass so fantastically frantic it could almost be described as disco. The rhythm is infectious, and the whole evening feels like what we imagine a show in an English village hall might feel like if an energetic crowd and a band capable of satisfying them filled it. As opening parties go, it's massively enjoyable and relaxing.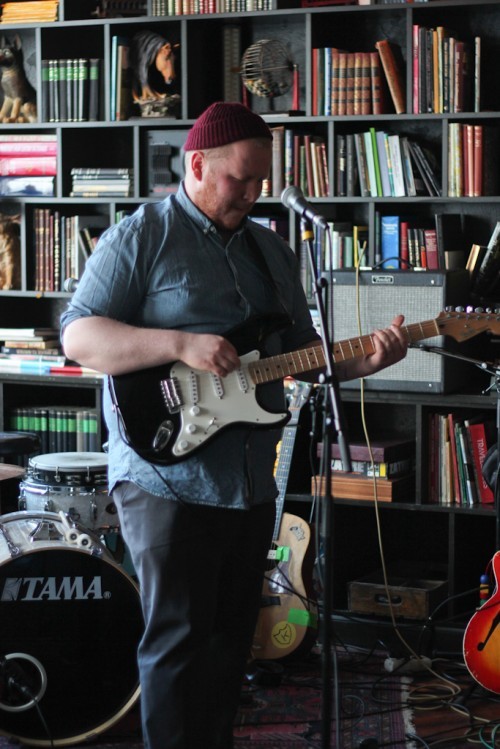 Þorir Georg
On Friday evening the sonically diminutive Þorir Georg makes a quiet appearance in the library segment of Kex's open-plan hang-out-and-be-merry space, where he plays to a small assembly and the buzzing restaurant behind them. We're pleasantly surprised by his style's likeness to midwest American emo-folk, bleating out lyrics like 'I will die, you will die, and it will be alright' – just the right balance of melancholic and heartfelt.
Þorir makes a sheepish departure from the floor after a murmured 'takk' and is followed by the first foreign-to-Iceland band of the festival – Edinburgh's burgeoning Withered Hand, AKA Dan Willson, appearing tonight full-band and bringing a slightly muted Okkervil River/Low Anthem-style folk sound to the proceedings. The ardent folk-pop of 'Religious Songs' goes down a storm, as does the violin that spills out later in the set. This is the first of two appearances the band will be making at the festival, and we're excited to see them spread out into the more dedicated Volta setting on Sunday.
Volta is exactly where we wander through the streets to soon afterwards, awed by the brightness of Reykjavik's summer nights, and there we settle into a set opened by a band called Good Moon Deer – one of many Icelandic artists on the lineup that are totally new to us. The band turn out to be a two-piece comprising of a guy with a desk and computer and another behind a solid drum kit, and holy heck, it's butter-wouldn't-melt cool. We're led in by a heavily electronic, avant-garde sound akin somewhat to Thom Yorke's, which is suddenly blasted skywards by the implementation of monumentally resounding live drums. This is not, we hope, the last we'll see or hear from this band (as it turns out, we'll be seeing them again on Saturday night in Kex), for they have all the makings of being what Battles were to experimental alternative music in their early days and could happily floor certain subdivisions of alternative music culture in the UK.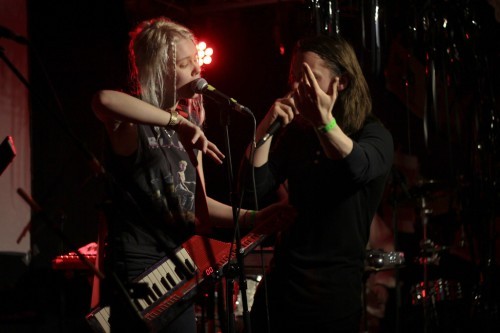 Bloodgroup
The frantic percussion and dark electronica is continued by the arrival of Bloodgroup, whose sound tonight features an undeniably gothic element. Their dark set, which sees two of the five members become increasingly entangled in rolls of film hanging over stage (which is eventually torn down in a frenzy), is almost unbearably intense, and slips, in parts, into something touching on screamo – we're totally hooked. As the congregation catch their breath after Bloodgroup's departure, Australian experimental rockers PVT (once Pivot) set up. The band very much look the part to be cranking out '80s-esque alt-rock, and with the crowd now loose and limbered-up, their soaring, drawn-out vocals and deep, resonant bass (to which we can't stop closing our eyes and seeing the opening titles of Drive) the atmosphere is milk-and-honey rich.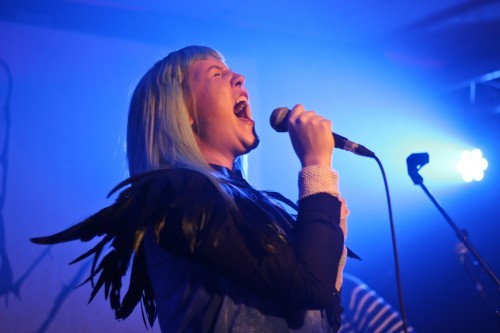 Sykur
Our evening is about to take a turn we weren't expecting, however, in the form of Sykur – a young, largely-electronic four-piece who deliver one of the most mind-blowingly energetic live sets we've ever seen. Singer Agnes, who spends half the set belting huge vocal melodies and the other half rapping feverishly in Icelandic, is not a performer to be taken lightly, and as the front of the crowd fling themselves all over the place to the band's unique and ear-splittingly loud sound, she leaps from the stage to join them. We leave feeling absolutely dazed – and of course, it's still light outside.