-
All Photographs by Sebastien Dehesdin.
For those concerned that Glastonbury's absence this year would deny British festival goers the opportunity to enjoy a host of musical, cultural and culinary wonders amid acres of godforsaken mud, rejoice, for Latitude took up the mantle and did it proud . Touting itself as "more than a musical festival", the three day event in the picturesque Tudor estate of Henham Park has become an annual institution, famed both for its inexorably middle-class leanings (overheard quote from '08: "No, Indira, that's Daddy's Yakult!") and its eclectic cultural roster. Indeed, a punter could conceivably spend the whole weekend partaking in comedic, theatrical, literary, cinematic, poetical or alcoholic pursuits without experiencing a single semi-quaver of music, although they'd be foolish to do so. For if there's one thing Latitude does extremely well, it's bringing together golden oldies, bright new hopes and everything in between to deliver a musical line-up that has something for everyone, year after year. And 2012 is no different, even if enjoying said line-up involved conditions akin to the aftermath of the Somme.
Friday's proceedings aggressively kicked off with a raucous set by Danish punk rockers Iceage that, if nothing else deserves some kudos for instigating an honest-to-God circle pit at 11 o'clock in the morning. For some of us though, such confrontational antics were a bit much before lunch so thankfully Louisiana's Givers were on hand to deliver forty minutes of afrobeat-tinged indie pop both beautiful and joyous in its exuberance. Down in the woods, Cold Specks' soulful croon impressed much more than her songwriting, whilst Punch Brothers were a surprise highlight despite looking like the grumpier cousins of Mumford & Sons. Their stylish reimagining of traditional bluegrass was delivered with élan, not to mention dazzling fiddle playing, and their set proved an invigorating antidote to the bastardised ersatz folk peddled by their UK counterparts.
Over at the garish Word Arena big top,Canadian cult figure Destroyer played an absolute blinder of a set, Dan Bejar's unruffled stoicism a striking counterpoint to the dense intensity of his sax-drenched epics. The War On Drugs and The Antlers were less impressive with uncompromising, even workmanlike performances (why, oh why won't you play songs from Hospice, Peter Silberman?!), but these slight dips were counterbalanced by fantastic crowd-pleasing sets from the endlessly stylish Janelle Monae, and Dexy's Midnight Runners, who managed to stretch out 'Come On Eileen' into roughly 563 hours.
Attracting the biggest audience of the day to the shock of absolutely no-one, was blogosphere hype-magnet Lana Del Rey, whose tuneful syrup was actually more palatable than the dull hipster nonsense of Alt-J (despite the collective shriek at the beginning of 'Video Games' doing more damage to this reviewer's eardrums than the time he went to a My Bloody Valentine gig without earplugs.) Indeed, she probably obtained a more passionate response than top-billed Bon Iver, who despite the care clearly lavished upon his performance, including some stunning set design, just didn't connect with the audience as much as he might have hoped. Such delicate, emotive miserabilia would doubtlessly work at the likes of End of The Road, but when you're surrounded by Tuborg-swilling teens chatting all the way through the songs they don't know (i.e. everything but "Skinny Love"), one's susceptibility to impassioned by heart-stirring balladry is severely reduced. So it goes.
Whilst Saturday's line-up appeared the weakest on paper, it did yield some very pleasant surprises. Bwani Junction's socially conscious, Scottish take on Vampire Weekend started the day on an enjoyable if rather earnest note; Sharon Van Etten's passionate folk-rock confirmed her status as one of the most compelling singer-songwriters around. Deap Vally's no-nonsense hard blues won't win any awards for originality, but they're up there with Two Gallants for sheer kinetic energy. The hotly tipped Icelandic six-piece Of Monsters And Men elevated spirits and inspired mass hand-clapping with their twee take on Arcade Fire anthemics, and Los Campesinos' near-perfect greatest hits set resulted in the most energetic, good-natured pogofest of the whole weekend.
The day ultimately belonged to Elbow, who nailed their headline slot in a way Justin Vernon so conspicuously failed to do. Some may accuse them of being a safe, middlebrow choice, but the charismatic Guy Garvey sure knows how to work an audience and there's few songs that can match 'One Day Like This' as a big old 'Hey Jude'-style singalong, especially when you throw a firework display into the mix. They may not reinvent the wheel, but that night, they were very much the right band at the right time.
Sunday morning brought two wonderful and rare events to Henham Park- a brief spell of genuine sunshine, and a magical lunchtime performance on the lake by virtuoso Chinese concert pianist Lang Lang. Across the bridge in the i Arena, Liz Green blew away all and sundry with her darkly comic songs and a voice that belongs more on a 1920's gramophone rather than this era of iPods and TOWIE, whilst Bristolian greats Zun Zun Egui melted minds left, right and centre with their experimental tropical-noise-funk fusion. St Vincent's sultry shimmy as she shredded her guitar like the wrath of the Gods made a thousand hearts swoon; her near-flawless performance only faulted by its brevity.
Battles also suffered a curtailed set (in their case due to technical hitches), but John Stanier's obvious displeasure only accentuated his unyielding assault on his drum kit/absurdly high cymbal – and as the dog-collar-clad vicar grooving next to me would attest, 'Atlas' remained an absolute beast of a song. M83's electronic dream-pop sounded typically massive, although it was a shame half the audience absconded after 'Midnight City' (more fool them, as 'Couleurs' is a hundred times better), Herman Dune was very…Herman Dune and Berlin electronica outfit Apparat wrapped up the weekend perfectly with a beguiling mix of live strings, techno beats and ambient soundscapes in the darkness of the woods.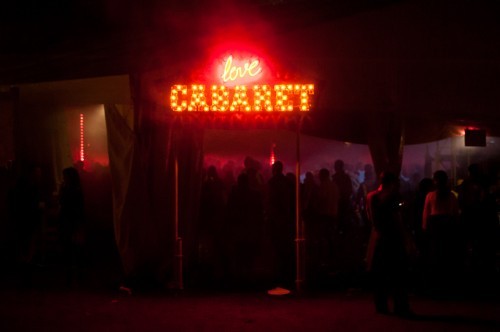 True, some of the scheduling was a nightmare – pitting SBTRKT against Zola Jesus AND Los Campesinos was simply sadistic. Sometimes the desire to apply a crowbar to the collective larynxes of banterific LADs and shrill, disinterested scenesters became almost irresistible. The i Arena was too small to accommodate the fanbases of many of the bands playing, and the proprietors of one of the burger vans should be prosecuted for crimes against my tastebuds (however, the Halloumi and Chorizo guys should be given a knighthood). But that doesn't detract from what was an exceptional weekend, full of incredible music, wonderful discoveries and unanticipated delights (the acrobatic spectacles above the lake at midnight were truly breathtaking.) After several years of threatening to drift towards appeasing an affluent Radio 2 crowd at the expense of more innovative and outré bookings, it is really heartening to see a return of the diversity and quality that made Latitude such an appealing prospect in the first place. Let's just hope there's slighty better weather next year.