All photographs by Merlin Jobst
"If you needed an example of British stubbornness in action" said the closing lines of a blog post from Ben Marwood this Sunday morning, "2000 Trees this year was the place to be". As many of you back home in your nice warm beds over the weekend may have heard, the weather from Thursday 12 to Saturday 14 was, well, more than a force to be reckoned with – it was something you either had to accept, and essentially embrace, to survive, or simply throw in the incredibly soggy towel and go home. 'We will enjoy this', was the mentality of the five-thousand-odd people in attendance. 'We will, whatever England throws at us' and, in shared feats of incredible organisation, endurance, camaraderie and sheer determination, we bloody did.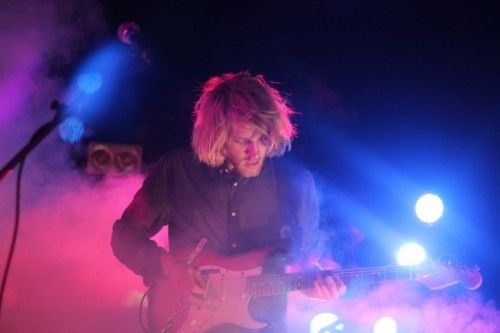 Tall Ships
The skies break over us as we arrive on Thursday morning – treading along the long, sodden queue of intrepid 'early birds' to eventually reach the wristband exchange gate which, even at this ludicrously early stage in the game, is paved with thick mud – with such intensity that we aren't ready to even think about watching music until the late afternoon. The day is set off for us perfectly, however, by why-the-hell-aren't-they-more-famous-yet indie stalwarts Tall Ships in the dark and cavernous secondary stage of the festival – aptly named The Cave. The three-piece deliver a note-perfect set that includes the rarely-seen 'Ode to Ancestors', showcasing a vast improvement in the stage's sound over last year. To follow up are Tellison, whose infectiously catchy blend of pop and emo is more than welcome to the audience.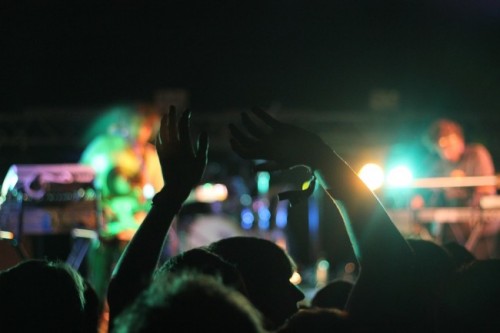 Three Trapped Tigers
Headliners Three Trapped Tigers close the short first day for us on the same stage – at a point at which teeth are starting to chatter and general good-feeling is wearing very thin. As the band step up to the plate with their opening number, '6', however, all such worries are resolutely trodden into the ankle-deep mud. The set is monumental – from the heart-stopping drops that lock 'Cramm' together, to the furious abandon of closing number 'Drebin', the gloriously hectic roar that is Three Trapped Tigers' live sound is nothing short of extraordinary.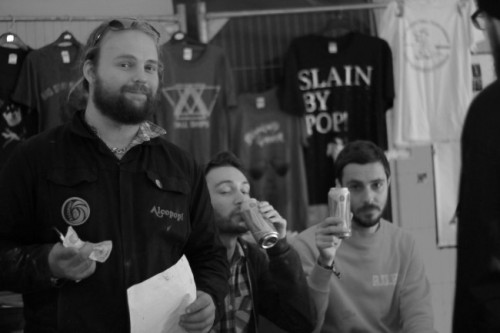 Jack, Kev and Simon – label heads of Alcopop!, Big Scary Monsters and Blood and Biscuits
After a night spent amongst the sodden fellow inhabitants of 'Little Lebowski's Urban Achievers' – the festival's social hub/bar, and in the day home to a utopia of Big Scary Monsters/Alcopop!/Holy Roar merch flogged by the label heads themselves – Friday is opened on the main stage by Oxford's Gunning for Tamar. The four-piece do an admirable job of filling the enormous stage with their polished alt-rock, and exude an indefinable air of being rather lovely chaps.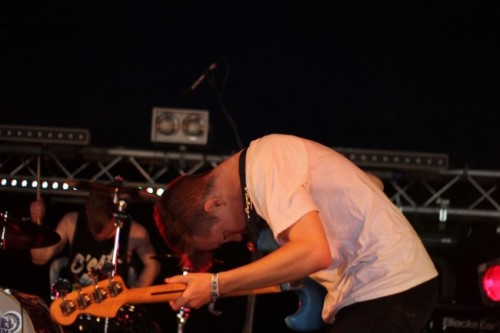 Run,WALK!
We stomp back over to The Cave for one last waltz with the ever-impressive Run,WALK!, who have heavily publicised the fact that today will be their last ever show. The two-piece, made up of drums, vocals and potentially the most gargantuan bass tone in recorded history, deliver a gritty-as-hell and truly unforgettable show. What a way to go.
After a ridiculously catchy set of electronica-laden instrumental rock from Gallops, who possess a sound that could have been squeezed out by a teaming up between Battles and Adebisi Shank, our next port of call is over at the main stage for instrumental power-rock titans Maybeshewill. "Why don't these guys just soundtrack a film already" we hear someone say in the wake between songs, and they've got a point – the sound, resplendent, and complete with both cello and violin, is as vast and burnished as the music present in modern Hollywood blockbusters. They're really the first act of the weekend to successfully 'fill' the main stage and its surrounding swamp.
Lanterns on the Lake
For thirty minutes, there's bliss in the main arena as Lanterns on the Lake take to the stage. The mesmerising four-piece incorporate, in a manner akin to Sigur Rós, bowed electric guitar, as well as an accompanying violin and softly-struck percussion. The otherworldliness of their sound is coupled with a hugely believable helping of British folk and the results are quite unforgettable, if, unfortunately, a bit on the quiet side.
In the afternoon, a real treat is found in The Leaf Lounge – the smaller of the three 'big' stages – in a set from the fabulous My First Tooth. There's something really special here – the infectious rock n' roll undertones of live American gypsy punk, in places not unlike those of Titus Andronicus, but alongside the clean and loveable brilliance of modern alternative indie – definitely one to check out.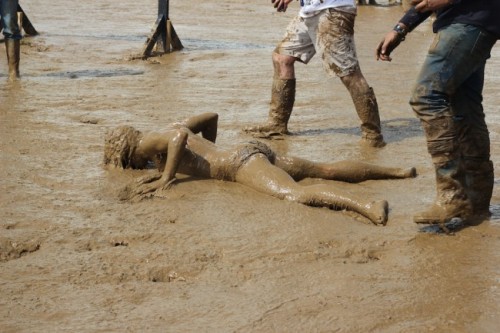 As the evening begins to fall, there are two words being shouted here and there across the site – 'Computers!' – who are taking their vicious show to The Cave – and 'Jetpacks!'. We opt for the latter – the heavily Scottish We Were Promised Jetpacks on the main stage, and what a show we're rewarded with. It's everything you'd want to hear from alternative rock at this stage in the game, really – thoughtful, yet simple, full of melody, and as huge as a weathered landscape stretching out before your eyes. As the band approach the end with closer, 'It's Thunder and it's Lightning', ecstatic vocals ring out all around the arena in a throaty howl along with the band, whose indefinable energy is infectious despite them barely moving.
If anybody had any reservations about Gallows' ability to 'bring it' without Frank Carter – which, admittedly, it would be untrue to say nobody did – a glance at their set in The Cave would leave even the most cynical punter in no doubt; Gallows can still bring it, and then some. After opening with 'Misery', new frontman Wade MacNeil, Canadian-born and almost frighteningly aggressive, leaves the stage in what appears to be a strop over not feeling welcome. He returns, minutes later, shirtless and dripping from head to toe in wet mud, and, looking remarkably like some sort of furious golem, leads the band and audience through one of the most intense rock shows we've ever seen. In fact, aside from a mortifyingly embarrassing moment when Wade introduces a song called 'A.C.A.B.' with a roar of "ALL COPS ARE BASTARDS", Gallows are a real stand-out act this weekend.
For all, it's tough to choose which headliner to see tonight; on the one hand, the magnificent 65daysofstatic are taking to the main stage, but on the other, the rain has reached an almost biblical proportions and The Xcerts are playing under the covers. However, the hope of keeping even a little dry is abandoned by a small, adoring crowd who brave the torrential weather to see 65daysofstatic, and boy, are we glad we made that choice, for it's an experience like no other. The band are, thankfully, gloriously loud and beyond note-perfect, creating noises that make staring into the hundreds of blinding lights behind them – lights that illuminate the crowd around us whose faces all share an expression that's somewhere between disbelief and ecstasy – feel like something almost holy. "We're going to try and make this as fun for you guys as we possibly can", professes a voice from the stage, "but if you have any drugs, I'd recommend you eat them now".
Saturday is broken into by Brother and Bones, a band who could quite easily have come out of Nashville, Tennessee. Their deliciously simple and badass rock n' roll style makes a perfect opener to a day.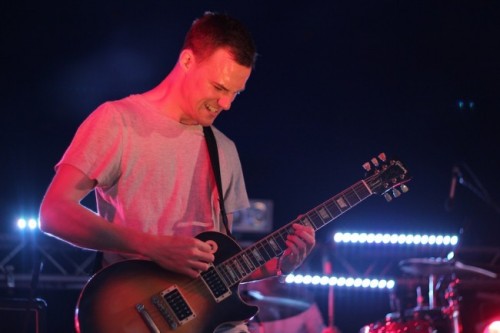 Brontide
Sadly, a set from Hymns in the Cave later in the day is somewhat lacklustre in comparison to their excellent studio recordings, but they are followed by what could possibly compete for 'best set of the festival' – the illustrious Brontide. The three piece's joint delivery is frankly nothing short of flawless, although you could call watching any of them play their instruments entertainment in itself. Guitarist Tim Hancock seems as blown away with the audience as we are with him, and spends a good 30 seconds simply gazing out at us, and as the band close with the title track from their album 'Sans Souci', a wild roar of approval is emitted from the exhausted crowd.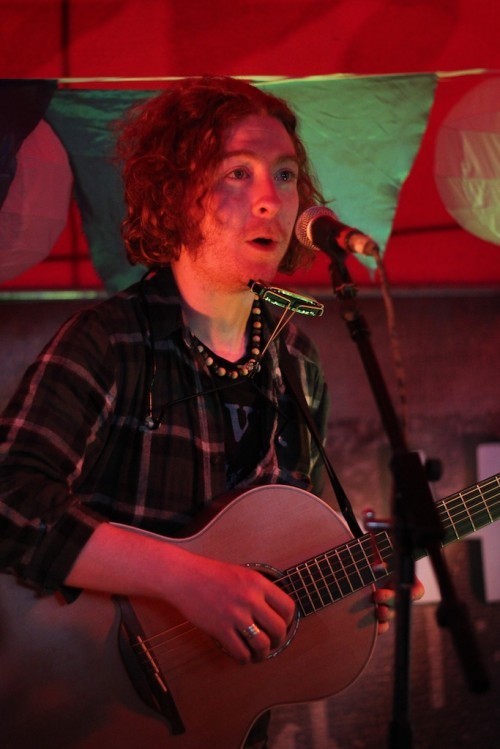 VerseChorusVerse
There's a nice interlude here in the form of ex-And So I Watch You From Afar guitarist Tony Wright – or, as he likes to be known professionally, VerseChorusVerse – in The Greenhouse. It's clear to everyone just minutes into Tony's set that he's simply one of the nicest guys in British music; taking time to chat with the audience members between songs, making jokes about his grand departure from Terrorvision (the singer for whom shares Tony's name) instead of ASIWFA (shh), and giving us an exclusive announcement of an upcoming covers EP he's self-producing to raise money for Action Cancer and First Fortnight – two charities that are very close to his heart. Before the set is over Tony delights the closely-huddled audience with a cover of Sonic Youth's '100' and leaves everybody with a smile on their face.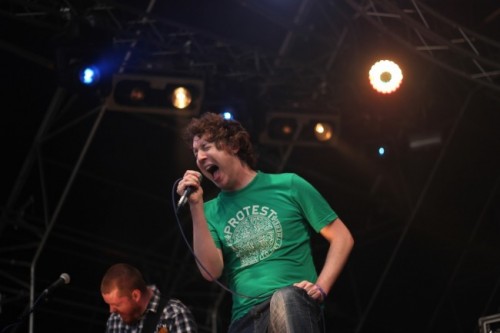 Hundred Reasons
It takes guts for the audience to leave the tiny stage at the top of the hill, but the communal experience of seeing Hundred Reasons is something we won't be forgetting in a hurry. Surprisingly, the band look utterly approachable – as if we could simply nip into the pub with them after their set – and yet today they sound like the biggest band in the world. To pre-empt the play-through of their debut album, starting with the anthemic 'I'll Find You', Colin Doran takes a step back and shouts "shit – the sun's out!", as warm evening light breaks over the arena. Frankly, it's one hell of a moment and it'd be fair to say that everyone present felt it.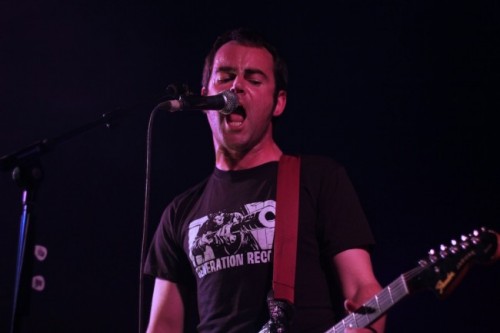 Future of the Left
Post-Hundred Reasons, it's time to have one last glance at the site in all its warmly-lit glory before the festival is closed by an astonishing set from punk outfit Future of the Left, who leave The Cave in ruins as they play through to the last breath they have in them. The sun is, for once, blinding, and the atmosphere is like that of one big family, who have all undergone the same ordeals and come out the other side happy. Really, that's the loveable brilliance of 2000 Trees – it's created by a group of people who adore music for a community of people who adore music, and who therefore relish being in the same place together.
It's hard not to notice over the course of the weekend that people don't just smile awkwardly at one another when they meet eyes at 2000 Trees; they beam. And well they should, because thanks to the exceptional organisation and beautiful location, among many other factors, there would be no breath of overstatement in saying that 2000 Trees is quite possibly the finest small festival in Britain, and it's a treat to be here.