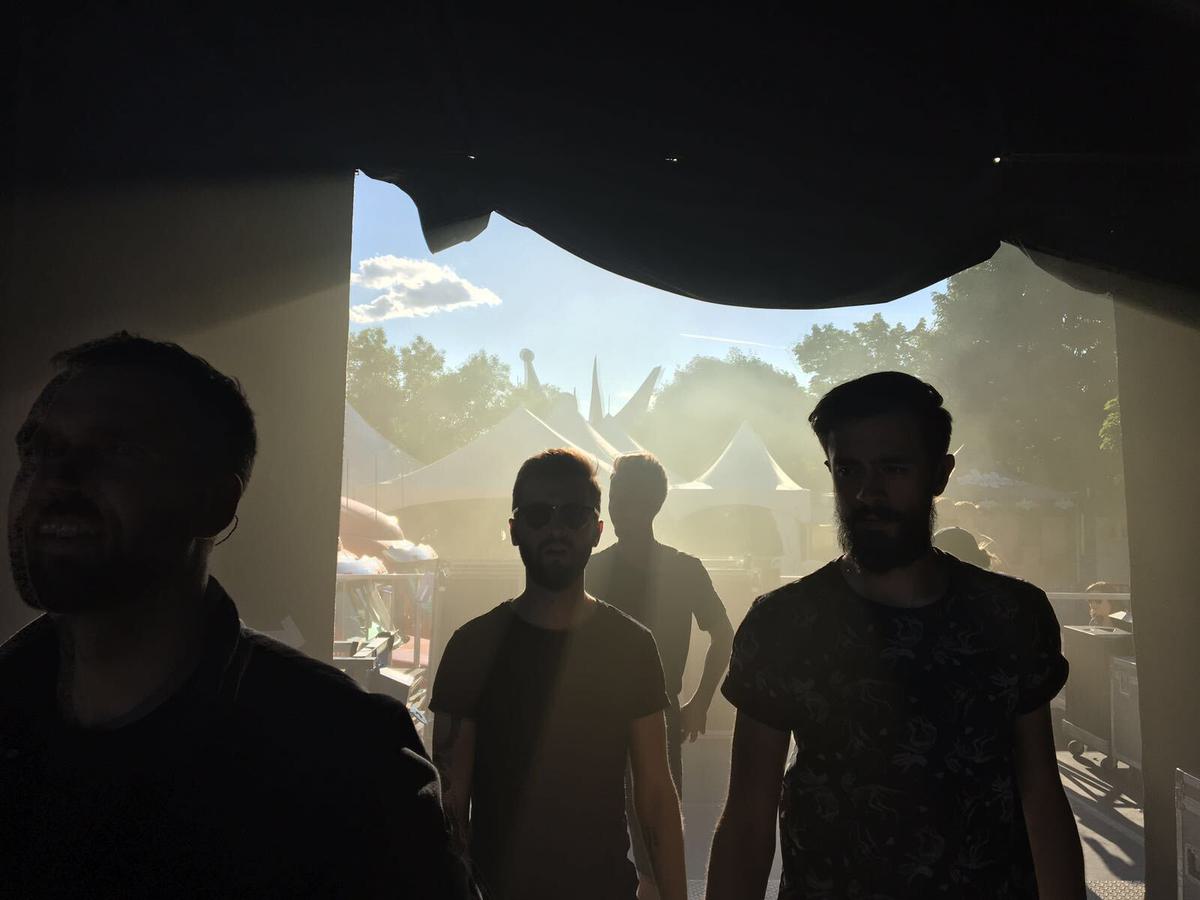 Bastille's photo diary from Osheaga
12 August 2016, 12:52
Bastille were busy conquering Canada at this year's Osheaga Festival in Montreal but Dan Smith still managed to find the time to document his band's journey in a brilliant set of photos, with everything from golf buggies to on-stage action and almost-Inception level meta.
Here's Kyle concentrating really hard on his work during the gig. Photo by Dan.
I took this photo of the other guys as we walked onto stage for our show.
Every band or act's backstage room is a shipping container. Not sure this grainy shot really shows that off but I'm sure you get the picture.
The festival sits on an island and everywhere you look the views are pretty great. Somehow, though, I managed to take a photo of a car park. Nice bridge though eh?
It was a massive schlep from backstage to where we were playing so we got carted round in golf buggies like the lazy bastards that we are.
Here's a photo I took from the buggy looking back off the island to the mainland of Montreal.
Here's a photo I took of our crowd during the gig, in all it's filtered grainy glory.
Here's another shot I took during the gig. That's Will over there on the left. He plays bass in our band and it looks like he's having some kind of walking to the front rock star moment while that camera dude completely ignores him.
Here is an in-no-way cheesy shot I took of Woody during our gig. I should probably have spent more time playing and less time taking photos.
Another terribly cropped photo by me. This was our view watching Haim play their show. They played a couple of new songs which has us very excited for their new record.
A quality photo by Kyle who was losing his mind watching Kaytranada who we love.
Here's a photo of Kyle during our gig, taken by our tour manager. Kyle looks like a bit of a serial killer but I'm going to put that down to hard work and concentration.
Here's a photo of me taking a photo of the crowd. Probably the one you saw earlier.
Here's a photo of Will doing his walking to the front bit and me taking stage photos from earlier. It's all a bit meta.
That's me jumping up an down like an idiot. The T-shirt is one I picked up at the Anohni gig I was lucky enough to see at The Barbican a few weeks ago.
More grainy stage shots.
This was in the golf kart on our way back after our gig.
Kyle and Will looking totally riveted about talking about themselves in an interview with a Canadian magazine.


That's us on top of our shipping container back stage room at the end of the night. The festival is right next to a theme park where they apparently have a massively fireworks display every night. It went on for bloody ages.


Another angle of us and the fireworks. Charlie on the left, who plays guitar with us, and two of our crew members. Then Woody and me on the end. Definitely a sober group of people.
Bastille is currently set to play V Festival, Rock En Seine, Rakattnatt Festival, Festival No. 6 and Bestival, before heading to the US in October, and then returning to the UK for a tour including two headline shows at O2 Arena in November.
Their second LP, Wild World is due out on 9 September on Virgin EMI, featuring the singles "Fake It" and "Good Grief", the latter with a decidedly Lynchilicious video.