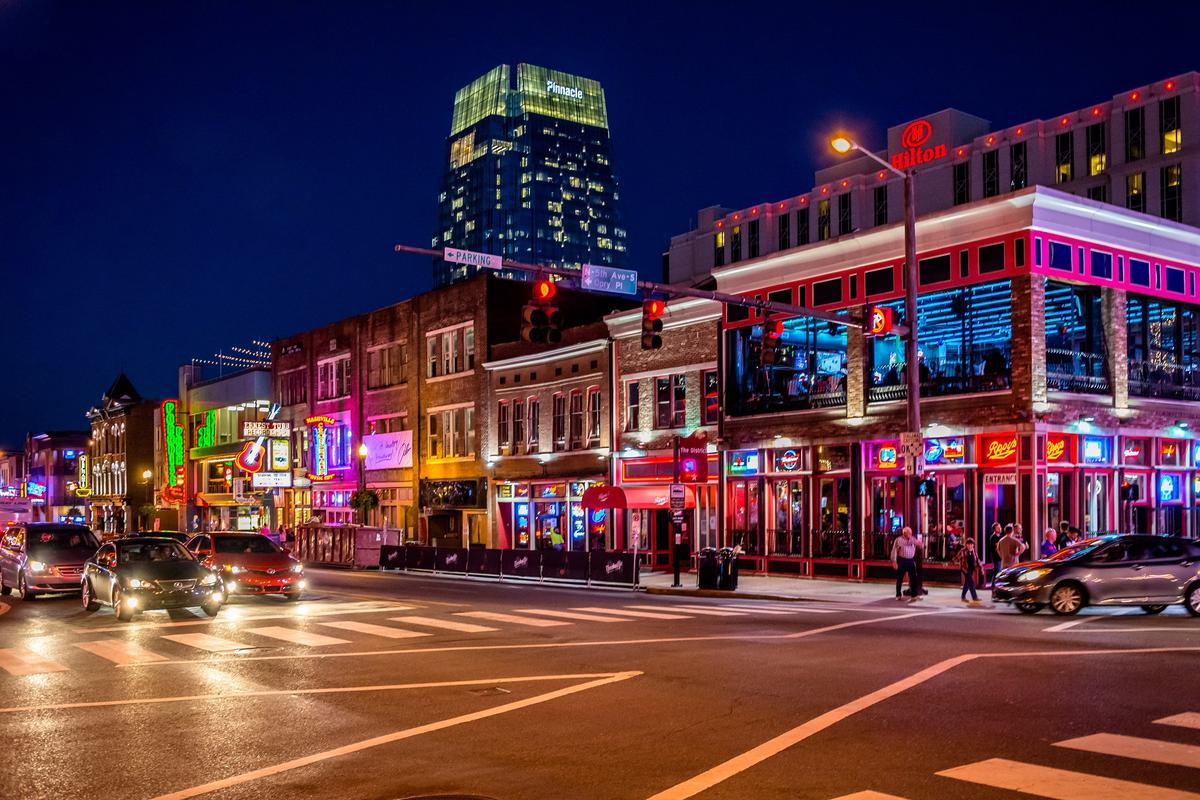 The Music Fan's Guide To Nashville, Tennessee
20 August 2018, 10:00
The first ever direct flight from London to Nashville, courtesy of British Airways, means it's finally easy to visit America's 'Music City'. Alongside the historic country music heritage, Adam Bloodworth finds Nashville's contemporary scene almost more compelling than its past.
There is a duality about Nashville that draws you in. On the one hand, the city is a fabulous, brightly coloured museum for country music, replete with all the bells, whistles, and Elvis Presley Cadillacs you could shake a pair of Blue Suede Shoes at. On the other, it's a thriving modern city of creative innovation.
Still home to America's songwriting community, musicians who live and work here (including Nashville's creative elite, the likes of Dolly Parton and Keith Urban) have learnt how to make musicianship work for the era of streaming and downloads. Today's creative community still benefit from the Southern delights of fried chicken, done incredibly well, but they have a raft of fresh and seasonal (read: healthy) destination restaurants to graze at as well, as the city's vibrant hipster community feeds from change.
Part of a longer trip? Here's how to do Nashville in a day.
Experience the cultural power of country music at the historic Ryman Auditorium, with its church pew seating and steeped history. Visit the Musician's Hall of Fame for a slice of memorabilia pie, then drift over to East Nashville for a meal at Nashville's best restaurant, Husk. Ask for directions to the dive bar around the corner and enjoy one for the road before jumping in a cab to the Honky Tonk bars Downtown. There you can dance to live music from authentic Nashville songwriters well into the following morning.
How would you describe Nashville to someone who's never been?
A riotous trip through music's history that's so vast, it can feel overwhelming. In terms of the musical attractions, refining your to-see list before you land is crucial, as it'll largely depend on your sonic interests. The rest, like the food and drink, is best fitted around your hit-list of musical wanna-sees. For instance, if you're into rock but not country music, you'll have no issue swerving the Country Music Hall of Fame. Locals swear by it, but for non-Americans it's incredibly niche.
As a city, Nashville is typically US in that there isn't much of a culture for walking. Midtown, though, where most of the city's museum-based attractions and bars are, is walkable. Don't believe a word the concierge say: a trip from a Midtown hotel to the Downtown nightlife of the Honky Tonks is a rewarding experience on foot, as the bright lights sharpen into focus.
More generally speaking, the city is alive with songwriters who largely ghostwrite music for famous recording artists, preferring the quieter life of the South to the buzzier American coastlines. It's easy to speak with these artists in informal hangout spots, and because the city as a whole has a local feel, stumbling upon hidden gems feels far easier than it would in a city far bigger, like Los Angeles or New York.
Who are the key local musicians, bands and labels?
Nashville's famous Music Row isn't immediately tourist-friendly. Essentially a sprawling mass of music studios the likes of Decca and Parlophone, the district is still very much the business hub for music and bar gawping at label signs in front of office blocks, and it can feel a little soulless.
There are a couple of ways to experience Music Row from the inside though. One, which is newly opened, is the Imagine Recordings experience. Imagine Recordings now invite visitors into their actual goldfish bowl studio to sit in on live recording sessions with artists.
When we visited, an American Idol contestant (no one seemed to bat an eyelid at who she was) was recording her new song, "Hey Boy". It was a straight-up pop-country bop for a teeny-bopper audience. We sit in with the live drummers and session guitarists and our headphones are wired up to the queues from the mixing desk. At around 90 minutes, it's a revealing insight into studio life. A poke around the backstage studio area, which is all a working operation, will feel valuable for recording geeks too.
For a more classic studio experience, take the tour of Elvis' favourite studio, RCA Studio B. "Will you sing along with me?" asks our guide as we step inside onto the original brown parquet flooring Elvis recorded on. His original equipment is still here, including his favourite piano. Later the guide plays Elvis songs and dims the lights in what could have been tacky, but actually had a haunting, creative effect.
For a microcosm of Nashville's music culture, visit Third Man Records. We say this in the sense that contemporary and classic music fuse together here. Recording artists go to cut new music using traditional methods: this is one of only two studios in America where artists can record live sessions onto vinyl using 1950s technology (a lathe vinyl cutter). U2 popped in recently to do exactly that.
"Jack built the room," Third Man co-founder Ben Blackwell says of his uncle, Jack White, whose studio this is. With his hands on his hips, staring out into the lemon yellow multi-functional recording space, fit for video making and song recording, which had a pretend taxidermy elephant head on the wall, Ben shares his uncle's eccentricity.
"It's the coldest place in the office," Ben says later as we walk past a taxidermy penguin on top of a fridge, surrounded by more taxidermy, this time what looks to be a taxidermy buffalo.
Later on the tour we walk past a gumball machine. "Don't tell anyone," Ben says, scooping one out without inserting a coin. "It's my little secret."
What's the best venue to watch live music?
Both touristy and a genuine right-of-passage for local musicians, Nashville's Honky Tonk bars feel somewhere between the aesthetic of the Las Vegas strip and the culture of Broadway. Aptly, the Downtown Nashville area which hosts the Honky Tonks is also called Lower Broadway.
Open daily from the late morning until the small hours (most close around 3am) the Honky Tonks are Nashville institutions. Each have live bands, some venues even two or three across different floors, and many have rewarding rooftop bars. The most famous of these is Tootsies, but it is pricier and can be uncomfortably busy.
It's best to just cruise down Lower Broadway and pick a bar with the same spontaneity that is applied to the musicianship in the bars, where skilled and jobbing live players improvise and riff on tunes according to the audience's mood. Tribute bands, country music, rock, bluegrass and everything inbetween is catered for.
The Bluebird Cafe is the best chance to get a personal experience with successful songwriters. Nightly, their two in-the-round shows (6pm and 9pm) feel remarkably intimate. Four songwriters will sit in a circle and play the songs they've written for other famous musicians - you'll recognise a good few and won't believe the guy you're seeing wrote *that* famous Bruce Springsteen track, say. The inter-song banter is priceless too - but booking in advance is a must.
The Station Inn is also unmissable, with its weekly rota of diverse musicianship in a true local's setting, where you're more likely to find a greater cross-section of true Nashville people than you are in the more hyped Honky Tonks.
What's the best club?
Clubbing isn't the operative word in Nashville. But the dive bars of east Nashville, and across local neighbours Five Points, Midtown, and Wedgwood Houston are all well worth exploring without a particular agenda. The one clubbing exception is the LGBT+ scene, who hang out on Church Street in Midtown. These queer clubs feature an array of live drag performances, and run until at least 4am with friendly and inclusive vibes.
Where's the best place to buy records?
The independent record store at Third Man Records only sells cuts from the musicians on their label, such as The White Stripes (obviously) but for unique cuts and collector sleeves, its a great spot. Grimey's New & Preloved Music is more of a catch-all solution, with more of a soulful, and less of a hipster, feel. Go to The Great Escape in West Nashville for more of an assorted collection, where you'll discover serious bargains if you're willing to dig deep.
Where are the best places to eat?
If you think fried chicken when you think Southern American food culture, you'd only be partly right. Nashville has its own particular brand of fried chicken, called 'hot chicken' which is as it sounds. Go to Hattie B's (there are a few across town, you'll have to queue) and try the XX Hot as a right of passage.
Husk, the hometown restaurant of famous American chef Sean Brock, rethinks fried chicken for a more discerning palate. It's a lighter batter, it's sustainable chicken, it's served with clever seasonal plates that still have that Americana tinge. Think greens sautéed with a little fat from the meat, fresh cob salads, and experimental cocktails in a homely setting.
In trendy east Nashville, the restaurant on everybody's lips is Folk. Chef Philip Krajeck (something of a local celebrity) has been all over the world to find inspiration for his fresh, seasonal plates which go beyond expectation. Here, the emphasis is on lighter plates to share, cooked with precision. The prawns could have been devoured 12 times over, as lightly seasoned veg bowls, excellent pizzas (served with decorate flourishes), and an abundance of fresh fish also could. Desserts sway more towards traditional American and are heavier with experimental twists (think neapolitan ice cream with beetroot, parmesan, and rye). This is the standout dining spot in the city right now.
Also burgeoning is Geist restaurant, with more of a nightlife feel. Experimental cocktails and local beer pair again with sharing plates, some of which feel comforting and others more challenging of expectations (the braised pork with tagliatelle is a Godsend). Find the restaurant in the artisanal neighbourhood of Germantown, with Henrietta Red brunching spot nearby. Next door to that, there's a local ice cream parlour to die for.
How about the best places to drink?
Asides the Honky Tonks in Downtown Nashville, you'll find a good selection of dive bars and more conventional bars in Midtown. Most will be walkable between each other, and it's common to find live musicians even in the non-music-oriented bars, such as the inimitable Winners & Losers (brilliantly, winners closes around midnight and losers stays open). "Losers is a great place to hook up," Joan Fei, a local teacher tells me. We visit and she's right about the vibe, but there's nothing sleazy to fear.
The indistinctive Five Points community is great for local dive bars, but isn't anything special. More distinct is the Wedgwood Houston district, with its independent craft distilleries and hipster bars selling strong cocktails and gourmet takes on junk food. We loved Bastion for its industrial vibe and solid nachos, a short walk from the Nashville Craft Distillery which run short tours and tasting sessions.
Germantown offers more of the same localised feel as Wedgwood Houston and Five Points. If you're only in East Nashville for the night, go for dinner at Folk and pop next door to the dive bar the chef swears by - ask the locals for directions, it's a minute or so's walk around the corner.
Who are the local heroes?
Need we say? Elvis and Dolly are pretty high on the list, but more recently, the likes of The Black Keys, Keith Urban, and Jack White have made Nashville the home for their work and their personal lives, as they value the solid community of songwriters which is the biggest in the US, who thrive off of one another in an intense but friendly community. "We've got each others' backs down here," one tells me. "You move to Nashville, you end up here for life."
Favourite urban legend/myth?
That Nashville is only famous for country music. Since the '80s rock and alternative bands have flourished here, the likes of The Black Keys and The White Stripes. Pop music's soul is really here too, as all the songwriters make it their daily bread and butter to compose songs for the biggest singers in the charts.
What are the best sights to see and places to visit?
The Musician's Hall of Fame and Museum offers a holistic approach to Nashville sightseeing. See Johnny Cash's guitars, the actual studio Elvis used (the fixtures were sourced and put back together on location) and learn how to script and record your own hit record all in a few hours. Its founder Jay McDowell has encyclopaedic knowledge of the country music scene. What is perhaps most perplexing is how on Earth he managed to gather this many items of memorabilia in one space - the scope and effort is truly outstanding and textbook Americana.
For more classic country music feels, book a night at the Grand Ole Opry, a radio station and live music event that has run, incredibly, for 90 years. It's a bizarre step back in time as live radio ads are read out between acts, which offer a good cross-section of the diverse country music scene - bluegrass, country pop, folk. A truly dedicated crowd of locals return here week after week, and Americans holidaying from other states.
The refurbished Ryman Auditorium was the original home to the Opry. Its wooden pew seating originates from churches, which is fitting, as country music is treated similarly to religion in Nashville. Literally and metaphorically - many of the musicians who play the Opry and the Ryman (the latter has reopened as a standalone venue and Harry Styles graced the stage recently) are heavily inspired by Christianity. The way visitors engage with the music, by returning week-on-week, feels religious too.
Both venues are treated with the same level of respect as we'd show our traditional West End theatres, or the coveted stage at Wembley.
Tell us about your favourite places to find artwork, sculpture and mural in the city
The Art Deco Frist Art Museum repurposes what was Nashville's central post office. It now houses a fascinating photography exhibition on the Civil Rights movement from the perspective of left and right-wing media of the time, but it generally hosts rolling temporary visual art and photography exhibitions. An interactive zone for families welcomes adults to learn by creating their own artwork too.
Historic printing press Hatch Show Print still use the traditional printing presses they used in the middle of last Century. They still print the posters for most of the big rock, pop and country gigs which pass through Nashville, and insist on one simple font, which has served them all this time. Their shop, and printing studio (one of only two printing presses in the States using traditional practices) is around the corner from the Country Music Hall of Fame. Hatch posters are recognisable from Hollywood's Golden Age, and they have been commissioned for just about every major musician in the US. Pop in and see staff pressing posters as they have done since the late 1800s.
What's the worst thing about Nashville?
The barbecued meat, which is unfortunately so sickly sweet it is ruined. Even the BBQ meat institutions over-treat their meat, which is cooked in the traditional smokers at most of the famed restaurants. For British palates, the meat is barely distinguishable from the sweet rubs and glazes.
What's the best thing about Nashville?
The Bluebird Cafe. Hearing famous songs sung by their original anonymous creators is an experience unmatched anywhere else.
It's a spirit epitomised by Nashville songwriter Brett James in the documentary It All Begins with a Song: The Story of the Nashville Songwriter when he says: "I've had about 500 of my songs recorded. I've had 42 Top 20 singles and 25 of those songs ended up being number one. Which means nobody knows who the fuck I am."