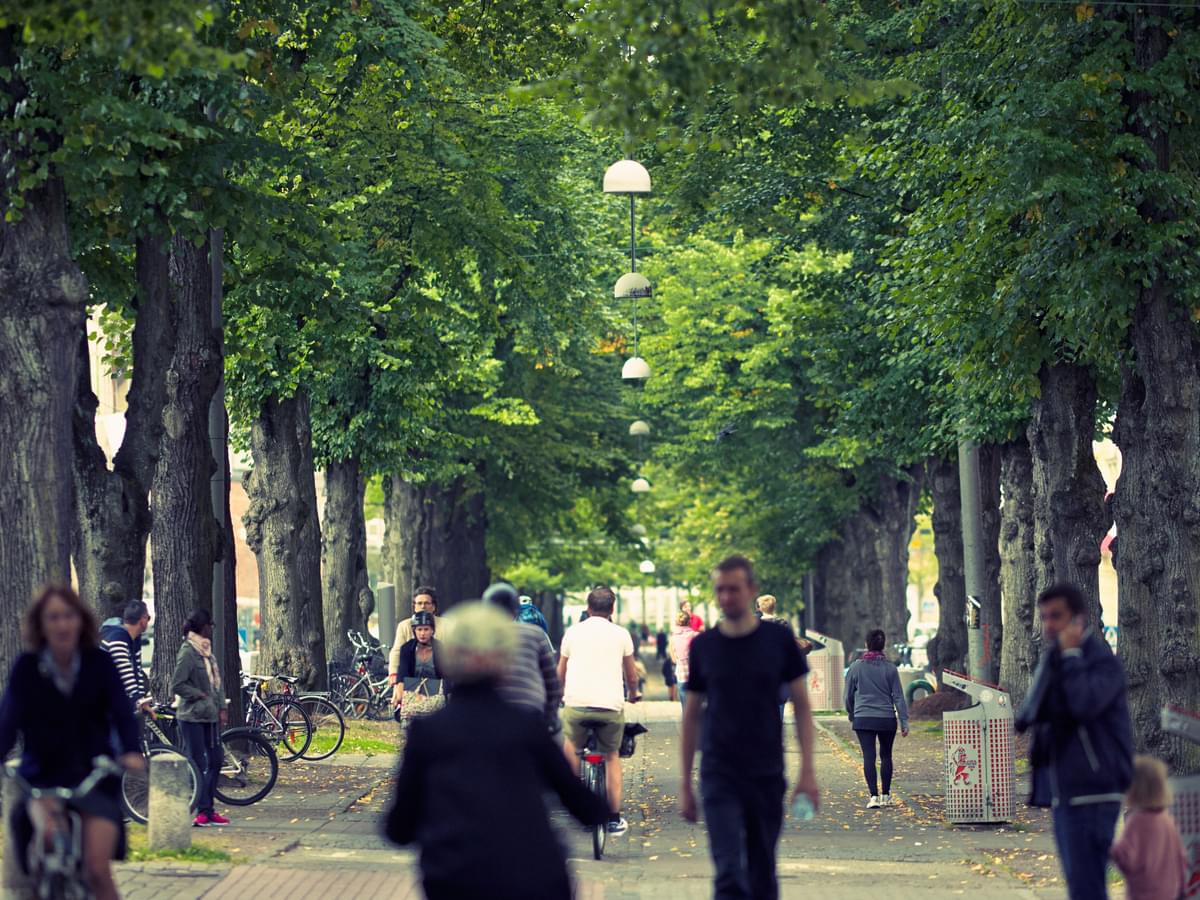 City Guide: Gothenburg - Beer, Coffee, Music, Pizza
25 September 2015, 10:00
There's little point in having a festival in the middle of a city if the city middle itself isn't worth a visit.
This is a rule the organisers of Gothenburg's Way Out West festival have steadfastly adhered to in sensibly situating their three-day musical excursion in city's beautiful Slottsskogen park, within walking and tram distance of the myriad delights Goteborg has to offer its inhabitants and guests.
Of course GBG is home to Jens Lekman and Air France, while WOW '15 gave us headliners in Florence and the Machine, Pet Shop Boys and Beck and further delights down the bill such as Father John Misty, Caribou, The War On Drugs and Ms Lauryn Hill. That's plenty to keep a music fan entertained, but what if one wants to wander and keep themselves entertained before the music starts, or if you don't really fancy tolerating Kygo's "live" DJ set? Well, here's a handy – and food/drink-centric – guide to the best the Swedish city has to offer.
Not just the place where local boy Jens Lekman sings of in "Waiting For Kirsten" but a cinema and vegetarian restaurant, and without doubt the place to hang out if you want to bump into someone from the Gothenburg music scene.
A proper, old-fashioned gig venue with history literally all over its walls alongside a tribute to Sub Pop. It hosts gigs by the likes of Mac DeMarco, Young Fathers and Son Lux, has a fine food menu and its dilapidated charm is one that will hopefully survive the gentrification of surrounding areas.
Jernotorgets and Olhallen 7:an
"Craft" beer is inescapable in whatever city you find yourself in and there are countless bars in which to sample it. However in Gothenburg two places – one substantially older than the other – stand out from the crowd. At the newer end of the scale is the white tile and chrome brilliance of Jernotorgets Brygghus where you have to sample the locally-brewed Dugges IPA or the Ebbot Ale from Oceanbryggeriet, named after the singer from Soundtrack of Our Lives.
For a bit of history, it's worth cramming yourself into Olhallen 7:an which allegedly hasn't changed in over 100 years and remains popular with locals, despite the tourists queuing up for a photo….and maybe a drink or two.
Dirty Records / Café Santo Domingo
Coffee and music are big, big things in Scandinavia and what better way to combine the two by being able to browse some vinyl while sipping on a delicious blacker-than-black Caribbean espresso? Dirty Records, handily located just down the street from Jerntorgets Brygghus, is a relaxed affair and the perfect place to shop for Nordic music old and new. There's also live music every Friday, and it's worth noting all the coffee is imported directly from farmers in the Dominican Republic.
What better way to see the city than to get on board a boat at Kungsportsplatsen, cruise under Gothenburg's countless bridges admiring the beautiful architecture before heading out into the historic harbour area populated by old ships forming a floating museum, the derelict shipyard with its astonishingly huge cranes and Stena Line ships, the ferry company having been formed by local boy made good Sten A Olsson.
The bonus, should you need one, is that the boat tour soundtrack is one of impeccable taste – featuring heavily is the work of the brilliant Shout Out Louds.
Way Out West is a completely vegetarian festival, so it is fitting that many of Gothenburg's (often cash-free) restaurants cater for non-meat eaters. One recent addition is the modern Italian delights of Taverna Averna.
As you tuck into the stunning, utterly moreish vegetarian lasagne your eyes can't help be drawn to the walls adorned with countless original works of art lit by beautiful exposed bulbs, and there's a feeling that you could happily sit here all day and watch the world go by. It's one of many places in Gothenburg which has a feel of complete, stylish contentment.
Fish
For a city on the coast with a gigantic harbour it's no surprise that Gothenburg does a fine line in tasty fish, and two places who do it better than anywhere else in the city are Feskekôrka (literally "fish church") and Stora Saluhallen, the city's Market Hall.
The fish church, inspired by Norwegian wooden stave churches, is an indoor fish and shellfish market with a restaurant and a take-away – something which the locals take advantage of, eating their lunches and snacks while looking out over the river. Meanwhile, under cover at the Market Hall you can find, alongside fresh seafood, meats, cheeses and coffee in a beautiful building that's been at the heart of Gothenburg since the mid-19th century.
Last but not least, we return to three comestibles close to my heart: coffee, buns and pizza. Luck would have it that Gothenburg is host to a place that combines this triptych in the most picturesque of surroundings
.
Da Matteo won Sweden's Café of the Year, as voted for by White Guide, in 2015 and once you've tasted their coffee it's no surprise. Home roasted coffee, with buns (the cardamom and cinnamon ones are a particular delight) baked on site and a pesto, prosciutto and crème fraiche sourdough pizza to die for – and I bloody would, I tell you – eaten in a courtyard created to be called a "sun trap" it might be the most perfect place on earth.
In the end, I came for the music – and boy did I love FKA twigs, Father John Misty, The Julie Ruin, Run The Jewels and Pet Shop Boys – but I'd stay for every other aspect of the stunning city of Göteborg.
Images courtesy of Kjell Holmner, Sofie Mantzaris and goteborg.com
Get the Best Fit take on the week in music direct to your inbox every Friday