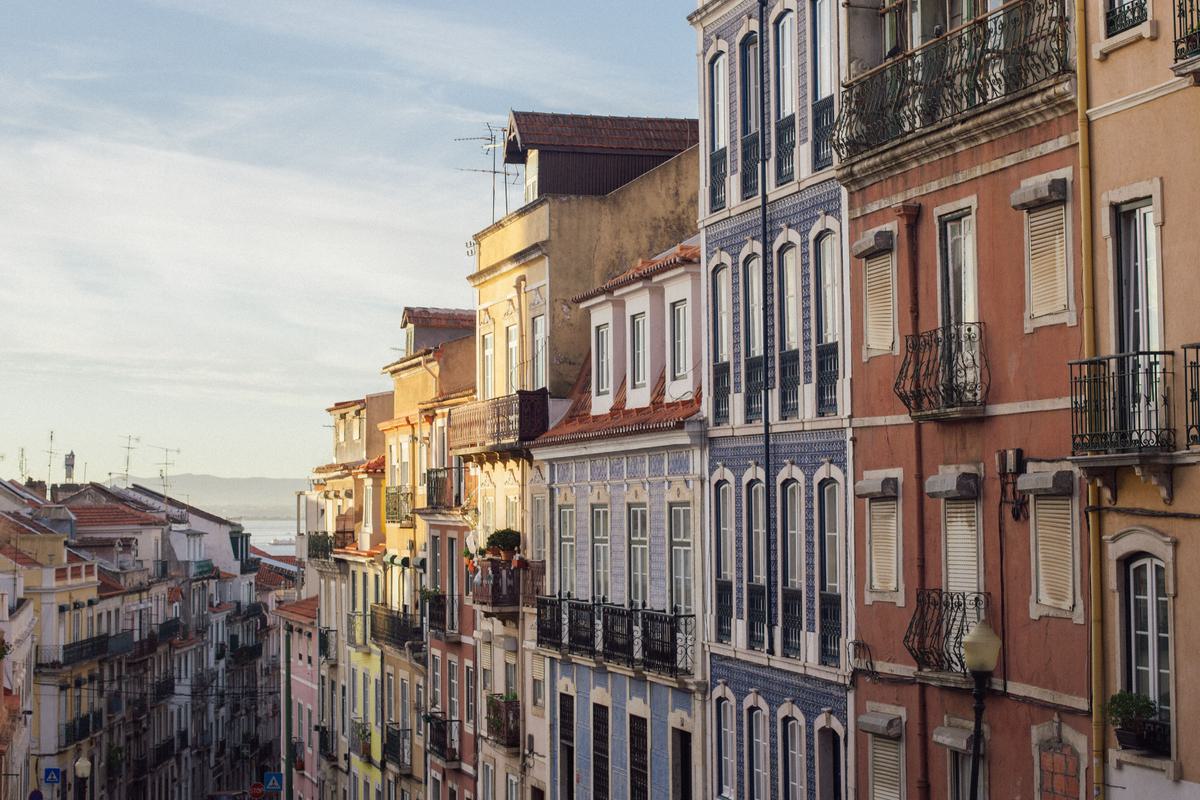 Casper Clausen from Efterklang's Guide To Lisbon
13 July 2019, 11:15
Ahead of next weekend's Super Bock Super Rock festival we get an insider's guide to the nearest city, Lisbon, from one of its newer arrivals, Casper from Danish band Efterklang
I moved to Lisbon in 2016 from Berlin and I had lived in Berlin for six years. I loved Berlin, but I was ready to move somewhere else and I didn't have any strings attached at the time. I didn't have a girlfriend or anything and I had a good friend in Lisbon that kept saying, "Come Casper, come! It's nice here." And this is what I have learnt is the Portuguese mentality, they are very open and inviting. So I visited for a month and I recorded one album with a friend of mine, a French cellist called Gaspar Claus, and I spent a month here, went back to Berlin and I said I'm gonna try it out, and I'm still here in Lisbon now.
I love the light. It's the thing I always come back to. You have so many days of sun and my brain really works better that way. And I like the lifestyle, that was one reason why I moved. I'm privileged enough to work from anywhere, in a way, as long as I'm sort of close to the other guys in Efterklang. But I wanted to check out the South of Europe and the mentality, and I felt that was very different to what I've seen in Berlin, Paris, London and Copenhagen. It has a different nature, things flow in different ways, it's a little bit more bodily and less brainy. I got really tempted and I was searching for a space to make some solo music so I've been spending the last couple of years doing some solo therapy in that sense, making music and trying to figure out what I am in myself without the band. It's been a trip on many levels.
If you are visiting Lisbon, my studio is on the other side of the river in a different town called Almada, so it's a ten minute ferry ride from Cais do Sodré ferrystation which is downtown Lisbon and you take the ferry to the other side; Cacilhas. Over there you have this completely different vibe. It's like a small Portuguese town, it could be a hundred miles from Lisbon, and over there you'll see Lisbon from afar. A little bit like being on an island. And if you want there are a few places over there you could check out. There's a restaurant called Ponto Final which is a traditional Portuguese fish restaurant and you can sit right at the river and drink your vinho branco and eat your fish. It's a wonderful place and there's also a grass field around there where you can have a picnic and take your wine.
There's also another place called Casa da Cerca which is a museum/cafe, they also sometimes have some festivals over the summer or food markets. Just go over there and explore for some hours then come back to Lisbon. I always really enjoy feeling that rush of the city once you arrive back on the ferry.
When you come back from there you can check out a Cape Verdean restaurant near Bica, it's called Tambarina and it's a really wonderful place. Cape Verde is one of the former colonies of Portugal and it's this island group from Africa and they have this beautiful music called Funana music and it's traditional Cape Verdean party music with accordion usually and some kind of sick beats. If you go to this restaurant they will serve traditional, hearty Cape Verdean food with this gluey thing that they use instead of potatoes and usually some meat or chicken. If you stay there long enough there would be a band playing and people will start dancing, so I think that will be a wonderful place to spend some time.
In the past couple of years I've seen more and more of the Californian coffee places popping up, so that's covered if you want an all-day breakfast avocado toast, soy milk… it's all happening. But if you're more in the mood for how the locals do it, I would just find any kind of small cafe, they usually have counters made of glass so you can see the pastries. The locals will complain if the coffee is more expensive than seventy cents. It's the kind of place you wanna find and you can order a bakery and have a coffee and if it's a little later in the day you can have a bifana which is a pork sandwich. But the breakfast culture here is more getting up a little bit later and just having coffee and something simple like a pastry. They don't do these big breakfast celebrations.
There are a couple of venues downtown. There is one called ZDB which is an arts centre/concert venue/rooftop bar. So they usually have some bands playing there or you would have a few exhibitions.
You could also check out a really cool weird little spot called Desterro. Every Wednesday there's a local Finnish underground legend; Yari, who has this big electronic beats jam at midnight til 4am. It's a strange place, like many places in Lisbon it's an association so they get around the bar restrictions. So you have to ring this bell and get a membership, which costs like €3, and it looks like a bar where nothing is going on, but if you go down the stairs and through this door then suddenly you're in this weird concert around these musicians jamming amazing things.
I also really like this museum called Gulbenkian which is one of the biggest collections of art here. Some Balkan rich guy back in the day was buying stuff when he lived here so there's a big collection and a garden next to it which can be nice to hang out in during the day, find some shade and see some art.
There's a big market every Tuesday and Saturday which it can be really nice to go to. It's called Feira Da Ladra and that's a market full of everything from old screws and tools that can barely be used anymore to CDs from the 90s for €1 and people doing their own clothes and old shoes and it's all over the place. I'd go there early while there's still some finds.
So old records you can find at Feira Da Ladra, there will be many places, but if you want to figure out what's going on now in Lisbon I would go to a record shop called FLUR. It's quite small but it's where you'll find Panda Bear's new record, some new Portuguese band, anyone who lives in the city here and makes music would have their music available there.
And in that same area there is also a big club called Lux which John Malkovich partly owns. He and some film director from Portugal started this place, a really strange club with interesting interior design. That can be a fun place to go.
If you are coming in the summer, there will be a lot of tourists. It's a bit intense so I would try and go a bit out their path and try and go in the opposite way than they are guiding you and check out an area like Santos or Lapa. They are still downtown but a little bit on the other side of the Parliament and it's a little bit more tranquil and easy-going and you'll find really nice restaurants and parks. There's a big park called Jardim do Estrela and it's also where Madonna lives, in Santos, so you might see her.
You will walk a lot, and a lot up and down. You'll get in good shape. It's a very hilly town but if you are in the midst of the town you can get anywhere in twenty minutes, and there's also the trams and some metros. It's a quite compact city compared to Copenhagen or Berlin, it's very easy.
Efterklang release their fifth album
Altid Sammen
on 20 September via 4AD. Super Bock Super Rock runs from 18 July. Find out more at
superbocksuperrock.pt