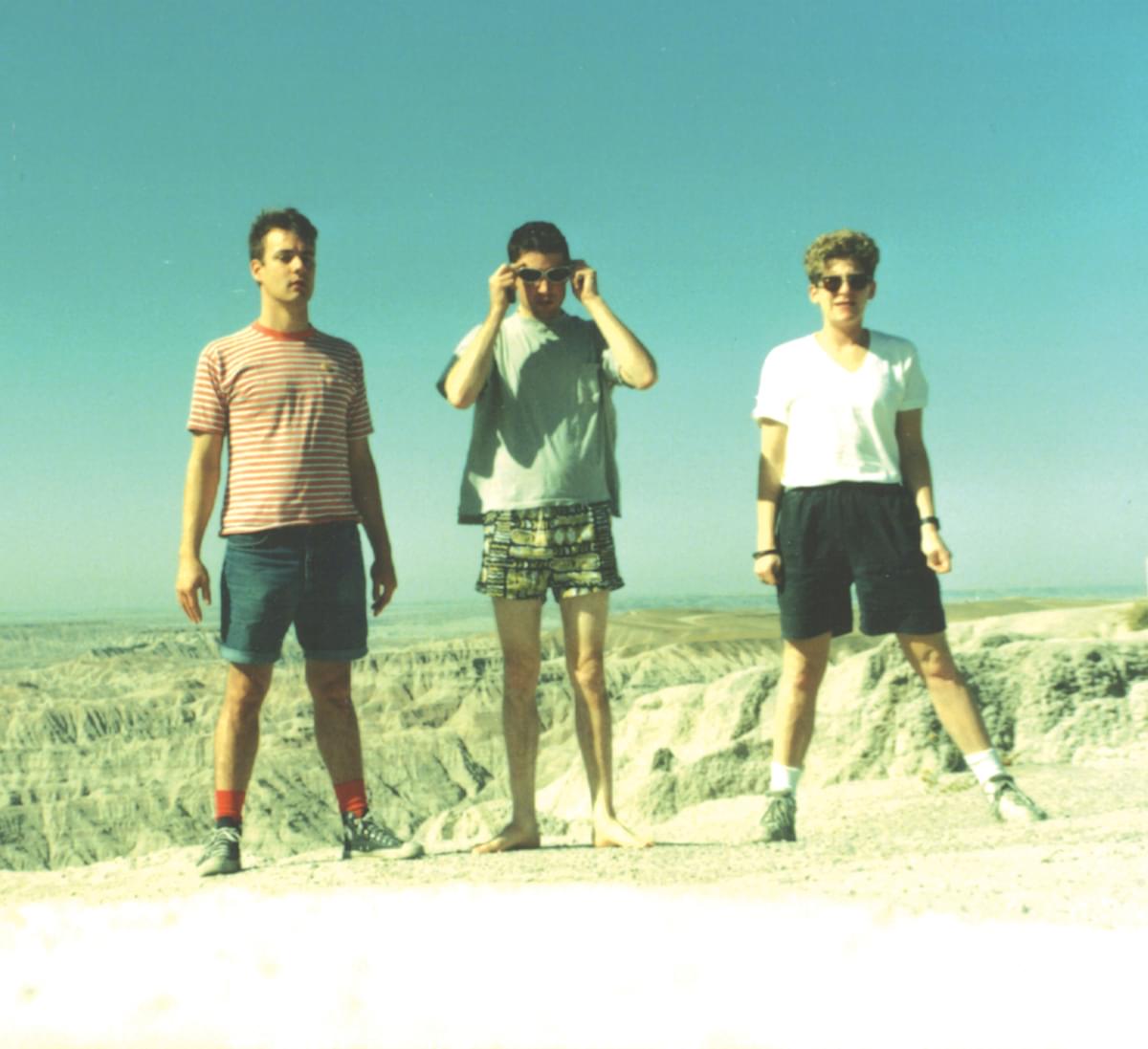 "We wrote classics": Calvin Johnson on Beat Happening's new career retrospective
11 December 2015, 10:45
Though the influence of Beat Happening and K Records is unquestionable, both the band and the label's refusal to bow to the restrictions of the mainstream music industry has seen them become bastions of American independence.
That's at least as far as music is concerned. For while the legacy of Beat Happening is indeed far reaching, the band themselves haven't in fact released anything new in over 15 years, and it's this fact that makes the release of Look Around so interesting.
Usually this kind of record (a career-spanning anthology cherry-picked by the band themselves) is reserved for posthumous releases, 20th anniversaries or significant milestones. What Beat Happening have done here is put together a compilation that caters for both established fans and those interested in exploring their career for the first time.
And why wouldn't they? Such is the legacy of Beat Happening that they've gone on to influence some of the biggest names in alternative music in the last 20 years. But do they find it strange their influence is so ubiquitous? "No", frontman Calvin Johnson answered us bluntly. "Good song writing is timeless. We wrote classics."
Perhaps not as modest as some musicians would be, but he has a point and it's these classics that not only form the basis of Look Around but occupy its entire runtime. Flowing chronologically from their 1984 debut Our Secret to '00s Angel Gone - a track released after years of silence - it feels not so much like a greatest hits cobbled together by a label just in time for Christmas, but a carefully constructed excursion through not just their singles, but the tracks Beat Happening feel define them.
Cuts such as "Black Candy", "Nancy Sin" and "Red Head Walking" offer a precursor to Johnson's work in The Halo Benders, while tracks like "Other Side" see the male/female vocal duality of Johnson and Heather Lewis shine. Indeed, it's these poppier tracks which show the side of the band that was at odds with the punk circles they came from, but they're arguably their most accomplished work too. Take the band's final album for instance; You Turn Me On takes it cues as much from the shoegaze and dream-pop of the early '90s as it does the DIY ideals that formed the backbone of previous releases. And the inclusion here of "Tiger Trap", "Godsend" and "Noise" not only allows the band's more melodic side to flourish, but also marks the progression between records and their obvious maturing as a group.
Of course, these songs have been remastered, and lo-fi purists might well find themselves missing the crackle and fuzz. Yet the fact still remains that the likes of "Indian Summer" or the aforementioned "Godsend" are still indie-pop classics and, despite the remaster treatment, the DIY sentiment that runs through the core of Beat Happening is present here in swathes.
It's this ethos that's proved so influential to many bands over the years; from Fugazi and Bikini Kill to Nirvana and Teenage Fanclub - diverse acts all linked through a similar mentality and approach to their craft. But who inspired Beat Happening, and, given the band's silence but Johnson's continued activity in other projects, who continues to influence him now? "Teenage Jesus & The Jerks, Slits, Half Japanese...The Avengers, Weirdos" says Johnson, before getting somewhat more diverse: "Gene Vincent, Lesley Gore..." With influences that range from traditional punk to pioneering rock 'n' roll and '60s pop, it's of little surprise that Beat Happening, and indeed K Records inspired and continues to inspire so many within the alternative spectrum. Contrary to the label's mantra (Exploding the teenage underground into passionate revolt against the corporate ogre since 1982) "K was not started as a backlash against "the mainstream", but as a fresh take on the now. There will always be a need for new appreciation of musical expression."
True words again. With that in mind it's easier to understand the radio silence of Beat Happening, and Calvin Johnson's need to busy himself with other projects. But is he the sort of person who needs to consistently move from project to project, with little breaks in between? "There is so much to be done", he says. "You turn around and suddenly thirty years went by and not half has been attempted. Could keep busy for a few more decades...We just keep on doin'."
Though they never officially broke up, it seems that it will be a long while before we see Beat Happening again. As a result, Look Around is a bittersweet record, one which not only serves as a reminder of the band and their lasting history, but also as a frustrating reminder to those newly inducted that it's unlikely they'll see these songs live any time soon.
With the release of Look Around, we asked Calvin if he would shed a little light on the origin and back-stories of some of our favourite tracks.
Our Secret:
"The Grass Roots have a song called "Let's Live for Today" that inspired me to put together something with a similar air of hope against the forbidding nature of the world at large."
Indian Summer:
"Originally a song with this title was written on the bus but by the time I walked home I'd forgotten everything but the title. A few years later this song came to me one morning so I took the day off and went swimming with the gang. The following weekend Beat Happening had a show at Capital Lake Park and I wanted to play this new song so I made up some "temporary music" for it; a couple weeks later we recorded Jamboree and the "temporary music" became permanent."
Other Side:
"What does it all mean? Some ideas that swirl around and turn into a song all on their own."
Tiger Trap:
"Rose Melberg lived in Sacramento, CA. She told us her band Tiger Trap would like to play at the International Pop Underground Convention (Aug. 1991). Cools. Then she told us they had "broken up", so she played as a solo artist instead. The name was too good to waste so I wrote this song. Suddenly she informs us the band had "gotten back together". Whoops. But were they ever a band in the first place, or a figment of her vivid imagination? Only her hairdresser knows for sure."
Godsend:
"Heather has some really wonderful song moments. Three + minutes of the original recording were edited out of the final version of "Godsend" that appears on You Turn Me On."
Angel Gone:
"This was written in 1990 but the band didn't play it live. I submitted it to Johnny Cash for his first Def American album but it didn't make it past the censors."
Get the Best Fit take on the week in music direct to your inbox every Friday