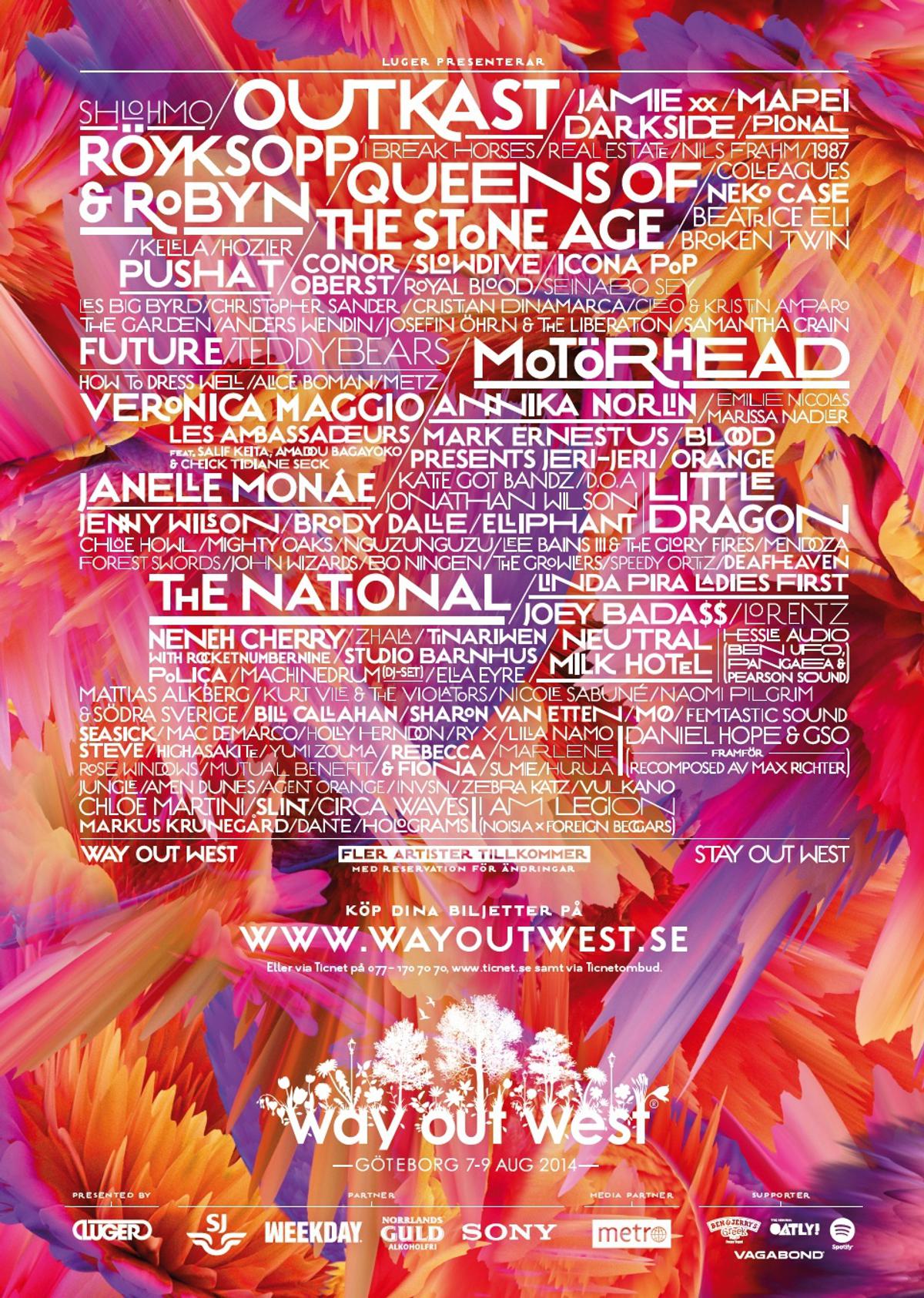 Way Out West 2014: Swedish Focus
28 July 2014, 13:55
With headline performances lined-up from OutKast, Röyksopp & Robyn, Queens of the Stone Age, The National, Janelle Monáe, Neutral Milk Hotel and Joey Bada$$, Way Out West 2014 is - as always - one of the best festivals the summer has to offer. Taking place in Gothenburg from 7-9 August, Way Out West always has a really strong local presence - with acts from Gothenburg, Stockholm and all over the country coming together for 3 days of incredible shows, whether those take place in the day at Slottsskogen Park or at night time around the city as part of Stay Out West. There are so many incredible Swedish acts playing that we thought we'd catch up with our favourites to find out what they think of Way Out West and what the rest of 2014 has in store.
Icona Pop
Photograph by Etoa Kopias
Do you feel particularly connected to a musical community?
We went through a lot of different phases when we grew up. A lot of 90´s pop, hip hop, and so on. But we both had a big love towards the punk mentality and those gorgeous English punk boys. And you can definitely hear that in our music.
What have been your experiences of Way Out West?
We've played at a pre-party for Way Out West once. It was super dope but very chaotic. So this year it's going to be a proper Way Out West experience. All of our friends always go to the festival so it's like our crew get together and we all go BANANAS for a weekend. Like a big LOVE FEST!
How have your crowds grown and changed over the years?
We have the best fans and crowds in the world. They have been supporting us since day one and have given us a lot of good ideas. The crowd haven't really changed but it's grown bigger. The thrill of travelling around as much as we do is that you never know how your fan base looks in new locations.
Icona Pop are already recording their second album. "It´s everything from 128 bpm dance friendly to punk and backbeat vibe. For us it's more about going in to the studio free minded. Our rule is to not have any rules. We started when we finished our last one. It's important for us to keep the creativity going so we always travel with a portable studio that we can set it up in hotel rooms or tour buses, just whenever we feel the vibe." They're currently on a festival tour around Europe and have dates coming in the States "But stay tuned, there's much more to come."


Seinabo Sey
Seinabo Sey is currently in the studio finishing her debut album. Read out in-depth interview with her here.

1987
Photograph by Keps Fram Brighter
Do you feel particularly connected to a musical community?

I feel like I'm floating in between everything at the moment. For a while I tried to decide what club, genre or community I should "join" or belong to, but realised that it's impossible, and kind of boring. I've grown up listening to everything from Gangstarr to Guns 'n Roses to Paul Simon and have always been able to see a connection between them. And having been given something from all of them I stand here kind of divided with all these genres pulling at me. So I end up here somewhere I don't know where I am. I don't want to be connected to any community. I want to be one of those artists who inspires another side of someones heart and mind.

Do you think your physical surroundings impact your sound?

Sitting in my tiny apartment all day long, sleeping two feet from my desk where stacks of scribbled paper are lying, is absolutely reminding me how I have to work harder, and a feeling of loneliness has slowly started to creep up on me. I want to pull out something new, something I've never heard or thought of before from my head, and it's consuming me. And I wish I was able to own my own house on a small mountain somewhere where I could finish my album. But then it would sound very different… I like just having that as a mental picture instead. The dream of being somewhere else.

What have been your experiences of Way Out West?

I have been to Way Out West twice before but never performed. I'm very scared of performing live, so I'm very nervous and stressed at the moment. I wish I could relax so I would be able to look forward to it more. Though I am looking forward to seeing all my beautiful friends and to partying like it's 2008.

1987 is recording his debut album at the moment and hopes to have it finished very soon.
Colleagues
Do you think your physical surroundings impact your sound?

Yes, very much so. The general lack of proper sunshine in Sweden makes you want to create your own. Now though, we're pretty far south on the Swedish east coast to record. The open fields, the ocean and the magic sunrises are very inspiring.

What have been your experiences of Way Out West?

This is our first time, though all of us have been frequent visitors of the festival and have fond memories of it. There are a lot of great artists this year, especially at Stay Out West, so trying to catch as many of them as possible. We're playing three festivals this summer and Way Out West is going to be special. There are always a lot of people, great venues, late nights and what's not to love about Gothenburg?

In what ways do you think Swedish audiences differ to any other?

Thanks to a rich cultural life, especially in music, we have a lot of great artists and a very active live scene. Therefor the swedish audience is pretty conscious when it comes to music. They know what they want to listen to/dance to.

Colleagues are currently recording new songs for a future release. Touring wise they're playing Popaganda, Emmaboda and Way Out West and hope to head to GB in the fall.
I Break Horses
What impact do you think Sweden has had on your sound?

I don't feel particularly connected to any Swedish musical community, but I do feel a kinship with a few swedish musicians such as The Field and Sandcircles. Sweden is a rather dark and cold place most of the year and I'm pretty sure that has a certain impact on my sound but in the end I guess it all comes down to emotions.

What would you say when trying to convince someone to visit Sweden?

Make sure you come in the summer!

What have been your experiences of Way Out West?

We played there in 2012, and DJ'ed last year out at the Gothenburg Film Studios which we really enjoyed. This is the venue we will be playing live at this year which we're really looking forward to.

Maria Lindén is currently writing new material for an EP at the moment as well as working on a remix and hopes I Break Horses will be doing a short UK tour in November.
Sumie
Photograph by Max Lindahl
What would you say when trying to convince someone to visit Sweden?
To visit our archipelagos and see the sunlight up until late. We also have beautiful white winters and we have Jukkasjärvi!
What have been your experiences of Way Out West?
This is my first time playing there but being from Gothenburg I have gone to Way Out West plenty of times and it's great to take your bicycle, see bands that you like and bike your way home again. Every year it's been a really good line-up so it's an honour to be an artist this year. Being held in a place where I basically grew up next door to, its going to be truly special.
Sumie is currently working on new material at this moment and is on tour right now. "I am also looking forward to this autumn. It's going to be a good one."
Beatrice Eli
Photograph by Märta Thisner
Do you feel particularly connected to a musical community?

Definitely the feministic music community. There are a lot of extremely talented female musicians in Stockholm right now. It's given me a lot of confidence. We are in control of our music, we decide. And what we decide works. We've basically taken over Swedish radio.

What have been your experiences of Way Out West?

I played there two years ago. I hadn't even put out the EP then, I was just sort of trying things out. It wasn't bad but it wasn't good ether. This time I have a finished album that I'm really proud of that's ready to be released and I have the cutest crowd. I love the girls that comes to my shows! Swedish audiences are stiff but polite unless they are drunk.

That applies to most social situations. Beatrice Eli has a single coming at the end of the sumer and an album in the autumn. She hopes she'll be touring and other than that "I'll just keep writing, I've started planning the second album…"
Zhala
Photograph by Elliot Foxprince
Do you feel particularly connected to a musical community in Sweden?

I feel totally connected to dance music, especially the Swedish open-air and underground club scenes, with acid and techno music. Sweden can be a pretty stiff environment so it's really nice when everyone comes together to relax, open up, and dance. I love being a part of that.

What have been your experiences of Way Out West?

I did a performance with 2 songs in 2012, but I was not there for very long so I'm really looking forward to this year! I'm planning on doing something special for this performance; because it's in Sweden I can bring all of my lovely stage decorations with me.

Zhala has unreleased material ready to see the light of day, alongside new videos and a US tour with Robyn and Röyksopp. "I'm super excited!"