A fictional story of popstar 'Celeste', few recent films have presented pop as much as a monster as this. Within weeks of surviving a school shooting, Celeste (played in two acts – first as a teenager by up and coming actress Raffey Cassidy, next as a seasoned pro by Natalie Portman), vocalises her grief through song. Soon, she is spotted, packaged and processed as pop's Next Big Thing: fast forward eighteen years to Celeste the adult, and the detrimental effects of such a meteoric rise become quickly evident. Subversive and satirical, Corbet explores both the Faustian nature of a young girl selling her soul (and those wilfully encouraging the selling) as well as the devil itself: just how much of a monster is the pop industry, how much of it is the byproduct of fame and how much of it is down to us as we escalate artists to idols?
Vox Lux begins brutally: a high school shooting reminiscent of Columbine is perpetrated by one of Celeste's seemingly close friends. In a bid to make him stop, she suggests they pray together before he wilfully opens fire and kills her classmates. She is wounded but survives, later working through her grief and PTSD by penning a tribute song (with the help of her close, older and equally talented singer Eleanor, played by Stacy Martin) for a school memorial service. Beamed to households across the US, Celeste – described as "kind and full of grace" – is spotted by an eagle-eyed A&R soon after: her tragedy quickly becomes a symbol of hope as well as a story that sells. Her education ceases, awkward dance routines are memorised and a team of hired creatives start to tweak her self-penned lyrics: "I" becomes "We" and the individual becomes the universal.
Celeste's identity diffuses gradually, painfully, through moments of bleak, icy detachment, the wonderful soundtrack of the late Scott Walker amplifying this further, Vertigo-like. Her manager (Jude Law) encourages more dispassion – "sing like no one's listening" – he says and even her marks of survival, her neck scars from the shooting, soon become invisible too: bandages are replaced by glossy chokers, a new brand accessory all part of the industry's moulding and fashioning of the latest Pop Princess. Early sexual encounters feel uncomfortably exploitative, as does her sexualisation and objectification in gratuitous music videos where she plays little part in the male-dominated directorial process. Her superstardom growth directly correlates with a heartbreaking loss of self – something we only see the effects of 18 years later as we're introduced to the adult Celeste via Portman. The parallels with stars of the era in which the film is set (Celeste's career comes to prominence between 1991-2001) are subtle but present: Celeste rides a motorcycle, recalling Britney Spears' "Toxic" in one scene; her later meltdowns when she struggles to cope with her mental health seem to mirror the painful ones played out so publicly with Spears.
Celeste's fame comes via a difficult mix of tragedy and talent that initially follows the school shooting and later after her launch proper – a time which coincides with 9/11. Her comeback eighteen years on is marked by another tragedy: an atrocity is committed by terrorists wearing masks from one of her music videos. The film's director blurs the lines between entertainment and terrorist tragedy: where one was once the escape for another, a much-needed catharsis, now they are uncomfortably linked via the narcissistic nature of both.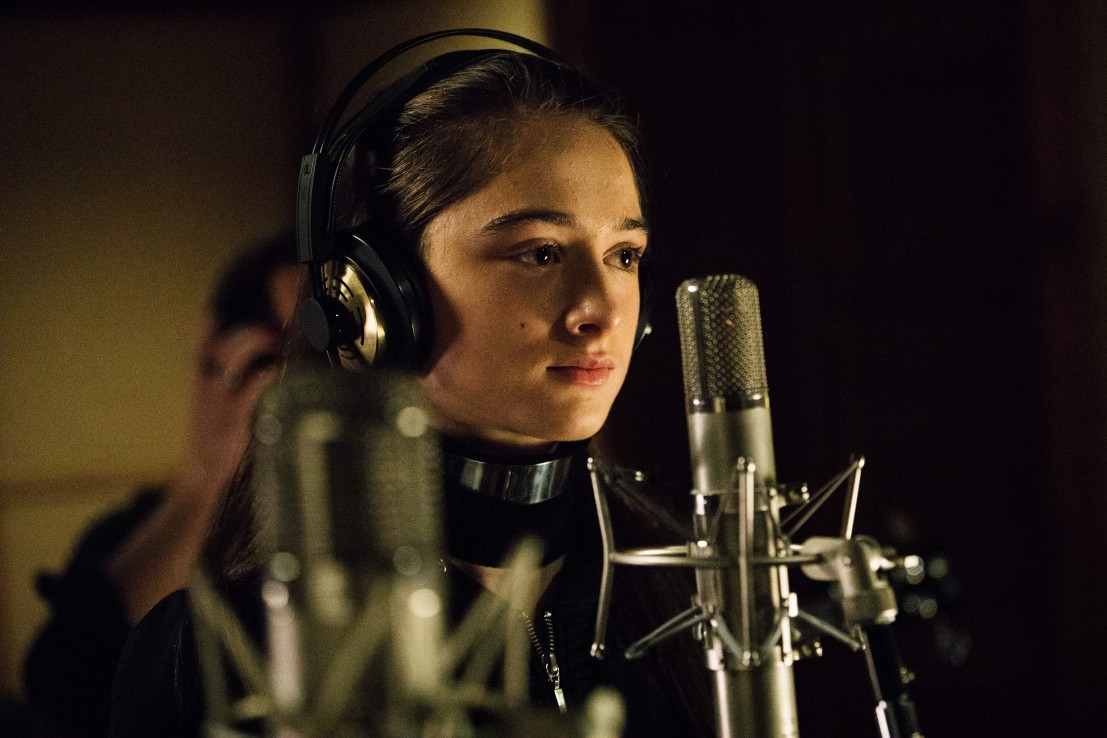 Before we get to the difficulty of Celeste's later years – she is an alcoholic who drinks herself blind with cleaning fluids – as well as someone who struggles with her mental health and body image, we see a moment, pre-fame, that nurtures and inspires the young Celeste when she and her sister are whisked to Stockholm, the epicentre of Scandi-pop, to work with someone her manager describes as a "superstar…the best…he's written everything." Indeed, it's this very moment that sparks Celeste's meteoric rise to fame. Her producer – "Torr Eric Rommstat" - is credited with playing a pivotal part in her rise: "over the course of five weeks he would turn out some of his career's most addictive hooks and melodies," a voiceover from Willem Dafoe tells us. Whilst Celeste doesn't yet have autonomy, she is much more central here than in her initial creative ventures where her voice was silenced in the US by producers wilfully altering her lyrics. Here she is collaborating and flourishing creatively in the process.
For those not familiar, Defoe explains a potted history of how Scandi pop came to reign supreme via an unlikely scenario: "In the 1940's church leaders and cultural conservatives rallied together around a solemn mission: to safeguard the countries youth against the degenerate music that was being piped in from America," he begins. "To combat this threat, municipal schools of music spread across the country offering morally uplifting instruction in classical music. One thing would eventually lead to another," he concludes, a picture of ABBA filling the screen. We see Celeste at the centre of the movement, that would (from the 1999 when the film first begins – to 2017 where it ends up) bring us some of pop's most memorable, emotive and uplifting moments: from Robyn to Tove Lo, ALMA, Lykke Li, Sigrid and beyond. Indeed: acts who would change the face of pop forever.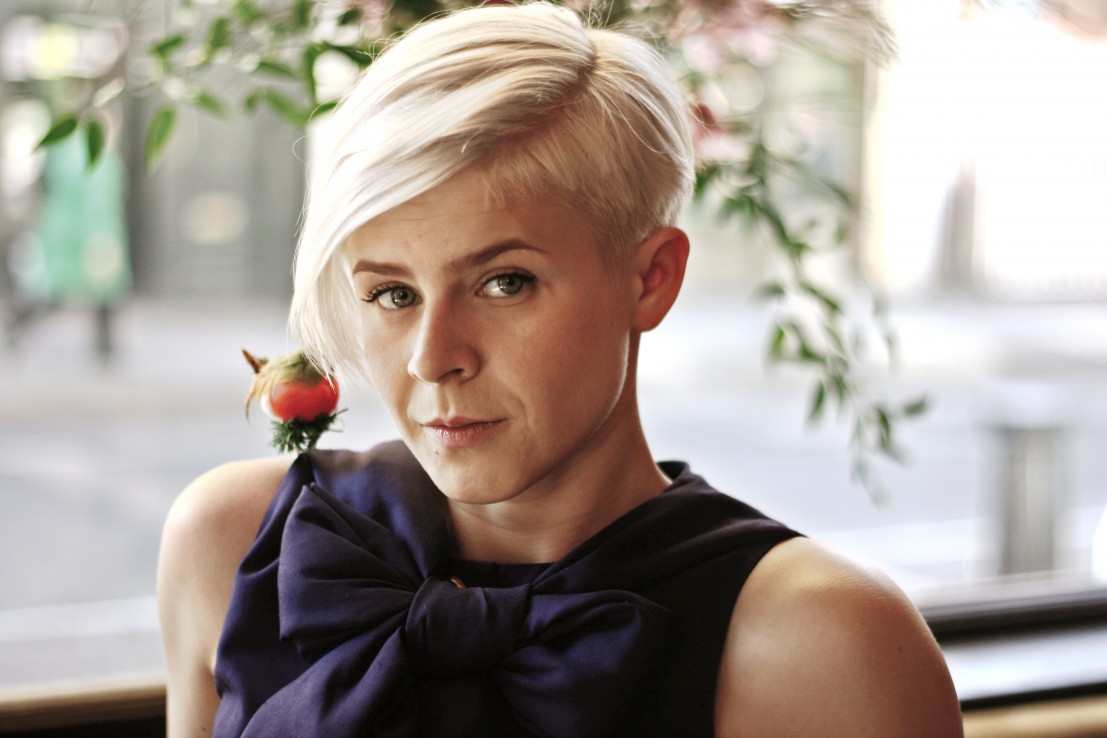 The parallels between Max Martin and Ariana Grande feel alluded to here ("No Tears Left To Cry" written after the attack at Grande's concert in Manchester) as does – later on – Robyn's alternative-pop sentiments as Portman's delivery of Sia penned tunes seem to seize on modern pop's growing sense of self-awareness: "I'm a private girl in a public world" she sings – the "I" returns and the "We" is gone, the roots of her Scandi-pop awakening seeming to come full circle. Amidst the chaos that Celeste's life has become (she's either saying the wrong thing to her teenage daughter, drinking herself oblivious, delivering robotic performances or taking part in disaster press junkets, to name a mere few), her sense of boldness and self-awareness strikes in her more mature years: "I'm the new faith…You can say whatever you want in this day and age: who cares?" she tells the media; "People have been trying to take me down for years but I won't stay down," she defiantly asserts. She has a new sound – "Sci-fi pop" – and songs that literally dance through upset.
Scandi-pop's influence on the pop landscape of the late 90's and early millennium feel relevant to Celeste's narrative. Where pop was once seen as rock's poorer cousin, thanks to artists like Jenny Hval, Robyn, Sigrid, Ariana Grande and more, pop became its equal and more recently, perhaps even its superior in a landscape which has redefined what a pop artist is. No longer does a successful pop artist have to be in their late teens, no longer do they have to pander to body image "norms" or sing topics off limits: some of Scandi-pop's earliest successes dealt with issues rock was still a world away from addressing. Whilst Celeste's situation is far from resolved at the end of the film, she embodies a sentiment it embraces: that definitions of the self need not be fixed, that identity is performative and constantly in flux and honesty should be chosen over the loss via songs drenched in emotion. There's no neat resolution to the end of Celeste's troubling narrative and nor need there be, because pop has, finally, grown up.
Scandi-pop collaborations have changed the landscape of music since Celeste's beginnings to the present day: here are some of the most powerful.