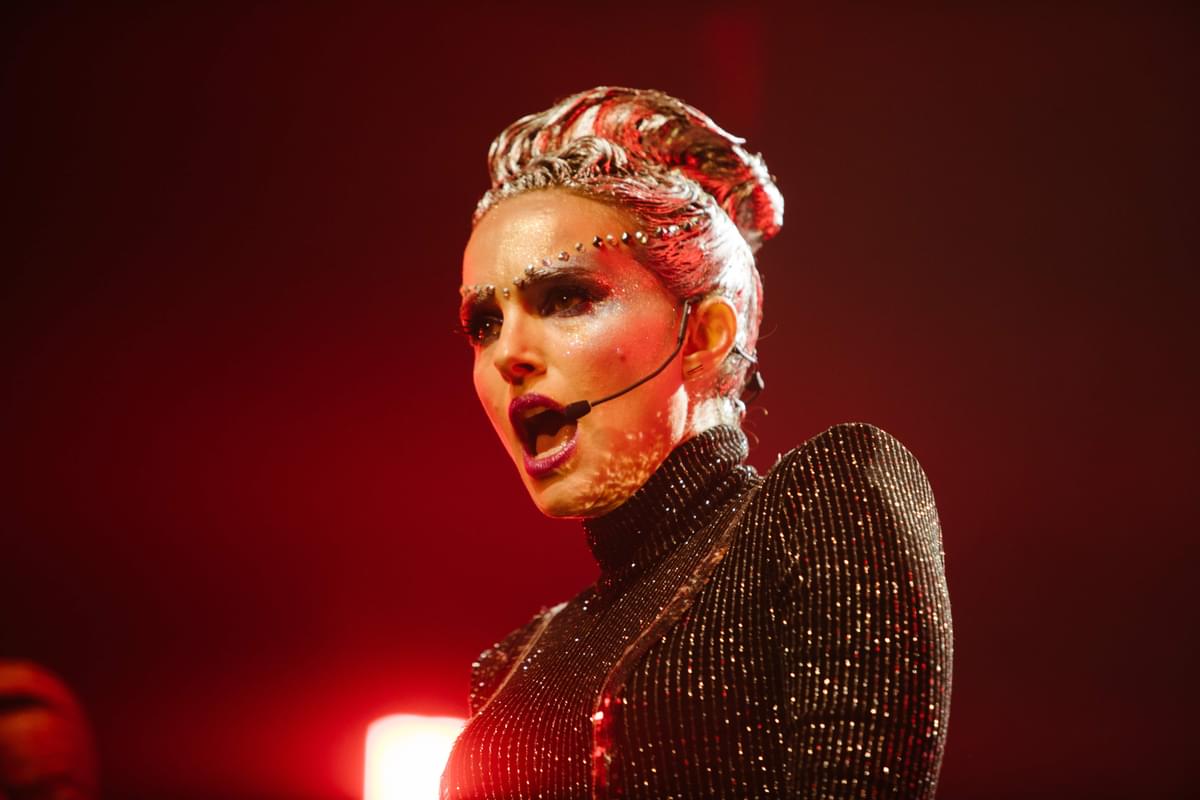 Vox Lux and the Scandi-pop collaborations that changed the landscape of music
03 May 2019, 08:30
Cinema's fascination with pop music resulted in high-profile Oscar wins for A Star is Born and Bohemian Rhapsody earlier this year – and the fascination certainly shows no signs of slowing. More music biopics are expected – Rocketman is released later this month – and hitting screens today is another: Brady Corbet's fascinating Vox Lux.
A fictional story of popstar 'Celeste', few recent films have presented pop as much as a monster as this. Within weeks of surviving a school shooting, Celeste (played in two acts – first as a teenager by up and coming actress Raffey Cassidy, next as a seasoned pro by Natalie Portman), vocalises her grief through song. Soon, she is spotted, packaged and processed as pop's Next Big Thing: fast forward eighteen years to Celeste the adult, and the detrimental effects of such a meteoric rise become quickly evident. Subversive and satirical, Corbet explores both the Faustian nature of a young girl selling her soul (and those wilfully encouraging the selling) as well as the devil itself: just how much of a monster is the pop industry, how much of it is the byproduct of fame and how much of it is down to us as we escalate artists to idols?
Vox Lux begins brutally: a high school shooting reminiscent of Columbine is perpetrated by one of Celeste's seemingly close friends. In a bid to make him stop, she suggests they pray together before he wilfully opens fire and kills her classmates. She is wounded but survives, later working through her grief and PTSD by penning a tribute song (with the help of her close, older and equally talented singer Eleanor, played by Stacy Martin) for a school memorial service. Beamed to households across the US, Celeste – described as "kind and full of grace" – is spotted by an eagle-eyed A&R soon after: her tragedy quickly becomes a symbol of hope as well as a story that sells. Her education ceases, awkward dance routines are memorised and a team of hired creatives start to tweak her self-penned lyrics: "I" becomes "We" and the individual becomes the universal.
Celeste's identity diffuses gradually, painfully, through moments of bleak, icy detachment, the wonderful soundtrack of the late Scott Walker amplifying this further, Vertigo-like. Her manager (Jude Law) encourages more dispassion – "sing like no one's listening" – he says and even her marks of survival, her neck scars from the shooting, soon become invisible too: bandages are replaced by glossy chokers, a new brand accessory all part of the industry's moulding and fashioning of the latest Pop Princess. Early sexual encounters feel uncomfortably exploitative, as does her sexualisation and objectification in gratuitous music videos where she plays little part in the male-dominated directorial process. Her superstardom growth directly correlates with a heartbreaking loss of self – something we only see the effects of 18 years later as we're introduced to the adult Celeste via Portman. The parallels with stars of the era in which the film is set (Celeste's career comes to prominence between 1991-2001) are subtle but present: Celeste rides a motorcycle, recalling Britney Spears' "Toxic" in one scene; her later meltdowns when she struggles to cope with her mental health seem to mirror the painful ones played out so publicly with Spears.
Celeste's fame comes via a difficult mix of tragedy and talent that initially follows the school shooting and later after her launch proper – a time which coincides with 9/11. Her comeback eighteen years on is marked by another tragedy: an atrocity is committed by terrorists wearing masks from one of her music videos. The film's director blurs the lines between entertainment and terrorist tragedy: where one was once the escape for another, a much-needed catharsis, now they are uncomfortably linked via the narcissistic nature of both.
Before we get to the difficulty of Celeste's later years – she is an alcoholic who drinks herself blind with cleaning fluids – as well as someone who struggles with her mental health and body image, we see a moment, pre-fame, that nurtures and inspires the young Celeste when she and her sister are whisked to Stockholm, the epicentre of Scandi-pop, to work with someone her manager describes as a "superstar…the best…he's written everything." Indeed, it's this very moment that sparks Celeste's meteoric rise to fame. Her producer – "Torr Eric Rommstat" - is credited with playing a pivotal part in her rise: "over the course of five weeks he would turn out some of his career's most addictive hooks and melodies," a voiceover from Willem Dafoe tells us. Whilst Celeste doesn't yet have autonomy, she is much more central here than in her initial creative ventures where her voice was silenced in the US by producers wilfully altering her lyrics. Here she is collaborating and flourishing creatively in the process.
For those not familiar, Defoe explains a potted history of how Scandi pop came to reign supreme via an unlikely scenario: "In the 1940's church leaders and cultural conservatives rallied together around a solemn mission: to safeguard the countries youth against the degenerate music that was being piped in from America," he begins. "To combat this threat, municipal schools of music spread across the country offering morally uplifting instruction in classical music. One thing would eventually lead to another," he concludes, a picture of ABBA filling the screen. We see Celeste at the centre of the movement, that would (from the 1999 when the film first begins – to 2017 where it ends up) bring us some of pop's most memorable, emotive and uplifting moments: from Robyn to Tove Lo, ALMA, Lykke Li, Sigrid and beyond. Indeed: acts who would change the face of pop forever.
The parallels between Max Martin and Ariana Grande feel alluded to here ("No Tears Left To Cry" written after the attack at Grande's concert in Manchester) as does – later on – Robyn's alternative-pop sentiments as Portman's delivery of Sia penned tunes seem to seize on modern pop's growing sense of self-awareness: "I'm a private girl in a public world" she sings – the "I" returns and the "We" is gone, the roots of her Scandi-pop awakening seeming to come full circle. Amidst the chaos that Celeste's life has become (she's either saying the wrong thing to her teenage daughter, drinking herself oblivious, delivering robotic performances or taking part in disaster press junkets, to name a mere few), her sense of boldness and self-awareness strikes in her more mature years: "I'm the new faith…You can say whatever you want in this day and age: who cares?" she tells the media; "People have been trying to take me down for years but I won't stay down," she defiantly asserts. She has a new sound – "Sci-fi pop" – and songs that literally dance through upset.
Scandi-pop's influence on the pop landscape of the late 90's and early millennium feel relevant to Celeste's narrative. Where pop was once seen as rock's poorer cousin, thanks to artists like Jenny Hval, Robyn, Sigrid, Ariana Grande and more, pop became its equal and more recently, perhaps even its superior in a landscape which has redefined what a pop artist is. No longer does a successful pop artist have to be in their late teens, no longer do they have to pander to body image "norms" or sing topics off limits: some of Scandi-pop's earliest successes dealt with issues rock was still a world away from addressing. Whilst Celeste's situation is far from resolved at the end of the film, she embodies a sentiment it embraces: that definitions of the self need not be fixed, that identity is performative and constantly in flux and honesty should be chosen over the loss via songs drenched in emotion. There's no neat resolution to the end of Celeste's troubling narrative and nor need there be, because pop has, finally, grown up.
Scandi-pop collaborations have changed the landscape of music since Celeste's beginnings to the present day: here are some of the most powerful.
Robyn and Kleerup – "With Every Heartbeat"
Taken from Robyn's self-titled fourth album, "With Every Heartbeat" was released in 2007; it had been almost ten years since Robyn last charted in the UK. Released on her own record label and enjoying the creative freedom it brought, Robyn and Kleerup pushed Scandi-pop's experimentalism further than they'd previously dared. The result was a mammoth hit: the song peaked at number one in the UK – two years after the record was originally released in Sweden.
The song marked a shift in song-writing style and delivery for Robyn with lines that sounded simultaneously both hopeful and solemn: "Still I'm dying with every step I take, but I don't look back," she sang. The repetitive "And it hurts with every heartbeat" she began three minutes in continues with no resolve: gone were the neat pop endings usually associated with the genre replaced instead with sincerity and realism – another element of Scandi-pop's bravery that Robyn had seen and taken to her own extremes.
Kleerup's synths and strings brought a desperate emotive power to the song alongside rhythms that ebb and flow, reflecting the simultaneous sadness and hope Robyn felt throughout. Each built toward an unresolved climax until we were left with bare strings and a moment of pure heartbreak. Robyn and Kleerup ripped up what pop could be with this song, proving it could be both traditional and experimental, popular and alternative. For once, pop sounded honest.
Taylor Swift and Max Martin – "Shake It Off"
"Shake it Off" represented a stylistic sea change for Taylor Swift – the first single taken from her Grammy Award nominated album, 1989. Whereas previously, Swift had worked with Max Martin and Shellback relatively conservatively to take her core country fan-base over to the pop sphere gradually, here, they took the world's biggest country star over to a new genre of music entirely.
Imbued with Scandi-pop's breeziness, big hooks and bravery, the transition wasn't as jarring as many feared thanks to its palatability. Where the guitars on "We Are Never Ever Getting Back Together" and "22" from Red, married country and pop, by the time 'Shake It Off' appeared, they'd disappeared completely: it was clear Swift didn't really mind if the country fans came along or went, such was the boldness of the move.
Lyrically, Swift seemed to adopt Scandi-pop's boldness by directly addressing the media and critics: "Haters gonna hate, hate, hate, hate hate." Yet she avoided simple cliché and made it original too – the haters didn't make her stronger, as the adage went in so much "empowerment pop" for the last twenty years. Instead, she was choosing to ignore them completely.
MØ, Major Lazer and DJ Snake – 'Lean On'
The collaboration broke all streaming records upon its release (over one billion, a figure only recently overtaken by Drake) via Diplo's Mad Decent imprint. Danish singer MØ's heartfelt vocals could have initially been sung by either Rihanna or Nicki Minaj – both turned a slower version the track down, something Diplo later described as "a blessing in disguise".
The song illustrated how Scandi-pop had an ability to be the cohesive glue bringing together a number of conflicting styles and genres seamlessly. Fusing styles as diverse as electro-pop, EDM, house and reggae didn't sound forced or awkward – instead it brought together a number of diverse styles from across continents and cultures, widening the appeal of the genre even further.
Its style is still being emulated today, its concept inspiring entire albums.
Icona Pop and Charli XCX – 'I Love It'
Charli XCX wrote the original version of "I Love It" with producer Patrik Berger (apparently in just 30 minutes) before eventually giving the song to Swedish duo Icona Pop; Charli still featured on the vocals and the song became a global hit selling millions of copies across two summer periods thanks to high-profile covers and a world who eventually caught up with the futurism Scandi-pop had pioneered.
Upon its release, Charli XCX said of the original: "I don't regret giving it away. [Icona Pop] are totally owning it. I sang it with them at South By Southwest, and it was this real girl power moment." Speaking about the original version of the song and how it progressed through a Scandi-pop filter, Icona Pop's Caroline Hjelt said: "The original was more cute in a way. Charli's vocal was really cool and cocky, but we wanted the track to sound more Icona Pop so we took it to another [Swedish] producer called Style Of Eye. He made it exactly how we wanted it to sound."
That sound, they would go on to add, needed to be "punkiness" because they wanted a definite "fuck it" feeling.
Its bratty delivery brought just enough "fuck it" punk to the genre to be anarchistic, but not too much to lose the joyous electro undertones and uplifting breeziness of so much Scandi-pop. Like Robyn's "With Every Heartbeat" there's more uncomfortable honesty (albeit delivered in a polar opposite manner) as they shouted about how they "threw your shit in a big and pushed it down the stairs," whilst maintaining their infectious melody, energy and even enthusiasm in the face of a crappy breakup.
Pop had previously a long habit of taking and sticking to one emotion or mood in a song – here, Icona Pop and Charli XCX showed how rules were made for breaking. Many more Scandi-pop songs would follow in this guise in the years to come.
Blood Bitch by Jenny Hval and Lars Marhaug,
Jenny Hval had always pushed Scandi-pop into the experimental, but Blood Bitch felt like one of her boldest creations to date. Using storytelling structures from cinema and literature, Hval's album took listeners into an uncanny, gothic hinterland where vampires and blood were used as devices to explore identity, subjectivity and the performative, seeing identities constantly in flux. Virginia Woolf's Orlando was an inspiration, so too were the 1970's horror films of Jesus Franco. Hval was redefining not only the topics of songs, but the inspirations behind them.
Working with experimental noise producer Lars Marhaug, Hval's experimental art pop was also filtered through a "noise metal" lens – combining two genres rarely spoken about in the same sentence, let alone used together in the same song. She explained: "I worked with lots of noise artists who had very interesting ideas about music and energy. I wanted to make a track within a pop music sort of hold, but where a [metal] noise moment can be kind of accessible…it really opens up a lot of ways of thinking about pop music."
Hval illustrated that mainstream pop could draw from a diverse range of influences and styles if brave and bold enough – looking at the work of artists like Billie Eilish now, it seems as though Hval and Marhaug were years ahead of their time.
"No Tears Left To Cry" by Ariana Grande and Max Martin
Making joy out of tragedy is never easy – often it feels impossible. After a suicide bomber killed 22 people at her concert in Manchester in 2017, Ariana Grande responded in the best way imaginable: by organising a joyous benefit concert in Manchester – 'One Love' – which brought together music fans in a shared moment of solidarity, grief and remembering.
"No Tears Left To Cry" was the first follow up single after the tragedy; rather than the traditional, gospel tinged tribute many had predicted, Grande and Miller's collaboration was a defiant celebration of life via Diva House pop. This was a song about overcoming the very worst life brings with the very best – of continuing in the face of grief and finding hope against the odds. "I'm lovin', I'm livin', I'm pickin' it up," Grande defiantly sings, music both her catharsis and sanctuary.
Characteristically of something produced by Martin, this was an earworm almost from the get-go, it's anthemic, universal quality proved infectious. Lyrically, its message was candid: "We're way to fly to partake in all this hate" Grande sang, her unifying message resonating with many. What begins as a ballad quickly evolves into a garage-like beat, a touching nod perhaps to Manchester's rich musical heritage. The song became an anthem of unity in Manchester and the world over and illustrated pop's ability to unite.
Get the Best Fit take on the week in music direct to your inbox every Friday